Referral marketing
Why you should build referral into your 2020 marketing plans
By Angela Southall — January 2, 2020 -
It's that time of year when marketers take a look back at their marketing activity performance. What made the grade, what was bottom of the class, and what should be banished from your marketing toolbox, never to return? Hopefully, you'll already have a core plan for the coming year, but to hit your (inevitably) increasing targets, you'll either need to make existing channels work harder or implement new activity.
So how can you convince the holder of the purse strings to give you the budget to launch a new marketing channel? If you don't yet have referral marketing as part of your mix, here are three compelling insights that might help you bag that budget.
1. Referral marketing delivers measurable ROI
There are very few channels where you know exactly how much revenue they've generated. Tried and tested channels like PPC (likely to form a significant part of a marketing plan) have become more expensive in recent years, with the cost per click rapidly increasing. A good referral platform delivers a steady stream of new customers, at a cost you can build into your marketing plan. Making it simple to budget for and presenting no nasty surprises for your bottom line.
Even better, you can experiment with your programme so you know exactly which elements are driving results. A discovery, for example, that your customers are much more likely to engage with product-led imagery versus people-led can be implemented across your marketing campaigns to drive even more revenue.
2. Referred customers spend more (and keep coming back)
Never has trust been so important in marketing. In the era of fake news, the Edelman 2017 Trust Barometer shows consumers trust in businesses and media is at an all-time low. So who do we turn to when considering a purchase?
Nielsen reports that 83% of us turn to friends and family for recommendations, well above any other source of advertising. As such, capturing this advocacy via a referral programme seems an obvious solution - but can you be sure that these referred customers are as good quality as your existing customer base? Might offering a referral reward only attract discount hunters who take your offer only never to return?
You might be surprised to learn the opposite is true; referred customers are generally more valuable than customers acquired via other sources, with a higher lifetime value.
Through working with 400+ brands, we've discovered the average referred customer:
Is 3 x more likely to refer someone else
Is more likely to make a repeat purchase.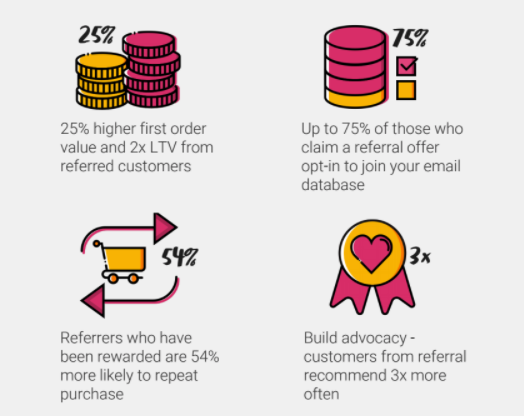 In an era of heavy discounting and Black Friday flash sales, it's a relief to know there's a channel which can actually increase LTV.
3. Referral can be scaled up
When you find a media option that works, you want to scale up.
With paid search, you'll want to work on the long-tail keywords to drive those incremental orders at a lower cost. Traffic is limited on these long-tail keywords, but the flip side to this is that while high volume keywords drive more traffic, they also increase your cost per conversion will increase.
Optimising your website and implementing an SEO strategy can certainly drive more traffic, but this isn't something that happens overnight.
Referral is different. It can be scaled up relatively quickly while staying cost-effective.
When first launching a referral programme, it makes sense to choose a few key customer touch points where you learn what works best for your customers. Typically, the best place to start is at the point of greatest customer delight - a happy customer is much more likely to recommend your product. The point of delight will vary by product. Often this is just after purchase or when the product is delivered. The trick is to find the sweet spot where your customer just has to share their purchase with a friend, either in person or online.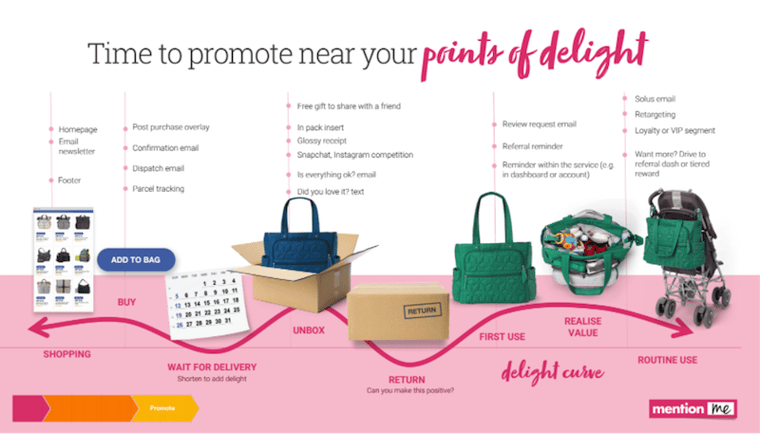 Learning what combination of referral offer, images and messaging works at different touchpoints means that when you expand to more points in your customer lifecycle you can increase your referral rate.
In addition, you could consider tiered rewards, offering higher incentives for every new friend a customer introduces. We've found to be a great way of driving additional volume.
Build referral into your marketing plan
Whether referral marketing is something you've only briefly considered, or a strategy that's been on your mind for a while, make sure your 2020 marketing plan is robust and features all marketing channels. Your loyal customers are your best asset, and leveraging their loyalty could pay significant dividends.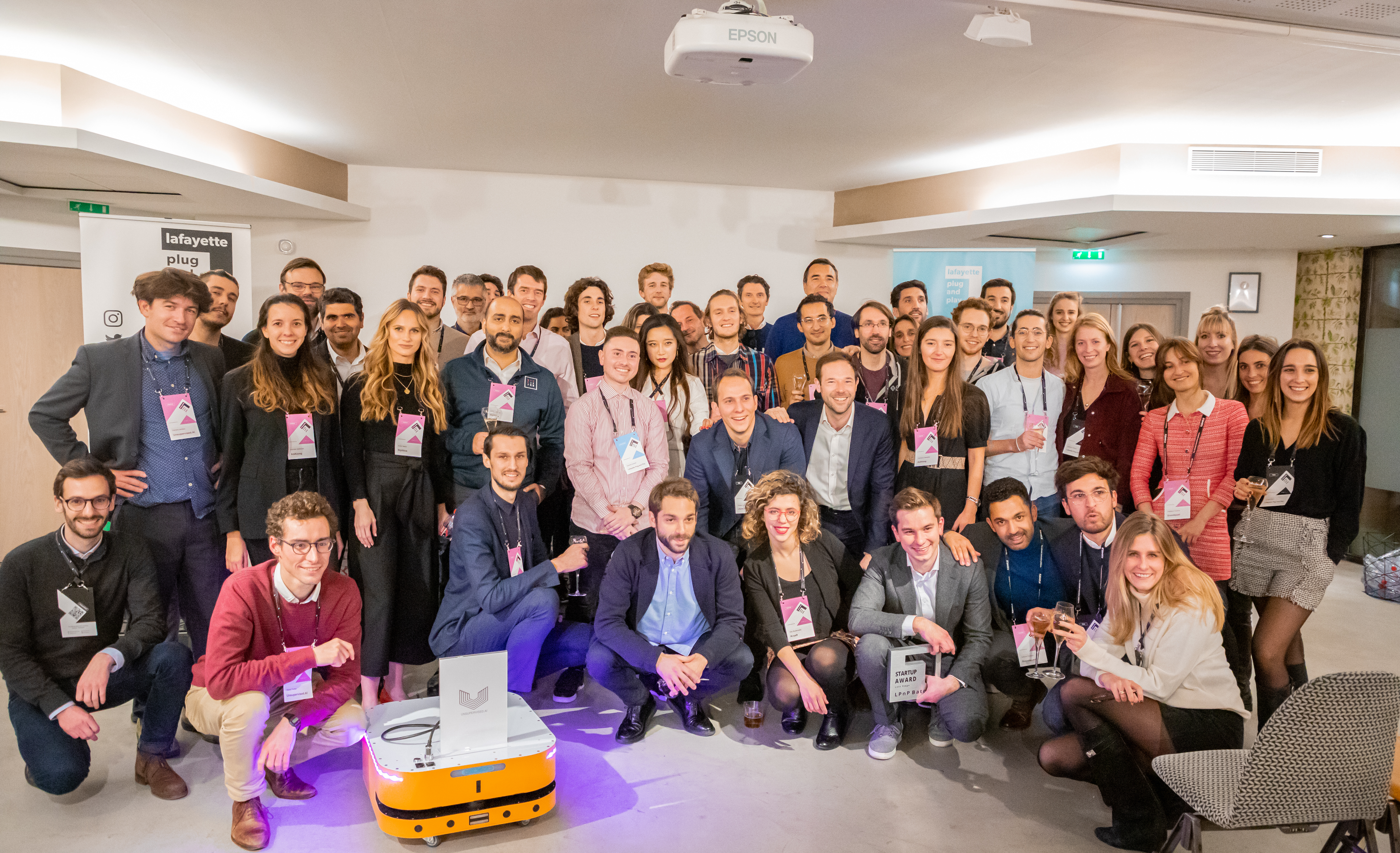 11 highlights from the Lafayette Plug and Play programme
Never miss another update
Subscribe to our blog and get monthly emails packed full of the latest marketing trends and tips