When was the last time someone complimented you on an outfit and asked where it was from? Or the last time you asked friends whether or not you should buy a new addition for your wardrobe?
Fashion is social by nature. Consumers share, discuss and compliment one another on fashion and beauty items on a daily basis. Our buying habits and the brands we shop with are heavily (and often subconsciously) influenced by those around us.
That's why referral marketing works so well for fast fashion brands like PrettyLittleThing to luxury fashion like Farfetch and specialists like maternity brand Seraphine and swimwear brand Heidi Klein.
But simply being in the fashion sector isn't enough to achieve remarkable referral results. We work with hundreds of fashion brands to optimise their referral programmes and effectively engage with their target audiences.
Here are some of the ways leading fashion brands have turned refer-a-friend into a key marketing channel.
A/B test, test & test again
Within its first three months of launching referral, PrettyLittleThing ran five A/B tests to discover what best resonates with customers.
One test involved offering a discount of £10 versus 20% off; another ran descriptive copy against concise copy.
Seraphine, on the other hand, tested offering a discount versus a free gift, and whether promoting email or name sharing encouraged more customers to refer friends.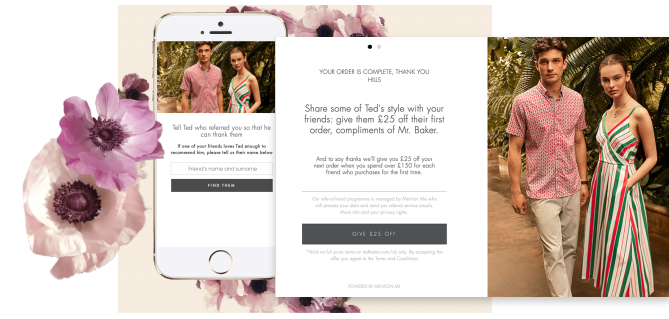 Ted Baker's refer-a-friend programme
Brand positioning
Despite being powered by Mention Me, all our clients' referral programmes look entirely on-brand. This is crucial; customers are far less likely to pay attention to a pop-up if it looks unrelated to the rest of the customer journey.
Ted Baker uses its referral programme to strengthen its quirky brand positioning, with characterful copy and design prominent throughout. This is replicated across both desktop and mobile, so customers can enjoy a fully on-brand experience regardless of which device they shop on.
Tapping into offline conversations
Many fashion brands know their products are likely to come up in conversation, but fail to convert these everyday moments into new customers for their business.
That's where Mention Me's unique name sharing feature comes in.
Letting customers give their friends an incentive to shop for the first time by simply entering their name at checkout, this sharing method accounts for a strong proportion of all referrals.
For PrettyLittleThing and Ted Baker, it accounts for 40%. For Seraphine, it's 50%. Even in our digital world, consumers love to share brands in conversation.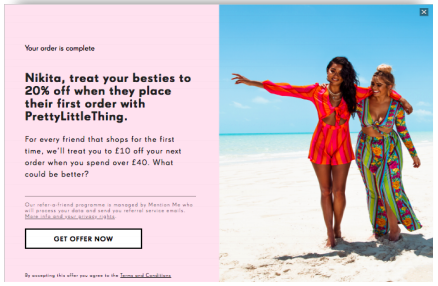 One of PrettyLittleThing's refer-a-friend offers
New customer acquisition
Lastly, referral marketing drives significant new customer acquisition for fashion brands. Not only that, but new customers who are likely to shop again, spend more and go on to recommend the brand to their friends.
Children's clothing brand Frugi, for example, gets 27% of its referral revenue via customers' subsequent orders. Highlighting that referred customers aren't one-off bargain hunters, but people predisposed to liking your brand and keep coming back.
On average, referral marketing increases new customer acquisition by between 10 and 25%. And this figure can be even higher if you spend time developing and optimising your programme.
So if you're a fashion brand ready to acquire more, loyal customers who will happily recommend you next time someone compliments their appearance, consider referral marketing.