If there's one thing the past few months have taught us, it's that we need our friends. So it feels timely that 30th July marks International Friendship Day, an occasion dedicated to celebrating those we love.
What is International Friendship Day?
If you haven't heard of International Friendship Day (IFD) before, you might be surprised to learn it's been about for more than 20 years. The United Nations introduced it in 1997 to spread kindness and create a better world. Since then, The Beatles have written a song for it, Winnie the Pooh has become its ambassador, and people across cultures and countries have celebrated it.
3 reasons your brand should celebrate International Friendship Day
To build brand affinity
For retailers, International Friendship Day (IFD) is the perfect counterweight to the hard sell retail bonanzas of Black Friday and Amazon Prime Day. Though the latter is this year postponed until September, it typically sees online retail sales to plummet by as much as 20%.
Nothing unites people — and builds trust — like friendship. It's one of the most simple and powerful expressions of human connection. By celebrating International Friendship Day, retailers can tap into this positive sentiment, humanise their brands and highlight how their products and services can improve the lives of customers' loved ones. Emotionally engaging people, rather than pushing hard sales, creates a powerful sense of brand affinity that'll keep shoppers coming back, long after your promotion has ended.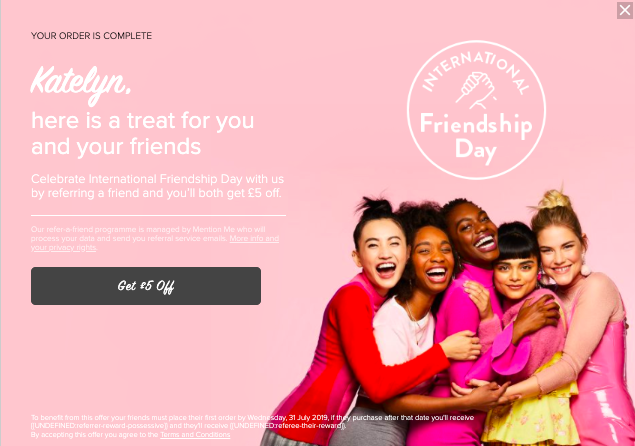 An International Friendship Day referral campaign
To increase core marketing metrics
For retailers with referral programmes, IFD is the perfect opportunity to get people talking and acquire new customers who fit their target demographic.
51% of consumers trust a friend or partner's recommendation more than any other source of advertising. By incentivising shoppers to refer friends, brands can significantly increase metrics including new customer acquisition, brand awareness and overall revenue. It's a win-win: brands make more money; customers make their friends' days with special offers for brands they know they'll love.
Last year, we ran IFD referral campaigns for clients including PrettyLittleThing, Laithwaite's Wine and Monica Vinader. The results were big: one fashion retailer increased new referred customer revenue by an incredible 997%. And this year is set to be even bigger.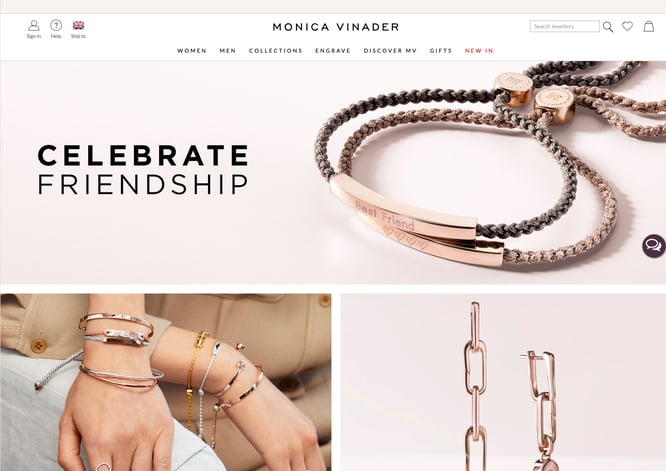 Monica Vinader was one of many brands to celebrate International Friendship Day last year
To fuel long-term business growth
Your current customers are your most powerful marketers. Their recommendation means more – and costs less –than any big billboard or clever campaign. Turn your customers into an army of brand advocates, and you can sustainably acquire high-quality new customers who fit your target demographic. Referred customers spend more, return often and go on to recommend the brand to their friends, continuing the virtuous cycle.
And at the heart of this long-term business growth is one principle: friendship.
Brands embracing International Friendship Day
It's not just our clients celebrating International Friendship Day campaigns. Here's how other big brands have got involved with the occasion.
Coca Cola
In 2010, Coca Cola set up a Friendship Machine: a 3.5 metre tall vending machine with a coin slot that couldn't be reached alone. Friends worked together to insert their money and subsequently got two bottles of Coke for the price of one, making for a heartwarming online campaign.
Amazon
In 2016, Amazon told a story of inter-faith friendship. Its ad showed a Christian vicar and a Muslim imam noticing each other's aches and pains in their late years. They subsequently order one another the same gift (from Amazon, of course): kneepads to make kneeling for prayer more comfortable. Celebrating diversity and shared humanity across cultures.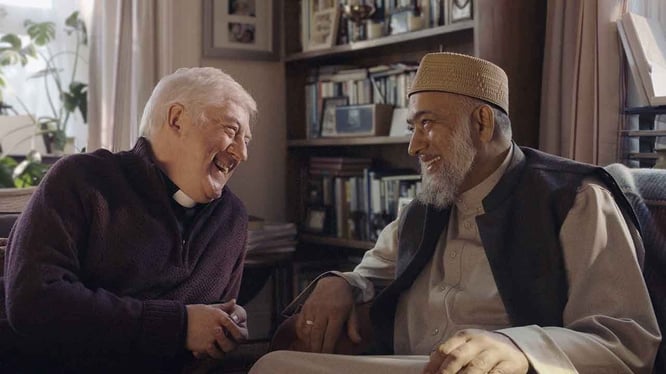 Amazon celebrates friendship in its television advert
Cadbury
Cadbury celebrated its collaboration with Oreo with a friendship-themed animation depicting the adventures of Pip the block of chocolate and an Oreo cookie. The playful video proved a hit on social media, further promoting the product's 'double the yum, double the fun' message.
Plan your best marketing campaign yet
Ready to plan your brand's IFD celebrations? Here are some campaign ideas to get you started:
A competition encouraging friends to team up and win prizes, such as tickets to an event

A friendship-related gift for referrals, such as a friendship bracelet or matching mugs

A percentage or fixed sum discount for customers and their referred friends.
For more ideas, as well as copy, design and incentive examples, check out our International Friendship Day lookbook.