Referral marketing
International Friendship Day: the next big thing in the consumer retail calendar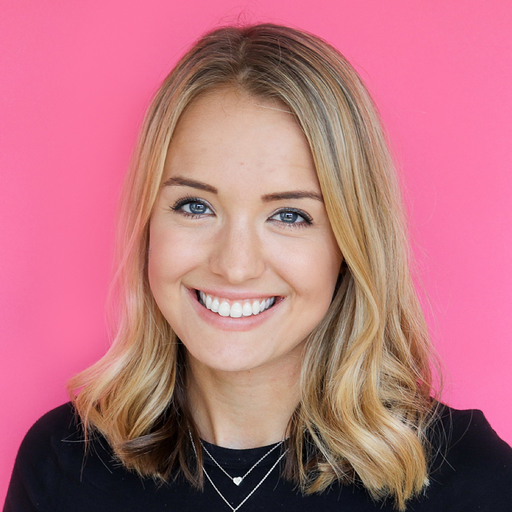 By Sophia King — April 13, 2022 -
Read time: 5 mins
Whether we need a laugh after a stressful week or a recommendation for our next holiday destination, we all rely on our friends. So who could say no to a whole 24 hours dedicated to celebrating our nearest and dearest?

If you're looking for an excuse to show your friends how much they mean to you, here's a date to mark in your diary: 30th July — aka International Friendship Day.

Last year, we ran International Friendship Day referral campaigns for clients including Bought By Many, Ted Baker and Oddbox. The results were astonishing, with brands acquiring 75% more customers through referral on the day. And this year is set to be even bigger.
What is International Friendship Day?
If you haven't heard of International Friendship Day (IFD) before, you might be surprised to learn it's been around for over 20 years.

The United Nations introduced it in 1997 to spread kindness and strive for a better world. Since then, The Beatles have written a song for it, Winnie the Pooh has become its ambassador, and people across cultures and countries have joined in the celebrations.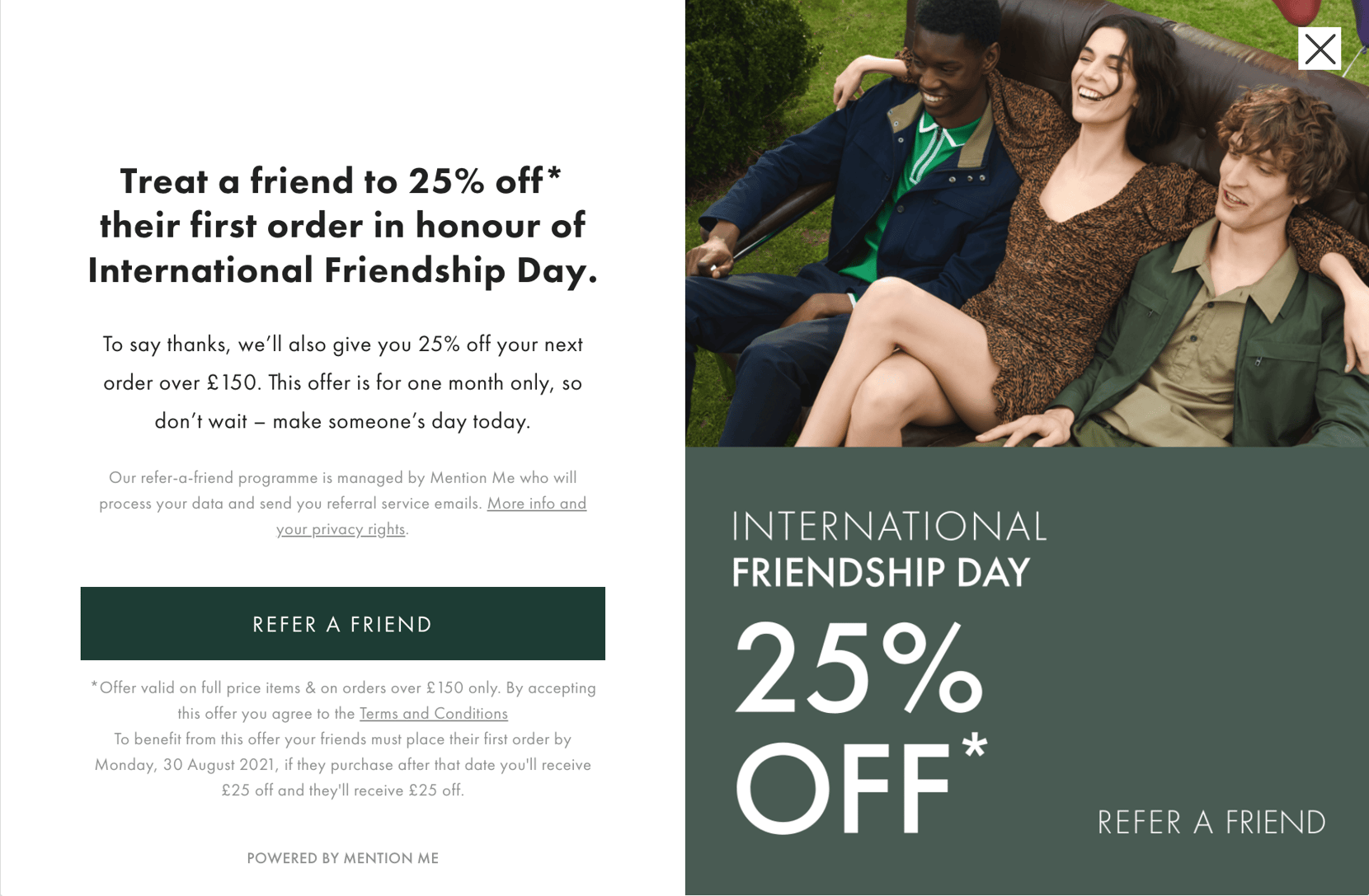 Ted Baker set up a time-limited discount to celebrate International Friendship Day
3 reasons your brand should celebrate International Friendship Day
To build brand affinity
For ecommerce brands, International Friendship Day (IFD) is the perfect counterweight to the hard sell retail bonanzas of Black Friday and Amazon Prime Day. Instead of encouraging shoppers to snap up bargains at lightning speed, IFD is a chance to promote the exchange of thoughtful gifts and brand recommendations between friends.

Nothing unites people — and builds trust — like friendship. It's a simple but powerful expression of human connection. By celebrating IFD, you can show a more human side to your brand while building a community among your customers.

By driving emotional engagement rather than hard sales, you'll create a strong sense of brand affinity that keeps shoppers coming back — long after your promotion has ended.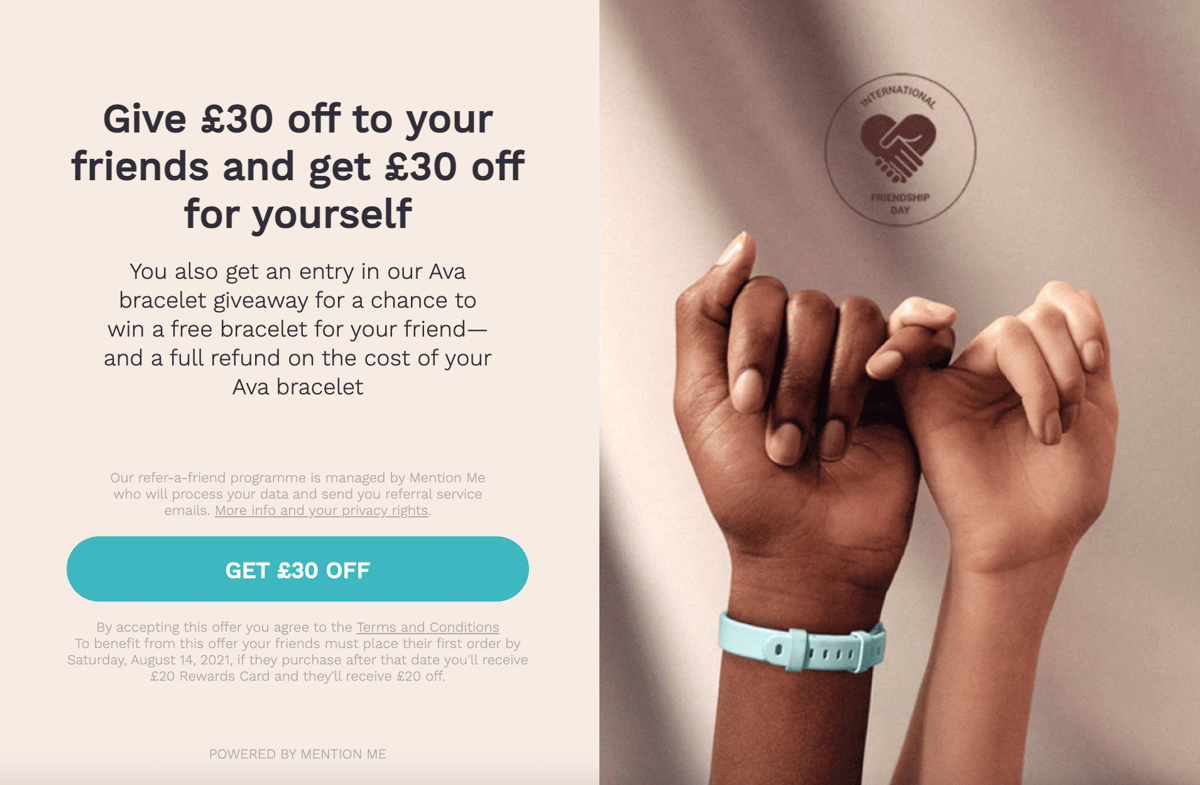 Ava promoted a discount and a competition for its IFD referral campaign
To increase core marketing metrics
For brands with a precision-engineered referral programme, IFD is the perfect opportunity to get people talking and acquire high-value new customers.

From trendy fashion brands to trustworthy financial services, we all seek out recommendations from our friends. If you encourage these recommendations through an IFD-themed referral campaign, you'll build brand awareness, drive revenue and accelerate acquisition.
It's a win-win: brands make more money; customers make their friends' days with special offers for brands they know they'll love.

Not to mention, customers introduced to your brand through referral are five times more likely to go on and refer their friends. So the recommendations made on International Friendship Day will continue making an impact once the day is over.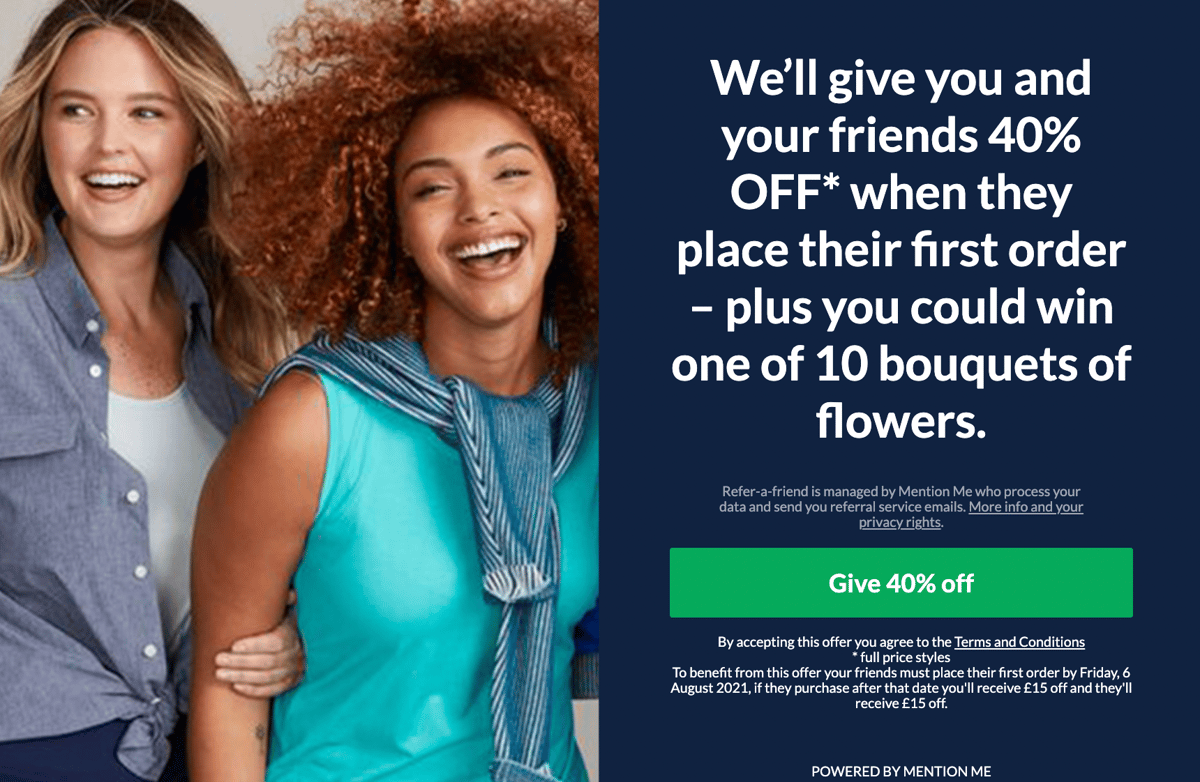 Lands' End celebrated IFD with a generous discount for referrers and their friends
To fuel long-term business growth
Your current customers are your most powerful marketers. Their recommendation means more – and costs less – than any big billboard or clever campaign.

As consumer trust declines, word of mouth is still one of the most influential marketing channels. After all, what's more authentic and personalised than a recommendation from a good friend?

Turn your customers into an army of brand fans, and you can sustainably acquire high-quality new customers and hit all your critical KPIs.

Referred customers spend 11% more, return often and are five times more likely to recommend your brand to others, continuing the virtuous cycle.

And at the heart of this long-term business growth is one principle: friendship.
Brands embracing International Friendship Day
Here's how other big brands have gotten involved with the occasion.
Coca Cola
Last year, Coca-Cola celebrated IFD in true 2021 style: by selling its first-ever collection of NFTs at a charity auction. The multi-sensory NFTs were inspired by shared moments of friendship, and the winning bidder also received a real-life Coca-Cola fridge.
Oddbox
Wonky fruit and veg rescuer Oddbox encouraged customers to refer their friends by doubling its referral reward for a limited time. To further promote recommendations (and strengthen its brand message), Oddbox shared an infographic to show customers the environmental impact of every referral.

Oddbox used its IFD campaign to highlight the brand's eco credentials
Monica Vinader
High-end jewellery brand Monica Vinader added a personal touch to its IFD campaign with a blog where Monica and her own loved ones shared what friendship means to them. The post was a sweet way to promote the brand's elegant friendship bracelets (and encourage shoppers to share the brand with friends).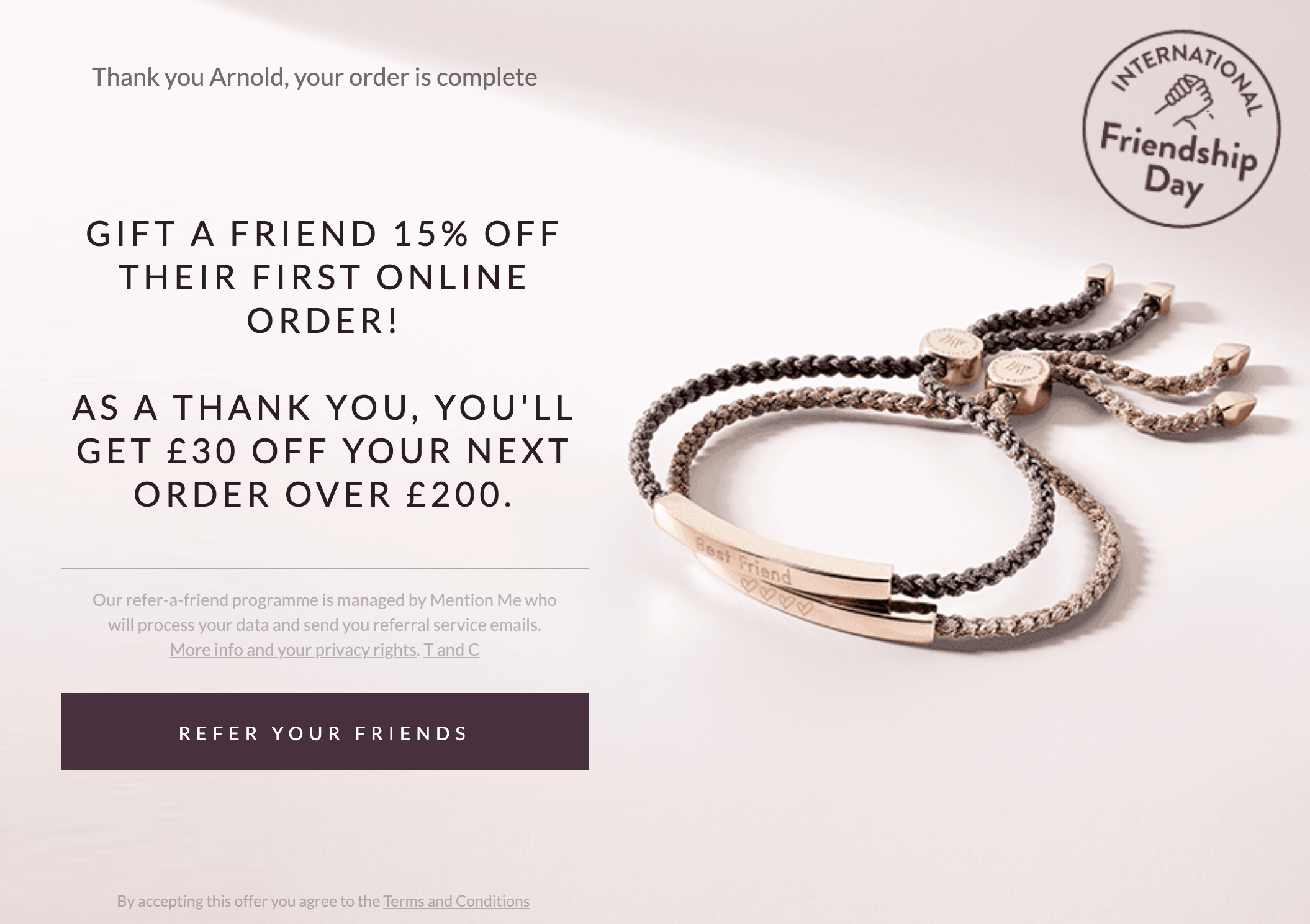 Monica Vinader encouraged customers to give friends a discount on their first order
Why now's the time to start planning your International Friendship Day campaign
July will come around quicker than you'd expect, so now's the perfect time to get preparing for your IFD campaign. If you don't have a referral programme set up yet, there's no need to panic — you can get up and running in 30 days (or less).

Ready to plan your brand's IFD celebrations? Here are some campaign ideas to get you started:
A competition encouraging friends to team up and win prizes, such as tickets to an event
A themed gift for referrals, such as a friendship bracelet or matching mugs
A percentage or fixed sum discount for customers and their referred friends
If you want to turn International Friendship Day into a powerful driver of brand advocacy and growth through referral, get in touch.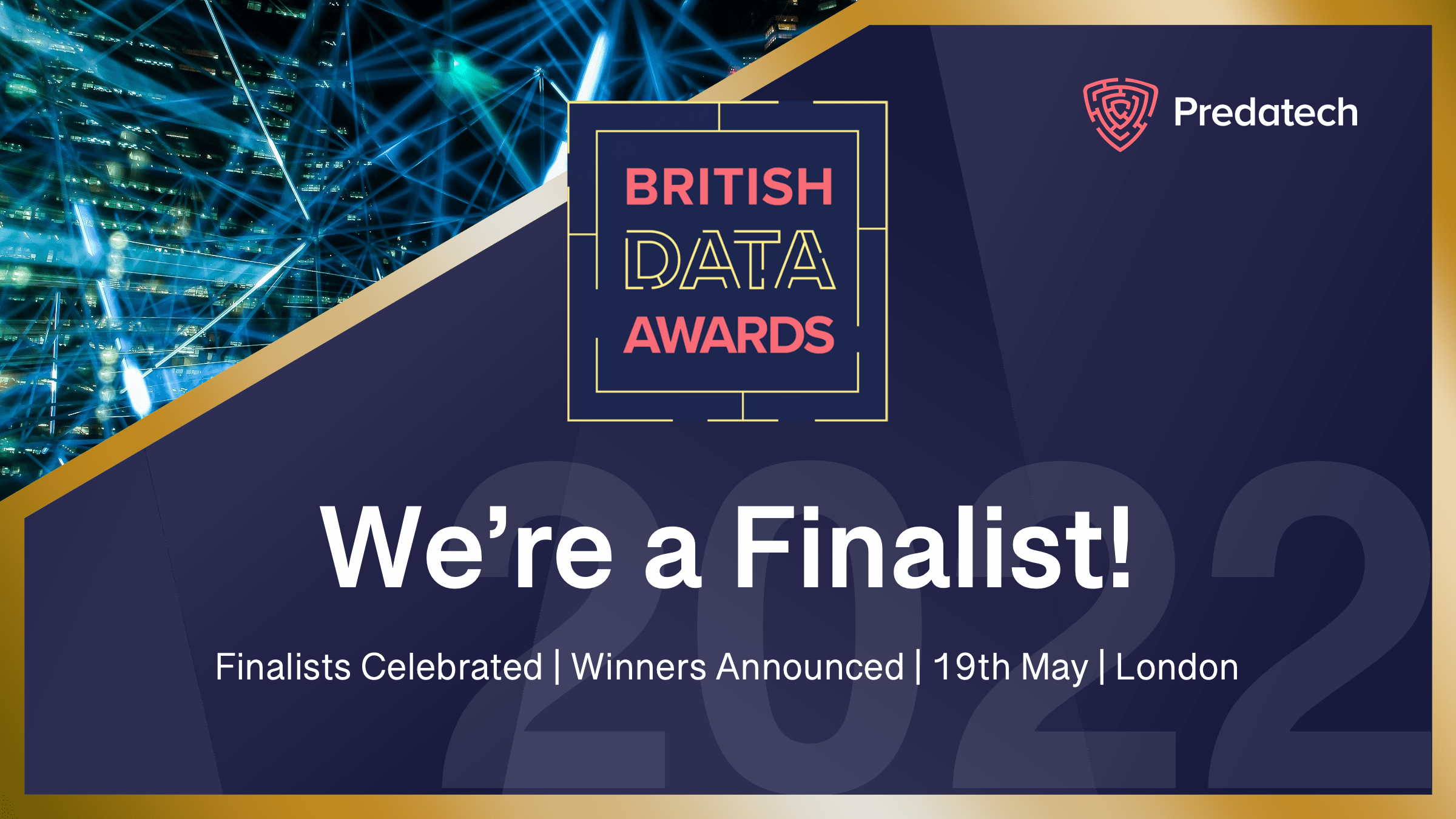 We're a British Data Awards 2022 Finalist
Never miss another update
Subscribe to our blog and get monthly emails packed full of the latest marketing trends and tips