Referral marketing
How to drive record revenue for your business this festive season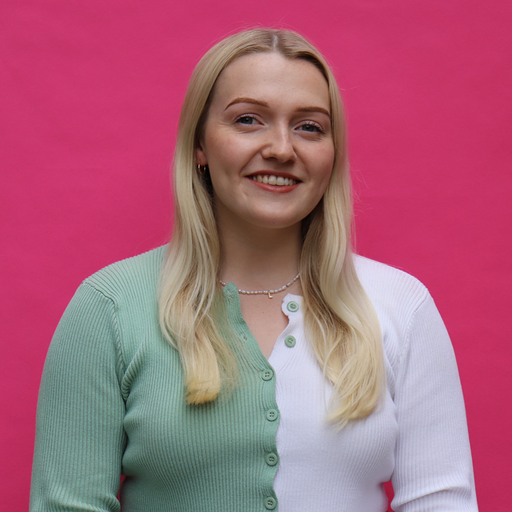 By Olivia Cox — October 1, 2021 -
As the dust settles on Q3 and we say goodbye to summer for another year, brands are busy gearing up for the all-important golden quarter, spanning major retail events including Black Friday, Christmas and Boxing Day. Between scoffing pigs in blankets and sipping mulled wine, consumers will be merrily buying gifts for others (and themselves), making the final three months of the year a huge opportunity for brands to drive orders and acquire high quality customers who continue buying in the new year.
Despite ongoing economic uncertainty, UK retail sales are higher than they were before the pandemic. It's great news for ecommerce: the proportion of sales which take place online is currently 27.7%, which is also significantly higher than pre-Covid levels. Add in the first Christmas for two years without lockdown restrictions or tier systems (fingers crossed), and this golden quarter could be particularly bright indeed.
The festive sales boom will be even more valuable for online and multichannel brands running a precision-engineered referral programme, who can translate this seasonal surge into long-term growth.
The huge potential of referral marketing in peak season
Referral programmes always perform well in the final quarter of the calendar year, and 2021 looks set to be another record-breaker.
As we began the year with a lockdown and varying levels of restrictions, online orders and referrals soared across sectors including food and drink, gifts and occasions, and fashion. While we're now shopping normally again (well, except for the masks), sales and share rates are still higher than they were in 2019, showing that the pandemic has firmly established the shift to ecommerce.
Let's take a look at where we are now.
Given the famously 'unprecedented' nature of 2020, it doesn't make much sense to compare this year's data to last year's. Instead, we've looked at how brands are performing compared to before the pandemic, as well as how Q4 last year compared to 2020 as a whole.
| | | |
| --- | --- | --- |
| Sector | Orders in Q4 last year compared to the rest of 2020 | Referral revenue now compared to 2019 |
| | +26% | +39% |
| | +33% | +48% |
| | +27% | +91% |
| Food and Drink | +21% | +101% |
| Sports Clothing and Accessories | +28% | +296% |
| Pets | +9% | +222% |
| | +53% | +108% |
| Subscriptions | +53% | +206% |
| | +2% | -40% |
Almost every sector is generating more referral revenue now than in 2019. The one exception is travel (for obvious reasons), but eased travel restrictions meant this sector increased its referral revenue by 85% from last year.
And as shown by the results from Q4 last year compared to the rest of 2020, the festive season always spurs on a reliable rise in referral revenue.
Looking at these numbers, you'll quickly realise that a referral programme has serious potential to grow your brand over the coming months.
A precision-engineered, data-driven referral programme will not only acquire new customers, but these shoppers will also be significantly more valuable than your regular Christmas spenders. On average, referred customers spend 11% more on their first order and are five times more likely to refer your brand to their friends.
Sounding sweeter than a Christmas pudding? Read on to find out how you can craft the perfect referral programme for the peak season.
How to optimise your festive referral programme
OFFER UNMISSABLE INCENTIVES
Make your referral scheme stand out by offering something better than anything else available on-site. If you're giving new customers 10% off, for example, give referrers and their friends 15% off (we find double discounts perform particularly well). If you're nervous about tight profit margins, you can add a minimum spend to your discount to keep average order value (AOV) high while driving referrals.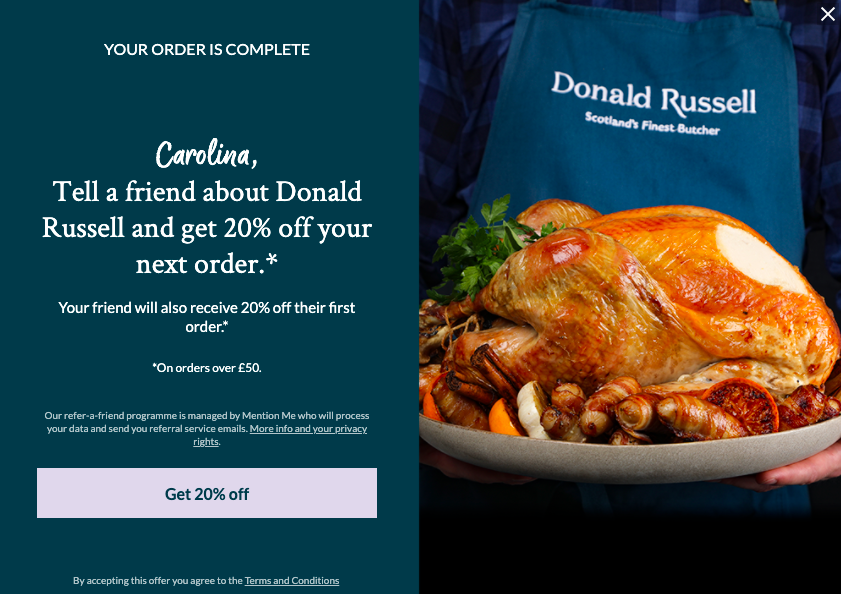 Donald Russell set a minimum spend on their referral offer.
That said, incentives don't have to involve discounts. The most powerful incentives are those that feel exclusive and hard to come by. Make your referral scheme feel special and festive with offers such as complimentary gifts, free gift-wrapping, or a competition to win an advent calendar or other seasonal goodies. For even better results, target your customer segments with different offers based on what's most likely to engage them (using your Referral Intelligence™ as a guide).
MAKE IT EASY TO SHARE
Simplicity is key when it comes to referrals. Even your most devoted customer won't share your brand if they have to jump through hoops to do it.
Give your customers sharing options they're likely to use, and which naturally weave into their regular conversations with friends and family. A younger audience, for example, is more likely to refer friends through WhatsApp or by copying and pasting a link. An older audience, on the other hand, is more likely to share via email or Facebook.
One sharing method we've found to be consistently effective across demographics is Name Share™. This feature lets referred customers claim their reward simply by entering their friend's name at checkout — no lengthy codes required. So when your customer is getting compliments on their new winter coat in the office, they can share your brand with their coworkers (and give them a reward) without even pulling out their phone.
Go one step further by segmenting your customers and A/B testing your sharing methods to determine the most effective methods for your target audiences.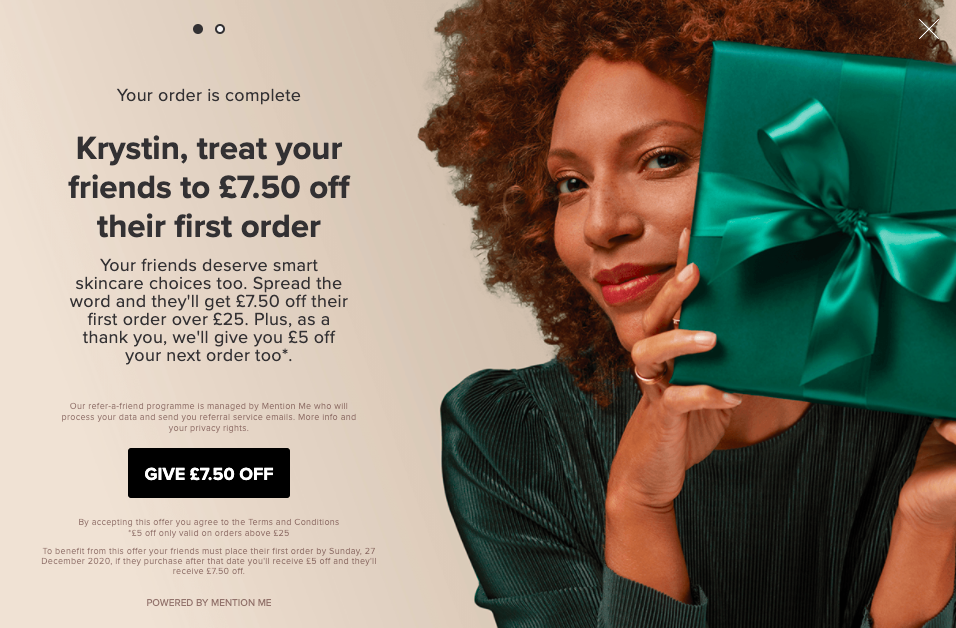 Paula's Choice embraced tasteful festive imagery in their referral campaign.
FEATURE FESTIVE COPY AND DESIGN
The most successful referral programmes strengthen your brand positioning at every stage of the customer journey. This is important to remember when it comes to seasonal promotions. Much like you would dust off your finest (i.e. most embarrassing) Christmas jumper for a party, you should give your referral campaign a shiny festive makeover.
Implement copy and design that taps into the festive spirit while reiterating your brand's USPs. Vegan brand allplants, for instance, promoted sharing the gift of looking after the planet by planting a tree for every referral. A beauty retailer could encourage customers to help friends enjoy some cosy self-care. A wine merchant could talk about sharing favourite festive tipples. Make your campaign feel Christmassy and distinctly you, and you're onto a winner.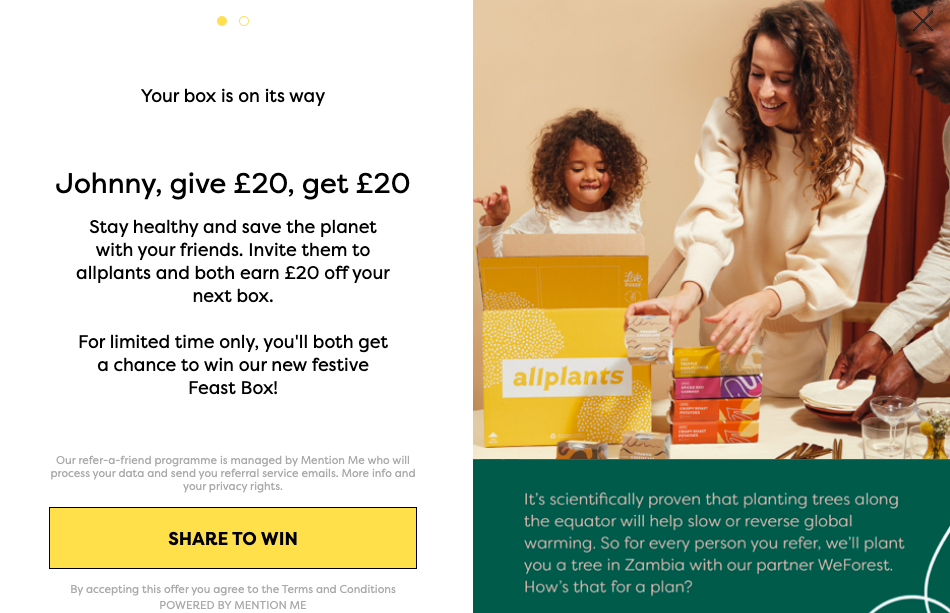 allplants planted a tree for every referral during their Christmas campaign.
PROMOTE IT
As we mentioned in our Black Friday blog, making your campaign visible and enticing throughout the customer journey is key to driving referrals. This is especially crucial during peak periods, when consumers encounter even more brands making a song and dance about their offerings.
Feature referral on your homepage, promote it in an overlay on the order confirmation page, and shout about it on social media. Display it at the touchpoints you know your customers engage with (what we call Referral Moments), using language that resonates (for example, 'give' a reward rather than 'get' one, or vice versa).
And think about how you promote your referral programme, too. An overlay on the post-purchase page makes sense; the customer has finished buying your product and is excited to receive their order. An overlay at checkout, however, risks disrupting the transaction — or, worse, annoying your customer. We'd recommend using a corner-peel here instead, so shoppers are guaranteed a smooth experience.
EXPERIMENT
Experimenting might sound like a risky game, but strategic A/B testing has the power to increase customer acquisition 4x within the first six months.
The high volume of traffic coming to your website during the festive season makes it the perfect time to gather more Referral Intelligence™ on your customers. Establish a strategic A/B testing roadmap that lets you run tests, one after the other, to continuously gather insights and optimise your programme.
If you're already a referral pro, experiment with showing different referral offers to customer segments. You could learn, for example, that your new Christmas shoppers prefer a fixed-sum discount to a percentage discount. Or that second-order customers are most incentivised to refer friends by a festive gift. An effective A/B testing strategy will develop your understanding of new and returning customers (and how to drive the next best action).
Looking for ideas? Check out our referral marketing guide to experimenting.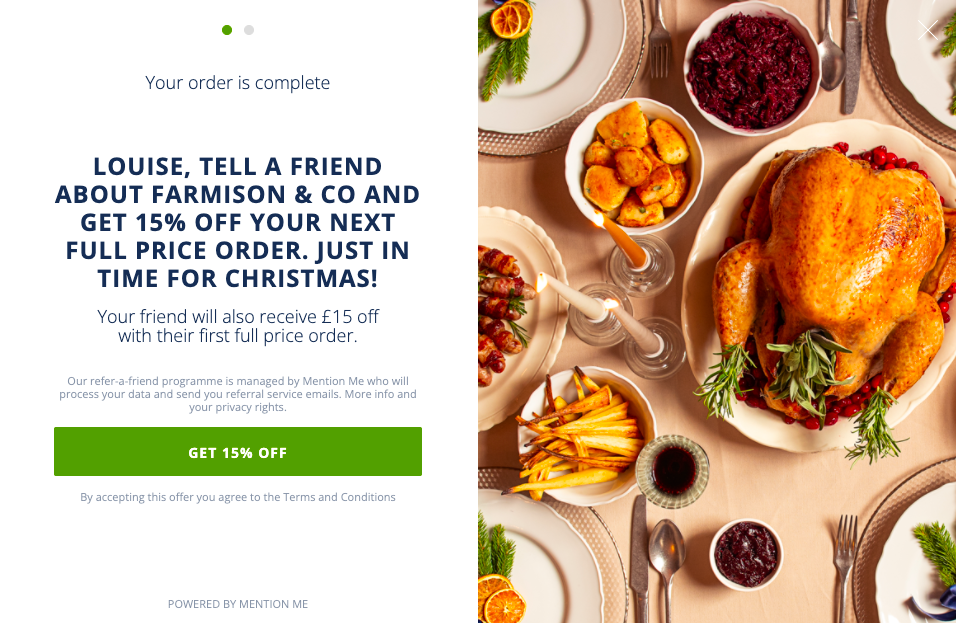 Farmison & Co used a different discount for the referrer and the referee as part of their offer.
TURN FESTIVE SHOPPERS INTO LOYAL CUSTOMERS
Of course, the festive season is a prime time to drive sales and boost profits— particularly with 30% of consumers planning to spend more money at Christmas this year than in 2020. It's also a big opportunity to drive long-term revenue that continues into the new year.
As we mentioned earlier, referred customers tend to be much more valuable than customers acquired via other marketing channels. This is because their friend's recommendation means they're predisposed to liking your brand. They're more likely to spend more on their first order and be extra forgiving of any hiccups (such as slower delivery times due to high demand). And crucially, it also means they're more likely to return and refer friends themselves.
To make this likelihood even stronger, engage with your new customers. Shoppers acquired during the festive period will have different needs and characteristics to your other customers; avoid a one-size-fits all approach by tailoring your messaging to reflect this. Ask for their feedback with tools like NPS, showcase what makes your brand special, and delight them with exciting incentives. By exceeding their expectations, you'll motivate festive shoppers to return after the Christmas decorations have come down — and they'll bring their friends along too.
If you don't currently have a referral programme, good news: you can set one up in 30 days (or less), so there's just enough time to get it ready for the festive season.
If you're eager to drive growth through a new marketing channel, talk to our Sales team. Already have a referral programme? Check out our guide to referral success.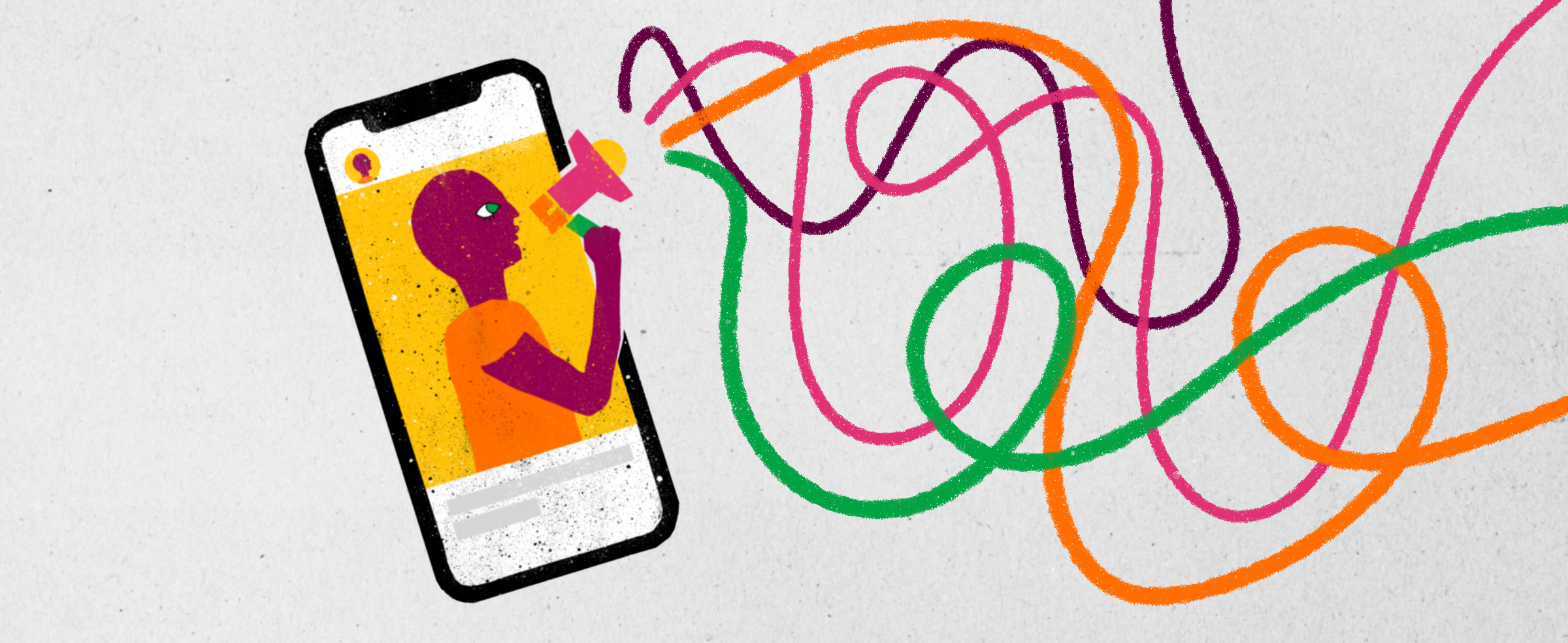 You're focusing on the wrong influencers. Here's why.
Never miss another update
Subscribe to our blog and get monthly emails packed full of the latest marketing trends and tips