Here at Mention Me, we've delivered more than 1.5 million new customers to 450+ brands globally. So it's fair to say that we've seen a lot of referral programmes.
We create strategic A/B testing roadmaps for every client, so brands can gain valuable insight into exactly what resonates with their customers. Something as small as a single word, design palette or reward can be the difference between a refer-a-friend programme that drives significant new customer acquisition and one that's overlooked.
It's always a topic of curiosity when we speak to marketing teams about referral: "I wonder what that brand does". Well, wonder no more!
With 2019 drawing to a close, we've compiled 52 examples from our clients around the world over the past year. Scroll on to discover how referral can work across every sector, from fashion to finance, in multiple languages, and feel inspired to run your own successful referral campaigns.
Ladies Fashion
We talk about fashion almost everyday, from seeking advice on whether to buy a new shirt to asking someone where their shoes are from.
This makes the fashion sector perfect for referral marketing.
Extending from online fast fashion like PrettyLittleThing to luxury brands like Farfetch and specialists like Seraphine, the ladies fashion sector often uses methods beyond high value incentives to catch shoppers' attention. You can see this in the examples below, with distinctive tone of voice copy, creative designs and links to the latest trends to engage customers and drive action.
PRETTYLITTLETHING
Find out how PLT bagged thousands of new customers
missguided
TED BAKER
Learn how Ted Baker increases average order values with referral
Specialist Ladies Fashion
Pink Clove
Seraphine
Discover how referral works for maternity brand Seraphine
Ladies Lingerie
Discussing our outfits isn't limited only to what's on show. Turns out, we're more than happy to talk to friends about our favourite pieces of lingerie and where they're from, in the UK and beyond.
This subset of the ladies fashion sector has a strong share rate and generates significant growth through refer-a-friend programmes.
Heist Studios
Boux Avenue
Luxury Ladies Fashion
Having carried out extensive research into the psychology of referral, we know that a key factor in recommending brands is its impact on our perceived social status.
In this respect, luxury fashion is perfect. By recommending a high-end brand, we're telling others that we're fortunate and fashionable enough to shop at respected labels.
In addition, many brands in this space rarely offer discounts due to their high-end reputations. A referral programme means they can attract new customers and reward existing ones without compromising this.
Many of the brands we work run refer-a-friend programmes in countries around the world, as shown by Farfetch's Arabic example below. We also see luxury fashion brands gain particularly high traction with referral programmes in China, Korea and Japan.
Farfetch
Want to know more about Farfetch's referral programme?
MatchesFashion
harvey nichols
Men's Fashion
On average, women are 7% more likely than men to refer brands. However, men's fashion is among the top three sectors most likely to be recommended by men. This is for similar reasons to women's fashion; our clothes and accessories organically come up in conversation.
The below examples show how referral can work for men's fashion brands, whether marketing sharp suits or cool, off-duty attire.
TM LEWIN
scotch & soda
dobell
Beauty
The beauty sector is another great fit for referral; once you hunt down that perfect lipstick or skincare product, you want to tell everyone about it.
As these examples show, discounts, free samples or competition entries can work well as incentives in this sector.

charlotte tilbury
beauty pie
this works
Accessories
Spanning everything from glasses to bags and shoes, each subcategory of this sector has its own distinct dynamics.
Glasses, for example, have a long purchase cycle, so rewards like third party vouchers tend to work better than discounts since shoppers are unlikely to return in the near future.
A key A/B test to run for every referral programme is 'give' versus 'get' copy. This reveals whether customers are generous or selfish; if they're more likely to act on a reward for themselves or for others. The results are often surprising!
Glasses Direct
Our first ever client now drives 30% of new customer acquisition through referral.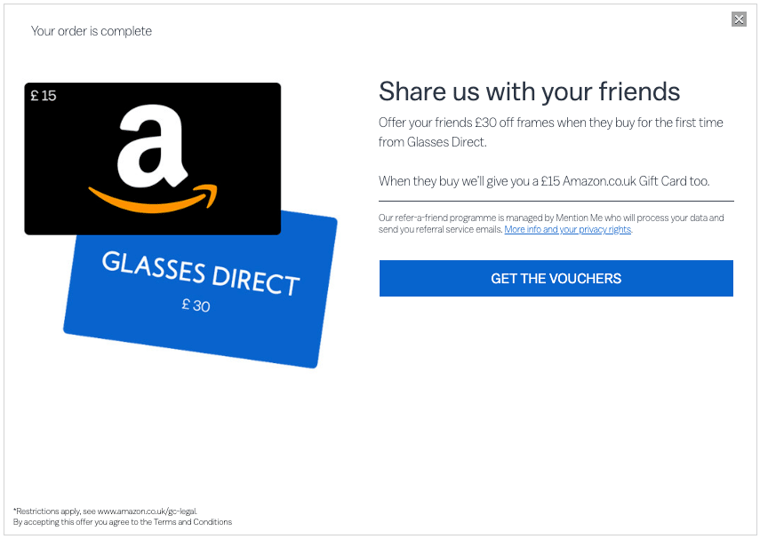 Radley
See Radley's referral programme in action
kurt geiger
MONICA VINADER
Financial Services
It's a common conception that people feel uncomfortable talking about money with their friends. But the reality is that money is interwoven into our conversations everyday. Whether we're talking about how we've invested in a challenger start-up, finally saved up enough to get on the property ladder, or feel more in control of our expenditure, there are countless opportunities for financial brands to come up in conversation.
In fact, though consumers are less likely to recommend financial brands than fashion, they're more likely to deliver new customers when they do.
Some finance brands are engaged in a one-upmanship battle of offering free cash to new customers, but this approach isn't sustainable. We recommend considering alternative incentives, like third party vouchers, loyalty points and credit on account.
NUTMEG
Animal friends
Police Mutual
Referral for Utilities Businesses
hive
Ovo energy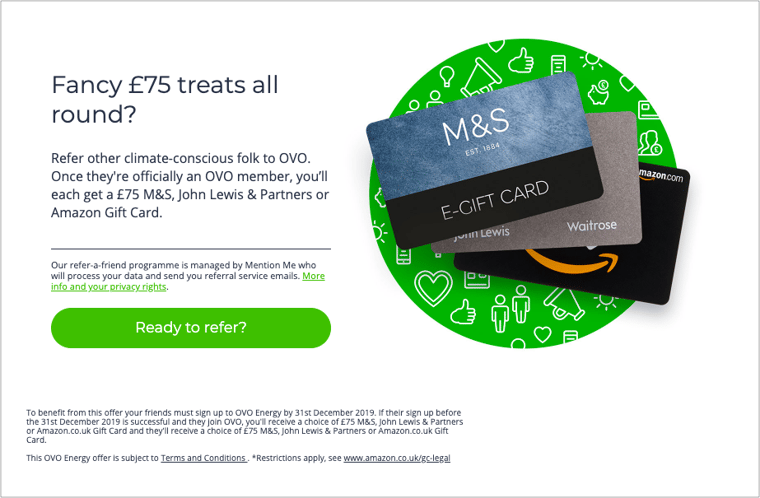 Discover how referral helped OVO's mission to improve the energy market
First Utility
Children's Sector
We see some of the highest sharing rates among the children's brands we work with. That's because although it's a niche sector, it's highly relevant to those who'd be interested.
For example, while a children's brand is unlikely to be recommended among a group of 20 year old boys, it's highly likely to drive new customers if discussed among a group of parents during the school pick-up.
Mention Me's unique name sharing functionality taps into this, driving on average 40% of referrals. This lets referrers tell friends to enter their name at checkout for an exclusive reward on their first purchase. The name replaces a link, email or social media interaction and makes our referral programmes truly omni-channel.
frugi
Discover how Frugi drives customer retention with referral
JOJO MAMAN BéBé
la coqueta
wonderbly
Homewares
From plastic-free products to plush sofas and cutting-edge mattresses, many of our client brands provide homeware goods.
With our referral programmes designed to work consistently and seamlessly across both mobile and desktop, shoppers can browse on the go or in the comfort of their home.
&keep
Emma Bridgewater
Eve
luxdeco
RECOMMERCE
Travel
No1 Lounges
Learn how homepage promotion increased No1 Lounges' referral revenue by 84%
love home swap
Point A Hotels
Zipcar
See how referral is driving success for Zipcar
Gifting
The gifting sector is booming – and not just at Christmas.
Presents make us feel special and excited to share the moment with others. A common reaction to receiving a special gift is to ask where it's from or tell others about it, either online or off. That makes the gift sector perfect for referral.
We find that aesthetically pleasing designs help conversion. Here are some of our favourite examples.
biscuiteers
Bloom & Wild
Hear about referral from Bloom & Wild's founder
photobox
Trouva
Food & Drink
Fun fact: food and drink is the most referrable sector.
Really, it's no surprise. The four key psychological elements of referring – stories, sentiment, stimulus and social situations – all tie in brilliantly to what we eat and drink.
The sector has exploded over the past few years, with the emergence of challenger brands offering everything from vegan mealkits to same-day food delivery and wine subscriptions.
Majestic wine
pasta evangelists
Referral made a tasty contribution to Pasta Evangelists' growth
iceland
Subscription businesses
You've probably already noticed some referral examples from subscription businesses already. But, just in case you missed them, here are a few more.
We've found referral to be a highly effective marketing channel for brands using this business model. In addition to discounts, incentives like limited-time offers and free trials tend to work well.
Birchbox
eaglemoss
sunday times wine club
Sport & Fitness
As a bunch of enthusiastic runners, cyclists and triathletes ourselves, we love to see the latest sport referral programmes in action.
While this sector isn't recommended as often as others, it has a high conversion rate. This is because it's niche but highly relevant; if your gym buddy recommends a protein bar or workout provider, chances are you'll act on it.
We've included examples to show how vastly businesses in this sector can vary – and how referral works for them all. Hussle gives users access to gyms across the UK; Tribe sells everyday performance nutrition products, either as one-off or with a subscription; Ribble specialises in bikes and equipment, ranging from low to high value (we segment its referral programme based on this).
hussle
Tribe
Ribble
That's it – our grand tour of 52 refer-a-friend programmes has come to an end!
We hope it's given you a glimpse into the many different ways referral can work, regardless of your brand's sector, positioning or target audience.
Of course, an on-brand referral promotion is just one part of a much bigger picture. Real referral success lies in testing what resonates with customers through continuous AB testing and optimisation.
For a demonstration of how referral could look and perform for your brand, click the button below.