As we've written in the past, perhaps no other area of retail is more sensitive to evolving consumer preferences and expectations, than fashion.
What we choose to wear (and where we choose to buy those items from) is an expression of our identity: a reflection of our beliefs about who we are.
In recent years, we've seen an evolution of these consumer values and attitudes, in ways that are altering the traditional dynamics of high street fashion retail.
So-called 'fast fashion' characterised by super-cheap supply chains in the interests of consumer affordability (often to the detriment of environmental impact, sustainability and fair treatment of workers), has given way to a new wave of ethical fashion consumerism.
The internet has created a more discerning consumer base who think more carefully about their sartorial choices. What materials were items made from? Where were they made, and how? Were the producers treated fairly? These are the types of questions that a growing number of 'conscious consumers' are now asking of brands.
In this article, we'll take a look at the defining values that constitute this new ethical fashion movement, and share examples of brands leading the way in response.
What does ethical fashion mean to consumers? The key issues that matter today.
Environmental sustainability
The environmental strain that the fashion industry puts on the planet is considerable. The problem is twofold:
First, there's the carbon footprint of manufacturing. The fashion industry accounts for 10% of the world's carbon emissions, making it the second largest industrial polluter after oil.
Second, is the direct pollution caused by the materials we wear, wash and dispose of. Many materials used in fast fashion production chains are non-recyclable and non-biodegradable. Synthetic fibres contained in many items — polyester being the most common — are polluting the global ecosystem and even our own health.
When we wash clothing containing synthetics, tiny plastic microfibers are shed into the water supply. This is reported to account for an astonishing 85% of the human-made material found along ocean shores, threatening marine wildlife and ending up in our food supply.
For these reasons, the environmental impact looms larger than ever in the consciousness of fashion customers.
Sustainable shopping has caught on as a major consumer trend — not least, among millennials, according to recent findings from Nielson.
And a new wave of retailers are growing in number to serve this demand.
BAM clothing
Bam, a client of Mention Me, makes 100% bamboo fibre clothing for women, men, and children. The environmental impact of bamboo-made textiles are manifold: among them, it's completely biodegradable, uses only 10% of the land area required to cultivate the same amount of cotton, and doesn't require any pesticide or fertilizers to thrive. And, of course, the clothing is high-quality, comfortable and stylish.
Thought
Thought sells expertly crafted, timeless designs made from organic and recyclable fabrics — including bamboo, hemp, organic cotton, and rayon (recycled tree pulp). They also use only one manufacturing site, keeping their carbon footprint down to a minimum.
Cruelty free clothing
The sharp increase in people adopting plant-based diets in recent years has undoubtedly had a knock-on effect for fashion retailers, with a similar rise in demand for 'kind fashion' made from alternatives to animal-derived materials,
From animal-free leather, to fur-free 'fur' products, to vegan shearling (wool-alternative), consumer interest in animal-free pieces has skyrocketed. And high-street brands have been quick to adapt in response.
Stella McCartney
Silk clothing derives either from the fibre that silkworms produce to make their cocoons or from spiders. Seeing the need for a viable alternative to animal-derived silk, Stella McCartney recently formed a new long-term partnership with Bolt Threads, a California-based startup that produces synthetically made spider silk. Bolt Threads has also formed a similar partnership with outdoor clothing apparel brand, Patagonia.
MATT & NAT
MATT & NAT (standing for material and nature) is a self-described 'vegan brand', specialising in leather-free accessories, bags, and footwear. The linings inside all MATT & NAT bags are made out of 100% recycled plastic bottles. In addition to being vegan, sustainable materials such as cork and rubber are mainstay of many of their designs.
Fair trade
In 2013, the Rana Plaza apparel factory in Bangladesh collapsed. More than 1,000 garment workers died, with another 2,500 injured.
The tragedy – the deadliest garment factory accident in history – was a wake-up call to the apparel industry, and sparked a global movement for decreased worker exploitation and the creation of better working conditions and incentives in developing countries.
As consumers have woken up to this reality, backs are increasingly being turned on the cheap-and-fast mode of apparel production. Instead, people are seeking out niche brands that follow artisanal production standards and stand on fair trade principles.
People Tree
Every item from People Tree is Fairtrade certified. Through close partnerships, they work to the highest Fair Trade standards on projects to support producers through initiatives like hand skills training, the development of natural and low-impact dyes and organic cotton farming.
USA-based company Pact sells certified 100% organic cotton clothing that's Fair Trade Factory Certified. As explained in their own words, 'We believe in individuals and the collective power of conscious consuming. When we ask questions like "who made my clothes" and "what are they made from" we become more aware of the impact of our shopping decisions. At Pact, you can feel confident knowing we value kindness towards humans, planet and clothing that's as comfortable as being yourself.'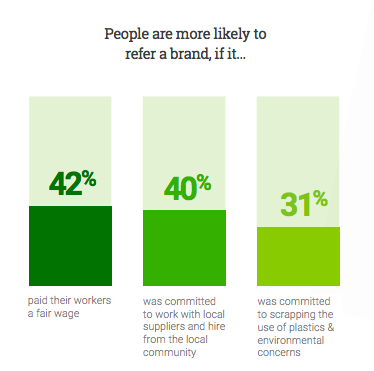 There is certainly a sea-change in consumer expectations of brands, and our recent research revealed that this demand for more ethical practices extends not just to initial purchase, but also to advocacy. The brands that live up to these new values are likely to win not just the hearts and minds of their customers, but of their friends too.