People
Get to know: Clubs at Mention Me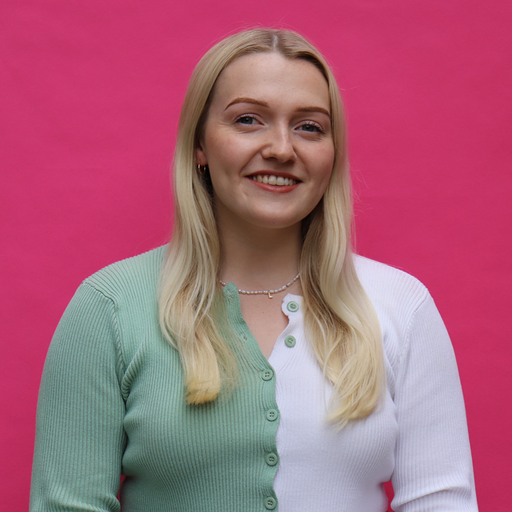 By Olivia Cox — October 21, 2022 -
Read time: 7 mins
Our fast-growing team of Mentioneers are a busy bunch, dedicating their working days to helping brands harness the power of their fans through referral.
But when they're not hard at work leading the charge to make all brands think advocacy-first, many of our Mentioneers like to unwind and mingle by taking part in one of our internal clubs.
Read on to hear from our club leads about why they wanted to get involved (and why they think you should too).
Run Club - led by Ben, Data and Insights Manager
Running club has been running, step by step, since the beginning. It's been described as the highlight of the week by some. Unlike other run clubs, which one may be hesitant to join out of concern for keeping up, this is welcoming to all abilities. We always run at the comfortable speed of the slowest person, for a flexible 5kms.
Once a week after work, a group of anywhere between two to ten of us will run from the office, along the Thames, around Westminster Abbey and back. Besides the weekly topical fun fact, the rest of the run consists of stories shared, taking in the sights and sounds of London, or people expressing that they wish they'd joined sooner.

It's social, heart-rate-raising, innate fun that everyone who's ever joined has enjoyed.
Poker Club - led by Tim, Head of IT and Workspaces
Poker Club is probably the longest-running club of them all, but little has changed: once a quarter we sit down in the kitchen after work, find the Mention Me-branded poker chips, get some pizza and play poker. Most of the time the buy-in is £5, and we're a genuinely friendly bunch — if you've never played before, this is the perfect environment to learn as we have a complete mix of abilities and we're not too serious. No other evening is quite like it, so keep your eye out for the next one!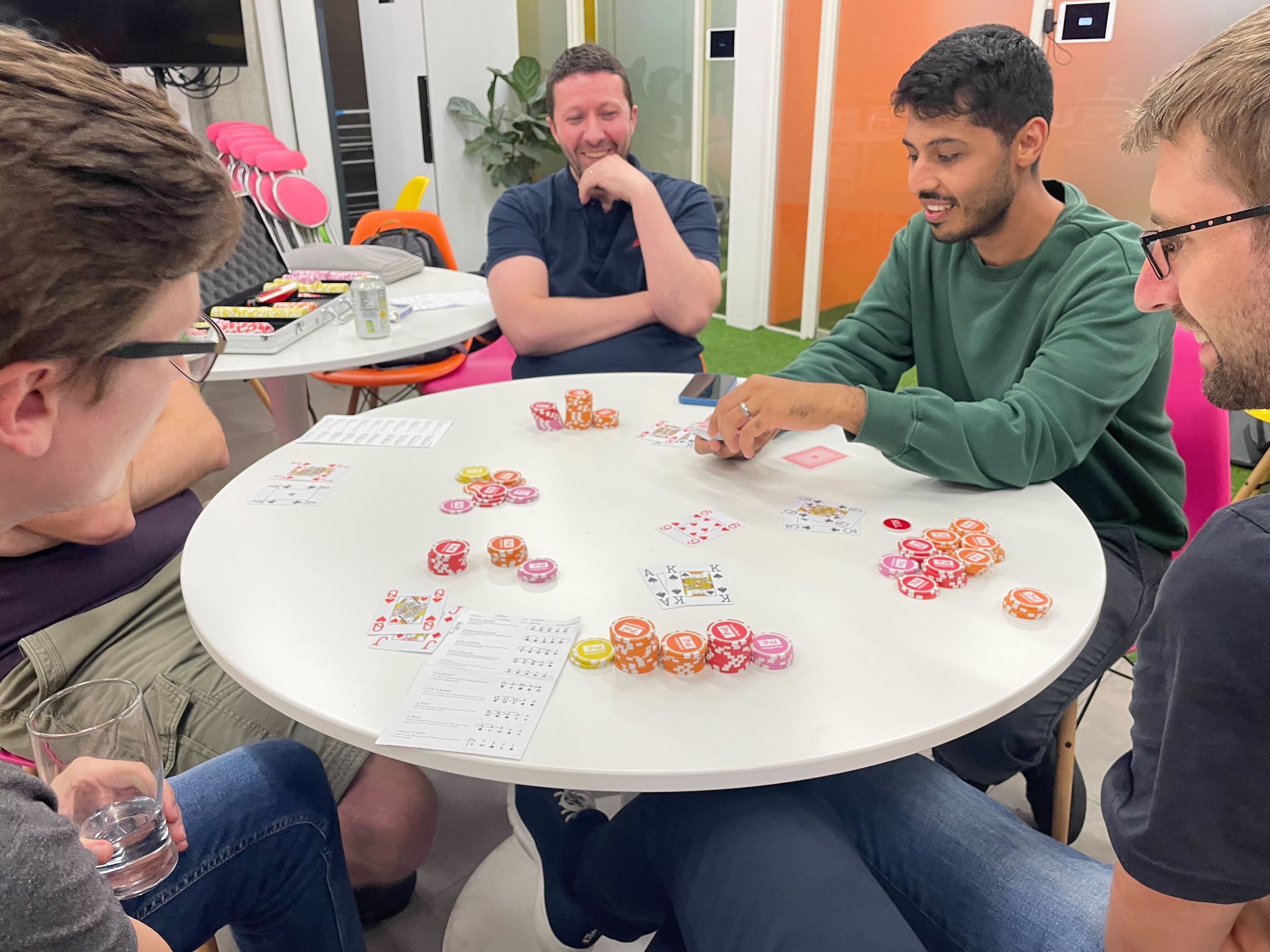 Book Club - led by me
Book club started before I joined Mention Me, but I've now been a part of it for a few months, and recently started leading it. Once a quarter, we decide which book we want to discuss (last quarter's was We Had to Remove This Post by Hanna Bervoets), then give people a few weeks to read it in their own time. Then, we'll meet (people are welcome in the office or remotely) to share what we thought about the book, why we liked it (or didn't), and any themes we found thought-provoking.
There are usually between 8-12 of us joining the discussion, and we always end up having really interesting conversations. Our last meet-up somehow descended into a slightly panicked talk about how AI will take over the world…?
It's a great club to join because it's not too demanding time-wise, but it's a lovely opportunity to meet and chat with people with a shared interest. Oh, and did I mention we ordered pizza for the last discussion?
Five-a-side - led by Craig, Client Operations Team Leader
Football, in some form or other, has been running within the company since long before I started. But it was made official with the creation of the Slack channel in May 2019. It started off with about ten people and has now expanded to a group of 40.
We made our first appearance as Mention Me-lan in July 2019, and since then we've tried to play as regularly as possible. We even tried our hand at joining a league (which didn't work as we'd have hoped).
At the moment we play around once a month, usually on a Tuesday at the Powerleague in Nine Elms.
We've also occasionally played against other companies. Most recently we played against Culture Amp — we won, which has kept our 100% win record going.
This group is not exclusively for those who play football (or think they can). We have a complete mixture of abilities, from those who wouldn't consider themselves footballers to those who fancy themselves as a bit of a Ronaldinho, and everything in between.
Board Games Club - led by Matt, Senior Software Engineer
This was one of the first clubs to be set up, existing in some form since 2017 after a tabletop taster event for the Engineering team. The club expanded in 2018, after interest from the wider company, and became a regular lunchtime or after-work activity until Covid hit — then in-person play wasn't a thing for a while.
There are currently 25 people in our Slack channel. The intention is to have one organised evening session of gaming every two months, with ad-hoc plays encouraged whenever a group feels keen to get out some tokens to push around a board. Pizza and drinks are provided to sweeten the deal, or tempt/bribe anyone unsure whether they'd enjoy the games to give it a try!
I've been in the tabletop gaming hobby for over 15 years, and I've amassed a collection of games that sadly sit for a long time on a shelf at home (not for lack of trying to play them as often as possible!), so I decided to bring some into the office for others to discover and play. There's a permanent shelf stacked with board games that anyone is welcome to try out, and gets fresh games cycled in every few months. Some examples of games we've played in the past are Steampunk Rally, Cash n Guns and Camel Up.
Tabletop games are a great social activity, whether you're getting to know people you don't often speak to, or intuiting a deeper understanding of someone's psyche when they decide to block the completion of your triple-digit-scoring castle in Carcassonne (names withheld).
Ultimately, it's about creating a fun experience for everyone. Although there are some favourite games, we try to regularly bring something new to the table so that almost everyone is on a level playing field the first time they play it. It's a good opportunity to try games you maybe haven't played (or heard of), and bring the same enjoyment back to your friends and family.
Chess Club - led by Sophie, Sales Development Representative
Chess club started before I joined Mention Me, and Henny (SDR Manager) was the one that introduced me to it. Since then, I've been organising regular lunch chess sessions for anyone that wants to have a game. We normally play every Wednesday or Thursday lunchtime, but the nice thing about it is that you can play at any time.
Currently, there are 21 people in the chess club Slack channel, but there are usually 5-6 of us that regularly play. What's great is that it's a club for all levels; some of us have been playing chess for years, and others have only just started, so you don't have to be a pro to join! I'm also more than happy to explain the rules.
My grandpa taught me how to play chess when I was 5, but I didn't start getting into it until after I watched The Queen's Gambit. Since then, I've really enjoyed playing with friends and understanding the strategy behind it. It's also a nice way to take your mind off work, as the only thing you need to think about is your next move, so it's quite calming in a way.
I'm always up for a game of chess, so if you ever wanted to play, the chess boards are under the black cabinet by the beer fridge!
Dungeons and Dragons - led by Mariusz, Senior Software Engineer
Our D&D club is just a couple of weeks old and was created following a discussion on the tabletop club Slack channel. Dungeons and Dragons is a role-playing game, where players form an adventuring party and explore fantasy worlds together, embarking on epic quests. It's played as a collaboration — instead of plotting against each other, all players are working together towards a common goal. Once the players' characters are created, the game can be played as short adventures, taking a couple of hours to finish, or long campaigns spanning months (or even years) in real-time.
Our group of adventurers is intentionally small — just four players and a Dungeon Master, who is the game referee and main storyteller — to allow everyone plenty of time in the spotlight. Over half of our group is new to the hobby, so for our first adventure, I picked a popular scenario: "Lost mine of Phandelver", which is often played as an introduction. We're playing online, using Google Meet for the video/audio, and the Roll20 portal to simulate dice rolls, and share terrain maps and other visuals.
The plan is to play whenever we can all gather together; there's no regular schedule at the moment. Everyone's welcome to join or drop off at any time, and don't worry if you've never played before — I'll be happy to assist with your character creation and explain the basic rules!
Think you'd enjoy getting stuck into life as a Mentioneer? Check out our current open roles.

How Mentioneers are marking their special moments with Celebration Days
Never miss another update
Subscribe to our blog and get monthly emails packed full of the latest marketing trends and tips