Press releases
Beyond Discounts: Attracting Black Friday Shoppers with More
By Christina Aylmer-Pearse — November 7, 2019 -
We've compiled our third annual research report on Black Friday shopping trends based on the responses of 2,000 British consumers*. Exploring the sentiment, shopping habits, and key considerations surrounding Black Friday, it presents essential insight into how brands can capitalise on this retail landmark event.
About our Black Friday Report 2019
Completed in October 2019, this study's findings highlight that, though gaining traction year-on-year, Black Friday is yet to win over everyone. 39% of respondents don't plan to shop Black Friday sales (compared to 53% in 2018 and 63% in 2017).
The power of referral as a marketing channel remains strong, with recommendations from friends and family topping all other methods of brand discovery for the third consecutive year.
As a business, Mention Me's ethos is to challenge the status quo. We're on a mission to put trust back into the heart of marketing to drive growth for businesses. This report highlights how referral can support key goals, from fully engaging existing customer bases to driving new customer acquisition.
As Black Friday 2019 prepares to be bigger than ever, we hope this insight equips retailers to run their best campaigns yet.
*via marketing research company One Poll.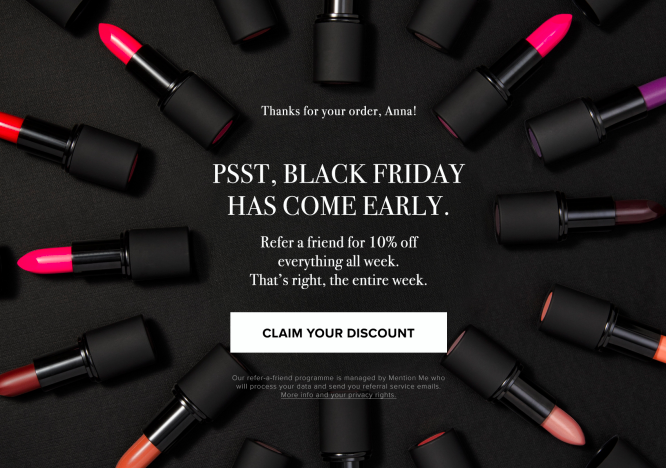 An example Black Friday promotion, as featured in the Mention Me Black Friday lookbook
The Results
Discounts remain important for cost-conscious consumers
Consumers remain cautious with spending but tend to see Black Friday as aligning with their desire to save money, as exemplified by the 11% who resist making major purchases in the two months running up to the retail event.
This savvy spending approach is particularly prevalent among millennials, with 30% of 25 to 34 year olds buying from brands on Black Friday based on their discount. While this means retailers can sway shoppers with generous discounts, it highlights that new customers are likely to be one-off bargain hunters rather than long-term loyal customers.
This discount-led approach doesn't apply, however, to all age groups.
Brand loyalty and sustainability is increasingly important
23% of consumers who shop during Black Friday do so only with brands they're familiar with and feel loyal to (up from 12% in 2018 and 11% in 2017). This trend is notably strongest among Gen Z, accounting for 33% of 18 to 24 year olds, compared to 20% across all other age groups – highlighting a notable shift from their preceding generation's focus on shopping at the brands offering the biggest savings.
While brand trust isn't a primary concern for millennials, ethics and sustainability is. 25% are more likely to buy from brands that behave ethically and sustainably. This factor matters the most to Gen Z (29%), compared to just 12% of Black Friday shoppers aged 55+.
These figures reiterate the importance for brands of considering their values and behaviour when hoping to reach younger consumers, particularly Gen Z who aren't as easily swayed by generous discounts as their older generations.
Friend & family recommendations are top method for discovering brands
14% of all Black Friday shoppers choose brands based on the recommendations of their friends and family.
This method is most popular among 18 to 34 year olds at 26%, followed closely by 35 to 44 year olds (25%) and 45 to 54 year olds (24%). This figure drops to just 16% among those aged 55+.
15% of women are likely to act on their friends' recommendation, compared to 13% of men.
Consumers shop in-store and online…
9% of consumers shop Black Friday sales both in-store and online, emphasising the importance of brands presenting a consistent experience across physical and digital channels.
While women don't express a preference, men planning to take advantage of Black Friday are much more likely to research in-store before buying online, with 13% taking this approach compared to researching online then buying in-store.
Those in the mid-age range are most likely to research Black Friday deals in store before buying online with 19% of 25 to 44 year olds choosing this approach, compared to just 12% of those aged 55-plus.
… Across devices
Almost a quarter (23%) of those aged under 44 shop Black Friday on their mobiles, highlighting the importance for brands of presenting consistent user experiences across devices. However, older consumers are much more likely to shop in-store or on desktop, with just 6% of those aged 55-plus shopping on mobile.
In addition, hard-working Brits shy away from shopping Black Friday online at work, with just 9% doing so, compared to 15% waiting until the evening. Millennial employees are most likely to shop at work (23%), but even they prefer to shop in the evening (29%).
Black Friday shoppers buy for themselves more than others
When it comes to Black Friday spending, the majority of shoppers buy for themselves.
Gen Z are the age group most likely be selfishly motivated (36%), followed by those aged 55+ (33%). Millennials are most likely to shop for presents for friends and family, with 30% doing so, but are still likely to buy for themselves too (27%).
This trend is fairly consistent across genders. Just 17% of women shops for friends during Black Friday; this figure decreases to 15% among men.
Conclusion
Black Friday remains a major event in the retail calendar, with 61% of consumers planning to get involved with the sales. But a clear shift towards trust in brands and ethical shopping is beginning to impact an event previously focussed solely on discounting. Offering the biggest discount on Black Friday is no longer enough; retailers need to work to sustain their image pre- and post-event in order to build long-term valued customers.
The results also highlight the importance of tailoring marketing to target demographics, for Black Friday and more generally. A generous discount is unlikely to win over Gen Z; an ethical message is unlikely to resonate with Baby Boomers. But channel the right message to the right audience, and retailers can achieve strong results. Referral marketing complements this, as exemplified by consumers' preference for discovering new brands via recommendations from their friends and family.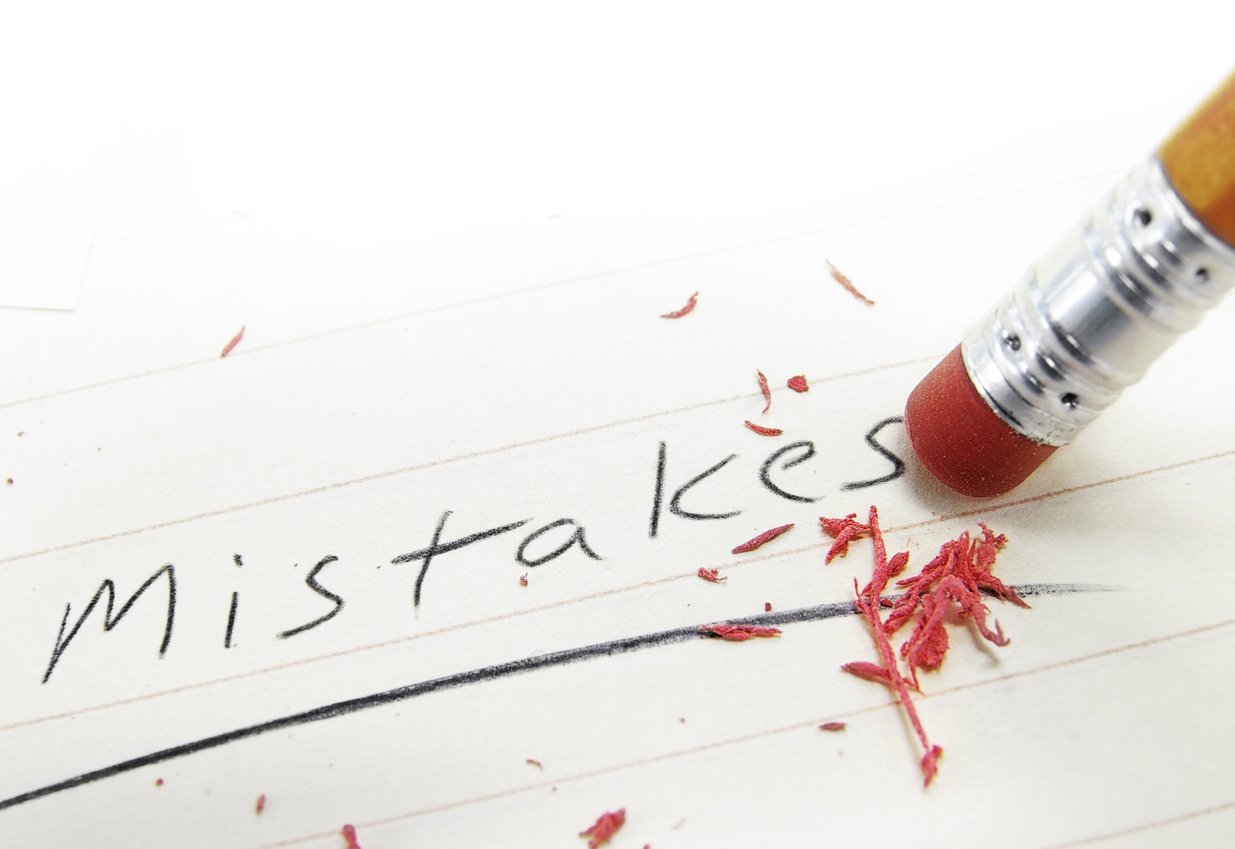 6 mistakes killing your referral marketing programme
Never miss another update
Subscribe to our blog and get monthly emails packed full of the latest marketing trends and tips