Paddle-boarding along the Thames river, making pasta in an underground kitchen and cheering on every ball at the cricket with pink umbrellas and flamingos. I can't honestly say I expected any of those things when I signed up to join the engineering team at Mention Me, but I'm glad I did! I want to give prospective joiners, or simply those curious enough, an insight into what can be expected when you join the company.
Early steps
Interview process
Interviews are always tricky beasts, but going through the recruitment process at Mention Me was very satisfying and I felt my time spent during the process was valued. Even had I been unsuccessful, it had given me a genuine insight to the company, pleasant interview experience and a good opportunity for feedback.
Notice period
The offer letter landed in my inbox, notice handed in and a step into the relative unknown begins. Any apprehensions I had about joining a new company, away from familiar faces I had worked with over the past ten years or so, was continually appeased in the lead up to my first day. Lunch was arranged with the engineering team, getting to know them all before arriving on my first day, so that I'm already walking into some friendly faces. It was a great chance to interact in a relaxed environment without the pressure of an interview that might naturally be a little guarded.
Onboard at Mention Me
First morning
I arrive after the company has had the weekly meeting to check in on how everything's going and what's on the roadmap ahead, including my arrival. I'm welcomed by Ed, my new manager and Head of Engineering, and given a quick tour of the office and introduced to everyone, desperately trying to remember names and faces. I setup my shiny new MacBook Pro and large 4K monitor on my desk; it's a definite productivity requirement for any engineer - I would recommend a single 4K monitor over a dual monitor setup.
First day
Most of day one is spent on the expected onboarding list, making sure I can login to accounts and systems I need. A nice lunch is spent with the team, food is available on the premises so you don't have to venture far for a bite to eat. We also - I learn - have various delivery options and a sandwich guy that comes to the office around midday, for the super-lazy (I often get my sandwich this way).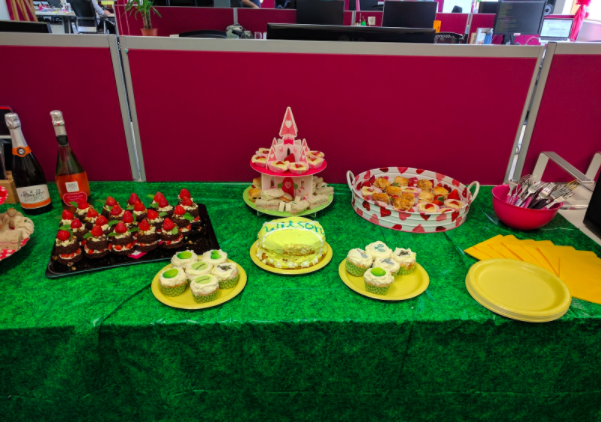 The bake-off competition - thrown into the bake-off!
The rest of the day is spent being a sponge for knowledge and information, writing as much of it down as possible - although the existing documentation around processes and systems is better than I had anticipated!
First week
I'm encouraged to ask questions - in fact, to earn my named coffee mug it's a requirement that I complete a quiz set for me - and meet with all the other department heads to gather broader knowledge of the company, and in particular the interaction of each department with engineering.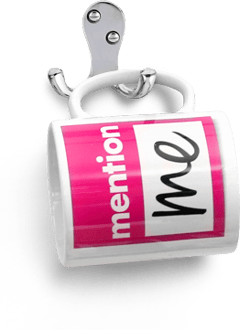 Being a small but growing startup, it's encouraging to see that there are plenty of opportunities to interact with everyone in the business even if day-to-day tasks and challenges don't always align as a necessity.
Most of the week is spent getting a comfortable development environment in place - mashing up existing tools and processes with those I bring with my experience and previous work in software engineering positions.
Joining an engineering team responsible for a single platform and product can be risky, because decisions made a year ago - or often, many years ago - remain as a legacy within the code that's very hard to remove. Thankfully, after being taken through the architecture it was clear that common sense and pragmatic solutions were implemented throughout, and as the platform evolved over time the decisions were reassessed and refactored as required.
First month
Before catching my breath it's time for me to take on my big first chunk of work that can have a real impact on the product, and I'm excited to feel like I'm actually contributing some value. I was tasked with adding in a new role that users could take on - with the potential to impact every user of the portal if it wasn't implemented correctly - but thanks to excellent up-front explanations, a thorough review process and great testing steps, the code shipped and I am relieved to really get up and running.
Delving into the code I feel like a newbie again, every line of code was alien to me and although I'd stumble across familiar idioms and design patterns, it would take experimentation, exploration and experience to piece things together in my mind.
Coming in to an engineering team full of brilliant minds and awesome people makes imposter syndrome hit occasionally, but the great thing about being in such a team is that they all understand and are fully aware of the challenges in integrating a new team member - in the long run, up front investment in ramping up my product knowledge is paying off.
I also happen to join at a time when the office jobs are being reassigned. Everyone in the company has a role to play alongside their day to day job, whether it's keeping coffee and snacks stockpiled, helping to plan a move to a new office or buying Friday beers. I have been tasked with ensuring our conference calling solution is both useful and useable by colleagues and clients, whilst keeping the monthly bill to a minimum!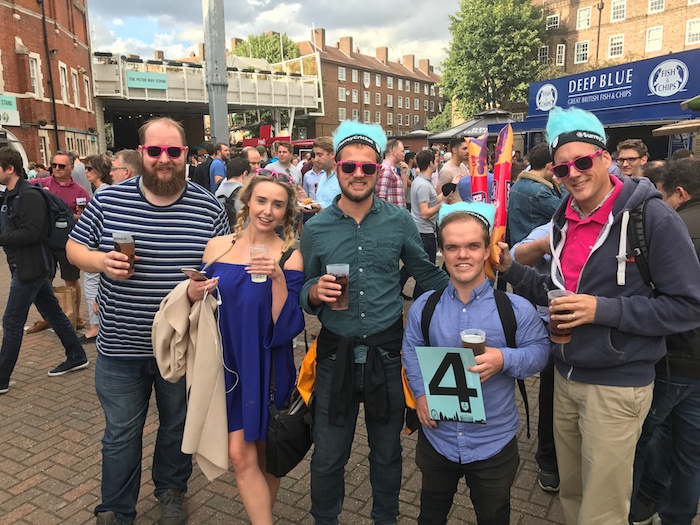 Pink umbrellas and flamingos not shown - but always plenty of pink as we prepare for the cricket
First quarter
Summer holidays mean that things quieten down a little for a few weeks, but that's not so true in engineering as the platform still needs to stay fully operational as many clients have big summer sales. For a couple of days it was just one other engineer and me in the office, but thanks to the systems and processes in place in case of any problems arising (Slack will tell us straight away if a graph is trending the wrong way over a threshold), and the knowledge shared and retained by everyone, there was no moment of panic or concern.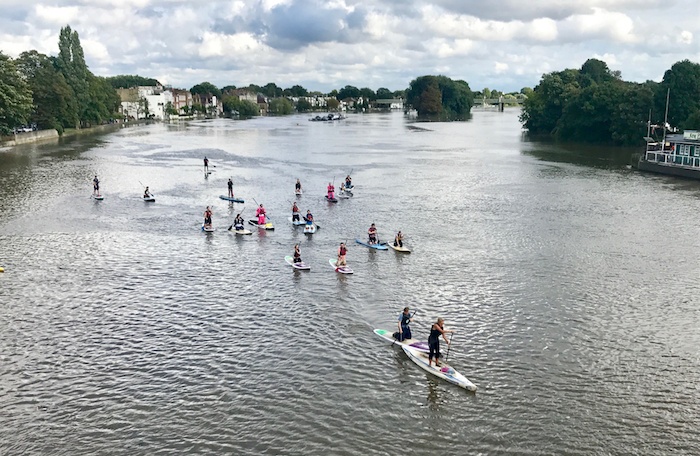 Paddle boarding along the Thames river - you certainly can't miss the hi-vis pink suits
Everyone at Mention Me is always looking to challenge the way things are currently thought of and done, just because it's working well at the moment doesn't mean it couldn't be better! So the engineering idiom of "don't be afraid to break things" carries across to the processes too - for example, we have explored mob-programming to tackle problems as a single unit, something that provided tremendous insight to me as an engineer still trying to understand parts of the system.
I'm also no longer the new-guy around the office, and we are hiring like crazy - with at least seven new joiners since I started 3 months ago and lots of opportunities on the horizon. Everyone is quickly integrated and welcomed into the Mention Me culture, and with plenty of surprises for team and company days out, there's always opportunities to spend time with your colleagues outside of the day-to-day.