How valuable are your new customers versus the marketing channels used to acquire them?
As every marketer knows, calculating your return on investment (ROI) is key to using your budget wisely and planning a cost-effective marketing strategy that delivers results.
Referral marketing can deliver a healthy ROI, especially if you choose a platform that only charges on performance. Our clients typically see an ROI in the range of 5-10x.
With the right tools it is eminently trackable too, unlike some other increasingly popular marketing techniques such as Influencer Marketing. Just recently econsultancy highlighted the challenges facing marketers in this regard.
But rather than looking just at the initial customer purchase value and working out ROI, you really should look at the Life Time Value (LTV) of your marketing channels.
That really is when you can see referral can deliver some astonishing results.
What is customer Life Time Value?
At its most simplistic level LTV can be calculated by :
Annual profit contribution per customer

X

Average number of years that they remain a customer

- the initial cost of customer acquisition
Building in other factors into the calculation such as the likelihood to recommend further friends can give a much more complete picture. This example from the Database Marketing Institute gives a nice summary. And the bottom line is, if you increase LTV you increase profits.
According to Marketing Metrics, the possibility of selling to a new prospect is 5-20%, but the probability of selling to an existing customer is 60-70%. By focusing on your most loyal customers - those most likely to become your advocates - and their lifetime value, you are focusing on a strategy that gives your business higher profit margins.
So how does the Life Time Value of a referred customer differ?
We have analysed the data from the 200+ referral programmes we have managed for our clients and found just how valuable a referred customer can be:
They spend 10-25% more on their first order
They make significantly more repeat purchases.
They themselves refer more customers. They are 3x more likely to refer a friend.
Overall, the Life Time Value of a referred customer is 2x that of a non-referred customer.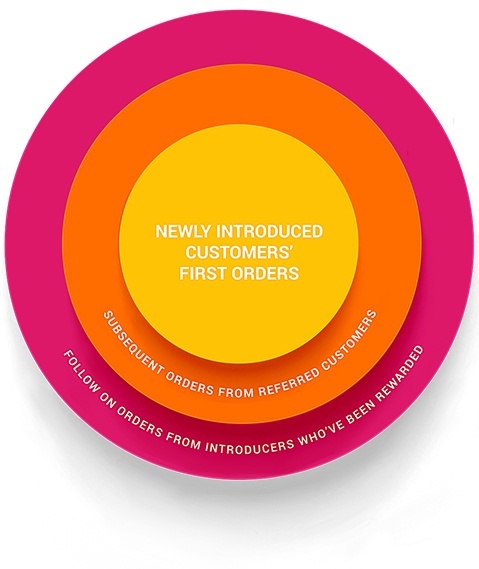 So higher initial spend. Higher subsequent order….Increased likelihood to refer. What's not to love?
Why might this be?
Two reasons. Firstly, a customer who has been referred by a friend is likely to trust that company more. After all a good friend will only refer a reputable brand or they risk their social standing.
Secondly, people like to keep an even balance in their social exchanges and are governed by the rule of reciprocation. Put simply if they are offered something they feel obliged to return the favour.
These two elements are just a small part of the psychology at play in referral. That's an entire topic in itself, and one we examine in more depth in our psychology of referral blog post.
Of course different segments of customers will demonstrate different LTVs. This provides a great opportunity to tailor your referral program. Identifying your most valuable customers and offering them an enhanced referral offer could drive more advocacy and ultimately lead to higher new customer acquisition via your referral channel.
After all, the friends of your best customers could turn out to be your future best customers.