The curtain has closed on Q3, and you're well underway with your Q4 strategy. With an action-packed final quarter of the year covering Black Friday and Christmas, you might be too rushed off your feet to spend much time thinking ahead to the start of 2022.
But the beginning of the year is a quiet time for sales, so it's better to focus all your attention on the busy golden quarter. Right? Well… not exactly.
You may think the start of the year isn't the most lucrative time for your business, given the typically lower levels of online traffic and orders. While sales aren't exactly booming in the first quarter, customers are recommending more brands, making it the perfect opportunity to accelerate growth.
By encouraging loyalty from your long-time customers and newly acquired festive shoppers, you can turn your Q4 success into results that last throughout 2022. And we've got the data to prove it.
Brands acquired 20% more new customers through referral in Q1 2021
We've taken a look at how our 450+ brands across sectors performed between Q4 2020 and Q1 2021, comparing the number of referrals, the number of new customers acquired through referral, and overall order volumes — and the results may surprise you.
Referrals and online orders in Q1 2021 compared to Q4 2020
| | | | |
| --- | --- | --- | --- |
| Sector | Share rate | New customers from referral | Orders |
| Health & Beauty | +7% | +23% | -16% |
| Fashion | +9% | -2% | -26% |
| Food & Drink | +52% | +11% | -4% |
| Travel & Hospitality | +33% | +46% | -26% |
| Home & Garden | +9% | +1% | -7% |
| Finance | -8% | +42% | +17% |
| Insurance | +36% | +43% | +4% |
| Subscription | +70% | +13% | +9% |
| All sectors | +14% | +20% | -10% |
While order volumes were down across the board (with the exception of finance, insurance and subscription brands), customers shared brands more in almost every sector in Q1 than in the final quarter of last year.
And more importantly, there was also a significant rise in the rate at which these referrals converted into new customers.
Unlike Q1 2020, which was completely thrown off by the arrival of Lockdown 1.0, national restrictions didn't make too much of a difference when comparing the final quarter of last year with the beginning of 2021. Both quarters were plagued by a whirlwind of varying lockdown restrictions and tier systems, but the overall pictures of the two were pretty similar.
Referrals and new customers acquired through referral in Q1 2021 compared to Q4 2020*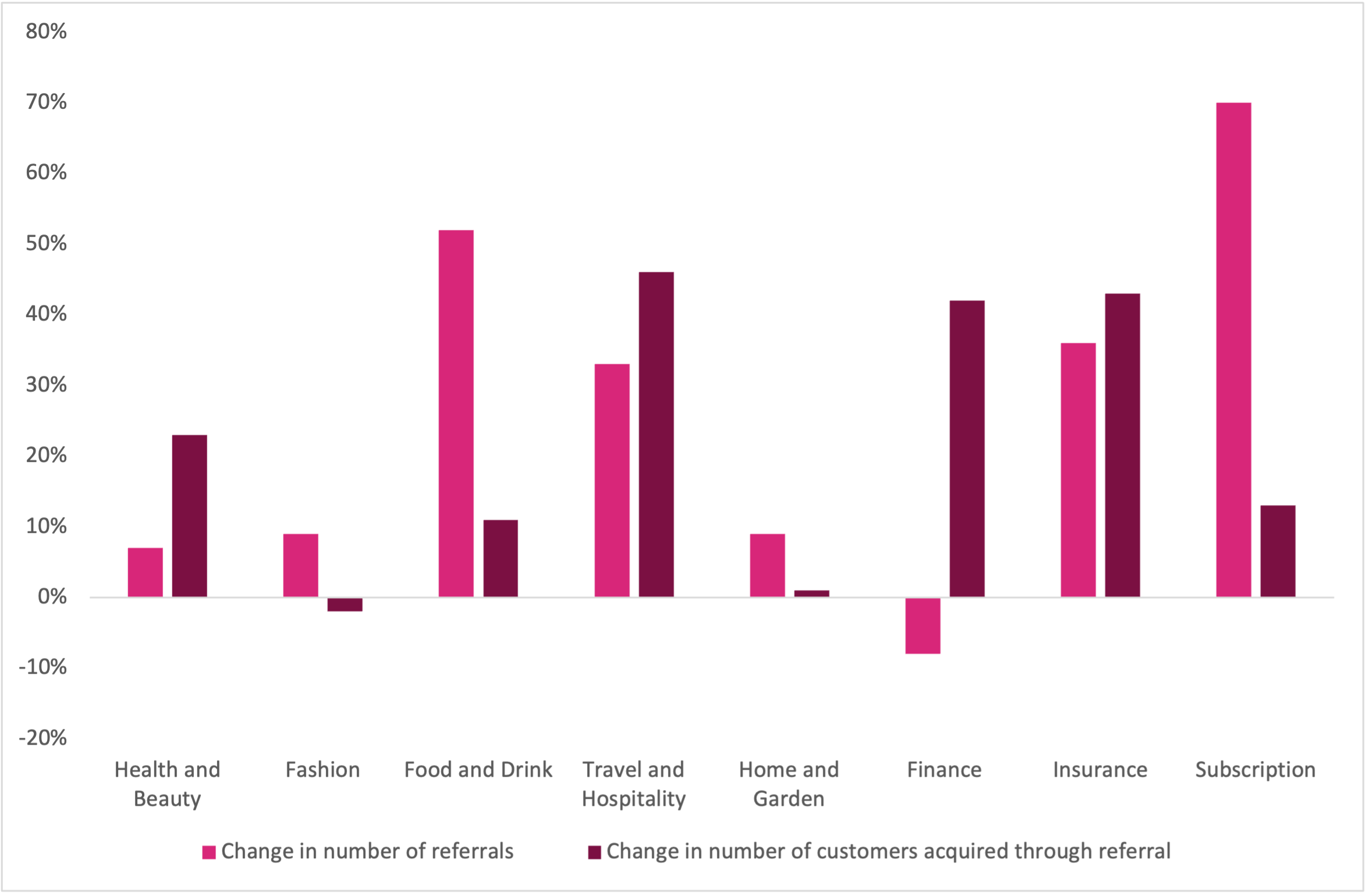 * When we talk about 'referrals' in the above graph, we're talking about the rate at which customers shared brands with friends compared to last year. The dark purple bars (showing the change in number of customers acquired through referral) reflects the change in the rate at which these referrals successfully converted into new customers.
Let's break down these numbers to find out what they mean for each sector.
Consumers share popular sectors even more in Q1
For health and beauty, fashion, and home and garden, the increase in referrals doesn't look as impressive as for other sectors. But these are some of the most successful sectors year-round when it comes to referral rates, so a quarterly increase won't be as drastic.
These sectors do well during Q4 as Black Friday shoppers browse for deals on cosmetics, clothes and furniture, and they're also popular options for Christmas presents. Inevitably, order volumes surge and then simmer down at the start of a new year, but there was still a 9%, 9% and 7% rise in referrals for home and garden, fashion and health and beauty respectively. This shows that these end of year purchases and gifts are proving popular enough to convert into brand recommendations further down the line.
The New Year is the perfect time to encourage referrals for your brand...
Both food and drink brands and travel and hospitality brands increased their referrals and purchase rate massively between Q4 last year and Q1 this year. Many people set themselves New Year's resolutions to be healthier or cook more — this is where at-home meal kits and fresh delivery services thrive. And as for travel brands, January Blues and the bleak post-Christmas winter are sure to have sun-seekers frantically booking getaways.
Given that food and travel are such shared experiences, many consumers like to share these brand discoveries with others, leading to an impressive 33% increase in referrals for travel and hospitality, and an even bigger 52% increase for food and drink.
Especially if you're in the finance, insurance or subscriptions sector
The real champions of the Q4 to Q1 transition, however, were finance, insurance and subscription brands. Unlike retail sectors, which typically drive fewer sales at the start of the year, online orders for these brands rose. The start of a new year is a great time to draw in customers looking to be more frugal, and brands from all of these categories are popular with shoppers trying to spend sensibly. The 17% increase in overall order volumes for finance was the highest of any sector.
And as consumers order more from these brands, they're sharing the benefits with their nearest and dearest. Referral rates for insurance were up 36%, and referrals peaked at an astonishing 70% increase for subscription brands. Because orders from these brands tend to be more considered purchases, these personal recommendations are far more trusted. This trust translated into a steep 42%, 43% and 13% increase in purchases from referral for finance, insurance and subscription, respectively.
The numbers differ slightly for each sector, but the overall message is loud and clear: Q1 has the potential to be a period of major customer acquisition for your brand.
Get a head start on next year's marketing strategy
The final quarter of the year is busy from start to finish, but Black Friday and Christmas make the second half especially hectic. Rather than cramming your 2022 marketing planning into one of the few moments of calm you have between festive events, start now.
If you want to capitalise on the fact that consumers make more recommendations during Q1 with a strategically-designed Referral Engineering™ programme, you don't need to set aside much time. In fact, you can get set up in 30 days (or less), so you can plan now, and reap the sweet rewards later.
Find out how a data-driven approach to referral can increase customer acquisition by as much as 30% and AOV by 11%. Download your copy of A Beginner's Guide to Referral Engineering™.