Referral marketing
The major opportunity you're missing to acquire high-value customers in Q1 2023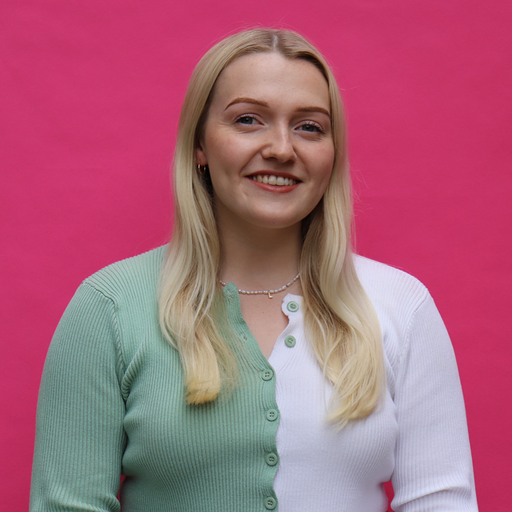 By Olivia Cox — October 24, 2022 -
Read time: 7 mins
In the crowded arena of ecommerce, Q4 is the battle royale. You've got Black Friday, Cyber Week, and Christmas all presenting 24-carat golden opportunities to drive mammoth sales and acquire plenty of new customers in the process.
And then Q1 hits.
Every year, the first three months of the year prove lacklustre for sales, as consumers swap festive fun for nights on the sofa and vow to save money.
And in 2023, with the cost-of-living crisis tightening its grip and a recession looming ever closer, this already challenging quarter will become even tougher.
This might leave you tempted to bury your head in the sand, carry on with your current tactics, and wait for a more stable moment to upgrade your strategy.
The reality is, however, that sticking to the status quo means relying on unpredictable channels likely to blow your budget.
Rather than helplessly watch sales plummet in Q1, use the surge in Q4 activity to drive a steady stream of new, high-quality customers to your brand in the new year. And that doesn't necessarily mean rewarding your festive big-spenders. The real power players aren't those with the largest baskets; it's your brand advocates.
These are the customers who love your brand and love sharing it with others. Not to mention, the friends they bring along are 5x more likely to recommend you to their nearest and dearest — accelerating growth for your brand even faster.
"But how do I acquire such high-quality customers in the quietest quarter of the year?" you ask. Well, it's easier than you'd think…
Brands acquired 10% more new customers through referral in Q1 2022
We've taken a look at how our 500+ brands across sectors performed between Q4 2021 and Q1 2022, comparing the number of referrals, the number of referrals that converted into new customers, and overall order volumes. The results may surprise you.
Referrals and online orders in Q1 2022 compared to Q4 2021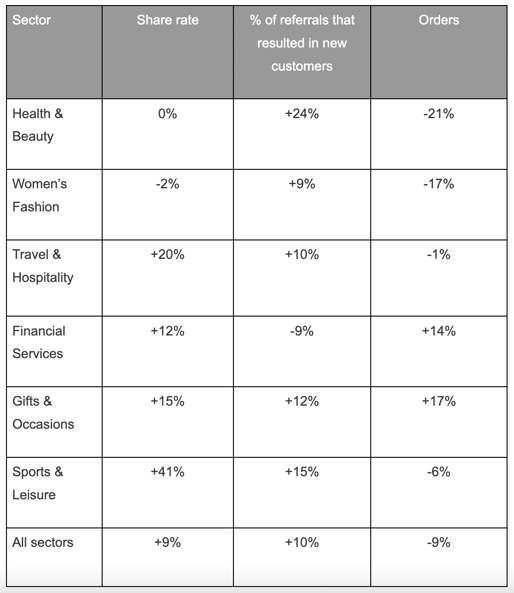 While orders across sectors dropped by 9% between Q4 2021 and Q1 2022, the percentage of customers sharing brands with friends increased by 9%.
Meaning that while consumers weren't shopping as much in Q1, the brands they did buy from were frequently recommended to others.
And more importantly, friends and family listen to brand recommendations from those they trust. Referrals converted into new customers 10% more in Q1 this year compared to the previous quarter.
Plus, the overall Q1 purchase rate (26%) was the highest of any quarter in 2022 so far. When people are buying less, they're more selective about where they buy from – something that's likely to be more so the case in the tough economy of 2023.
Referrals and new customers acquired through referral in Q1 2022 compared to Q4 2021*
* When we talk about 'referrals' in the above graph, we're talking about the rate at which customers shared brands with friends compared to the previous quarter. The pink bars reflect the change in the rate at which these referrals successfully converted into new customers.
Let's break down these numbers to find out what they mean for each sector.
+24% of health & beauty referrals converted into new customers in Q1
In Q1 2022, orders for women's fashion and health and beauty brands fell 17% and 21%, respectively. But fewer orders didn't stop these brands from acquiring high-quality new customers through referral.
Despite consumers sharing health and beauty brands just as much in Q1 as in Q4 the previous year, 24% more referrals converted into new customers. This was the biggest increase in any sector.
For women's fashion, there was a 2% decrease in share rate in Q1 this year, but 9% more of these referrals resulted in new customers.
And with customers acquired through referral spending an average of 11% more on their first order, these recommendations create steady revenue streams that carry on throughout 2023 (and beyond).
Financial services referrals are most likely to convert into new customers year-round
Looking at the graph above, you'll see there was an increase in the number of referrals that resulted in new customers between Q4 2021 and Q1 2022 for almost every sector…
Except for financial services, which dropped 9%.
But wait — if you're a brand in this sector, don't close your tab now.
Given that almost half of all financial services recommendations resulted in new customers in Q4 2021, a 9% decrease in Q1 doesn't mean this figure isn't still something to shout about.
Even with this small decrease, the overall purchase rate for financial services was higher than any other sector in Q1 2022 — and it's remained the highest all year.
That's because when consumers are thinking about something as important as money, they're not going to trust just any brand they find through a quick search.
They'll ask for recommendations from friends and family — and are highly likely to act on these as a result.
As the cost-of-living crisis forces us all to think carefully about how we spend our money, someone putting their trust in a financial provider by recommending it to a loved one will make an even bigger impact.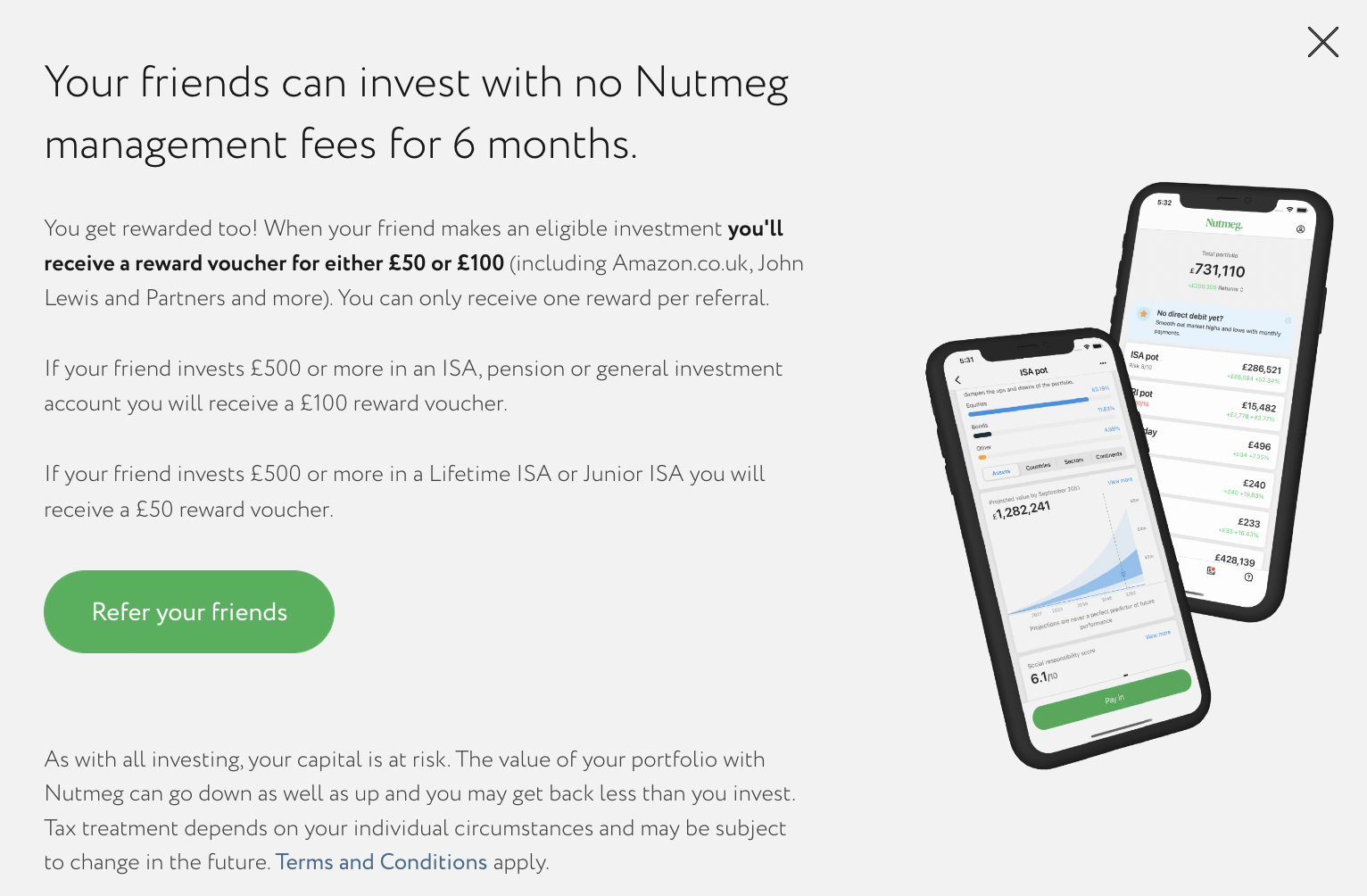 Nutmeg offer third-party vouchers to their referring customers
New year, new brands to refer…
The three sectors with the biggest share rate increase in Q1 were travel and hospitality, gifts and occasions, and sports and leisure.
And as well as more customers sharing these brands between Q4 2021 and Q1 2022, there were also more people acting on these recommendations.
Sports and leisure brands get a lot of attention in the new year as consumers run (pun intended) to pick up healthier habits after the festive period.
So it's unsurprising that, compared to Q4 2021, this sector experienced 41% more referrals, with 15% more converting into new customers.
Another big winner of Q1 was the travel and hospitality sector, with consumers recommending these brands 20% more than in Q4 2021. Better still, these referrals converted into new customers 10% more than in the previous quarter.
With the January blues prompting consumers to fantasise about summer holidays, it adds up that they'd flock to travel and hospitality brands more in Q1 — and share their excitement with friends and family. While holidays might not be top of the priority list in 2023 for people struggling, those who can afford one will be looking for the best deal they can find.
Finally, and perhaps most unexpectedly, the gifts and occasions sector saw an increase in share rate, purchase rate and orders between Q4 and Q1.
This increase is likely down to consumers delighting one another with thoughtful gifts, and getting inspired to shop with these newly discovered brands themselves in the new year. And because they're introduced to these brands by someone they care about, they're more likely to spread the brand love further by referring onward (and acting on recommendations from their friends).
While the numbers differ slightly for each sector, the message is loud and clear: engaging customer advocates in Q4 can drive powerful growth throughout Q1 and beyond.
Turn customer advocates into your most powerful growth driver
As consumers and brands alike feel the tight squeeze of the economy on budgets, maximising the ROI of your marketing channels is more important than ever.
Instead of funnelling marketing spend into channels that acquire one-off customers who disappear after their first purchase, invest a fraction into a high-performing advocacy channel. This will equip you to both engage valuable existing customers while acquiring high lifetime value new ones; providing the foundations for a winning marketing strategy.
Did we mention that first-party referral data can optimise your entire martech stack? Just ask SPOKE, who are targeting referrer lookalike audiences on Facebook and driving a 30% higher return-on-ad-spend as a result. Or Wild, who has decreased cost-per-acquisition by 25% by feeding real-time referral data into its CRM to better segment and target customers.
All with a programme, you can get set up in 30 days (or less). Ready to find out how you can turn customer advocacy into your most reliable growth driver? Hit the button below.

Get to know: Clubs at Mention Me
Never miss another update
Subscribe to our blog and get monthly emails packed full of the latest marketing trends and tips