Referral and fashion are a natural fit
Fashion has many of the characteristics that mean referral will work. If it was an App we'd say fashion has inherent virality; but what does that mean?
Every time someone puts together a new look they are asking to be noticed. Fashion is designed to be shown off.
Just think how many times in the past week you've asked (or been asked) "where did you get that?" There are daily opportunities to talk about fashion.
Self-esteem and confidence are associated with the styles we wear. Social status is gained by association with brands we admire. People want to be associated with fashion brands.
Referral works extremely well in other sectors and can in fashion too
There are case studies across sectors where businesses that have launched with refer-a-friend at the core of their proposition have achieved between 10% and 60% of new customers from the channel.
Uber, for example, made referral look easy. It was a brand that customers wanted to be associated with. They let people invite friends with something of value and they gave the referrer something they wanted too (free rides). Referral was promoted in their App at the right time and with an easy mechanism to maximise sharing. It is possible to achieve all of this in the world of fashion and retail too.
Mention Me has created referral marketing programmes for over 100 clients. These four charts illustrate how effective it has been across some very different types of fashion brands and retailers we've worked with. Generally delivering between 10% and 30% of new customer acquisition.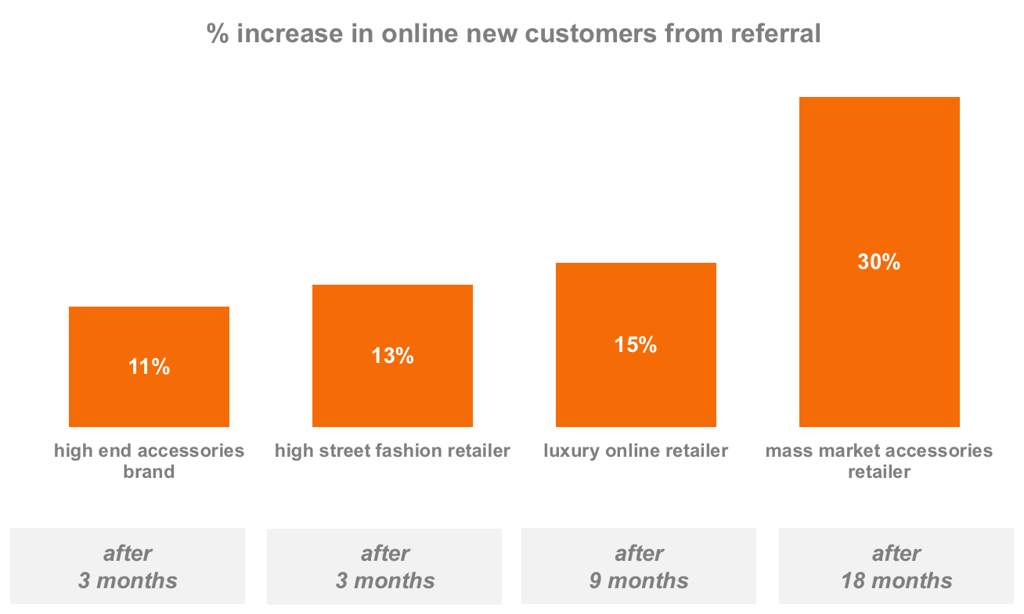 What does it take to get referral to deliver?
There are three simple components which you should take into account to get any refer-a-friend programme to deliver the maximum upside:
Give customers something worth talking about
Make it easy for customers to talk about you
Ask them to talk about you at the right moment

Thinking through the Uber example again helps illustrate these three elements:
Give customers something worth talking about. In Uber's case this was an up and coming brand, with a disruptive proposition. The offer was compelling, of equal weight for both parties, and highly valued. There was social kudos to be gained from sharing both the brand and the offer.
Make it easy for customers to talk. Uber did this by incorporating sharing right into the heart of their App. Assigning a unique sharing code to each user was also instrumental in helping people share easily.
Ask customer to talk at the right moment. We recommend you find the point when the customer is at their happiest with your service. Uber correctly identified this as the point right after booking a cab through their App.
How can those elements be applied in fashion?

Give customers something worth talking about
This is where the social dynamic of referral comes to the fore. In a nutshell it's important that the social dynamic of your referral campaign (and by extension your brand) makes customers:
Look good to their friends
Not appear overly spammy
Is remarkable and worth sharing
A fashion brand can build social status and encourage sharing with attributes like trendiness, value, quality or timelessness. If your brand has not yet developed strong attributes then you could leverage a specific product, your excellent service, simple returns process or other feature of your business which is remarkable.
If it is difficult to identify what the social driver of sharing is for your customers, a good approach is to test a few different alternatives in your refer-a-friend programme. A simple AB test any fashion brand can start with is a positioning test for your referral copy which compares self-centred vs. generous motivation. This test compares the conversion rate when the referral offer is positioned as "get a reward for inviting friends" vs. "give your friends a treat".
We've recently published a blog about the social elements of referral which covers this topic in more detail.
Learn more about the various experiments and AB tests you can use to understand and amplify the social side of your referral programme in our Guide to Experimenting with Referral .

Make it easy for customers to talk about you
It's critical to let people share in the way that is most natural to them. In fashion one of the key dynamics is that people most often share face-to-face whilst discussing what they are wearing.
We've observed that it's not just about social media platforms, like Instagram and Pinterest, but rather about fostering a genuine social interaction. The technology needs to facilitate the way that people behave naturally.
Here are some tips to help facilitate sharing for fashion brands:
Customers need a memorable way of inviting their friend to try a brand. While mobile phones are ubiquitous, a person's name is still the most memorable hook for a referral. (As an aside: this is the reason Mention Me created our patent-pending technology that allows people to say "Just type my name into the checkout, they'll know I referred you and you'll be eligible for an introductory offer."). You can find out more about Name Sharing here.
Having a story to tell makes it easier to share; every experience can become a story that encourages sharing. A gift in the box, beautiful wrapping or a friendly returns process can each become a story about your brand that could encourage sharing above and beyond the "What's that you are wearing?" conversation. It is worth getting these details right.
Use the channels your customers are using. For Uber, this was sharing in their App. Different demographics share differently so when setting up a referral channel it makes sense to measure where the majority of your sharing is done and then work to emphasise those channels.
Here are two examples which show how the natural sharing tendencies of two fashion/apparel brands can differ. The teams at these fashion businesses have used these insights to focus their efforts to optimise their programmes.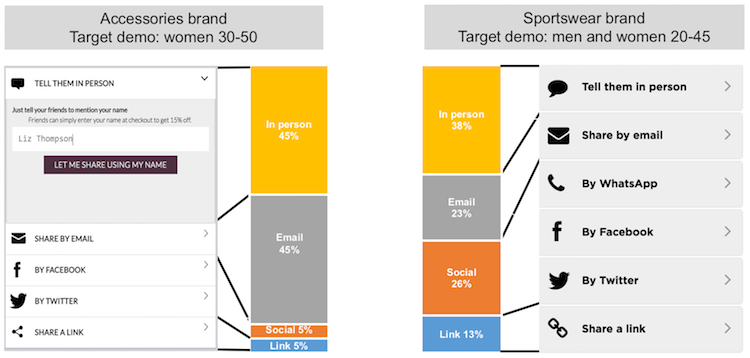 Ask them to talk about you at the right moment
When is the right moment to ask a customer to share a fashion brand? There are so many options: homepage, account section, website header, website footer. Or in-store, on till receipts, via email or in pack inserts with the product itself.
We recommend you start simple with one key placement: the point of greatest delight. For an e-commerce website, the point of greatest delight is typically right after your customer has placed an order on the post-purchase page.
The post-purchase page has a number of benefits:
Your customer is generally happy, feeling satisfied they've bought something new and looking forward to receiving their goods.
It has the benefit of good volume of traffic. This is useful for AB testing the elements of your referral offer.
Unlike a pack insert it is fully measurable so you can quickly learn from your conversion rate what is working and what is not.
Once you have established a healthy set of metrics through AB testing from the post-purchase page you can expand to other promotion points.

Referral and fashion, unlocking the opportunity
With it's natural virality, referral and fashion go together hand-in-glove. Wearing and sharing fashion has a strong social dynamic and high frequency of discussion. By incorporating the three elements we've highlighted in this post there is every reason that any fashion brand could become a referral success.