Marketing trends
How Covid-19 is impacting fashion brands: a timeline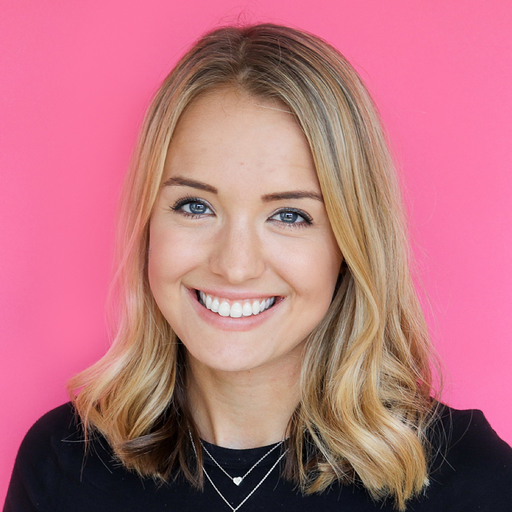 By Sophia King — April 16, 2020 -
Earlier this month, we revealed five industries booming in sales and referrals during the Coronavirus pandemic. Fashion wasn't one of them.
Last month, retail sales dropped by 8.7%, the biggest loss on record. But, as this piece explores, online buying and referral trends in this sector are picking up.
We've analysed the order volumes and referrals of more than one hundred fashion clients, in the UK and beyond, to understand the evolving impact of Covid-19 on business. As the below graph shows, there's strong potential for fashion brands with an online presence.
Order volumes and referral trends in the fashion sector over the past 6 weeks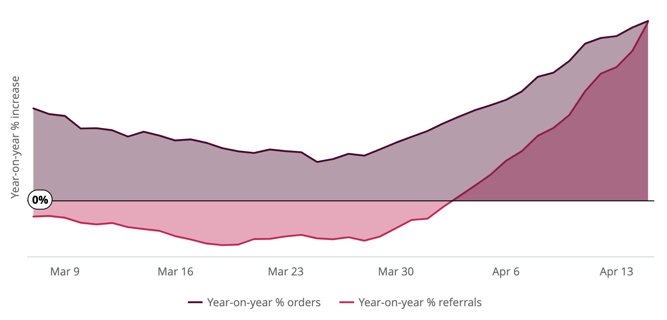 Here's how the pandemic has impacted the fashion industry so far, and our predictions for the months ahead.
March: the pandemic hits the UK
Unsurprisingly, the week the UK went into lockdown caused online order volumes for fashion brands to fall.
People feared for their jobs, their lives, and their dwindling toilet paper supplies. They went into survival mode, stocking up on essentials and forgetting everything else.
In the week following the government's lockdown announcement, food and drink sales soared. Meanwhile, online sales for our fashion clients dropped by 12%, remaining only marginally up on the same time last year.
The rest of March saw companies and its employees adjust in anticipation of what the virus could mean for business. Retail workers were furloughed, marketing budgets were slashed, and the world retreated behind closed doors.
Early April: adjusting to the 'new normal'
By the start of April, the panic began to subside. People settled into a new way of life, albeit within the confines of their homes and local supermarkets.
Most individuals' employment situations were now apparent, supermarket supply chains had proven robust enough to meet demand, and every mundane chore possible had been completed.
The vast expanse of time yawned ahead. And that, combined with surprisingly good weather, prompted consumers to revisit a popular pre-Covid pastime: online shopping.
Now: returning consumer appetite for fashion brands
There are promising signs online sales are picking back up for fashion businesses.
Earlier this week, fashion retailer Next stopped taking orders just hours after reopening due to excessive demand. Worldwide spending on luxury fashion items online has gone up by 57% year-on-year. More people are downloading apps that let them try on clothes digitally.
One difference, however, between online baskets now versus this time last year is what's in them.
Alongside floaty summer dresses and vibrant tropical shirts, consumers are adding loungewear and athleisure gear as they seek maximum comfort for the weeks ahead. After all, there's money to be saved from no longer buying those daily flat whites. Online order volumes and referrals for women's and men's fashion are up 49% and 42% respectively.
Online jewellery brands are doing particularly well at the moment. While putting on jeans may feel like an effort too large, adding a pair of hoops or your favourite watch is an easy way to liven up your athleisure look and feel more like ourselves. For one of our jewellery clients, referrals are up 96% year-on-year.
Even footwear, the fashion sub-sector hardest hit by the Coronavirus, has seen online order volumes rise over the past two weeks. The UK lockdown may have been extended, but consumers still want sandals for the garden or trainers for their daily exercise. Order volumes for footwear clients have increased by 68% year-on-year. We anticipate this trend continuing as we approach warmer months and the end of lockdown.
Order volumes and referral trends for footwear brands over the past six weeks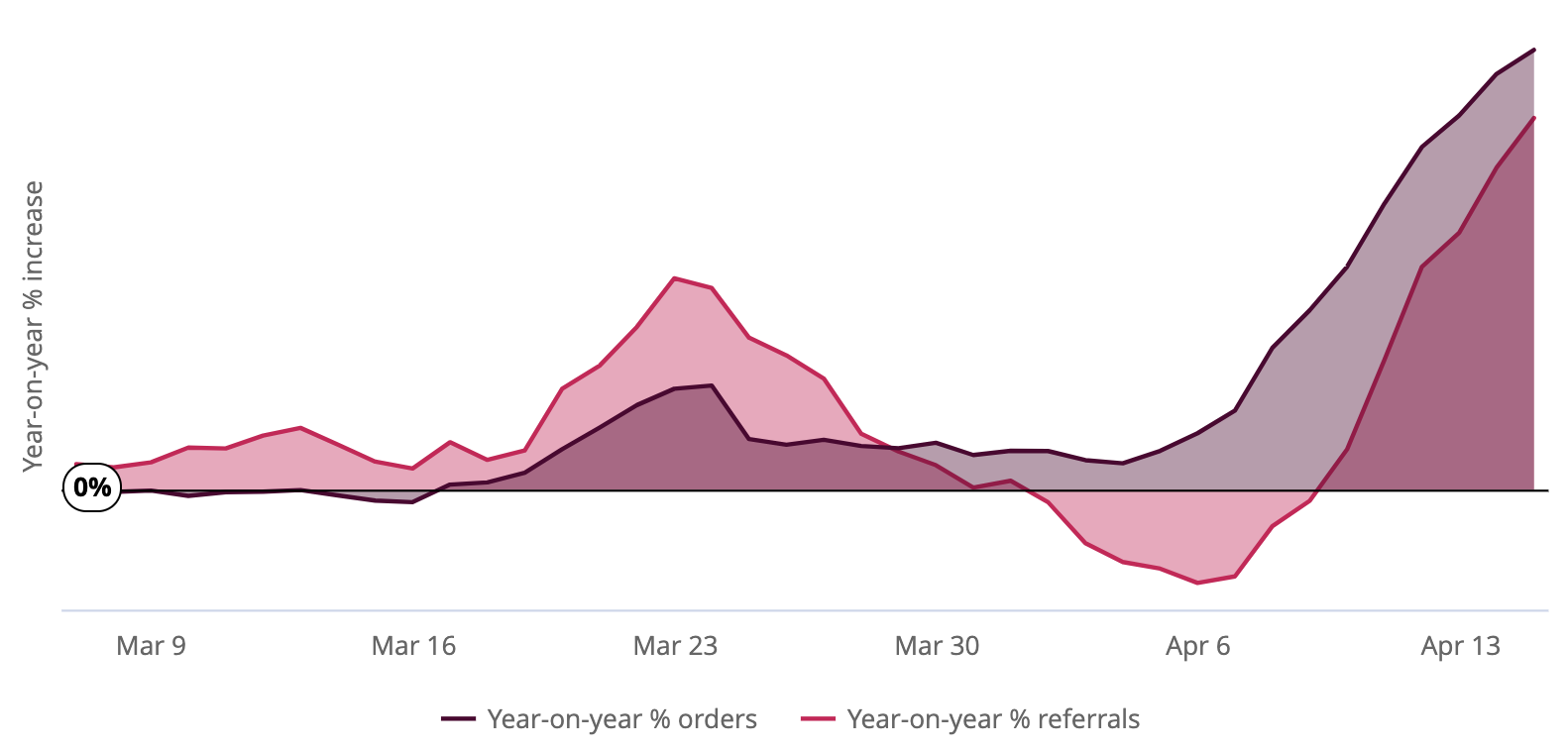 As order volumes for fashion brands begin to rise, so do referrals.
Our referral marketing platform is now delivering 55% more customers to our fashion clients than this time last year. Right now, more people are recommending fashion brands than at the start of the year.
May onwards: the future for fashion brands
There's good reason for fashion brands with an online presence to remain positive. On average, online sales for our fashion clients are up 56% year-on-year and rising quickly.
The same goes for referrals. Consumers have time on their hands, and they're using it to shop online and catch up with friends. That presents valuable potential to ecommerce fashion brands with referral programmes.
65% of our fashion clients are acquiring more customers via referral right now than last year. For some, referrals are up more than 1,000% year-on-year.
As businesses and consumers alike adapt to this evolving environment, we anticipate fashion sales and referrals to continue increasing.
This prediction is supported by looking at countries past the peak of Coronavirus. In China, a Hermès boutique made $2.7 million in a single day after reopening. Order volumes for one of our luxury fashion clients, also in East Asia, are up 234% year-on-year. Its referrals are even higher at 304%.
The biggest unknown for the future lies in not if consumers will shop, but how they'll shop.
With all buying activity now online, time will tell if this shift to ecommerce continues once physical stores reopen. It may be that the Coronavirus has acted as a catalyst for the much discussed death of the high street. Whether or not this is the case, the pandemic is already forcing brands to optimise their online offerings and reimagine the retail experience.
As fashion brands adapt to this changing marketing landscape, engaging with new and existing customers in the right way will prove critical to long-term success.
Our referral marketing and customer retention platform can help with that. Get in touch to find out how.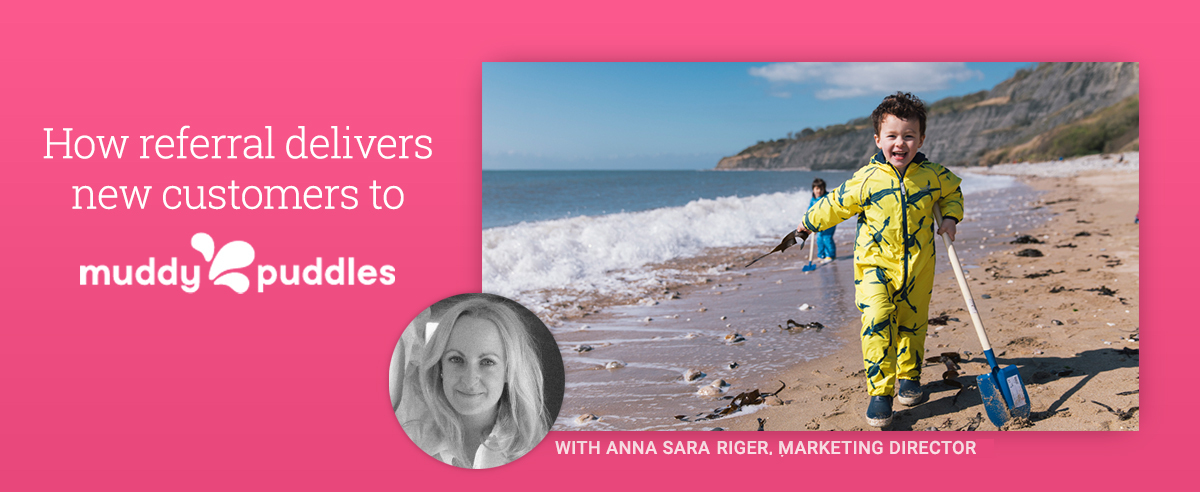 How referral delivers new customers to children's brand Muddy Puddles
Never miss another update
Subscribe to our blog and get monthly emails packed full of the latest marketing trends and tips