Marketing trends
Why having a compelling brand promise is key to customer loyalty
By Angela Southall — January 10, 2019 -
A brand is more than a logo and colour scheme. A brand is a the story your consumers tell themselves about you: the cumulative effect of what you do, how you do it, what you believe in, the way you talk, and how you treat people (and yes okay, how you look too).
Perhaps, Jeff Bezos said it best: "Your brand is what other people say about you when you're not in the room."
In other words, as a company owner or staff member, a brand is not what you say it is — it's what other people think of you. Your reputation, and therefore your entire existence as a customer-facing organisation, rests on how people perceive and emotionally respond to your brand.
In the digital era, this matters more than ever. The competition is fierce, attention is at a premium and customer loyalty has never been more difficult to earn and keep.
This is why aligning your company around a compelling and believable brand promise is critical.
In this article, we'll consider the role of brand promises in creating customer trust and loyalty, what makes a great brand promise, and share some inspiring examples of companies that have achieved loyal followers by creating — and consistently delivering on — captivating brand promises.
What is a brand promise?
By definition, every brand is a promise. But if we're diving a little bit deeper into the concept… essentially, an effective brand promise is a statement of purpose that reflects a company's commitment to the type of experiences and interactions it wants to deliver to people.
A brand promise should go beyond merely describing what a company does, and instead explain 'its why': the emotional response it wants to elicit, the impact it wants to have, the mark it wants to make on the world.
With customers facing a constant influx of information and choice, a clear sense of what a company stands for — its values, beliefs, and approaches — can be a crucial point of differentiation, and ultimately, something that perpetuates customer loyalty.
Elements of a great brand promise
Inspiring
A great brand promise needs to 'pop' with purpose that gets to the heart of a company's vision and attitude: something positive, aspirational, and compelling to its target audience.
A consumer's decision to engage with a brand is often led by emotion — more so than hard facts and logic. So a compelling brand promise needs to act as a kind of 'emotional seed' that will pique interest, ignite curiosity, and 'push the right' buttons in both a customer's head and heart.
Simple
The most memorable brand promises are generally short and to the point. Today, more than ever, brands need to get across what they're all about in direct and plain terms.
Wordy language and overly complex explanations of what a company does is one of the surest ways to turn people off your brand.
There's a power in simplicity and brevity.
Authentic and credible
In order to connect and engage with the people they seek to serve, brands need to be relatable. The best brands communicate in a human, down-to-earth way — matching their language, style and tone to those of their target audiences.
A good brand promise is also trustworthy. How a brand describes itself needs to genuinely reflect the type of experience it delivers to its customers and the culture of the company. A patent disconnect between what an organisations says and what it does, is going to act as an instant blow to consumer trust levels.
Saying what you do, and doing what you say is critical. In our 2018 advocacy and word of mouth study, trustworthiness and credibility was cited by 49% of people as vital for them to advocate for a brand (One Poll, sample size 2000).
5 examples of great brand promises
Toyota
"Quality, safety, and innovation."
A simple, no-nonsense reflection of Toyota's long-held reputation for high-quality engineering, cutting-edge design, and trustworthiness.
Chipotle
"Food with integrity."
Chipotle stands itself apart from the wider fast food industry, by focussing on sustainably sourced ingredients and responsible farming methods. This statement sums up those values and their differentiating selling point, perfectly.
Levi's
"Quality never goes out of style."
One of the iconic fashion brands of the past century, Levi's jeans are made to last in every sense of the word. While fashion trends come and go with the seasons, a durable pair of Levi's remain a mainstay of every person's wardrobe.
Airbnb
"Belong anywhere."
A nice example of an emotion-led brand promise that speaks directly to its customers. "Stay in other people's properties for a fair price" would be an accurate description of Airbnb's what — but 'belong anywhere' beautifully sums up their why. For anyone who's ever experienced the exhilaration of a great Airbnb stay, this brand promise resonates with the sense of both freedom and connectedness that it brings about.
Apple
'Think different'
With two simple words, Apple cuts right to the heart of its values and sensibilities — and those of their fiercely loyal customers. Apple has come to stand for the outside-of-the-box thinkers and doers of this world. The image of creatives, artists, designers, and writers glued to their Macbook in the corner of a hipster coffee shop has become a modern cliche — but one of the most powerful examples of a brand that has consistently delivered on its brand promise.
Why brand promises are critical
More than ever in today's 'paradox of choice' digital-led economy, customers are attracted to companies that stand out not only based on 'the what' they deliver, but on the purpose and values they stand for.
Having a clearly defined purpose that gets to 'the why' of what a brand is all about is the unifying theme that ties together all of the above examples — and is the foundational building block for creating a brand that customers can get behind and champion.
When it comes to website conversions, sales, and friend referrals, customers today only engage with brands that they like on an emotional level. And of course, customers only like what they trust.
Create a compelling brand promise that people can believe in — and that you can consistently deliver on — and you'll have built a solid foundation upon which customer trust and loyalty can be built.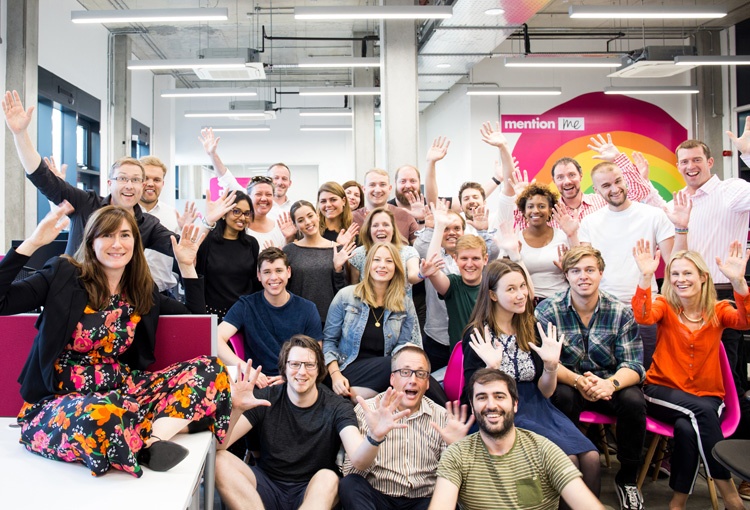 From Bootstrapping to $7 Million Series A: The Story of Mention Me
Never miss another update
Subscribe to our blog and get monthly emails packed full of the latest marketing trends and tips