The finance industry is built on the foundation of trust. Despite this, one of the challenges the industry is facing is making a positive emotional connection with customers, and so is failing to deliver on that promise. Whilst trust in public companies has dropped 10% in just three years, 69% of people in the UK have expressed their distrust in finance and banking businesses, despite feeling reliant on them.
The finance industry used to consist of just a handful of brands, but the emergence of challenger banks and fintech businesses is escalating the importance of having strong brand positioning. With more choice and access to information than ever before, customers now have significant power, so transparency, reliability and accountability within finance are paramount.
Transparency is essential in creating trust with brands generally, however within the financial sector this is not always straightforward, with their offerings often difficult to explain, which is why the FCA has just called for businesses to strip out jargon. To account for this, finance businesses need to show honesty and integrity and prove that they are aligned to what their customers want. Technology has also made purchase and sign-up processes so quick and easy that customers no longer have time to genuinely question whether they should trust these brands. The easiest way for consumers to establish trustworthiness is by asking people they know about their experience with that business.
Trust is built from the bottom up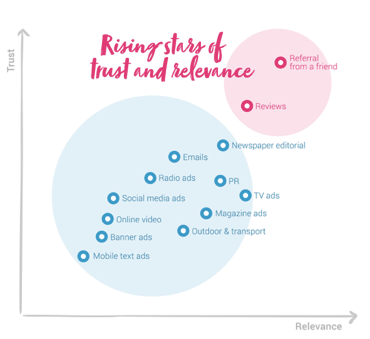 Customers want to engage with open, trustworthy brands but top-down marketing messages are now viewed with increasing amounts of suspicion. Rather than relying on traditional marketing driven by brands, customers now prefer to do their own research, including listening to the opinions of friends and family. Research suggests that 83% of consumers trust references from their peers - trusting these individuals 7x more than messages driven by brands. Businesses who are tapping into their loyal customer base and enabling them to recommend to friends and family, allow potential buyers get a personal endorsement from someone they trust.
Referral marketing is not just for retailers
There is an assumption that whilst referral marketing is an effective channel for retailers, financial services work very differently and so this channel can't work as well for them. The reality is that every business and its customer base is completely different, no matter what sector they belong to. Mention Me's A/B testing functionality enables businesses to pinpoint exactly what resonates with their customers in order to increase the number of referrals and with it, new customer acquisition and revenue.
Why referral marketing is a powerful channel especially for financial services
These products involve a considered purchase and often need explaining
Financial services involve more consideration. People need to genuinely understand and trust what they are buying into. A referring friend can explain and vouch for a brand much more than any other source. They act as the 'guide' to make more complicated products and services feel accessible to potential customers.
Although people may talk less about financial services on the whole, when a recommendation is made, it is a genuinely powerful one that cuts through all other messaging meaning we see significantly higher conversion rates. Data from our 400 current clients has shown that once that recommendation has been made the purchase rate for financial services is 188% than that of even the fashion sector. Mention Me's unique share-by-name feature also allows referral to happen more organically, enabling customers to move at their own pace whilst still reaping the benefits.
A longer lifecycle allows referral to be promoted more effectively
Getting the message out there and promoting the offer is an essential part of referral marketing. Financial services naturally have longer lifecycles which provides these businesses more time to build a genuine relationship with its customers and enables them to promote referral across more touch points. The more referral is promoted to customers and becomes a core part of the brand messaging, the more referrals it will drive and the more the brand will be seen as a customer-led and customer-focused business.
Referral marketing drives retention as well as acquisition
Referral marketing is not just about customer acquisition, it is also powerful in terms of retention. With challenger banks and new fintech businesses dominating the scene, acquisition is a clear focus with countless incentives to switch or join.

However, keeping these customers is just as important. Referred friends have 2x the lifetime value than non-referred customers, and are also 3x more likely to recommend to their friends creating a valuable positive feedback loop. By rewarding happy customers to act as brand advocates, genuine brand loyalty is created.
Read more about referral in the finance sector in our case study for online wealth management company Nutmeg.