Marketing trends
5 industries (still) thriving in the Coronavirus lockdown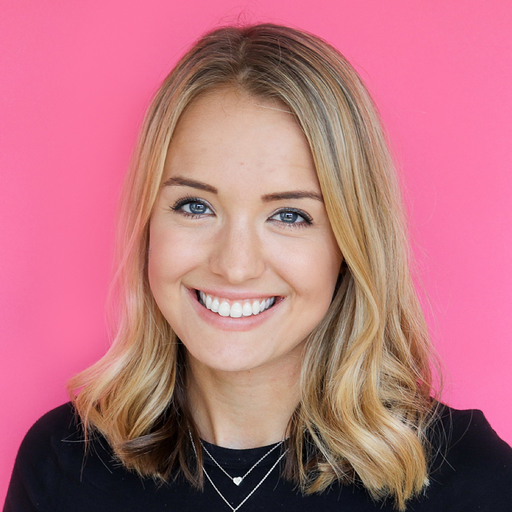 By Sophia King — February 12, 2021 -
At the start of the pandemic, online orders rocketed for the industries improving life in lockdown. Almost one year on, we explore how these industries are faring now.
Back in March 2020, products ranging from pasta kits and pyjamas to exercise equipment and ergonomic chairs flew off the online shelves. As well as buying from online brands, people were recommending them to others. A lot.
In the first lockdown, online orders across the five most popular sectors* increased by 162%. Referrals increased by 425%.
*That's food and drink, gifting, fitness, beauty, and home and garden.
Ten months later, we're in our third lockdown. Consumers and businesses alike continue to adapt. Restaurants have created at-home diy meal kits. Fashion retailers have swapped sequins for sweaters. Travel companies are promoting staycations.
To understand the ongoing impact of Covid-19 on ecommerce, we've analysed order volumes and referrals to our 450+ clients. Here's how five major industries have fared over the past year.
Gifts & occasions
Pre-pandemic, buying gifts online wasn't always the most popular option. People liked the idea of going to the shops, browsing the shelves, and picking out something special for their friends. Or they grabbed something last minute on the way to a forgotten-about birthday dinner. Either way, they bought from brick-and-mortar stores.
Not anymore.
Now, people are going online to buy gifts for loved ones. And they're not only buying for special occasions. A global pandemic is reason enough to treat your nearest and dearest.
The pandemic has significantly increased sales for online gifting brands. In May 2020, online orders for our ecommerce gifting clients increased by 275% YoY.
Consumers were recommending these brands even more than they were buying from them. In 2020, referrals peaked for gifting brands at +724% YoY.
There's a clear correlation between online orders and lockdown for gift brands. When forced to keep distance from friends and family, consumers go online to send love from afar.
After a lull in the summer months – although still remaining up year on year – online orders for gifting brands again picked up in November.
Last month, online orders were up 156% and referrals up 296% YoY. Although now on a downward trajectory, both remain up year-on-year.
Order volume and referral trends in the gifts & occasions sector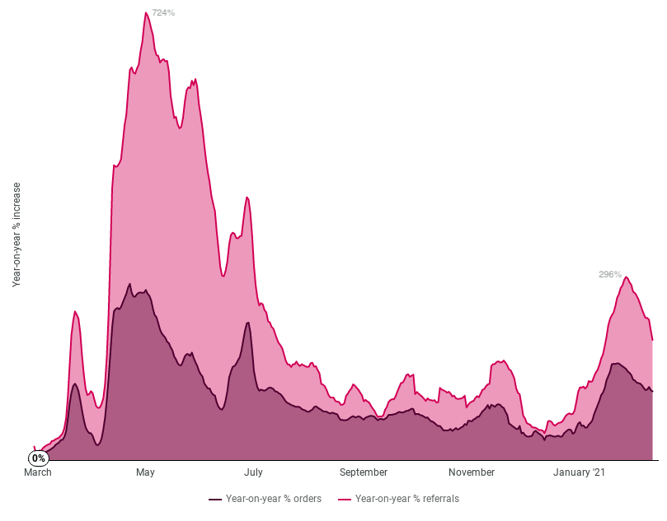 Home & garden
Online orders and referrals rapidly gathered pace for home and garden brands in the first lockdown. Despite dipping in summer, they've remained strong since.
In the current environment, our homes frequently come up in conversation. A comment on a wall print in the background of a Zoom call, a chat about houseplants, a freshly baked banana bread on Instagram – all these small occurrences lead to brand recommendations and new customers.
By late April, referrals were up 333% YoY. Sales were up 140%.
As with gifting brands, there's a clear correlation between surging sales and lockdown. When restrictions eased, people spent money on days out and trips away. When they tightened, they once again focussed on making their homes more comfortable.
Right now, online orders and referrals for home and garden brands are increasing. They currently sit at +99% and +254% YoY respectively.
Order volume and referral trends in the home & garden sector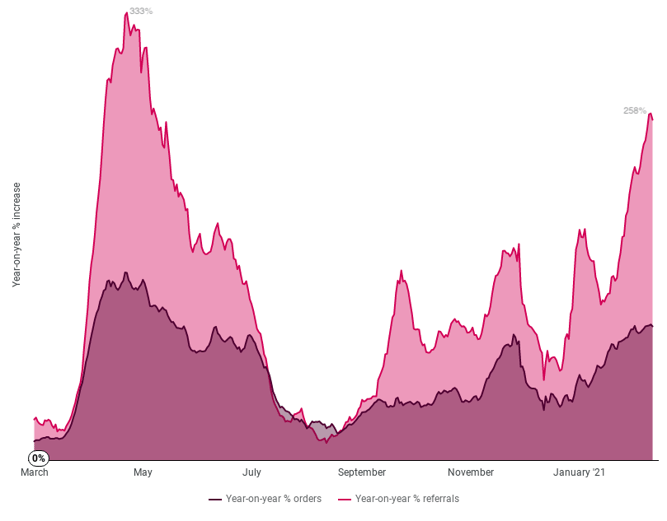 Fashion
Despite clothes sales falling a record 25% in 2020, online sales and referrals have consistently remained up year-on-year for our fashion brand clients.
A few months into the first lockdown, consumer demand for loungewear and Zoom-appropriate outfits (read: a nice top and pyjama bottoms) was soaring. By May, online sales for fashion brands were up 95% YoY. Referrals were up 132%.
Things picked up again in July, perhaps as people treated themselves to outfits for meals out with friends, and again around Black Friday on 27th November.
After the usual post-Christmas lull, online orders and referrals are once more on the rise for fashion brands. Entering February, referrals for fashion brands are up 53% YoY and rising.
Order volume and referral trends in the fashion sector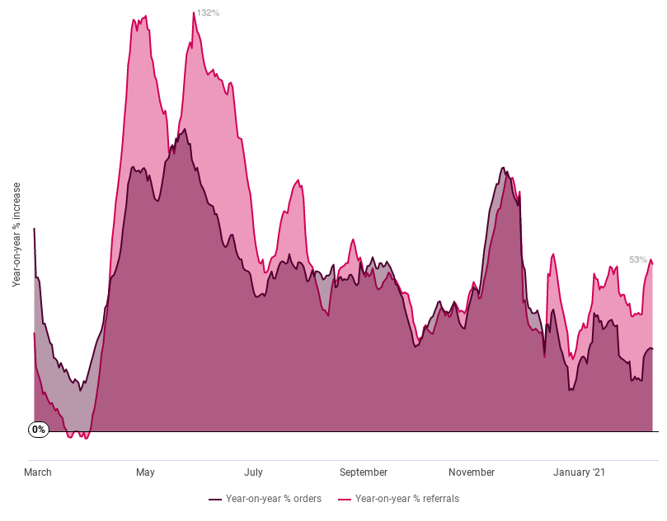 Food & drink
The food and drink sector saw the biggest spike in demand at the start of the pandemic. As consumers frantically stocked up on pasta, gin and other essentials, they went online to find brands that could fulfil their needs.
Despite supermarkets remaining open throughout the pandemic, online orders and referrals for food and drink brands have remained up year-on-year. Even at their lowest point in August 2020, referrals remained up 58% YoY. This suggests a permanent shift in buying behaviour, as consumers return to and recommend brands they've discovered online.
While we may no longer be worrying about the stability of supermarket supply chains, food remains a highlight of lockdown. Instead of going out to eat, people are ordering meal kits to their homes. Wine-tastings have gone virtual; big meals out replaced with family cookalongs via Zoom.
Consumers are actively seeking new brands that can tickle their taste buds. When they find them, they're recommending them to others.
While not quite at the same levels as in the first lockdown, online orders and referrals are strong for food and drink brands. Right now, online orders are up 71% YoY. Referrals are up 291% YoY.
Order volume and referral trends in the food & drink sector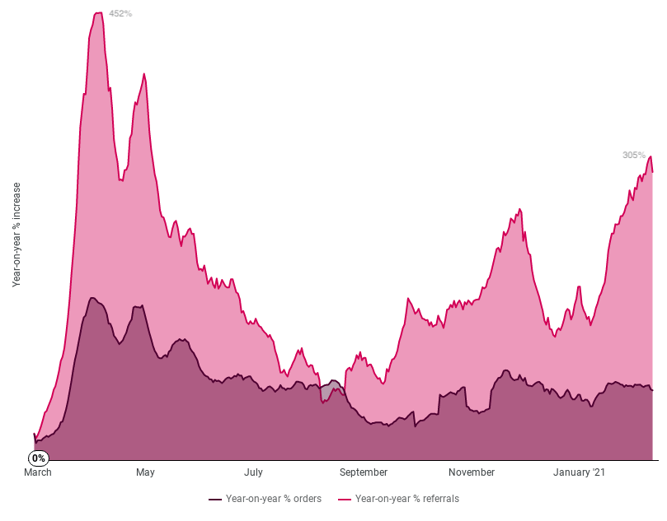 Beauty
Beauty products weren't top of consumers' shopping lists entering lockdown. But it wasn't long before that changed.
With more time on their hands, people turned their attention to self-care. Lying in a bubble bath with a clay facemask became the ultimate Saturday night treat.
And despite being unable to show off their glowing skin and glossy hair in person, consumers are still telling friends about their favourite beauty brands.
Even at their lowest point in August 2020, referrals remained up 59% YoY. They're now up 113% YoY. Beauty sales are up 84% YoY.
Order volume and referral trends in the beauty sector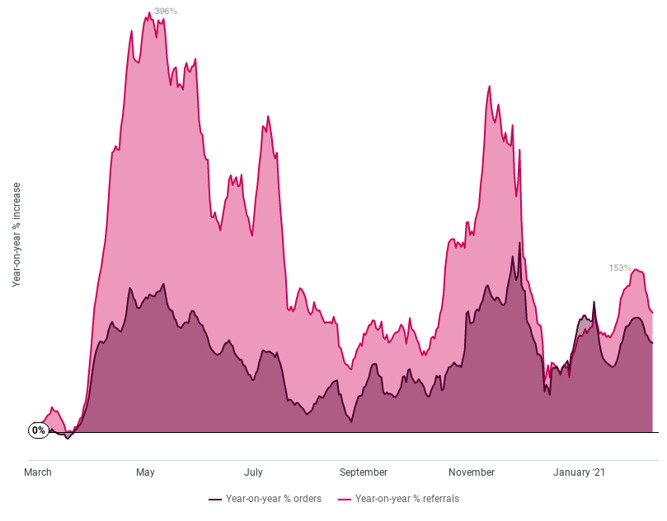 Business planning for the future
When we wrote the original version of this blog back in April, we didn't know if the sudden spikes in online orders would be short-lived. Nobody did.
Ten months on, it's clear the shift to ecommerce is here to stay. ASOS's purchase of Topshop is the nail in the coffin of Saturday shopping trips with friends. Online orders remained strong throughout 2020, even when non-essential shops reopened.
That's not to say that online orders and referrals for these industries will remain sky-high indefinitely.
As the lull in summer months across each sector highlights, seasonal changes continue to affect consumer spending. After months of being at home, it's unsurprising that people spent less on online shopping, most likely instead visiting newly reopened pubs and restaurants with friends. A similar trend is anticipated this year.
Regardless, Covid-19 has changed consumer lifestyles for good. Full-time office-based working feels like a thing of the past. Going to the shops for products you can buy online seems an unnecessary hassle. Buying from brands with a purpose matters more than ever.
Pre-Covid, 51% trusted a friend or partner's recommendation more than any other advertising. In our current times of uncertainty, this figure is likely to be even higher.
For brands thriving in lockdown, now is the time to think long-term. Hitting acquisition targets might not be a challenge at present, but sustaining growth post-lockdown may well be.
To overcome this, brands should turn to their customers. 54% of consumers have changed their expectations of online shopping. Adapting to these changing expectations and needs is crucial to building loyalty that drives long-term revenue.
Eventually, restrictions will ease. This will inevitably impact new customer acquisition. But instead of resorting to short-term tactics like discounting, brands should focus on their customers.
By meaningfully engaging with them, through means such as responsive customer service and highly targeted content, they can nurture valuable customer advocacy. These customers will not only spend more themselves, but introduce friends as new shoppers – creating a powerful cycle of growth.
How the rest of 2021 will unfold remains uncertain. But one thing is clear: your customers hold the key to long-term business success.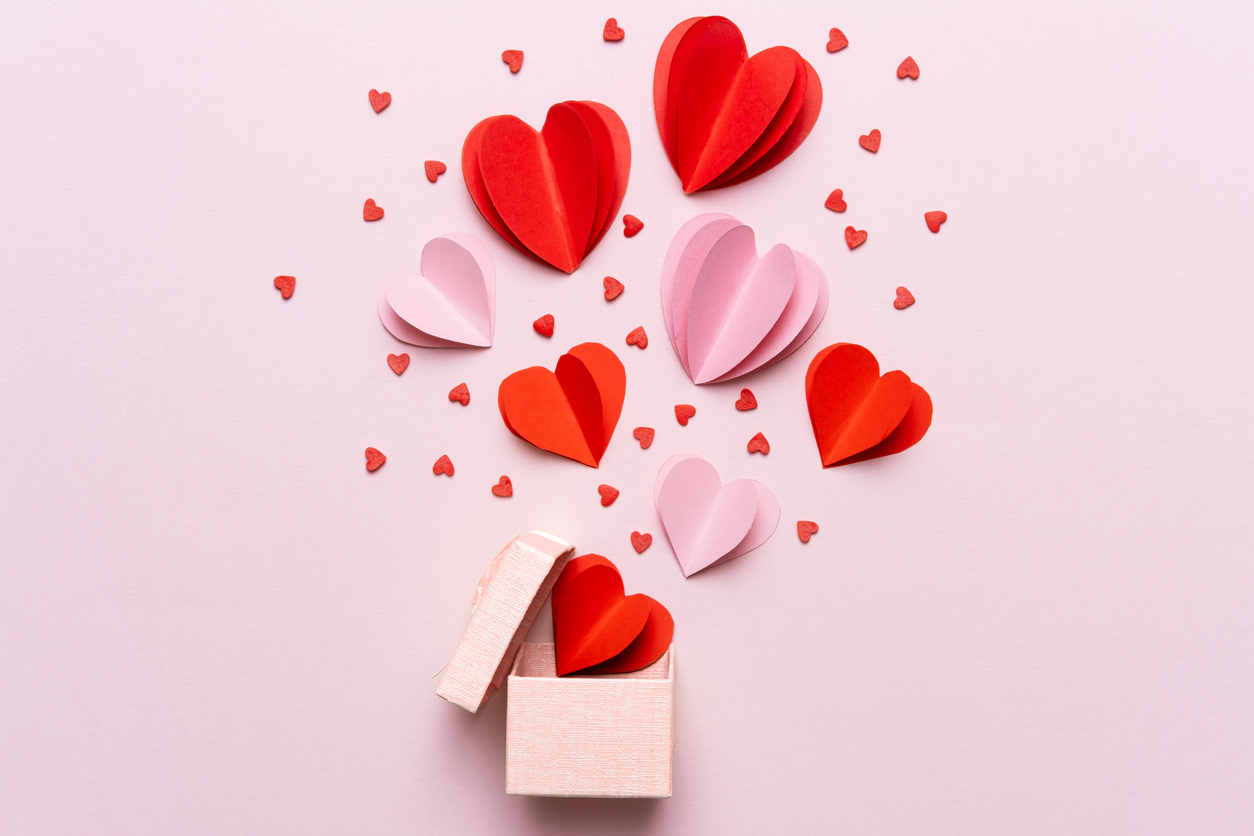 How to increase sales for your brand this Valentine's Day
Never miss another update
Subscribe to our blog and get monthly emails packed full of the latest marketing trends and tips