Looking for the latest research on how the pandemic is impacting different sectors? Check out our blog on ecommerce activity since shops reopened.
At the start of April, we wrote about 5 industries booming in sales and referrals during the Covid-19 pandemic. It was reassuring to note that, despite so much uncertainty and bad news, some businesses were not only surviving, but thriving.
One month on, and things have both changed a lot and not much at all. We're still under lockdown. We still don't know when we'll be able to hug our loved ones. We're still treating ourselves to extra snacks under the justification of being in 'unprecedented times' (...right?).
Yet in many ways, our current situation is very different to a month ago. Many of us have lost jobs, taken pay cuts or been put on furlough. Boris Johnson has declared the UK past its peak of the outbreak. We can buy toilet roll from the supermarket (albeit after queuing behind people in masks).
Meanwhile, consumers and businesses alike are adapting in different ways. Some industries, like travel, have closed their doors with little choice but to wait this out. Others, like fashion, are evolving their offering to meet demand, replacing beachwear with jogger bottoms. Many are taking on charitable initiatives, such as supplying hand sanitiser or food boxes to those in need.
To understand how the Coronavirus pandemic is impacting different industries, we've analysed order volumes and referrals to our 400+ clients. In particular, we've continued to monitor the five industries thriving at the start of lockdown to see how their performance has progressed – uncovering some surprising results along the way.
Gifts & occasions
With Mother's Day landing on the first weekend under lockdown, order volumes and referrals in the sector soared by 122% and 229% year-on-year respectively. Once the occasion passed, orders began to decline, dropping to just +26% year-on-year.
Then Easter arrived.
In the week running up to 12th April, order volumes and referrals in the gifting sector significantly increased. By Easter Monday, gift brands were acquiring 415% more new customers via referral year-on-year. (It's worth noting that Easter fell on different dates last year.)
We continued monitoring the trend, waiting for a steep decline to follow. It didn't.
Since Easter, order volumes and referrals in the gift sector have continued to increase and show no signs of slowing. Right now, order volumes are up 245% year-on-year and referrals up 650%.
That means people are buying from and recommending gifting brands more in their day-to-day than they were during Easter, an actual occasion, last year. It seems that in the absence of being able to physically see friends and family, consumers are turning to ecommerce gift brands to send their love from afar.
Order volume and referral trends in the gifts & occasions sector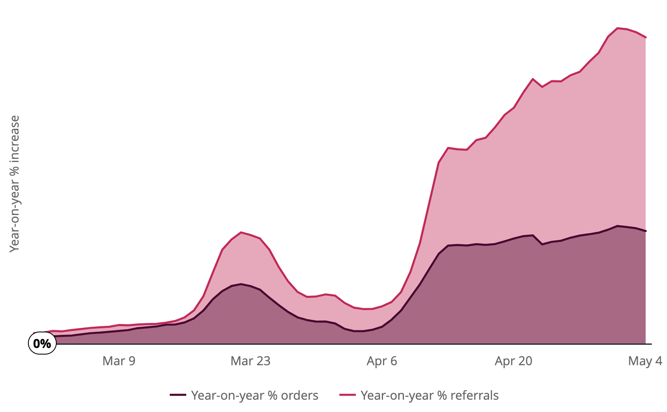 Home & garden
At the start of April, order volumes and referrals for home and garden clients were up 55% and 83% year-on-year respectively.
Both have significantly increased since.
As people looked forward to a sunshine-filled Easter at home, they went online to buy plants, baking equipment, and other products to liven up the long weekend in isolation.
On 21st April, referrals peaked at +321% year-on-year, compared to sales at +120%. Both now remain relatively steady at +278% and +110% respectively.
In the current environment, our homes and garden frequently come up in conversation. A comment on a houseplant in the background of a Zoom call, a chat about blooming tulips in the garden, a freshly baked banana bread on Instagram – all these small occurrences lead to brand recommendations and new customers.
Order volume and referral trends in the home & garden sector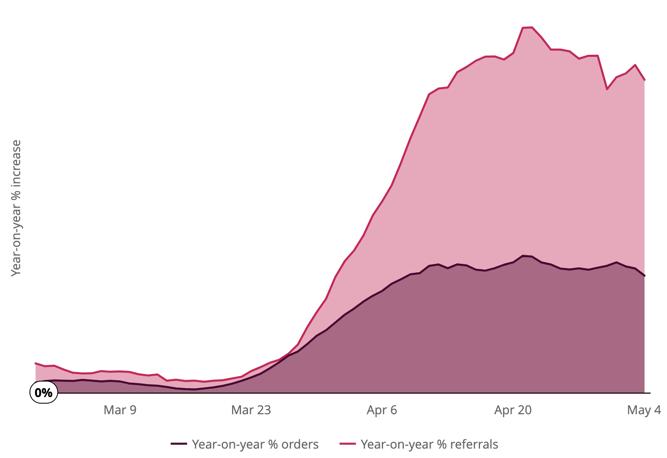 Health & fitness
In the week following the government's lockdown announcement, order volumes for health and fitness brands increased by 163% year-on-year. People weren't just working out in new ways – they were telling others about it, too. Referrals increased by 361%.
Fast forward to now, and orders for health and fitness brands have dropped, though remain significantly higher than this time last year. Order volumes for our clients in this sector are up 85% year-on-year. Referrals are more than double that at +185% YoY.
The decline in sales during lockdown is unsurprising. People don't buy weights and other workout gear on a weekly basis. Even cheaper items, like resistance bands or yoga mats, are unlikely repeat purchases, unless being replaced or upgraded. This is even more relevant at the higher end of the scale, where products like an indoor exercise bike or rowing machine can cost upwards of £1,000.
Consumers also feel less panicked. We may be no closer to knowing when we can next go to the pub, but we know we can go for a jog outside. Plus, with all holiday plans ruled out for the foreseeable, exercise has become more about feeling good than honing the perfect bikini body.
How we're exercising has changed, but our inclination to tell others about it hasn't. A quick scroll through social media proves that. That presents the perfect opportunity for health and fitness brands to acquire new customers via referral.
Order volume and referral trends in the health & fitness sector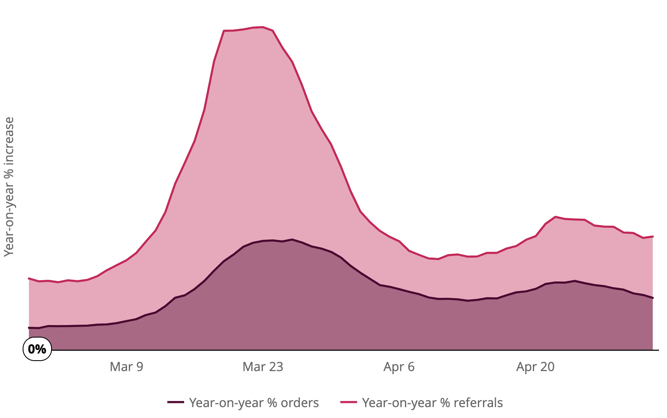 Food & drink
March saw a huge spike in demand for food and drink brands as consumers stocked up on pasta, gin and other essentials.
A few months on, sales and referrals in this sector are decreasing, though remain significantly higher than last year. This is likely due to two reasons.
Firstly, consumers have more confidence in supermarket supply chains and government restrictions to know there's little risk of going hungry. Secondly, many people ordered enough food and drink to last weeks, meaning they don't need to order again so quickly.
That's also impacted referrals. With people no longer panicking about running out of fresh veg or (worse) wine, they're not talking about it as much. And when they do talk about it, they've likely already recommended their favourite brands to friends.
Nonetheless, things are pretty good for online food and drink brands right now. After peaking at +405% year-on-year, referrals in this sector are now staying steady at +182% year-on-year.
Order volume and referral trends in the food & drink sector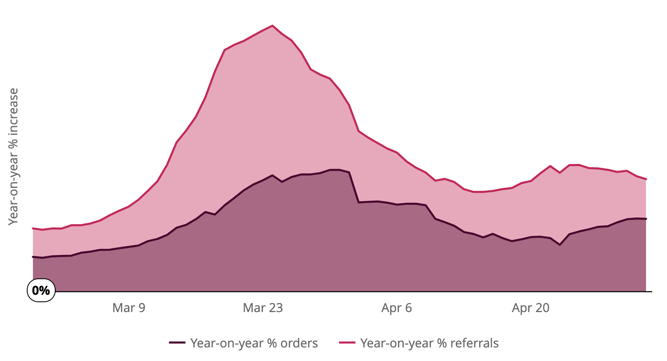 Beauty
Beauty products weren't top of consumers' shopping lists entering lockdown, but they've certainly risen up it over the past month.
With more time on our hands, many people are turning their attention to skincare rituals and self-care treats. After all, a bubble bath and facemask is a pretty appealing option now that a night out is off the cards.
And though we're not showing off our newly glowing skin or glossy hair in person, we're still telling our friends about our favourite beauty brands.
At the start of April, beauty sales had increased by 37% year-on-year and referrals by 64%. Sales are now up 110% year-on-year, with referrals a significant 356% higher than this time last year.
Order volume and referral trends in the beauty sector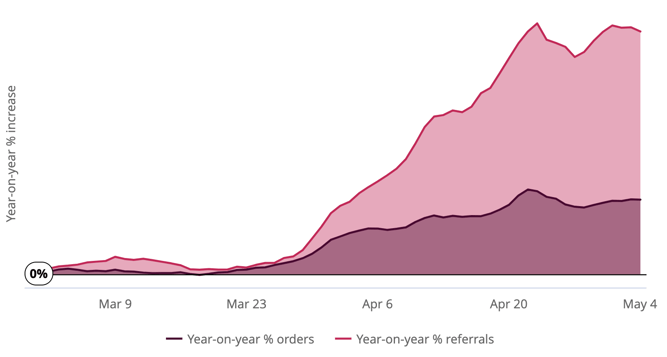 Business planning for the future
In this constantly developing situation, people are continuing to shop online and speak with their loved ones. That presents a powerful opportunity for brands with a relevant offering and effective referral programme.
The fragile economy is also making people increasingly conscious of how they're spending their money. A brand that comes with a friend's seal of approval is far more likely to result in a purchase than a random website found online – particularly if it comes with a discount or other incentive.
As the government unveils plans for the months ahead, we'll be closely monitoring two factors.
One, how consumer habits change. The Coronavirus has accelerated huge structural changes in our high streets, but only time will tell just how permanent the shift to ecommerce is. It'll also be interesting to see if people continue to heavily support local independent brands once they can easily pop to the supermarket or major chain stores again.
Two, how businesses retain their newly acquired customers. While there will naturally be a shift in consumer behaviour once constraints begin to ease, businesses should act now to increase the likelihood of their newly acquired customers returning and feeling loyal.
Rather than simply enjoy the surge in orders and referrals, now is the time for thriving businesses to plan for the future. Those with effective retention strategies will prosper long-term; those without will fall by the wayside.