Referral marketing
4 steps to optimising your referral customer journey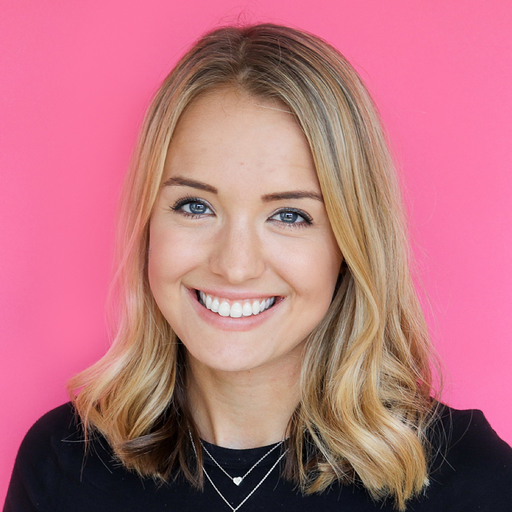 By Sophia King — February 1, 2021 -
Like every new customer acquisition channel, your referral marketing journey is a funnel. At the top are your customers; at the bottom are the new customers they've introduced to your brand.
But like any marketing funnel, there's the risk customers will fall out at any stage.
They might ignore your incentive to refer friends. They might refer you to friends who don't act on the recommendation. Or they might refer friends who get as far as adding items to basket, only to abandon it at the checkout.
Ultimately, it doesn't matter how far into your funnel they get. If your referrals aren't converting into new customers, you're missing out on revenue. Lots of revenue.
The good news is, you can take steps to keep those customers flowing through your funnel and out the other side with their friends in tow.
Here are four steps to optimising your referral journey and acquiring thousands of new customers.
Step 1. Consider the 3 Ps
Just like eggs + flour + sugar = cake, practicalities + psychology + promotion = referrals.
Remove one, and the whole thing becomes a sticky mess. In the case of referral, that mess can be an expensive one.
To reiterate, practicalities + psychology + promotion = referrals.
Here's what each of those ingredients mean.
Practicalities
Be honest: is your product and/or service good enough to be recommended? You can have the most finely tuned referral programme going, but it'll never live up to your expectations if your product and service aren't hitting the mark. 58% of consumers cite great customer service as the most important quality for recommending a brand.
Once you're confident your products and service are worth talking about, consider your customers. Just as offering 90 year old Betsy 10% off a pair of high-performance running leggings is unlikely to catch her attention, the same goes for WhatsApp or Instagram. Betsy, and other customers in her demographic, are much more likely to share an offer for a cosy cardigan using name-sharing or via email. Or maybe we're stereotyping Betsy and she loves to run – that's the kind of insight you can get with A/B testing your referral campaigns (more on that later).
Not sure what will get your customers' attention? Talk to us. We have lots of insights into what works for who.
Psychology
When people recommend brands, two forces compete in their subconscious: social capital and social risk. The first is a balloon, ready to float your customers into the heavens as they tell friends about your brand. The second, however, is weighing that balloon down. Social risk is hanging heavy, whispering in your customers' ears: 'really? Are you sure about recommending that brand?'.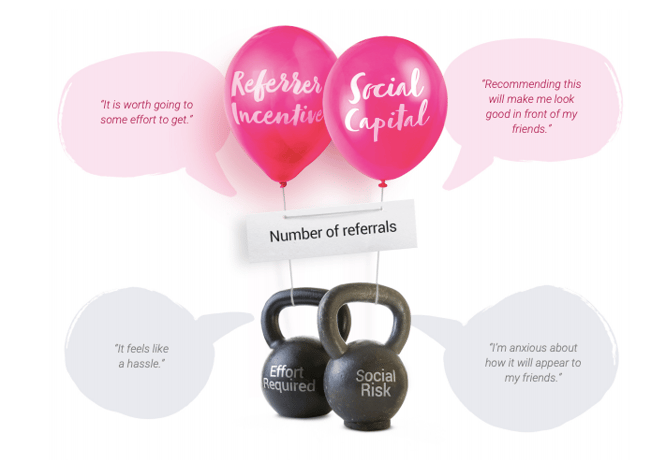 Our recommendations are a reflection of ourselves. It's embarrassing to recommend a brand that sends your friend a badly made product that takes weeks to arrive. On the other hand, giving a friend an exclusive offer for a brand you know they'll love is a good feeling. You can learn more about this in our guide on the psychology of referral.
Promotion
When and where you promote your referral offer is just as important as the offer itself. The best incentive in the world won't deliver new customers if nobody sees it.
Generally speaking, we recommend promoting referral in an overlay on the order confirmation page. This taps into the moment your customers are feeling excited about their latest purchase, without interrupting their journey. But there are countless other places to promote referral. The more widely you promote your offer, the more likely customers are to see and act on it.
Step 2. Keep it on-brand
As well as a powerful new customer acquisition channel, referral marketing is a great way to build brand love.
Your referral journey is another touchpoint for building brand affinity with customers. Embed your brand's personality and purpose into your referral promotions just as you would into your marketing emails or social media posts.
allplants, is a great example of a brand doing this well. In addition to giving customers £20 off their next order, it vows to plant a tree for every referral. This drives new customer acquisition while building brand affinity with customers who buy into its mission of looking after the planet.
allplants vows to plant a tree for every successful referral
Itch Pets is another good example. You might not imagine feeling much emotional attachment to a subscription pet worming business, yet Itch's fun imagery and bold typography brings its brand to life and drives referrals.
Itch's distinctive brand identity drives referrals
See more brand examples in our client showcase.
For some people, their friend's referral offer may be the first time they encounter your brand. Make your first impression count. Feature visuals and language that reflect what you're about, complete with an incentive they can't refuse.
After all, you're already in a good position. Their friend's recommendation means referred customers see your brand positively before they've even placed their first order. Build on this by showcasing what your brand is all about throughout your referral programme.
The results will speak for themselves. On average, referred customers spend 25% more on their first order, repeat purchase more often, and are three times more likely to refer their friends, too.
Step 3. Understand your referral customer journey
We're the first to admit it: referral journeys aren't always the easiest to understand.
The basic journey is simple enough. Your customers share your brand, their friend acts on their recommendation, they purchase from you for the first time. Both parties get a reward.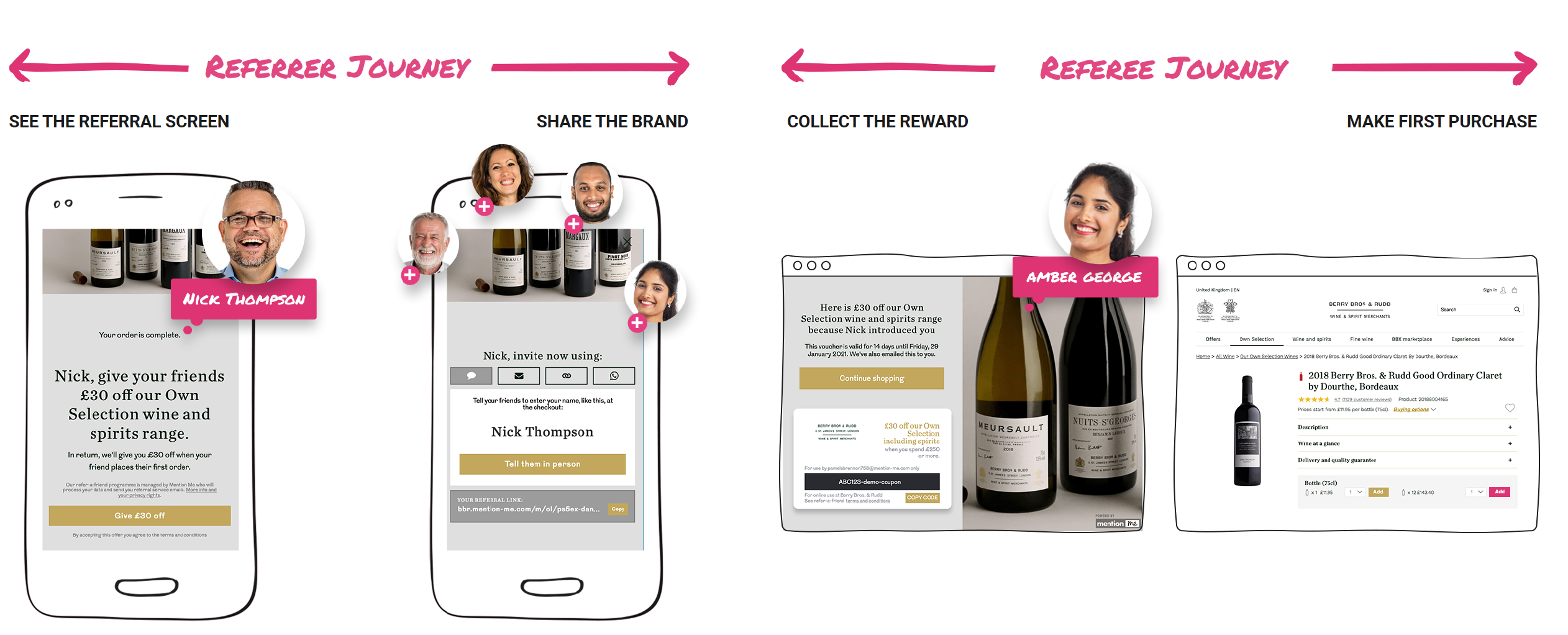 The standard referral journey
But what happens if they veer down a different path? If, for example, a referred friend buys for the first time, only to later cancel their order? Or if an existing customer tries to claim a referral reward exclusively for new customers?
It's all too easy to build your referral journey, expand it to capture different scenarios, then find yourself struggling to keep track of all the different paths.
But if you don't understand every journey your customers could take, you can't optimise them. That means losing out on new customers.
The good news is, managing your referral journeys doesn't have to be a logistical nightmare. With the right platform (ahem), you can do this easily.
We know what you're thinking. Here comes the sales pitch. All we'll say is being able to see the exact journeys your referrers and referees could take, complete with the interactions between them, is crucial to driving referral revenue. And our platform lets you do it.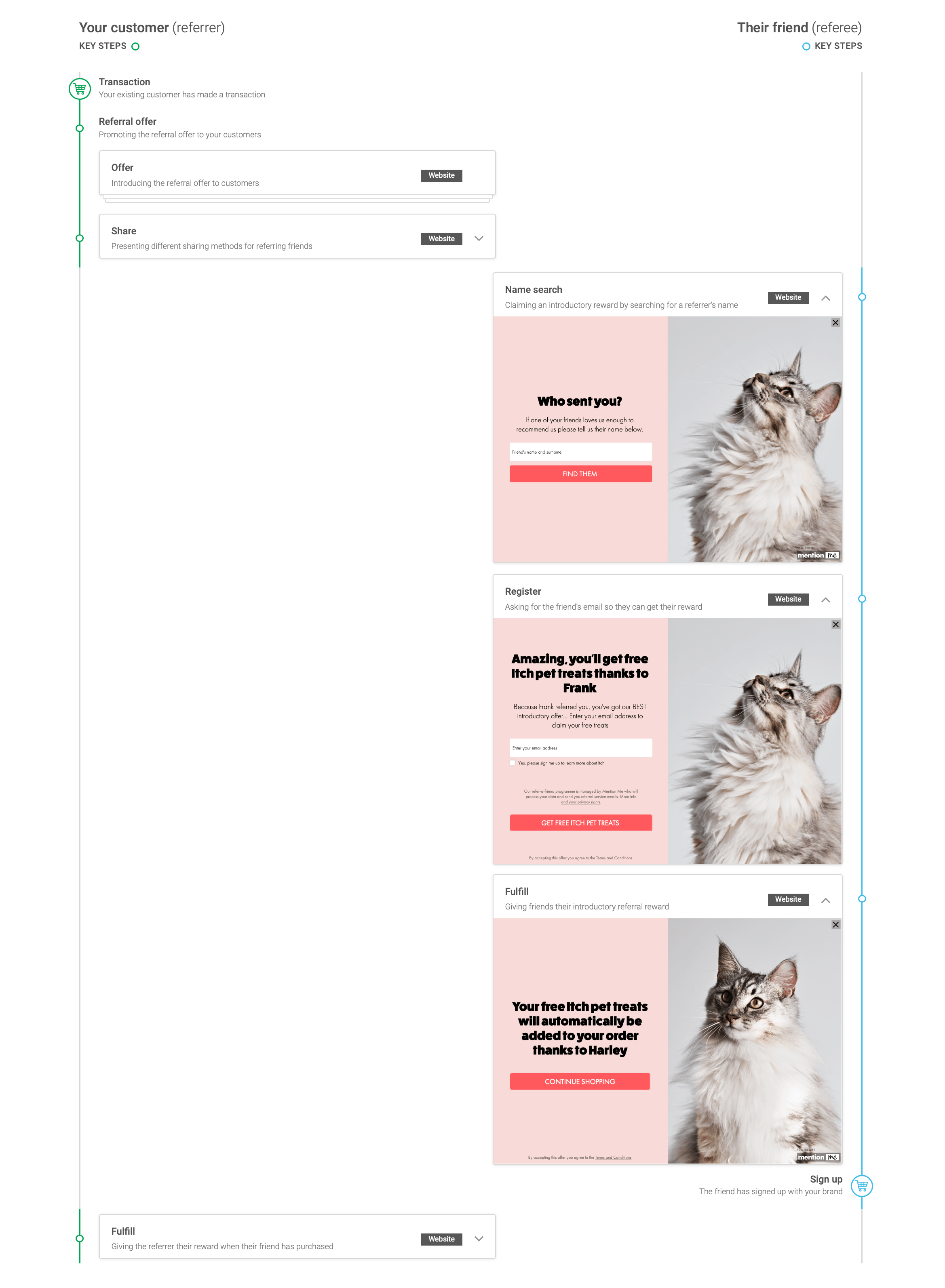 The preview section in the Mention Me platform
Once you understand your referral customer journeys, you can think about enhancing them. By integrating your referral programme with personalisation platforms like Ometria, you can serve seamless, personalised customer journeys that supercharge new customer acquisition for your business.
Step 4. Test, test, test
We've said it before and we'll say it again. A/B testing and segmentation are essential to optimising your referral programme. Running referral without testing is like making that cake without a hot oven. You can give it a go, but it's not going to end well.
Strategically segmenting your customers and A/B testing every element through their journey will uncover valuable insights into how best to engage your customers.
In fact, A/B testing can increase your referral marketing programme's performance by as much as 80%.
We recommend starting with the basics. Segment your customers based on your biggest business priority. If driving repeat purchases is top of your agenda, for example, segment by order number. If overall revenue is the dealbreaker, segment by average order value.
Once you have your customer segments, choose the element you want to test first. Referral incentives tend to be a good starting point. Even something as simple as testing fixed-sum versus percentage discounts can reveal valuable insights that you can apply to other marketing campaigns. No.1 Lounges even discovered its customers were more likely to refer friends when offered a smaller discount.
So there you have it: four ways to optimise your referral customer journey.
If your brand provides a great product that customers love, they're probably already telling others about you. With the right referral programme, you can convert these everyday conversations into significant long-term revenue for your business.
Ready to learn more about referral marketing as a powerful new customer acquisition channel? Check out our case studies.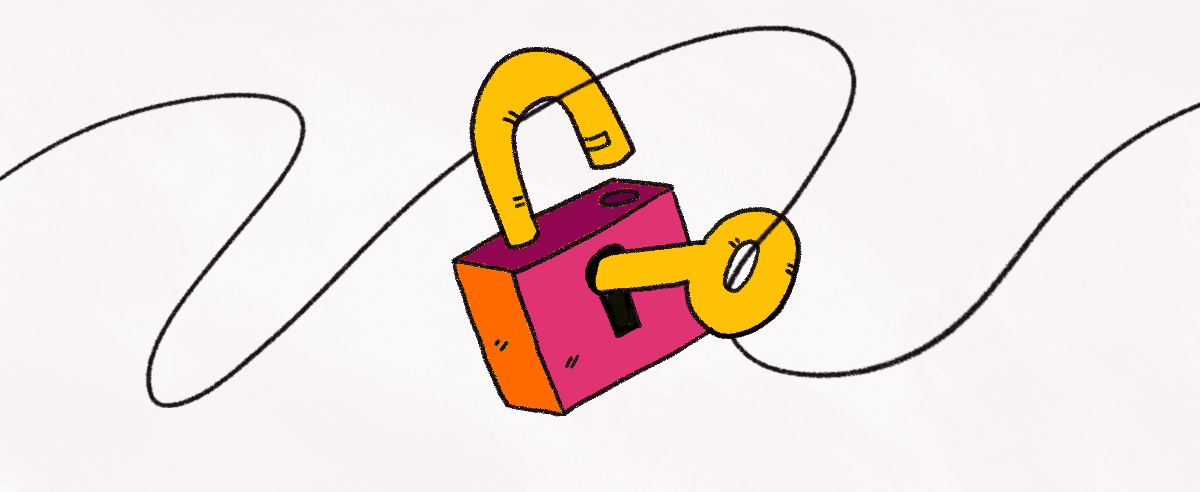 How to unlock more revenue, without more resource
Never miss another update
Subscribe to our blog and get monthly emails packed full of the latest marketing trends and tips