We are delighted to be recognised by Retail Week in their 2016 Customer Experience Award line-up! Alongside the team at Karen Millen we're shortlisted for the Best Use of Technology in the Customer Experience for the work we've done in creating the referral marketing journey for their customers. Click here to view the full short list - Shortlist
Learn more about our collaboration with Karen Millen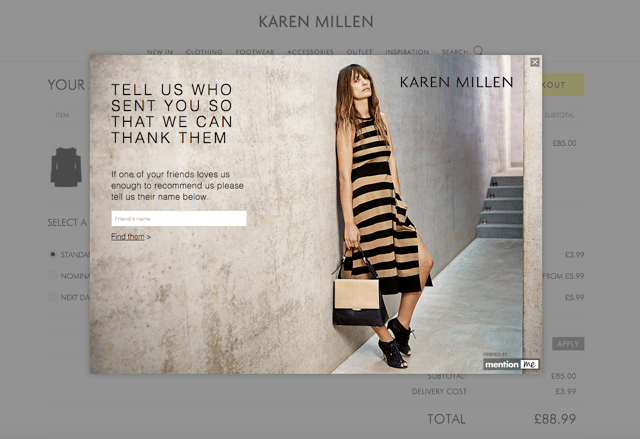 A flexible platform that is easy to optimise
Mention Me's software platform powers the Karen Millen referral marketing experience. Our ability to segment and AB test across different customer cohorts without involving the engineering team means the platform is very flexible. The marketing team at Karen Millen have been able to tailor the messaging by customer segment and test different components of their referral programme enabling them to quickly optimise its performance.
The platform includes detailed analysis and reporting and is backed up by the referral experts at Mention Me who help make sure all the referral programmes we create reach their full potential.
Driving a great customer experience
Launched back in November, Karen Millen's referral channel is contributing positively to their customer experience and new customer acquisition. Customers have a very positive view of the scheme, especially the name sharing element has been a real benefit for those who share with friends in real-world conversations. Name sharing is Mention Me's patent-pending technology which means there are no voucher codes to remember or emails and links to find, so it's much easier for referred friends to convert to shoppers.
Thank you Retail Week and congratulations to our friends at Karen Millen. And we're crossing our fingers for when the awards are presented on June 23rd!