Marketing trends
The impact of trust on the adoption of the Internet of Things (IOT)
By Angela Southall — February 9, 2018 -
The speed at which the internet has evolved — and continues to evolve — is nothing short of astonishing. Over the course of little more than a couple of decades, mass internet usage has rapidly shape shifted in both form and function.
First, came web browsing and email capability via desktop computers. Then came the mobile web revolution, with the normalization of internet-connected phones, tablets and e-readers. Then, connected TVs, smartwatches and fitness trackers came onto the scene and once again revolutionised daily habits and lifestyles in previously unimaginable ways.
And most recently, the so-called 'Internet of Things (IoT)' is once more pushing the boundaries of perception around both the individual and collective role of the internet.
Often touted as the next significant technological revolution of our generation, the Internet of Things is already changing our homes, workplaces, and public infrastructures in pretty exciting ways. But for all the opportunity that it represents, a number of consumer concerns exist surrounding IoT. Especially in relation to connected home products.
The evolution of this latest wave of connected tech — and the valid concerns attached to it — has obvious relevance to retail industries. Let's take a closer look at rise of connected tech, and consider what needs to happen to build trust among a sceptical consumer base.
What exactly is the Internet of Things (IoT)?
Put simply, The Internet of Things, describes the network of physical devices capable of communicating, exchanging data, and executing automated tasks.
In everyday terms, that basically means the development of useful, internet-connected products and systems, such as:
at home: heating thermostats that can be controlled remotely using mobile devices
in the shops: retail 'beacons' that use bluetooth to send automated location-based offers and alerts to passersby
in manufacturing: completely automated factories and warehouses, operated by a network of robotics, sensors and databases 'talking' to one another
On the face of it, this new horizon of connected tech offers an almost Utopian promise of untold efficiencies and improvements in the way that we operate as individuals, companies, public institutions and governments.
According to a Business Insider study, 24 billion IoT devices will be used by 2020. That's more than four devices per human on earth.
The trust problem that's holding back the connected home market
The same Business Insider report also lays out some interesting trends in industry adoption of IoT powered products and systems. The top level takeaway is that the majority of IoT usage has been dominated by businesses and governments — but less so, by consumers in the home.
For instance, beyond the above mentioned use of IoT in manufacturing:
agricultural companies are using sensors to collect data for precision farming
doctors are increasingly adopting wearable tech to remotely monitor patients' health
use of in-car trackers by insurance companies to calculate performance-based premiums has become commonplace
installation of smart meters in homes are allowing utility companies to accurately monitor power usage
Also, in the world of government, investment in IoT by urban planners is soaring, with an estimated 6 billion connected devices predicted to be used as part of city infrastructures by 2020. And of course, there's the obvious use of connected technology in government defence, via drones and robot-operated weaponry and equipment.
In comparison, consumer appetite for IoT devices has been more mixed.
Whilst the connected car market appears to have burst into life over the past couple of years, it's in the home that some consumers are less convinced by the IoT revolution.
Chief among concerns are security and privacy. And understandably so.
Whilst products released onto the market are undoubtedly impressive, many would agree that the Internet of Things is still in its infancy — with compatibility issues between devices still hampering user experience. And even more urgently, security issues and concerns loom large. And where security is a concern, so is privacy.
Not surprising then, that many of us are still a little hesitant to have multiple devices in our homes — from fridges, to TVs, mirrors and wearables — that are capable of tracking and monitoring our every move. The potential threat posed, if that kind of power ever gets into the wrong hands, is obvious.
But besides 'outsider' infiltration of such data, the intentions of the actual product manufacturers and sellers are themselves under scrutiny, as brands face an uphill challenge in convincing consumers that they can be trusted to responsibly handle consumers' personal data.
The fact is, many consumers still need reassurances that the immensely powerful positions companies now hold by owning access to such a wealth of personal data, won't be exploited for commercial gain.
What needs to happen to build trust in connected home products?
If retailers of connected home products are to win over concerned consumers, three major issues should be the focus of efforts…
Transparency
The more open brands are about how they collect, use, and share consumers data, the more likely they are to cultivate trust.
A set of transparent data and privacy policies should clearly communicate what data is collected from customers, how and where it's stored — plus, any wider possible uses of that data.
In addition, customer advice on best practices for data protection, such as setting a secure custom password and using encrypted Wifi networks, should be promoted by companies to help reassure and educate customers.
Security infrastructure investment
It seems that the newer the technology, the more vulnerable it is to security breaches and malicious attacks. In other words, in many cases the pace of technological advancement is outstripping the development of adequate cyber security solutions to support it.
With there already having been a number of infamous examples of connected tech being hacked, there are increasing calls for a standardised approach to securing IoT devices.
Cisco recently published its proposed framework, Securing the Internet of Things, in a bid to bring this about sooner rather than later.
Supporting compatibility through consistent standards
Related to the previous point on improved security, is overall compatibility issues between connected devices. In short, the more fragmented and disjointed the communication between various devices and networks are, the more easily hackers are able to pick holes and do harm.
But on a more basic level, as far as consumers are concerned, the more popular connected home devices become, the greater the expectation will be to have them all talking to each other and seamlessly performing complex tasks at the user's whim.
As this Wire article discusses, the need for a reliable and robust set of common standards is increasingly urgent, if brands are going to deliver on the kinds of experiences and lifestyles already being promised to consumers.
Conclusion
There's no doubt about it, the age of connected technology and the Internet of Things feels like a genuine new dawn for how we will as human beings, individually and collectively, communicate and get things done in the future.
However, it's already not been without a few bumps in the road. Trust around privacy and security are chief among consumer concerns that are acting as barriers to mass uptake and everyday usage — as well as more basic teething problems related to compatibility and user experience between products.
It's predicted that $6 trillion will be invested in IoT products by 2020. It's likely it will have an impact on our lives in yet unforeseen ways. Tackling the trust and security concerns is key to ensuring we fully embrace the opportunities.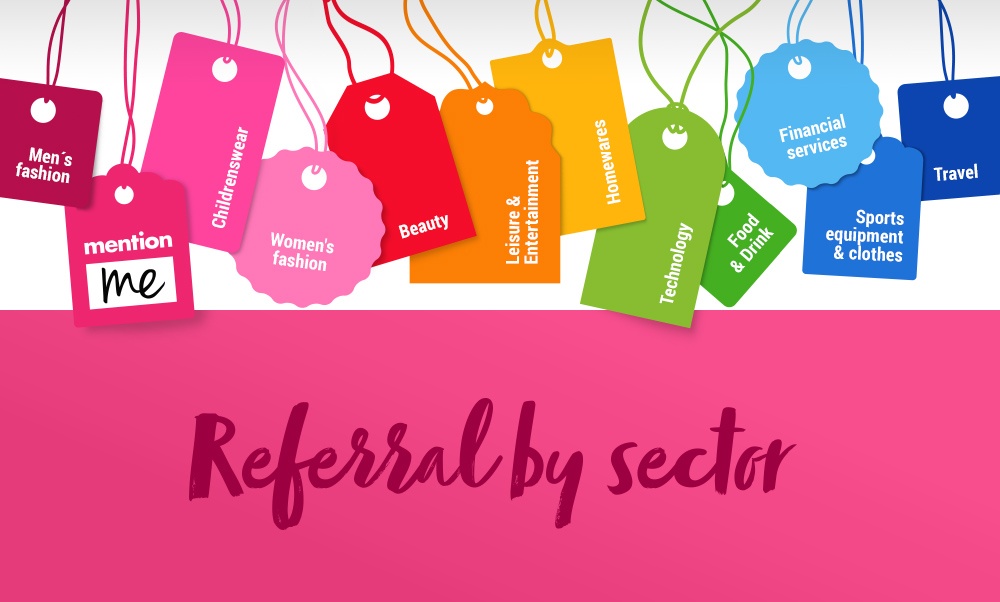 Infographic: Hot or not? The sectors most likely to be referred.
Never miss another update
Subscribe to our blog and get monthly emails packed full of the latest marketing trends and tips