Referral marketing
How International Friendship Day increased new customer acquisition by 75%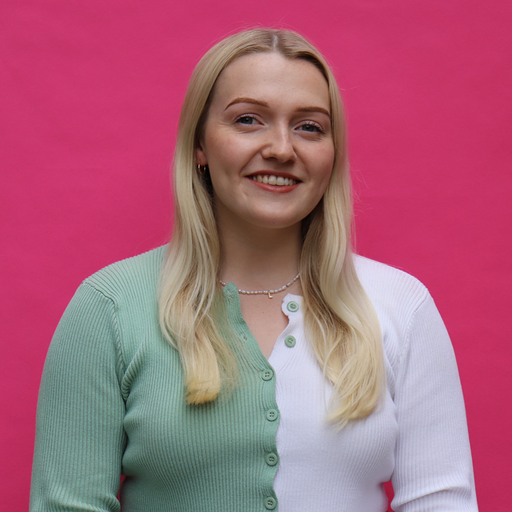 By Olivia Cox — August 6, 2021 -
This year's International Friendship Day (IFD) on the 30th July saw Oxford crowned as the UK's friendliest city, lifelong rivals Barbie and Bratz calling a truce, and, according to our data, plenty of brand recommendations between loved ones.
International Friendship Day is all about celebrating our nearest and dearest — a sentiment particularly important in 2021, as friends finally enjoy time together after spending so much of the last year apart. And given that consumers trust their friends' recommendations more than any other advertising, it makes sense that this event is also the perfect chance for brands to grow their customer bases through referral.
While it may be an occasion lesser-known than other juggernauts in the retail calendar (such as Black Friday and Amazon Prime Day), the results from this year's International Friendship Day referral campaigns prove it's one well worth getting involved with.
Here's what we learned from International Friendship Day 2021.
More consumers recommended their favourite brands...
Our clients offered a vast and varied array of incentives, including generous discounts, gift vouchers for other websites, and competitions to win a refund or free gifts. But they all had one thing in common: they led to a notable rise in referrals.
While share rates were up across the board, eco-friendly online retailer Cheeky Wipes achieved particularly impressive results. The brand doubled its regular discount to celebrate International Friendship Day, increasing its share rate by 37.7% in comparison with the previous 5 days. Women's health company Ava also ran a successful IFD campaign. They gave referrers a generous discount as well as a competition entry, leading to a 51.5% increase in the number of customers sharing the offer.
Tropicfeel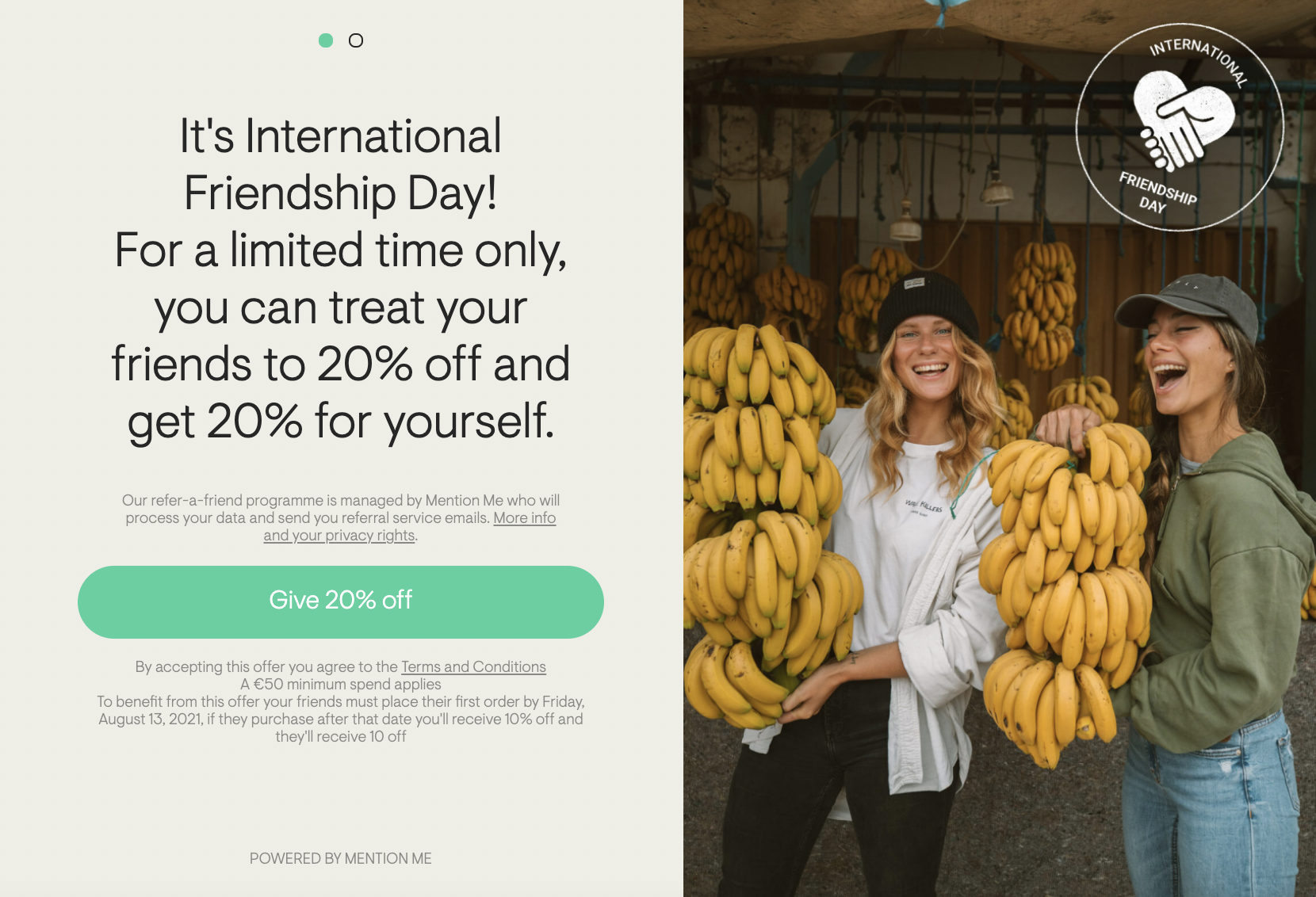 AVA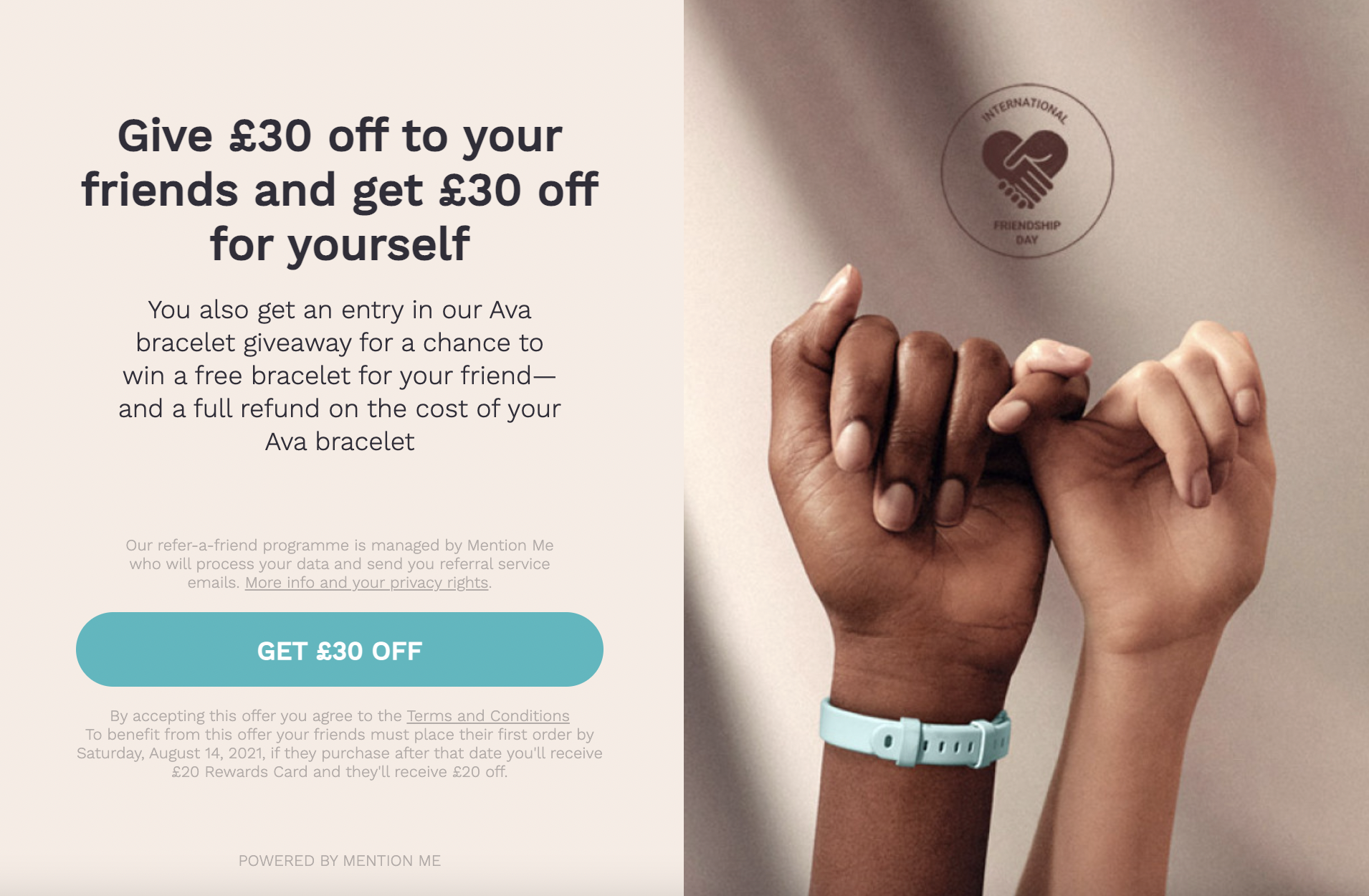 ...And these recommendations converted into more new customers
It's great for a brand to see referrals spike during a special promotion like International Friendship Day, but it's even better to see these referrals convert into new customers.
On International Friendship Day itself, consumers shared brands' referral offers 79% more than usual. While the coming weeks will reveal how many of these referrals result in new customers, what's really significant is that these brands also acquired 75% more customers through referral on the day.
Put simply, an effective International Friendship Day campaign delivers these three key benefits:
More customers share the offer with friends
More friends act on the recommendation and become customers
Brands from every sector can run a campaign for International Friendship Day
If you thought International Friendship Day was only for retailers selling classic gifts like flowers or jewellery, think again. We helped brands across sectors — from energy suppliers to mattress companies — acquire significantly more new customers through dedicated IFD referral campaigns.
Think about it: in their daily lives, your customers will be recommending a variety of top-quality brands to their friends. Sharing a brand doesn't have to include a shiny new trinket to be a thoughtful sign of friendship – it just needs to be relevant to the individual.
BOUGHT BY MANY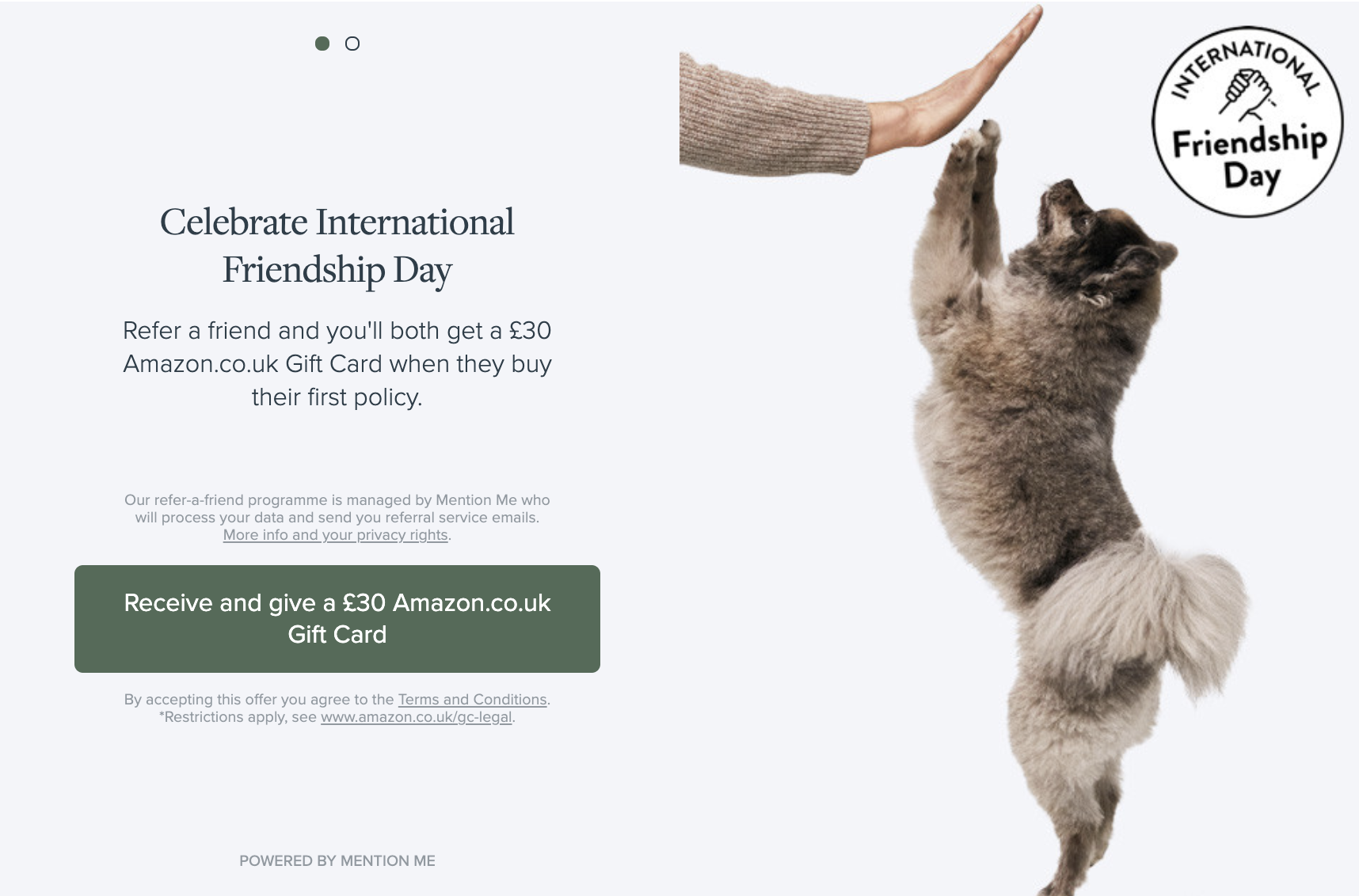 ODDBOX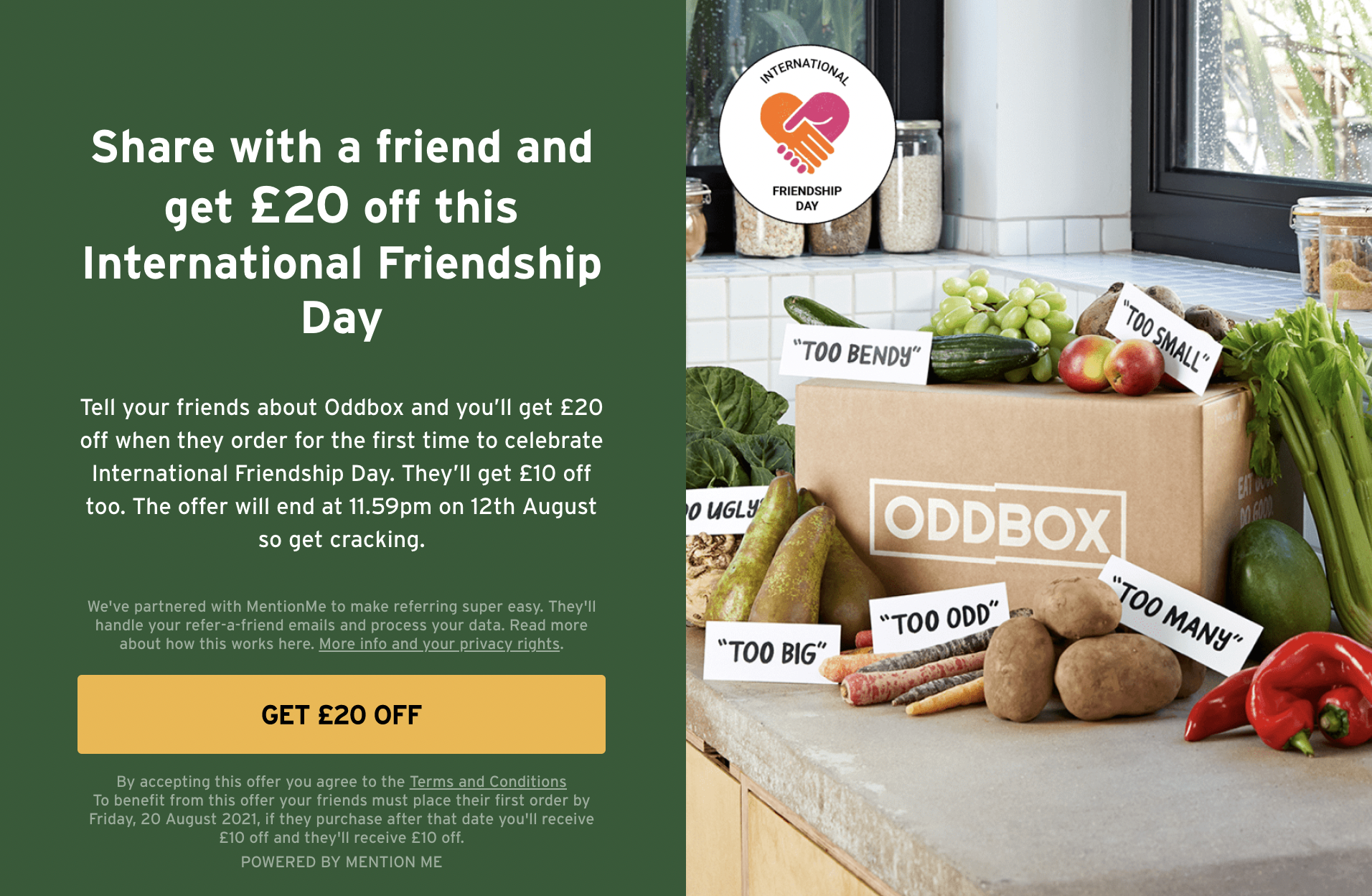 Consumers shared (and bought from) more brands throughout the week
For brands who celebrated International Friendship Day this year, it proved to be worth running longer promotions to maximise their impact.
Rather than limiting their promotions to the day itself, many of our clients extended their International Friendship Day campaigns to at least seven days. This led to an increase in referrals across the whole week, with the week of IFD seeing an average share rate of 6.7% — up from the 5.6% in a typical week.
It's a no-brainer: by running a promotion for longer, you can build up hype around your offer and give customers more time to refer their friends.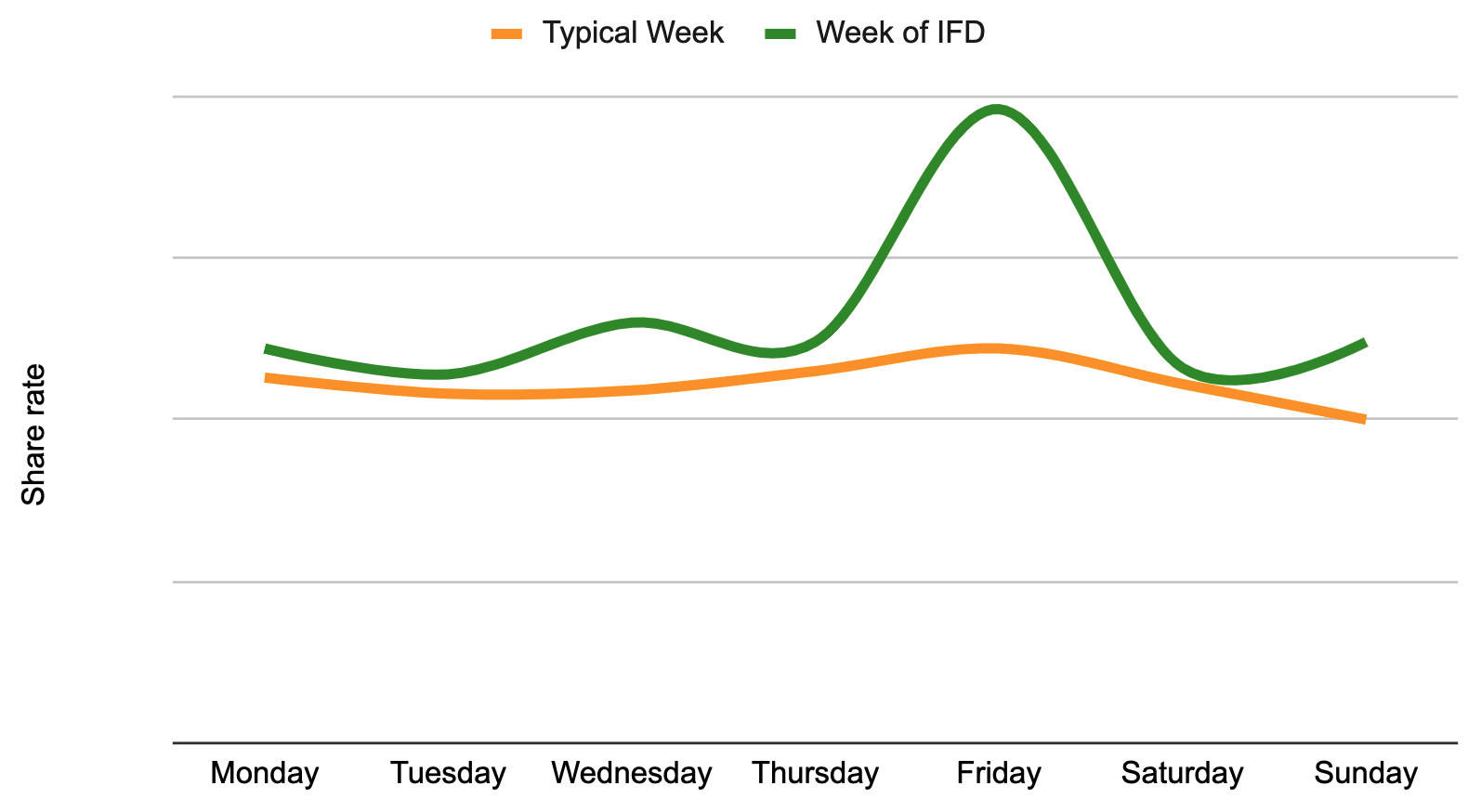 International Friendship Day may be over for another year, but Black Friday is fewer than four months away — making now the perfect time to prepare a campaign that drives long-term results. Ready to get started? Download our lookbook.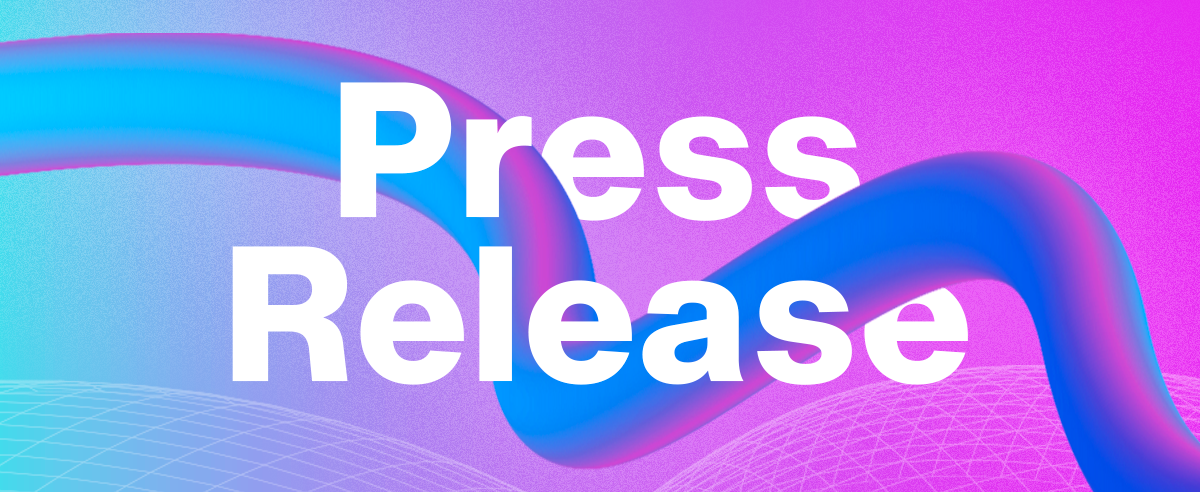 Press Release: Pet insurer Bought By Many rolls out SaaS tool to boost word of mouth referrals
Never miss another update
Subscribe to our blog and get monthly emails packed full of the latest marketing trends and tips