Whether it makes you swoon or cringe, Valentine's Day is almost here – and it presents a big opportunity for your brand's bottom line. Even if you don't sit in the traditional gifting sectors.
Rewind. When did Valentine's Day all begin?

Valentine's Day dates back to the year 496, when Pope Gelasius I introduced the feast of St Valentine. Nobody's entirely sure who St Valentine was, but the legend goes that he was a priest from Rome arrested for secretly marrying Christian couples. 14th February gathered pace in England in the mid-18th century, when people began exchanging handmade cards with their loved ones. It became officially commercialised in 1913, when Hallmark Cards of Kansas City started mass producing Valentine's Day cards.
Is Valentine's Day really a big deal for business?
Yes. Whether you're selling flowers, flights, or anything in between.
A billion Valentine's Day cards are exchanged every year, making it the second largest seasonal card sending time of the year. UK consumers spend almost half a billion pounds on gifts for the occasion.
Red roses still reign supreme as the Valentine's gift of choice – 50 million are received on 14th February each year – but they're by no means the only gift being exchanged. Traditional gifts like chocolates and champagne are being joined by more extravagant presents, like luxury holidays, fine jewellery, and designer bags.
Consumer spending for Valentine's Day continues to increase year-on-year – not necessarily because people are feeling more loved up. The day has expanded beyond romantic couples to become a celebration of our loved ones more generally, whether that's our friends, mothers, or pets.
Valentine's Day & referral marketing: a match made in heaven
Unlike other purchases, Valentine's gifts impact at least two target consumers; the person giving and the person receiving. Plus all those people who see it shared on social media channels.
As most singletons will be all too aware, social media on the 14th February is a hotbed of heart emojis, gushing captions, and loved-up posts. While many of these posts constitute couples gazing adoringly at one another (#candid), many others show the world the treats their Valentine's has treated them to.
And that presents a major opportunity for your brand. Even if you don't sell goods traditionally associated with Valentine's.
From pet products to probiotics, many of our 400+ clients are adding a loved-up twist to their messaging to sell more. Read on for inspiration on how your brand can speak its own language of love to drive sales and get people talking this Valentine's Day, whatever your sector.
Valentine's referral campaigns across sectors
Health
Multivitamins might not be the first thing that springs to mind when thinking of Cupid, but how better to look after your loved ones than by sharing a discount on products that'll improve their health and welbeing? Supplement company Cytoplan has incorporated Valentine's into its design to catch customers' attention without diluting its messaging.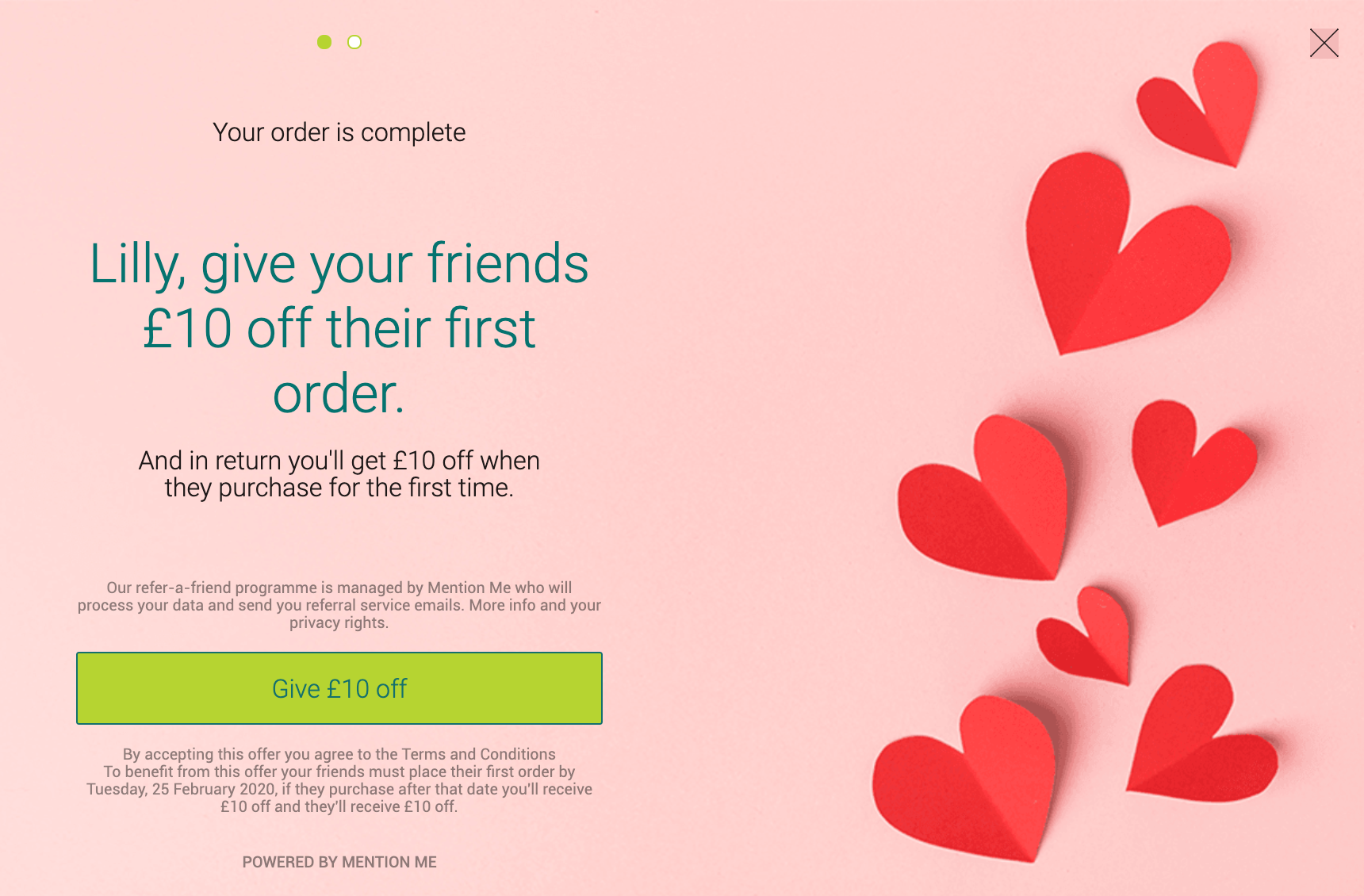 Cytoplan
Travel/experience
Forget a cosy night in; lots of couples want to make memories together with unforgettable experiences. Companies like Virgin Experience Days tap into this well, offering everything from spa days to sky-diving. Experiences guaranteed to get people talking – and uttering that much-loved phrase: "use my name at checkout for a special reward".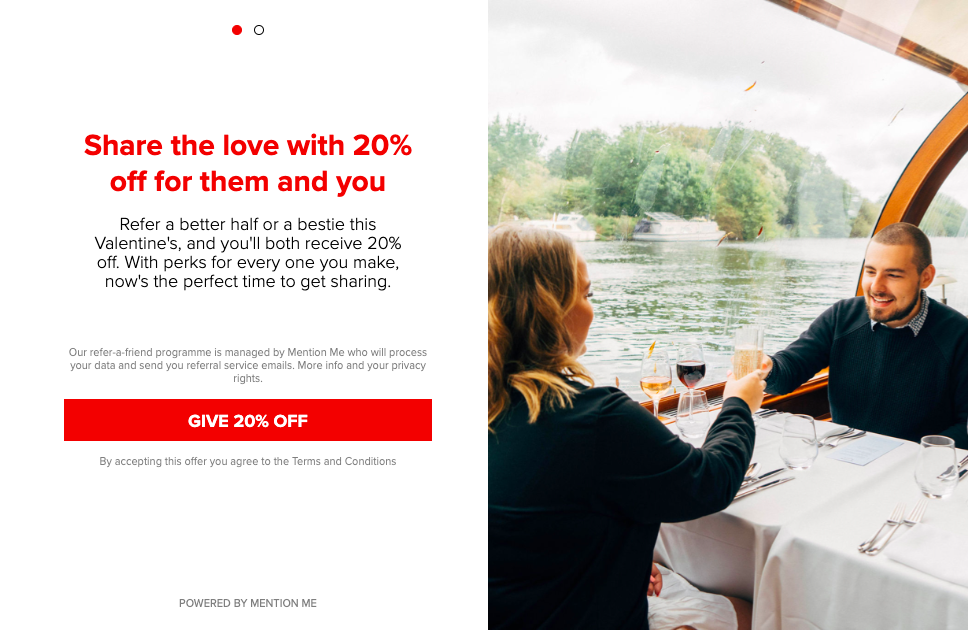 Virgin Experience Days
Pets
Banish outdated stereotypes of crazy cat ladies; many people today proudly declare their pets as their true love. VioVet built on this affection with a solus email encouraging customers to share the love by giving their friends 10% off. Your dog may not know it's Valentine's Day, but he'll certainly know he's being treated to his favourite gravy bone.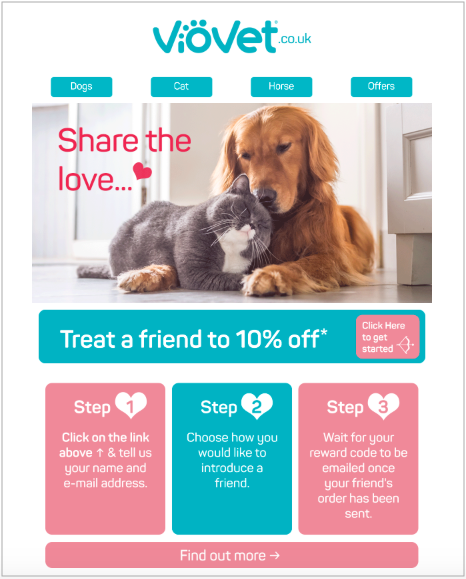 VioVet
luxury
For those who like to splash out on their nearest and dearest, luxury retailers like Harvey Nichols celebrate the day of love with referral campaigns offering discounts to both customers and those closest to them. Offering everything from traditional Valentine's bouquets to diamond earrings and men's watches, it's the perfect opportunity for customers to treat that special someone in their life.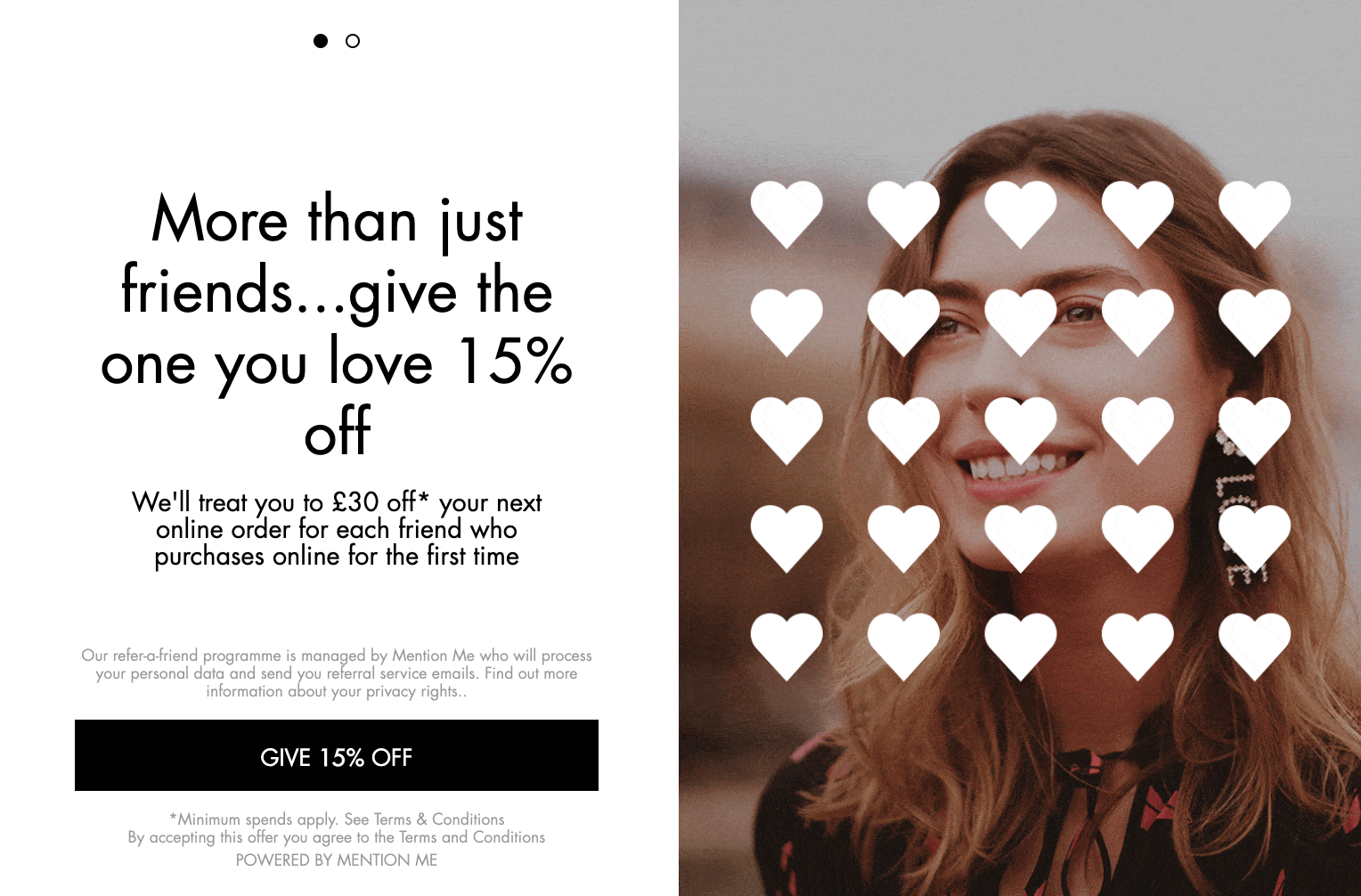 Food & drink
Turns out both women and men's hearts can be reached through their stomachs. 80% of people consider preparing a meal a significant act of love, and nearly half of women believe food is the way to their hearts.
And declaring your love doesn't have to involve a Hell's Kitchen style situation, either. Sometimes, less is more – particularly if it's pretty and delicious. Just look at Lola's Cupcakes. London's number one cake shop presents an eye-catching overlay that captures the Valentine's theme without explicitly mentioning it.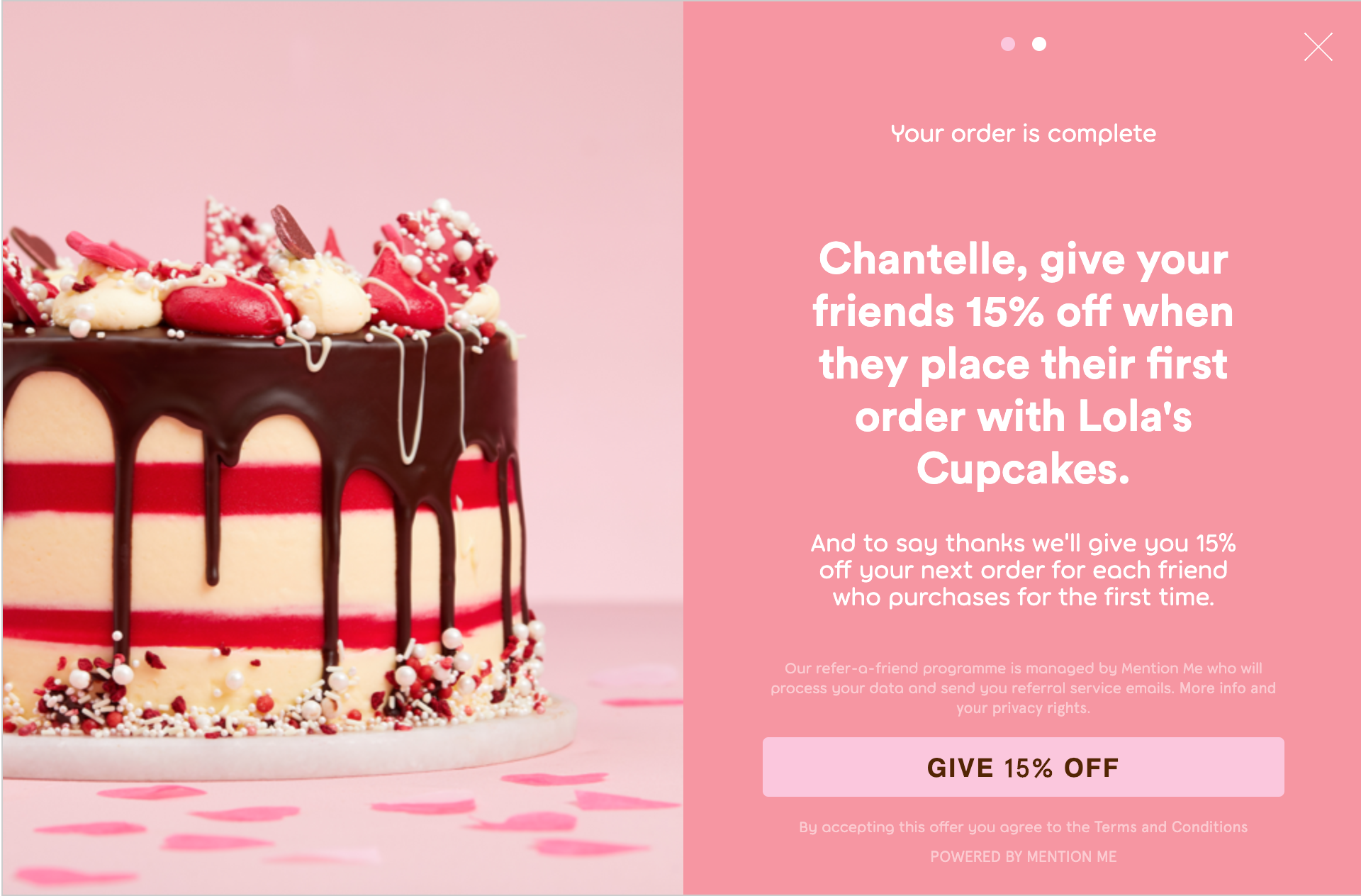 Lola's Cupcakes
Fashion
How better to celebrate Galentine's than by giving your bestie a discount on her favourite clothing brand? Brands like Ted Baker have kicked off celebrations early, running refer-a-friend Valentine's campaigns that offer both a double discount and competition entry for customers.
Ted Baker
Adult toys
While it's not surprising that adult toy businesses see a surge in sales around Valentine's Day, you may not expect this to convert into referrals. Our work with brands like Lovehoney, however, tells a different story. People may not feel comfortable telling everyone about their favourite sex toy, but they're more than happy to share referral offers with their partner for even more bedroom fun.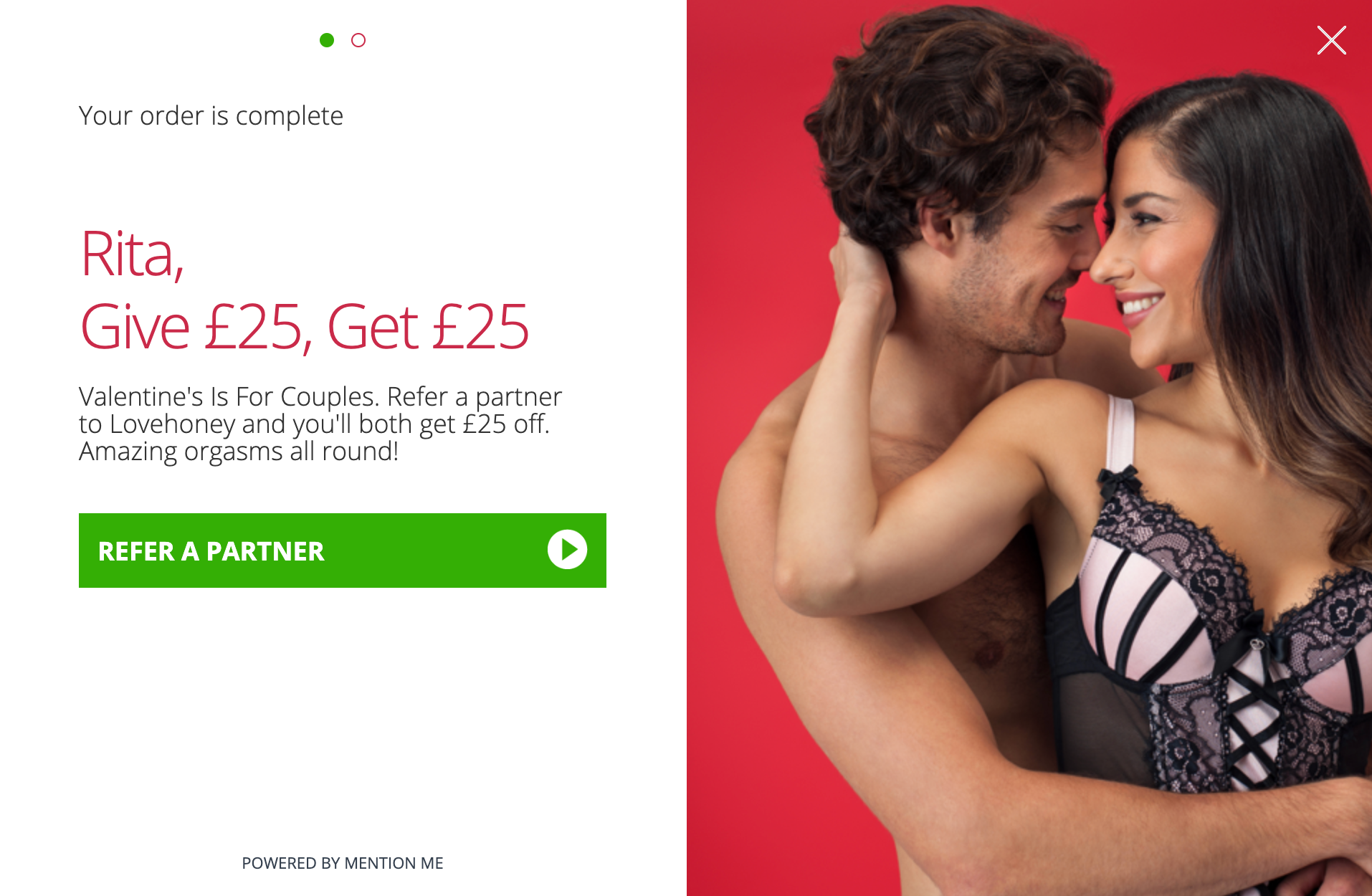 Lovehoney
There you have it: a snapshot of how referral can tie into your Valentine's Day campaign to boost brand awareness, drive sales, and increase overall revenue. There's a lot to love about that.