Brand advocacy
12 ways to hit your most ambitious targets in 2022 through referral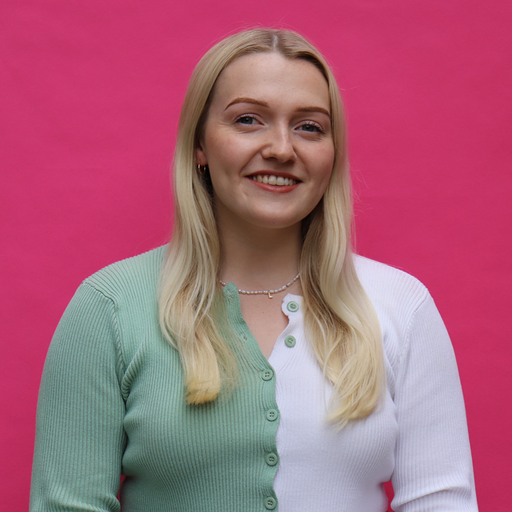 By Olivia Cox — December 8, 2021 -
Read time: 10 mins
Looking for the highlights? Here are three things you need to know:
Brands including PrettyLittleThing, Pasta Evangelists and Frugi are driving long-term growth through Referral Engineering®
Referred customers are 5x more likely to refer others, giving them Extended Lifetime Value
Referral increases the impact of your seasonal promotions by turning one-off shoppers into brand advocates
We've all been there. You get a Christmas present from a well-intentioned family member, only to banish it to the back of a dark cupboard, never to be seen again.
The best presents are those that improve our lives on a regular basis. The sofa we flop onto at the end of every day. The ridiculously cosy slippers. The perfectly sized mug.
It's no different when it comes to your brand's marketing channels. When you make that investment, you want to know you'll get results every day of the year.
Of course, this blog would be a bit long if we did a 365-day overview of how Referral Engineering® can hit your KPIs. So instead, we've taken seasonal inspiration from the 12 days of Christmas.
Read on to discover 12 ways referral can become your primary growth driver in 2022 (and beyond).
1. Acquire new customers
You're painfully aware of the current challenges of acquiring new customers. Your would-be shoppers are doing all they can to avoid traditional adverts. As brand messaging gets louder, they're covering their ears and singing la la la to drown out the noise. Not to mention, your digital marketing channels are draining more money from your budget, yet delivering worse results.
It's enough to make any marketer panic. Fortunately, Referral Engineering® offers a solution.
A data-driven referral channel typically increases customer acquisition by 8% – rising to 30% for strategically optimised programmes. Ask fashion giant PrettyLittleThing, who acquired thousands of customers in just three months through referral. Or Pasta Evangelists, whose referral channel drives over 15% of customer acquisition.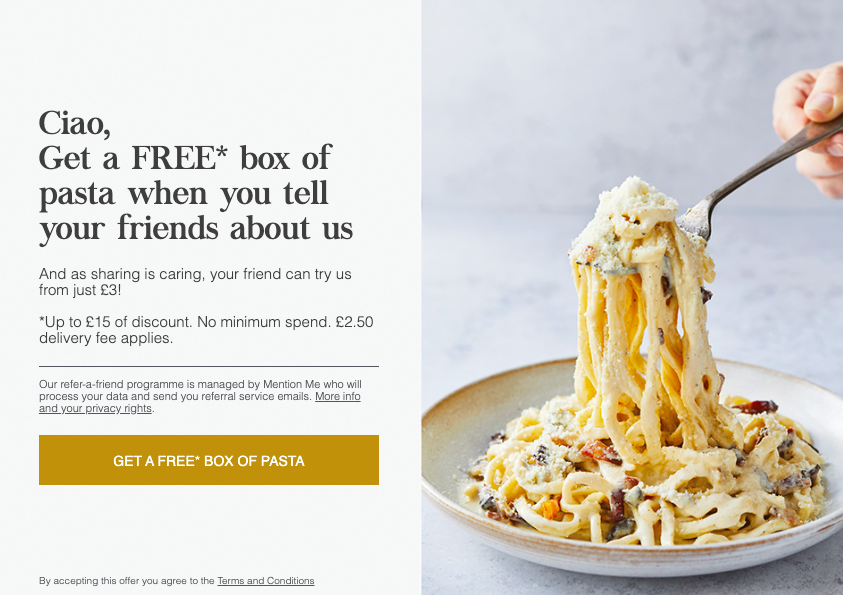 Pasta Evangelists tempts referrers with a free pasta box
2. Drive repeat orders
You've spent time and money to acquire new customers. Now you want to make sure they don't disappear after their first purchase.
Unlike buy and bolt customers who simply shop around for the best deal, referred customers are far more likely to repeat purchase. In fact, over 27% of revenue from Frugi's referred customers is from their second or subsequent order.
Some sectors are more likely to have returning customers than others — after all, there are only so many mattresses one person can buy.
But referral can prompt your customers to recommend your ultra-comfy mattress to their friends who are struggling to get a good night's sleep. This drives even more long-term value than one repeat shopper, as each referred customer is 5x more likely to recommend you to others — creating an ongoing chain of new customers.
And because you've rewarded the referring customer's loyalty, your brand will be the first they think of when they need a new pillow to go along with their cushty bed set-up.
3. Build a valuable email database
If you're wondering just how effective email marketing is these days, here's a stat: brand emails influence the buying decisions of over 50% of consumers. Done well, it's a powerful tool for engaging your customers with relevant, high-quality content that gets them excited about your brand.
But there's an obstacle in the way of landing your well-crafted emails into the inboxes of your intended audience: they need to opt-in to receive them.
With today's consumers receiving an avalanche of content everyday, it takes more than a polite request for them to welcome you into their inbox with open arms.
Here's some good news: referred customers are 5x more likely to opt in to receive email marketing. Travel gear brand Db grew its email database from 30,000 to 185,000 people in less than two years by implementing Referral Engineering® alongside its other channels.
4. Celebrate customer loyalty
In their pursuit of mega customer acquisition, some brands leave their regular customers feeling as cast aside as your old iPod Nano.
But in reality, you can easily bring in high-value new customers while rewarding your best advocates for their loyalty.
Use Referral Engineering® to segment your customers and give frequent shoppers VIP incentives, such as invites to exclusive events or early access to new products. In making these dedicated brand ambassadors feel valued, you'll keep them coming back and encourage them to bring along their friends and family. It's a win-win.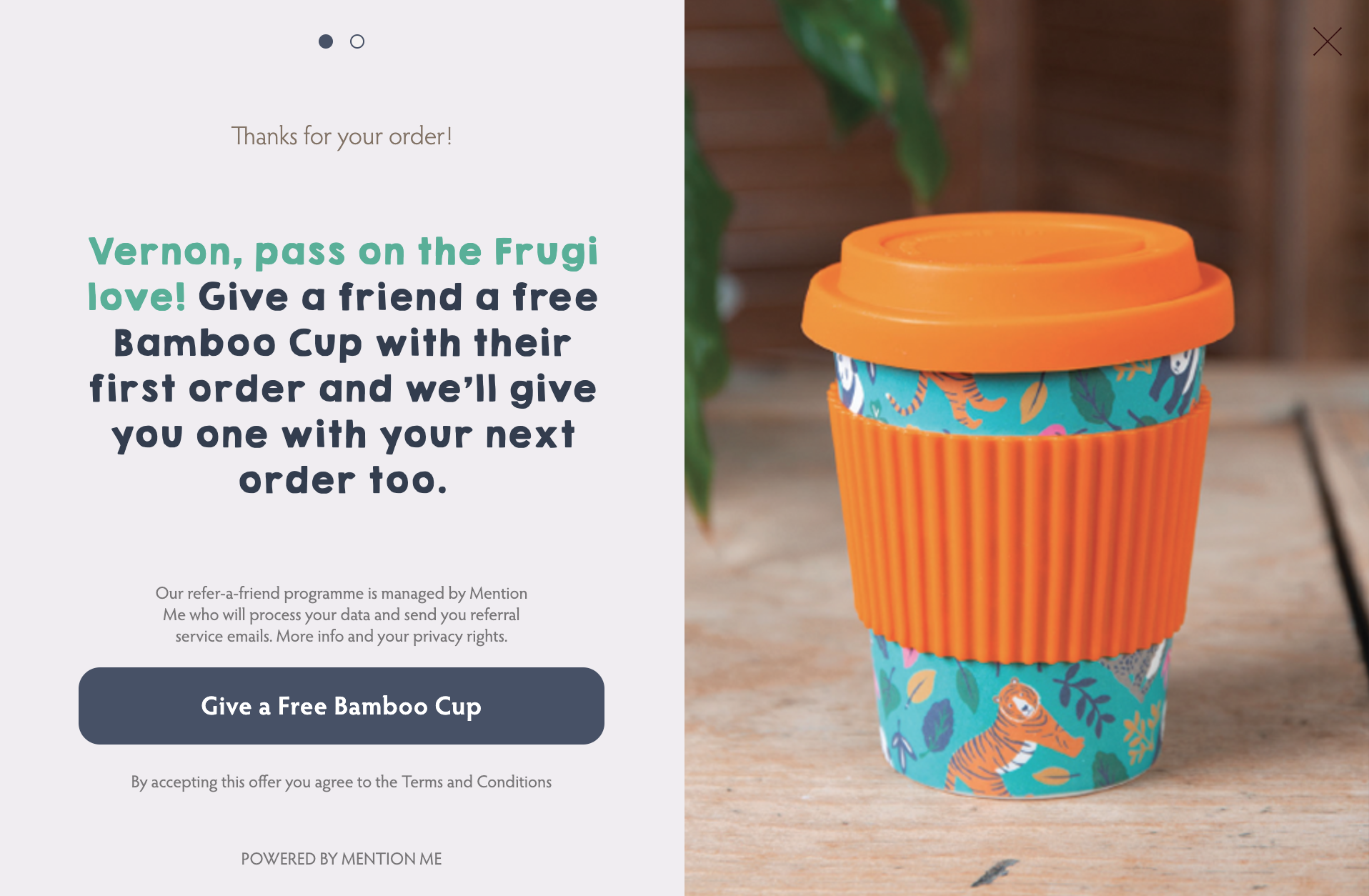 Frugi encourages repeat orders by offering free gifts
5. Nurture
more
loyalty
Your satisfied customers are already recommending you to others. Nurture this loyalty with a precision-engineered referral channel, and you'll turn these daily interactions into a powerhouse of brand growth.
With a traditional loyalty scheme, you build relationships with your customers in private. You're rewarding them for shopping with you, but that reward only engages one customer at a time. Referral, on the other hand, nurtures and shines a light on this loyalty publicly, as shoppers openly share your brand with their friends.
Referral doesn't only squeeze more value out of real-life conversations (our Name Share® feature lets customers recommend brands using only their names at checkout, driving 34% of all referrals). If you reward this pre-existing loyalty with tempting incentives, you can encourage even more loyalty.
A strategic referral programme also helps you encourage advocacy from your customers who aren't ready to refer yet. You can give them a discount on their next order, ask for feedback via an NPS survey, or promote newsletter sign-ups to keep your brand on their mind while they consider their next purchase.
6. Re-engage contacts
It's a tale as old as time. Consumer meets brand, consumer makes a purchase, consumer and brand drift apart. Sigh.
Except it doesn't have to be that way.
Referral can reunite you with even the most distant shopper.
Target customer segments who haven't engaged for a certain amount of time and win them back with irresistible incentives. You can also serve them messages that reinforce why you're better than any competitor trying to win their heart (and cash).
Once they've returned, A/B test your content and incentives so you learn exactly what they want to see. Keep it up, and it won't be long before these personalised experiences turn returning customers into your most loyal brand advocates.
7. Extend customer lifetime value
When we say that referral increases your customer lifetime value (LTV), we're not only talking in the long-run. Referred customers are more likely to drive value from the get-go, spending an average of 11% more on their first order.
These bigger orders aren't down to a 'just-got-referred' excitement that fizzles out after their first purchase. Customers coming from referral are more valuable throughout their whole lifecycle — Ted Baker found that referred shoppers spend 34% more and make 7% more orders.
Better still: with referred customers, you aren't just cranking up the dial on their LTV. They're also 5x more likely to recommend you to others, bringing in significant value from every friend and family member they go on to refer — we call this Extended Lifetime Value, and it's a major revenue driver.
If you look at extended LTV, you'll see that customers who return and refer their friends are infinitely more valuable than one-off big-spenders who never show their face again. And once you've identified those truly high-value customers, you can make sure to give them high-quality experiences that increase their value even more.
8. Reinforce your branding
Everyone talks about being customer-centric, but a referral programme actually puts that ethos into action, all while strengthening your brand identity.
One of the easiest ways to showcase your branding through referral is by running special promotions for seasonal events. You could stand out from the flurry of all-black visuals on Black Friday by giving your referral campaign a unique twist — like PrettyLittleThing, which previously ran a 'Pink Friday' promotion. The brand also invited customers to 'tap to enter': a call to action they know resonates with its social media-savvy Gen Z audience.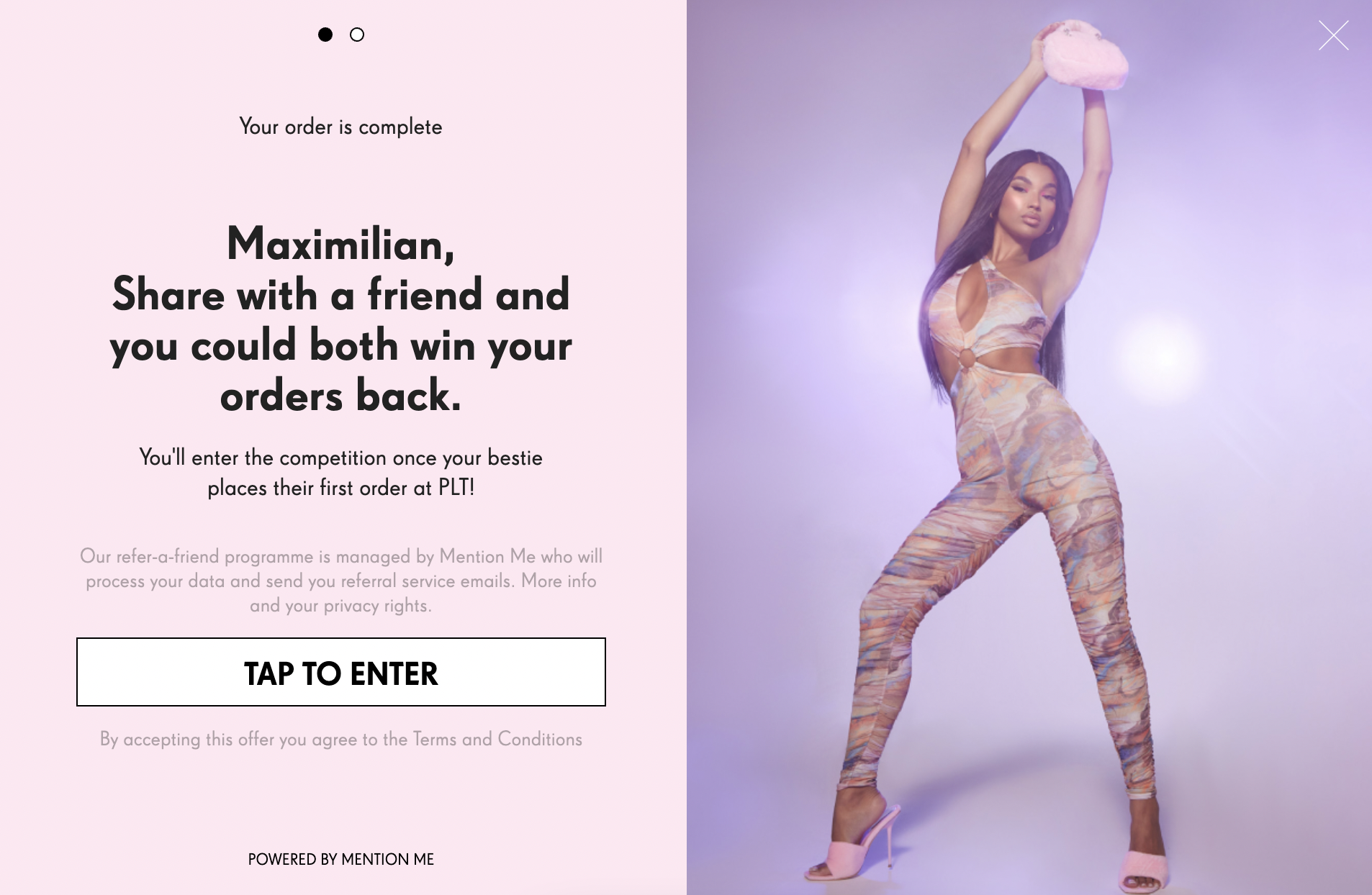 PrettyLittleThing uses social media-friendly language to appeal to its target audience
By weaving your own brand narrative into major shopping events, you'll attract new customers while giving them a taste of what makes you unique. If they like what they see, they're bound to come back for seconds (and thirds, and fourths…).
A referral channel is also an excellent place to shout about your commitment to social and environmental causes — and take action. Given that two-thirds of Gen Z shoppers are put off by Black Friday marketing that doesn't highlight a company's sustainability practices, your eco-friendly stance could be what sets you apart from your competitor.
Planting a tree (like vegan food brand allplants did for 'Green Friday') or making a charity donation for each referral puts your values into practice — as well as giving customers the warm feeling that comes from doing a good deed. Your altruistic shoppers are likely to carry on sharing these offers with their like-minded friends and family, creating a snowball effect of positive action.
9. Build a community
Crafting a strong sense of community around your brand is essential. It drives advocacy from your shoppers and increases awareness among your soon-to-be-shoppers, creating a sense of FOMO that will have everyone wanting in on your exclusive club.
Develop this air of exclusivity by giving referrers the celebrity treatment with dazzling incentives and event invites. If you carve an experience that's too good to miss, referrers will naturally want to invite their friends along to join in the fun (and to boost their own social capital).
10. Amplify your Martech stack
As well as creating high-quality customers with long-term value, referral gives you high-quality data on those customers.
Through learning about your best customers (and gathering what we call Referral Intelligence®), you can access the kind of information that's near-impossible to find in an age when consumers are increasingly reluctant to share their data.
Use these exclusive insights to maximise the impact of your other channels. For instance, we work with Nest Commerce to enhance paid social activity with referral data, helping brands like Seraphine decrease cost per acquisition by 15%.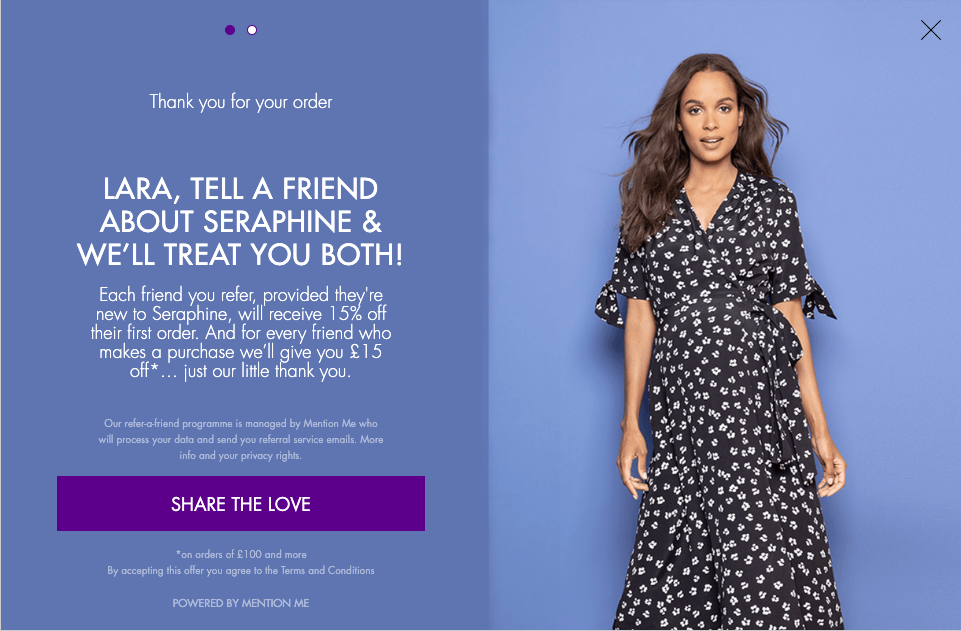 Seraphine has enhanced paid social performance with referral data
11. Learn about customers
The first-party data you gather through referral is also gold dust for identifying your best customers — even before they've shopped with you. Third-party cookies may be headed for the bin, but you can learn all you need to know about your target consumers through your referral channel's rich insights.
This data isn't a simple 'did this customer refer?' tickbox. It'll reveal who your best customers are, where the most powerful place to engage them is, how likely they are to refer someone else and more.
You can also gain deep insights into your customers through A/B testing your incentives and messaging— and your discoveries may surprise you. Pet insurer Animal Friends found that customers are more incentivised by the prospect of giving to friends than getting for themselves, with charity donations proving to be its most popular offer.
Animal Friends A/B tests referral rewards to learn about its customers
12. Grow your brand (bigger and bigger)
If you treat referral as a simple gizmo that you can flick on and be done with, you're missing out on a major opportunity to grow your business.
Rather than a short-term tactic, referral is a long-term channel that drives sustainable results.
Because unlike other marketing channels, referral will never max out. Every text conversation, coffee catchup and family FaceTime is a chance for a recommendation to take place — and for you to gain a high-quality new customer.
Referral also gets even more bang for your marketing buck on major shopping events like Black Friday. Instead of letting your seasonal shoppers slip through the net once your promotion ends, referral converts these surging sales into your new best customers.
Feeling fired up about how referral can smash your targets in 2022? Get in touch — we've got even more ideas about what referral can do for your brand.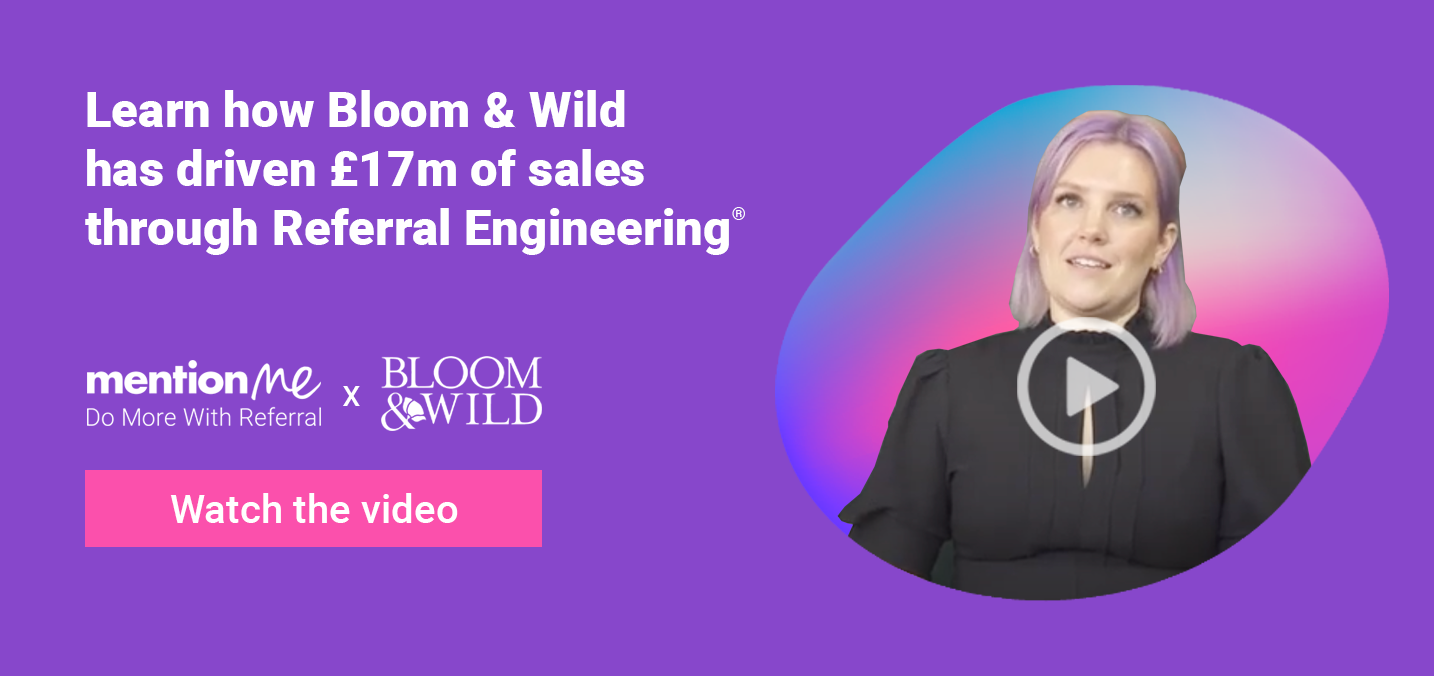 "It was exceptional": How Bloom & Wild has generated £17m of sales through Referral Engineering®
Never miss another update
Subscribe to our blog and get monthly emails packed full of the latest marketing trends and tips