Marketing trends
4 ways direct-to-consumer brands can drive sustainable growth in 2021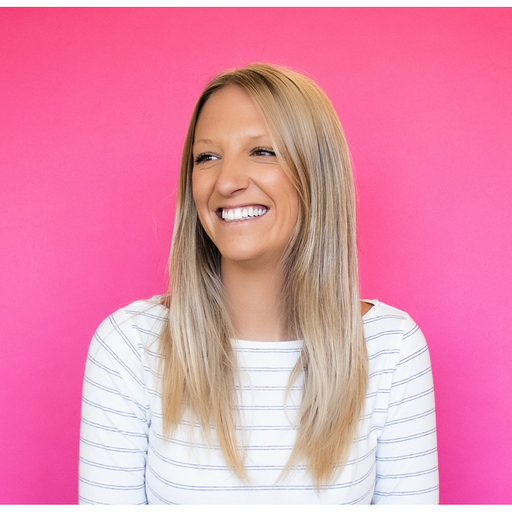 By Jocelyn Toonders — November 13, 2020 -
Direct-to-consumer (D2C) brands are no longer a niche segment of the ecommerce landscape. 97% of consumers have heard of at least one leading DTC brand in the UK; 39% have bought from one.
Legacy businesses across every sector, from groceries and glasses to fitness and furniture, are increasingly under pressure to adapt or lose market share.
By eliminating the middleman – supermarkets, department stores, online marketplaces – D2C brands are keeping control over how they operate and engaging with target consumers to great effect.
This control has seen many D2C brands prosper during the pandemic. Traditional consumer packaged goods retailers have struggled with broken supply chains and rapidly changing consumer needs in (and out of) lockdown. Meanwhile, D2C brands have nimbly pivoted their strategies to provide support when it's needed most.
But great uncertainty still lies ahead. Decreasing consumer spending, higher unemployment and a fiercely competitive digital landscape are just some of the challenges brands across every sector continue to face.
To drive business growth in 2021 and beyond, D2C businesses must put the right strategies and structure in place now.
We collaborated with our partner Good Growth, a leading e-commerce consultancy, to explore four ways D2C brands can plan for success in 2021.
Take an agile approach
If there's one thing 2020 has taught us, it's the importance of being able to adapt, fast.
86% of consumers changed their behaviour as a result of Covid. When the first lockdown hit in March, order volumes rocketed in sectors including food and drink, home and garden, and gifts. D2C brands rapidly adjusted their offering to meet changing consumer behaviour and demand.
While the digital-first approach of D2C brands positions them well to capitalise on this accelerated shift to ecommerce, this alone isn't enough. To continue growing, these brands must continuously evolve their online experiences and offerings.
In the case of ODDBOX, a sustainable fruit and veg delivery service, this meant opening a new marketing channel. After experiencing a surge in online orders earlier this year, it implemented a referral programme. By incentivising its rapidly growing customer base to refer friends and family, the fruit and veg provider has cost-effectively acquired thousands of high-value customers and driven significant (and sustainable) revenue.
ODDBOX implemented a referral programme to drive growth from its rapidly growing customer base
Adapting to changing circumstances doesn't always have to mean driving immediate profit. Earlier this year, for example, Bloom & Wild donated 15% of select sales to the National Emergencies Trust Coronavirus Appeal and gave key support workers 40% off flowers. Rather than fluffy brand-building, actions like these build powerful brand affinity that converts into long-term revenue.
However you adapt, though, one thing is clear: time is of the essence.
As Client Success Director at Good Growth, Sarah Znideric leads D2C engagements for brands including Kraft Heinz, Reckitt Benckiser and PUMA. She says: "The most successful businesses understand the importance of customer relevance and agility. The quicker a brand can respond to a market opportunity, the earlier you can start testing to learn about your customers and respond to their needs. Set a clear roadmap and stick to it, even if it means things aren't always perfect. This will help create the foundations for iteration and improvement."
Sarah speaks from experience. Earlier this year in the UK's first lockdown, Good Growth worked with Kraft Heinz to launch Heinz to Home. The direct to consumer offering has since evolved into a global commerce proposition spanning Australia, Ireland and New Zealand.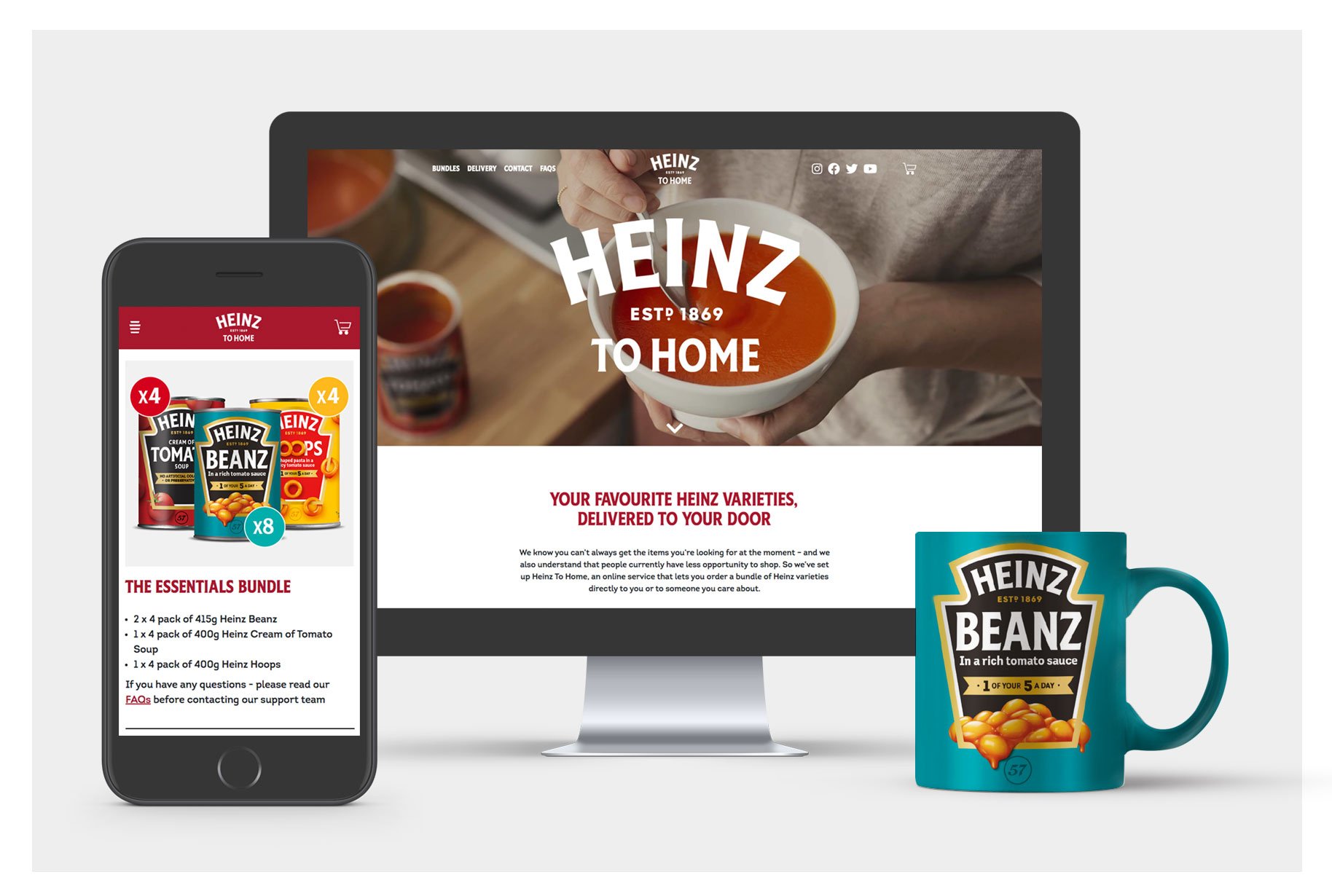 Kraft Heinz's direct-to-consumer offering Heinz to Home launched earlier this year
Build meaningful customer relationships
A big advertising budget no longer equates to effective marketing. Today's consumers want brands they connect with and believe in.
Much of D2C brands' popularity rests on the perception that they're on the consumer's side. This attitude has gained prominence over this year, as we explored in our blog on brands taking a positive approach to the Covid-19 pandemic.
Rather than expensive TV advertising campaigns or blanket email blasts, these brands have nurtured meaningful relationships with their customers to instil deep brand loyalty. Many have built strong brand communities that actively promote their purpose and services, such as Huel's die-hard Hueligans.
A quick glance at successful D2C businesses' social media accounts highlights the power of good customer engagement. Brands like Snug Sofa boast thousands of highly engaged followers who regularly interact with posts. This provides another touchpoint for building brand affinity, as brands engage in two-way conversations and nurture customer relationships.
Human connection is a powerful thing, particularly during times of crisis. 57% spend more on brands they feel connected to. On the flip side, 33% of consumers have actively deterred others from using brands they felt acted inappropriately in the pandemic.
With the current economic climate forcing careful consumer spending, meaningful engagement could be the difference between brands thriving or collapsing.
Snug Sofa announces a donation of 40,000 trees to celebrate hitting 40,000 followers on Instagram
Make data-driven decisions
Rather than rely on third parties, D2C brands are uniquely positioned to gather customer data in real-time. With many of these brands scaling rapidly, this data holds the key to unlocking valuable insights into fast-growing customer bases.
In the current situation, consumer needs are rapidly changing. By continuously monitoring buying behaviour and attitudes, D2C brands can experiment and optimise their offering to adapt as needed.
But with so much data out there, it can feel tricky knowing where to start.
"Have a clear plan for your customer data," advises Sarah. "Identify your business priorities, then use the data most closely connected with those to underpin decision-making. A clear focus on the most important numbers for your business will make it easier to prioritise activities during challenging times."
Keeping a clear focus on specific metrics also equips marketers to effectively measure performance and the impact of different initiatives.
If driving repeat purchases is a priority, for example, you can experiment with segmenting customers by order number and serving highly targeted engagement content that drives the next best action. With D2C success rooted in meaningful relationships, creating effective interactions at every stage of the customer journey will support growth as your business scales.
Instead of getting bogged down in endless numbers, drilling down into specific ones means you can identify what is (and isn't working) to grow a successful and profitable offering.
A word of advice, though. "Don't forget to see your customers in the data," says Sarah. "Keep in mind the real people behind the numbers and use them to keep a customer-centric approach."
allplants promotes Green (instead of Black) Friday to reiterate its brand purpose of eating a plant-based diet
Think long-term
Many fledgling D2C businesses have exploded over the course of 2020. To continue scaling in a sustainable way, these brands should think long-term and avoid simply focussing on hitting monthly targets.
If your brand acquired significantly more customers in the first lockdown, now's the time to roll out initiatives that will retain them and prepare for another spike in lockdown 2.0. Prioritise activities that nurture customer relationships and instil a strong sense of brand community. And don't neglect your original customers, the early adopters who bought into your purpose when they had endless on and offline options to choose from.
While initiatives like charity donations, online competitions or social media interactions may not deliver revenue right now, they build lasting connections primed to deliver long-term revenue.
A direct-to-consumer approach is now mainstream. Simply being a D2C brand is no longer innovative. To stay ahead of the curve, these businesses should focus on nurturing customer loyalty and adapting to the evolving marketing landscape.
"There's no denying 2021 will be a challenging year for many retailers," says Sarah. "But a customer-centric approach is what first set D2C brands apart from legacy businesses, and will continue to propel them forward. For the businesses obsessed with their customers and thinking long-term, great opportunity lies ahead."
To find out more, visit Good Growth or get in touch.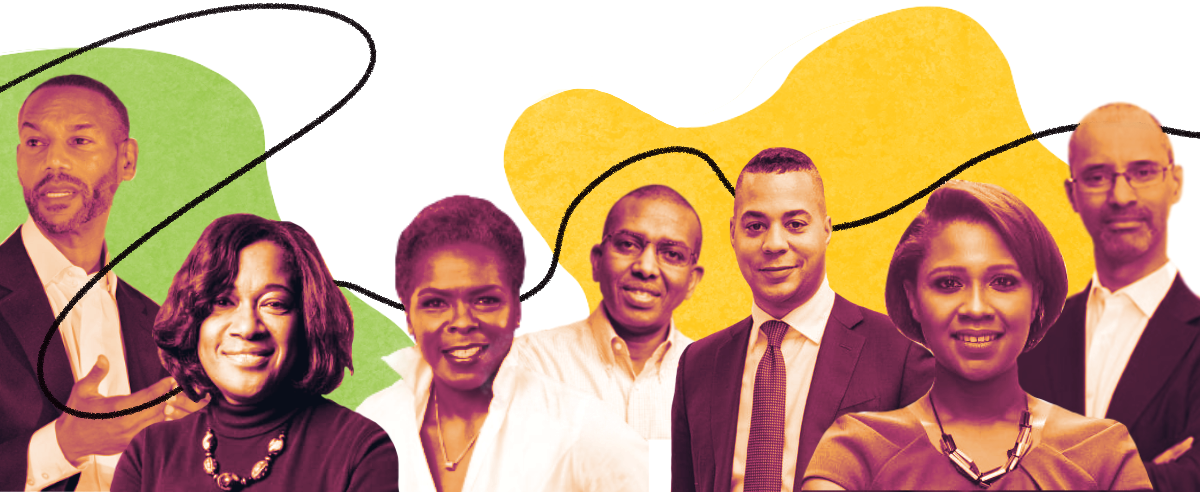 Black History Month: 7 inspiring black leaders in tech
Never miss another update
Subscribe to our blog and get monthly emails packed full of the latest marketing trends and tips