Marketing trends
How consumers shop now: Q3 2021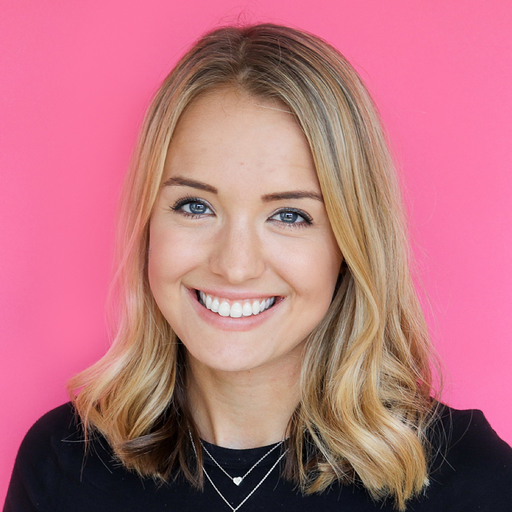 By Sophia King — October 7, 2021 -
At risk of jinxing it all, the third quarter of 2021 has felt almost like pre-pandemic times. We've watched celebrities walk the red carpet, danced with arms around friends at festivals, and hopped on planes for summer getaways (albeit ones punctuated by regular PCR testing).
Restrictions may not have changed since Freedom Day in Q2, but our mindsets are gently easing back to our regular ways. Except, that is, for our shopping habits.
Consumers across every demographic have resumed buying outfits for weddings, gifts for their friends and items for their homes, but they're doing it online a lot more than pre-pandemic. Across our 450-strong client base, online orders were up 43% compared to 2019.
As we enter into what's known as the golden quarter for retailers, here's a snapshot of how consumers shopped in Q3 2021 – and how we expect them to do so in Q4.
Side note: After the rollercoaster of 2020, comparing year-on-year isn't that useful. Instead, we've created graphs comparing online orders and referrals for our clients in Q3 2021 to Q3 2019.
Food and drink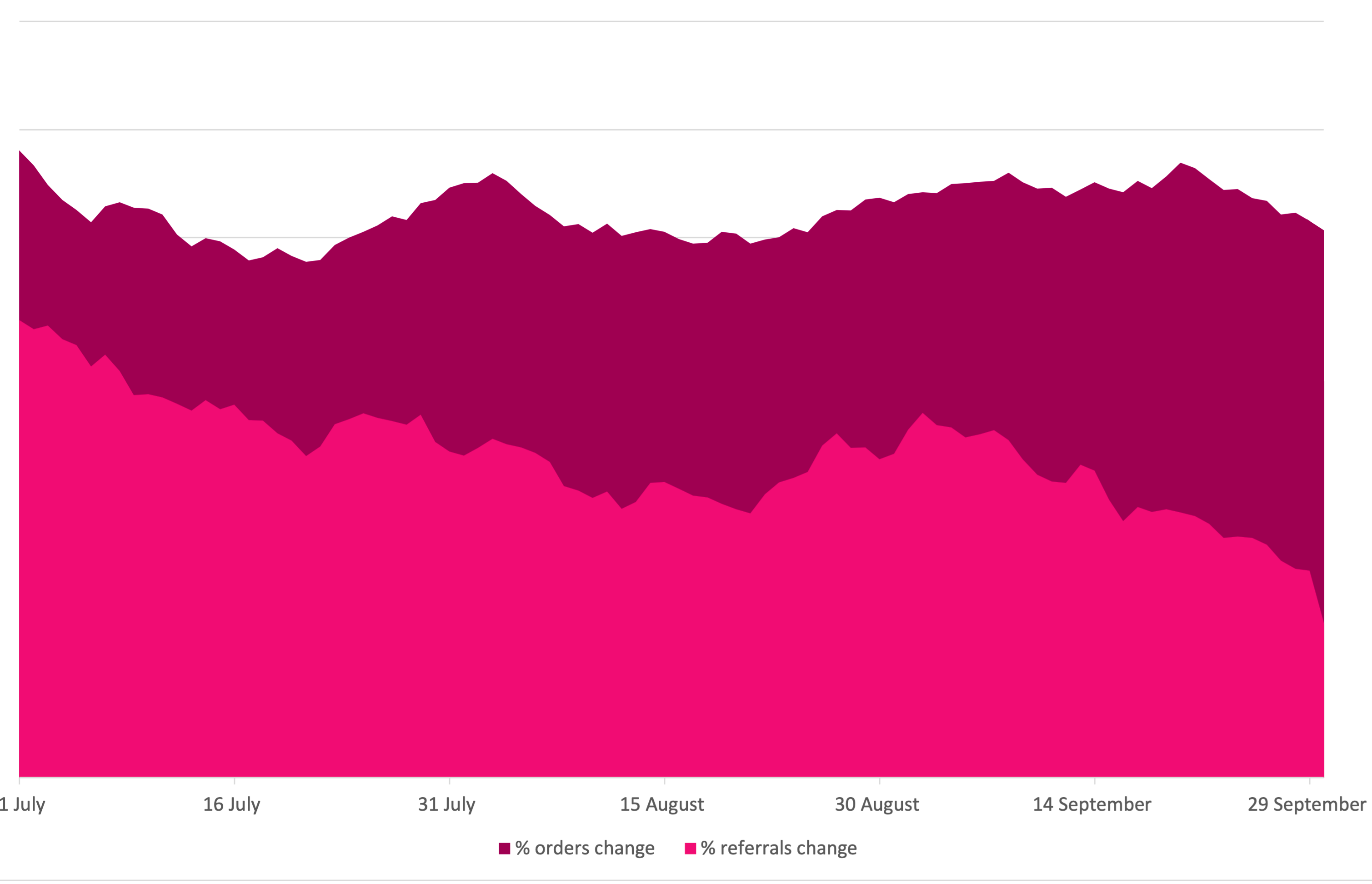 Online food and drink brands continue to emerge as clear winners from the pandemic, ending Q3 with orders up 275% compared to 2019. Referrals also remain significantly higher than pre-pandemic, currently up 127% compared to 2019. Orders and referrals were unsurprisingly high in 2020, but what's impressive is that they're still notable compared to 2019.
As well as a definitive shift in consumer buying habits when it comes to food and drink, this trend also reflects our changing lifestyles. With many people now going back to the office at least a couple of days a week, cooking from scratch may once again feel like a luxury we simply don't have the time for. Instead, at-home meal-kits offer an easy solution without the guilt of a ready meal grabbed on the way home.
And, as the continued uplift in referrals reflects, when people decide to buy from online food and drink brands, they're asking for their friends' recommendations first. The major drawback of ordering food and drink online is the inability to try before you buy, so consumers are seeking out suggestions to find the tastiest options.
With the carbon dioxide shortage impacting supermarket supplies, online butchers have already reported spikes in orders as Brits 'panic buy' the meat they're struggling to get in-store. We expect online orders and referrals for these brands to increase further as people plan ahead for their Christmas dinners (or people may be prompted to turn to plant-based alternatives).
We anticipate Q4 to be strong for this sector as a whole, as people stock up on fine wines, gourmet feasting spreads, artisanal foodie gifts and countless other supplies for the festive season.
Fashion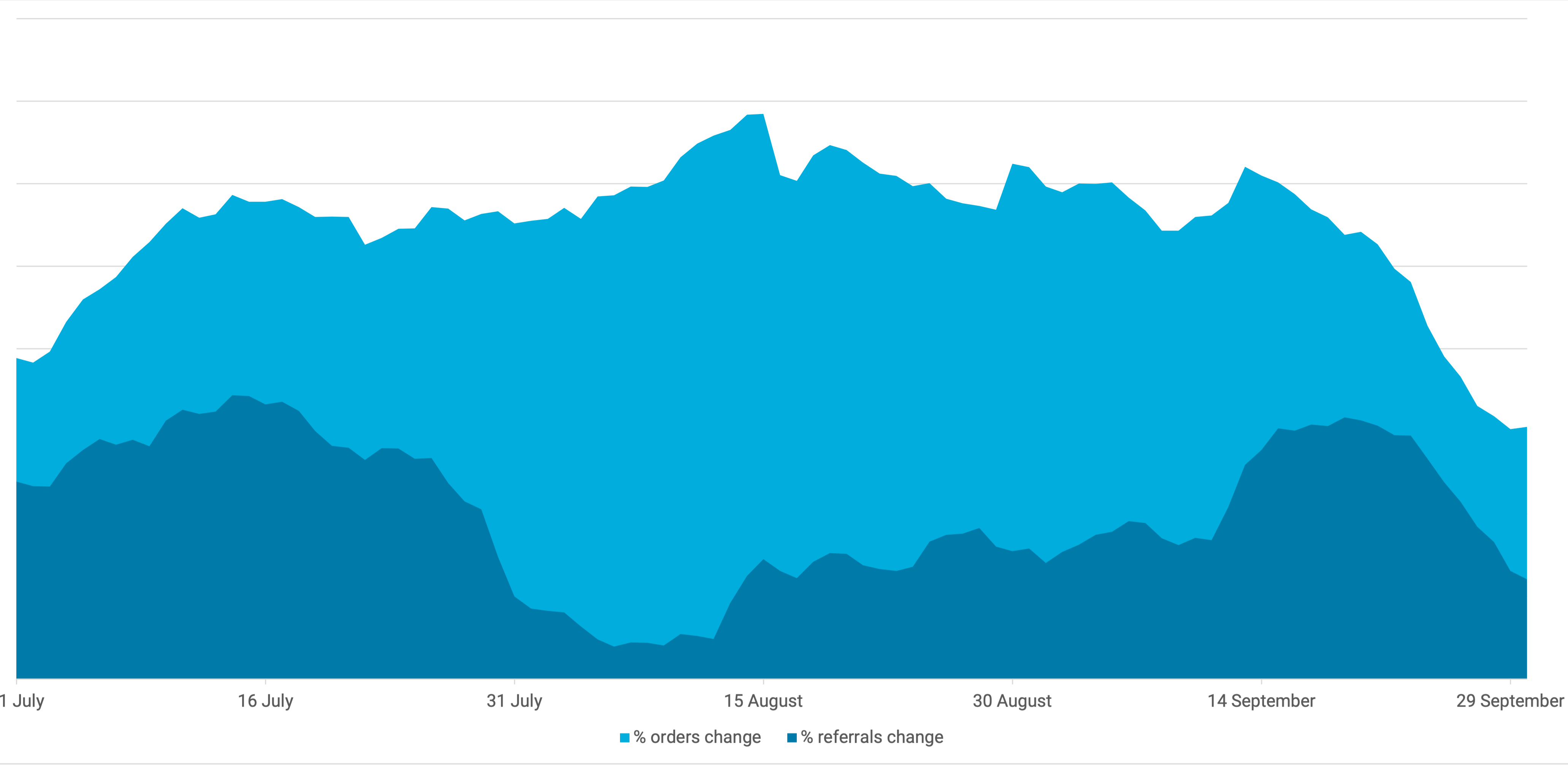 After a lull in early Q3, online orders shot up, likely spurred on by people wanting to look their best on holiday, at festivals and at other summer events finally back after a two-year hiatus.
At its peak in Q3, online fashion orders were up 66% compared to 2019. The trend for referrals hasn't been quite so strong, perhaps as consumers repeat purchase from their favourite fashion brands rather than seek out new ones.
Nonetheless, after a slight dip in August – likely caused by holidays, being able to try on clothes in-store, or people simply talking about things other than their outfits – referrals are again on the rise. In the final week of Q3, they were up as much as 16% compared to 2019.
While these figures are lower than in other sectors, it's worth noting this is a comparison to 2019, rather than the actual volume of online orders and referrals. Our fashion clients have always performed particularly well, so the difference isn't as drastic as for sectors like food and drink.
Fashion brands tend to thrive in the final quarter of the year, as plummeting temperatures drive shoppers to hunt for the perfect winter coat, glamorous festive outfits or a quality pair of boots. These items tend to be higher in price, so consumers are far more likely to seek out their friends' recommendations before heading to the checkout.
Health and Beauty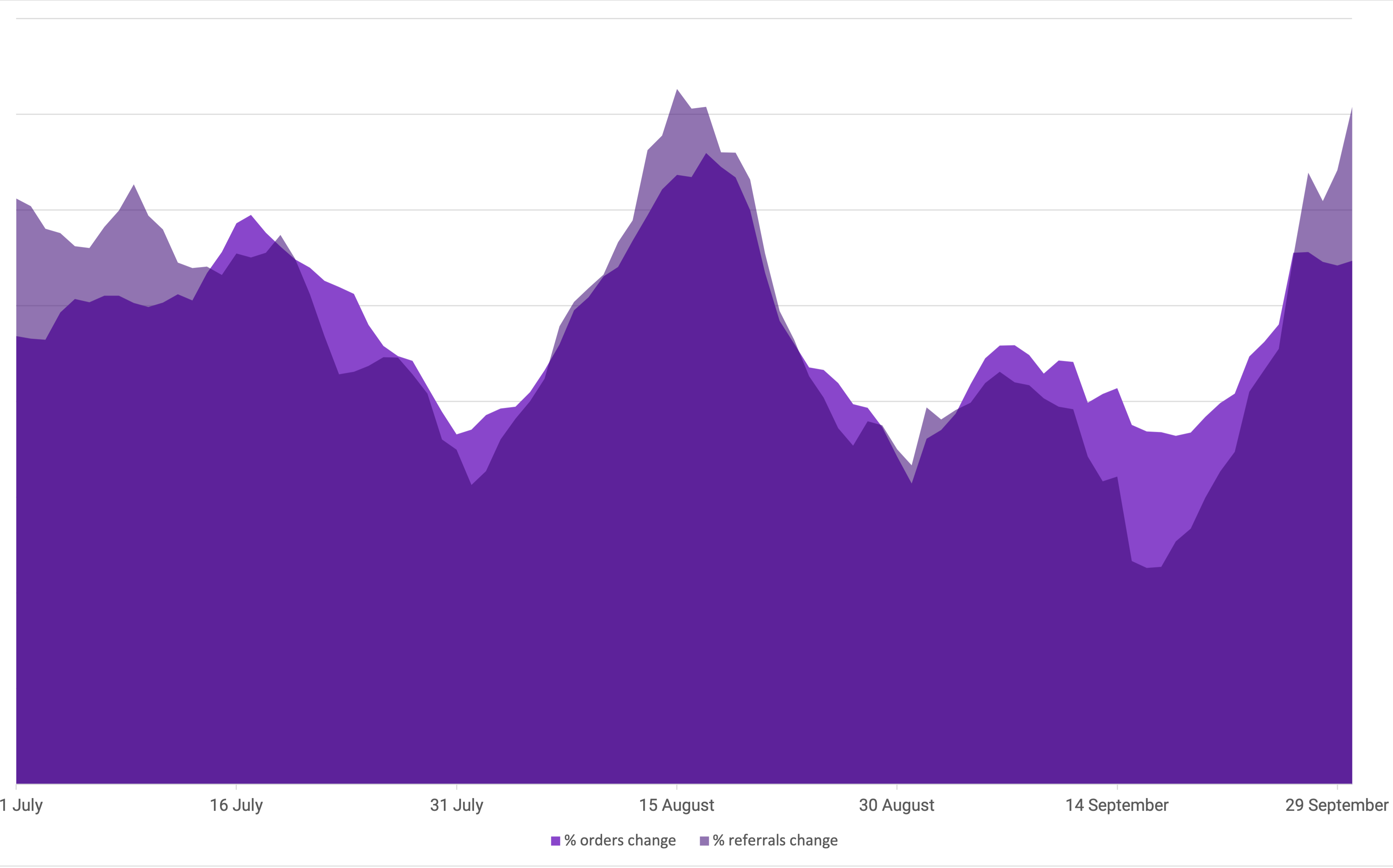 Beauty brands continue to perform well in terms of online orders and referrals. The hybrid mix of home and office working means staring at our reflections in Zoom meetings is now part of the everyday, spurring on many of us to invest in a decent skincare regime or products that'll prolong that 'just got back from holiday' glow.
After a strong spike in August, during which referrals peaked at +72% and online orders at +66% compared to 2019, the quarter ended with overall increases of 8% and 60% respectively.
While summer holidays now are behind us, it's not long before the invites for Christmas parties come flooding in, prompting another spike in online orders and referrals as consumers seek out brands that will make them sparkle for the festivities. Beauty advent calendars are also increasingly popular options for counting down the days in December, so cosmetics lovers will rush to buy these before they sell out.
Home and garden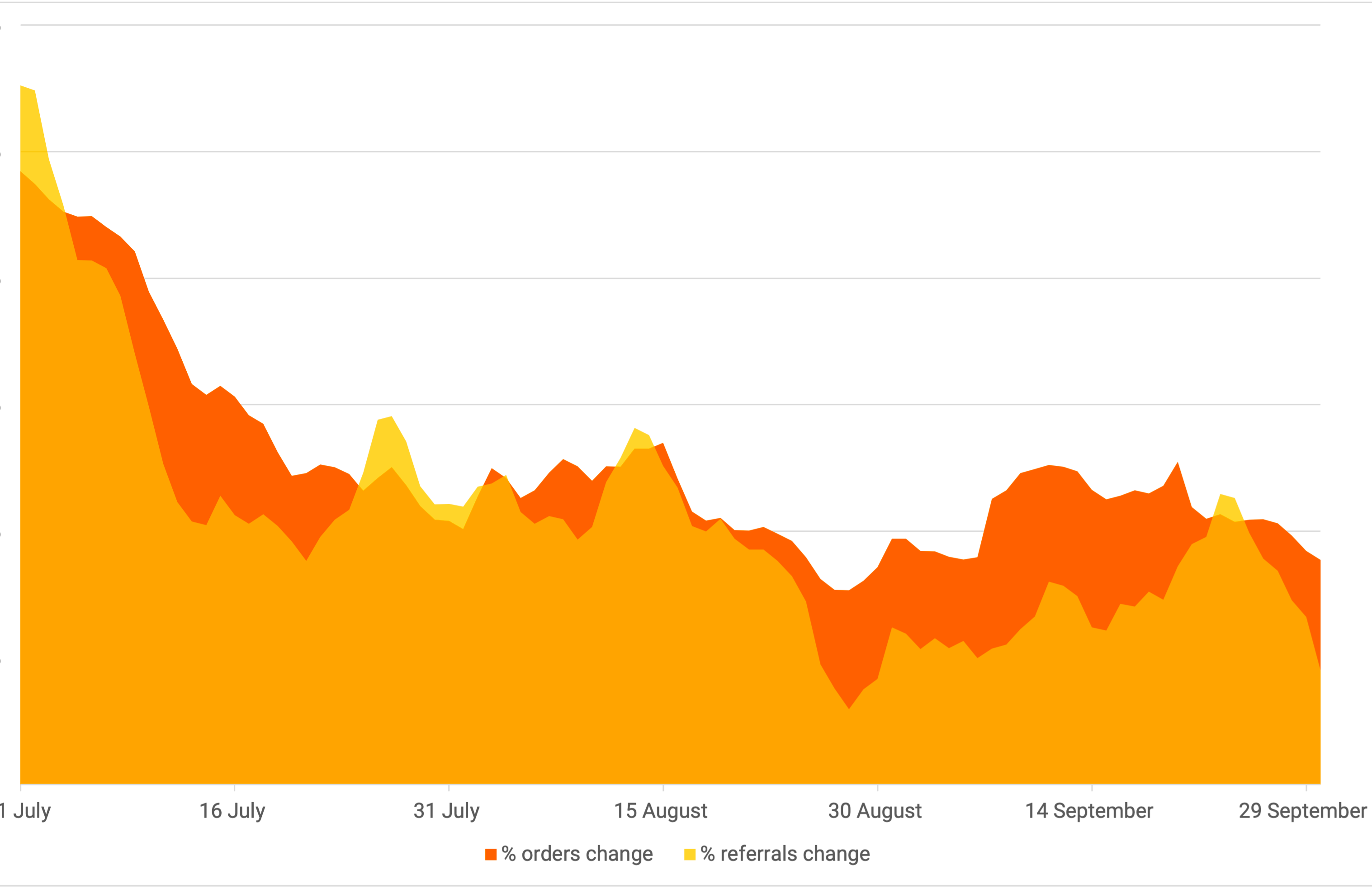 One of the biggest success stories of Q1 this year, the home and garden sector hasn't quite maintained the huge volumes of orders and referrals as it did during lockdown restrictions, but its major growth was impossible to sustain forever.
Many of us had already kitted out our homes and outdoor spaces before Q3, but this summer's heatwave will have undoubtedly spurred on extra purchases of BBQs and other outdoor must-haves, particularly now that garden parties (of more than six people) were back on the agenda. We also shared our favourite home and garden brands with friends more often during the height of summer, with referrals peaking in the middle of August at a 56% increase from 2019.
Despite the extraordinary growth from previous quarters slowing down, the sector is still performing far better than this time two years ago. There were 59% more online orders for home and garden brands in Q3 this year than in 2019. Consumers are now in the habit of buying high ticket items online, and they're looking for recommendations before they shop.
This trend looks set to carry on through Q4, particularly with consumers looking for Black Friday deals on expensive furniture and statement homeware.
How will consumers shop in Q4 2021?
With Black Friday and Christmas on the horizon, retailers can expect consumers to both shop and refer their friends more as they hunt for festive deals and presents.
Q4 this year will be almost unrecognisable to last year. Not only can we spend Christmas Day with our loved ones and get glammed up for parties once again, but, most importantly, consumer confidence is up: this summer it reached a five-year high.
Petrol panic and delivery driver shortages may have somewhat dampened our spirits recently, but the bigger picture suggests that spending this festive season is going to rise. One in four Brits are expecting their Christmas and/or Black Friday budgets to increase this year, which is unsurprising given that the UK has nearly £200bn in lockdown savings.
Rather than halting consumer spending entirely, supply chain issues may mean that Christmas shopping will take place earlier than ever this Q4, with households keen to make up for the celebrations they missed out on last year.
Even with high street footfall increasing as workers return to the office, the popularity of online shopping isn't going to drop. As shoppers worry about not being able to get what they want in-store, they'll flock to ecommerce sites to avoid missing out on Christmas presents, Black Friday deals and festive food.
The increase in traffic for both retailers and non-retail ecommerce businesses means that the golden quarter is a major chance to propel growth that continues through to the new year. Make the most of your customers' festive merriment by giving them memorable experiences that they can't help but share with their friends, and you'll enter 2022 on a high.
Needing some last-minute inspiration for a Black Friday referral campaign that drives long-term growth? Download our lookbook for exclusive insights, tips and brand examples.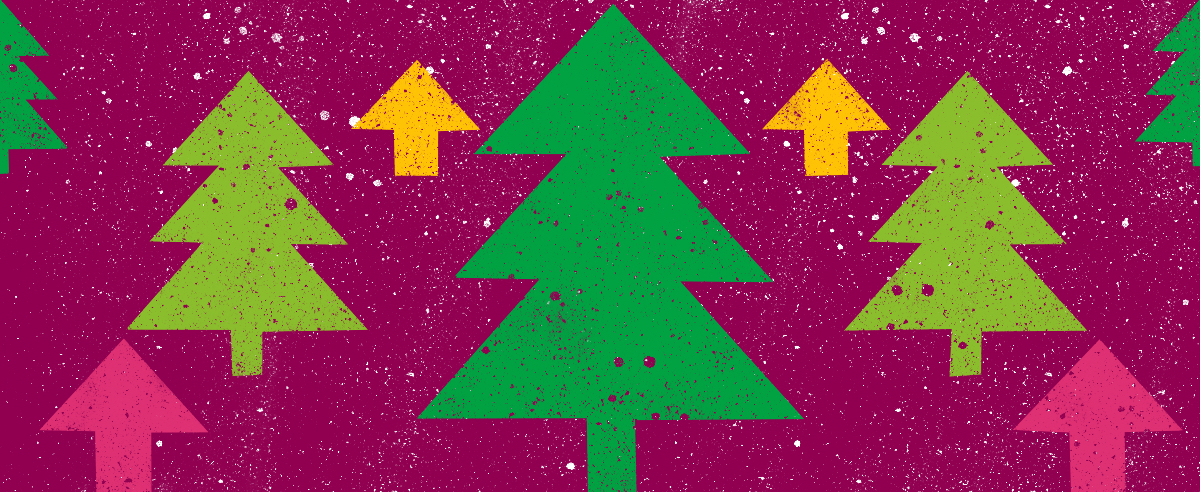 How to drive record revenue for your business this festive season
Never miss another update
Subscribe to our blog and get monthly emails packed full of the latest marketing trends and tips