Marketing trends
How consumers shop now: Financial services and Travel lead the way in online growth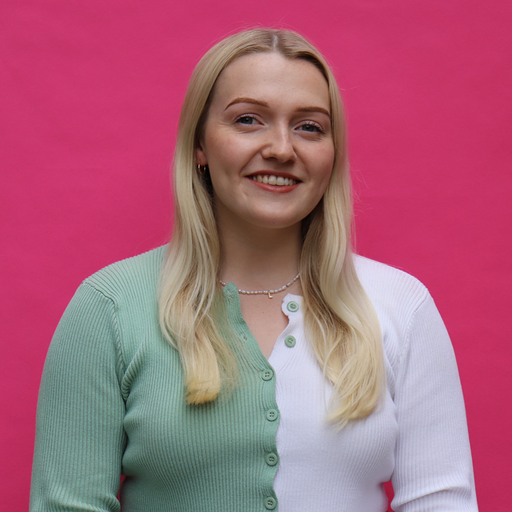 By Olivia Cox — April 8, 2022 -
Read time: 5 mins

In what feels like the blink of an eye, the first quarter of 2022 is already behind us.
As we strived for our new year goals (or just wanted to treat ourselves for getting through January), we shopped with brands old and new — and shared them with friends.
Compared to Q1 2021 (aka lockdown 3.0) online sales dropped 23%. But given that Q1 2022 was almost entirely restriction-free in England, it's no wonder that ecommerce performance took a tumble.
Rather than comparing orders and referrals year on year, the real indicator of how online brands are faring comes from looking at the data from Q1 2020.
Because while 2020 as a whole was tainted by the pandemic, we spent most of the first three months of the year blissfully unaware of the chaos that was to come. Fast forward two years, and we're finally seeing online retail begin to stabilise.
Things still aren't plain-sailing for ecommerce brands. But some sectors are striding ahead with extraordinary online growth — either thanks to the pandemic or in spite of it.
Here are the four biggest winners of Q1 2022.
Financial services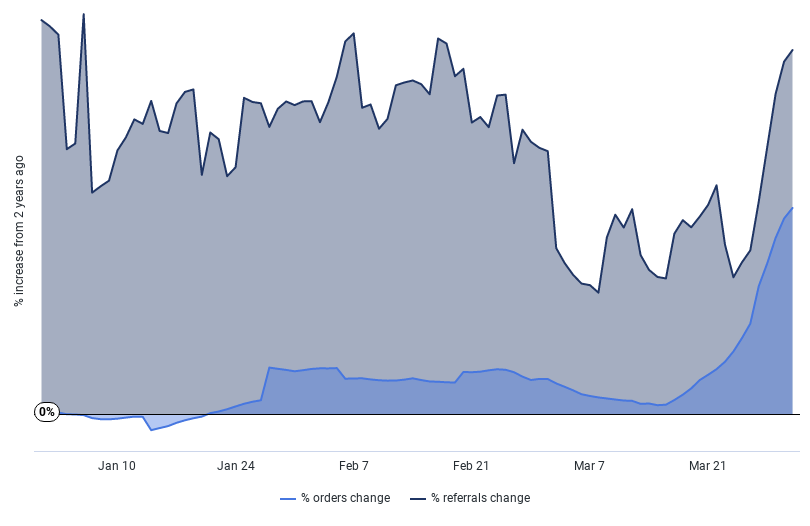 One ecommerce success story stood out from the rest in Q1: financial services.
It's one of the few sectors that's experienced consistent online growth over the last two years, without major highs and lows during the pandemic.
Online orders in Q1 were up 91% year on year, and 40% from 2020. This highlights that while consumer trends in the financial sector were already shifting towards online services, the pandemic escalated it to unstoppable levels.
One of the defining behaviours of consumers looking to switch financial providers is that they're seeking out recommendations from friends and family. This is reflected in an unbelievable 329% increase in referrals from Q1 2020.
And when consumers are getting recommendations for financial services, they're listening to them — referrals converted into new customers 72% more in Q1 than in 2020.
As more challengers and disruptors emerge in this sector, referrals will become even more crucial for brands looking to win over new customers. Pet insurer Bought By Many, for example, previously saw sales from referral quadruple within just 12 months. Plus, with the cost of living getting steeper, consumers will be even more eager to save money with the right bank, insurance provider or investment company.
Food and drink
Food and drink brands like allplants saw more referrals converting to new customers than in Q1 2020.
Last year, consumers were stocking up on online food deliveries, tasty treats and gourmet meal kits to make life easier — and tastier — during yet another lockdown.
In Q1 2022, it's a different story. We've been able to go out to restaurants for post-Christmas catch ups, browsed well-stocked supermarkets IRL, and even squeezed in some beer garden trips during the (brief) sunny spell.
But these brands have clearly developed a legion of fans after their surge in popularity during the pandemic: orders were up 10% in Q1 compared to 2020, with referrals up 9%. It's unsurprising that orders have dropped from 2021, given that shopping with brands from this sector is now more of a treat than an essential.
Better yet, the brand recommendations consumers are making are proving more influential now that buying food and drink online is more common practice. Referrals converted into purchases 15% more in Q1 2022 than the same time in 2020.
This trend of shopping with food and drink brands recommended by friends and family looks set to continue, as consumers eagerly share their new-found favourites.
Travel
Here's a sector that's experienced quite the rollercoaster over the last two years.
Lockdown restrictions caused the travel industry to go into standstill, with some brands not surviving their lengthy closure. Now that travel restrictions are almost entirely lifted, these brands are seeing new and returning customers rushing back to their sites. As a result, sales are up a massive 84% year on year.
Consumers rediscovering these brands after travel restrictions might not be ready to recommend until they've experienced what they have to offer, but that hasn't stopped jet-setters from referring. Since Q1 2021, there's been a 12.4% increase in referrals.
This sector is still recovering from the effects of the pandemic, but sales will continue to rise as more countries drop their restrictions and we move into the summer months. And as consumers get acquainted (or reacquainted) with more travel brands, they'll start sharing their favourites with others once again.
Home and garden
Home and garden brands such as Trouva are continuing their impressive pandemic growth
One of the pandemic's most popular sectors, home and garden brands continued their success in Q1, with orders up 8% from 2020 and referrals up 3%.
This relatively small growth still indicates a long-term shift to buying home and garden products online — something that was fairly unheard of not too long ago.
Referrals may have only increased by 3%, but these recommendations resulted in new customers 6% more than in Q1 2020. Clearly, consumers are more open to buying products from this sector than they were before the pandemic, and they're keen to act on recommendations from their friends.
And as the weather (hopefully) gets warmer over the next few months, consumers will be shopping with these brands — and recommending them — even more.
How will consumers shop in Q2 2022?
With consumer trends poised to return to some kind of normality, we'll start to see which patterns are truly here to stay.
Q2 might see a decrease in online shopping, as people try to limit their spending amid worrying hikes in their utility bills. Consumers will become increasingly conscious of how (and where) they're spending their money, meaning they'll rely on personal recommendations more than ever.
This challenge presents an opportunity for brands to prove to consumers why they should part with their cash and shop with them.
And for brands with a precision-engineered referral programme, it's a valuable chance to strengthen the loyalty of existing fans while generating new ones.
If you're ready to learn how the power of customer advocacy could drive unbelievable results for your brand, get in touch now.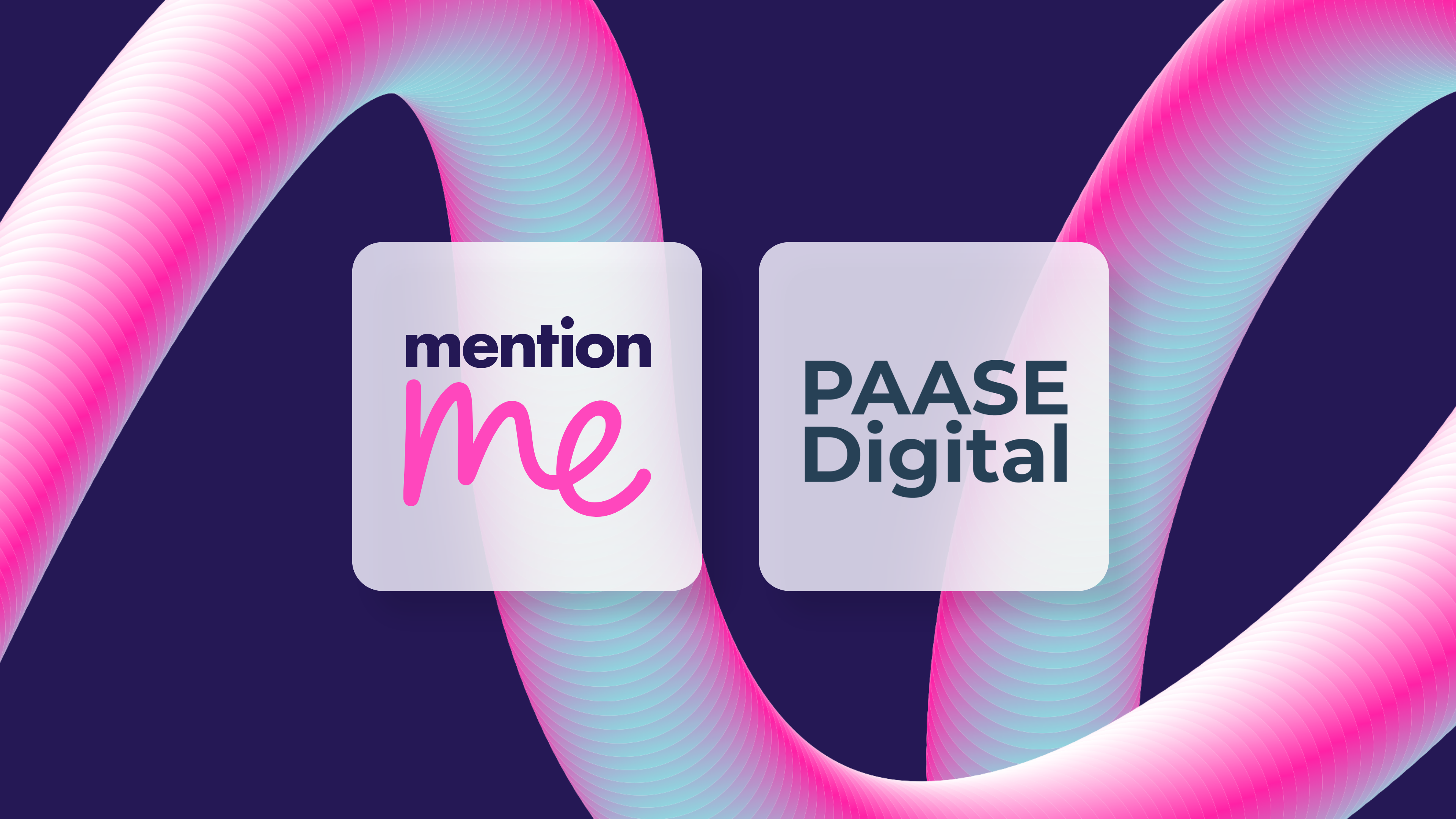 How referral takes your marketing automation strategy to the next level
Never miss another update
Subscribe to our blog and get monthly emails packed full of the latest marketing trends and tips