In 2013 IMB surveyed over 500 marketing professionals worldwide, across more than fifteen industries, and found what we have always held to be true: the number one concern for marketers is finding new customers.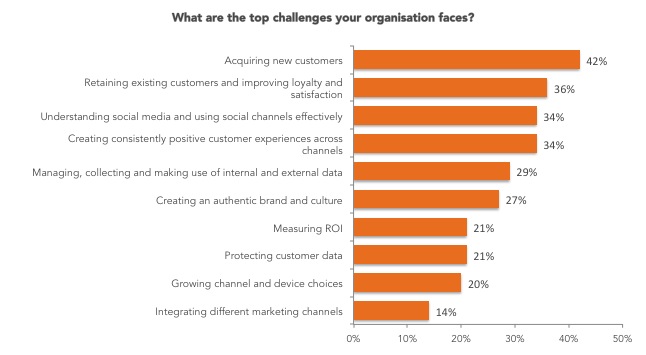 The reason that this is true is that it is the biggest lever to growth. Of course you want to keep your existing customers coming back AND make sure you're maximising your share of wallet over their lifetime AND making sure they have a great brand experience BUT if you haven't got them in the first place you can't do any of that.
You've also got the challenge that it gets harder and harder to grow new customers once you get past a certain point. Growing new customers 20% year on year is (relatively) easy when the numbers are small but when you start to get decent market penetration and you start to max out your best channels then finding new ways to get customers is hard.
And that's why we strongly believe that getting referral to work is really important. It's one of the harder marketing channels to get to work but it's also one of the best channels once it is working. It offers a lower than average CPA, a higher LTV and it contributes to increasing customer satisfaction and increasing your share of wallet from existing customers. If acquisition is your number one priority and you haven't got referral working it's time to start thinking about it.
Source:The State of Marketing 2013, IBM's Global Survey of Marketers, n = 512