"What makes you likely to recommend a brand?"
We recently asked UK consumers that very question (and nine others).
Then we took their answers - some expected, others more surprising - analysed them, and created this, our Customer Advocacy Research Report 2020.
It makes for an interesting read (even if we do say so ourselves).
Topics include:
The most trusted source of brand recommendations
What makes brands likely (and unlikely) to be recommended
How to encourage customers to return
Here are some of the highlights*.
*But not all. You'll have to download the report for those.
Consumers want brands they can trust
Bad news for marketers hoping to lure in consumers with jazzy adverts and catchy slogans. Trust is more important than ever for consumers, most of whom are savvy and do their research before spending hard-earned cash.
But if your business provides a great product and strong service, this presents good news. More and more people are recommending brands - 37% have done so in the past month, rising to 63% over the past four months. Our research suggests that rather than investing in expensive traditional and digital marketing channels, you're more likely to see a return on your money with a referral programme that tracks and incentivises word-of-mouth about your brand. In even better news, we can help you do just that.
The most trusted source of brand advertising…
Drum roll, please… for the third consecutive year, recommendations from friends and family are the most trusted source of advertising for UK consumers.
28% of consumers trust a friend's referral more than anyone else, rising to 51% when considering partners, too. On the flip side, 41% are unlikely to recommend a brand their friends or family have advised against.
Interestingly, consumer trust in partner's recommendations significantly varies between genders. Turns out women aren't quite as trusting as their male counterparts.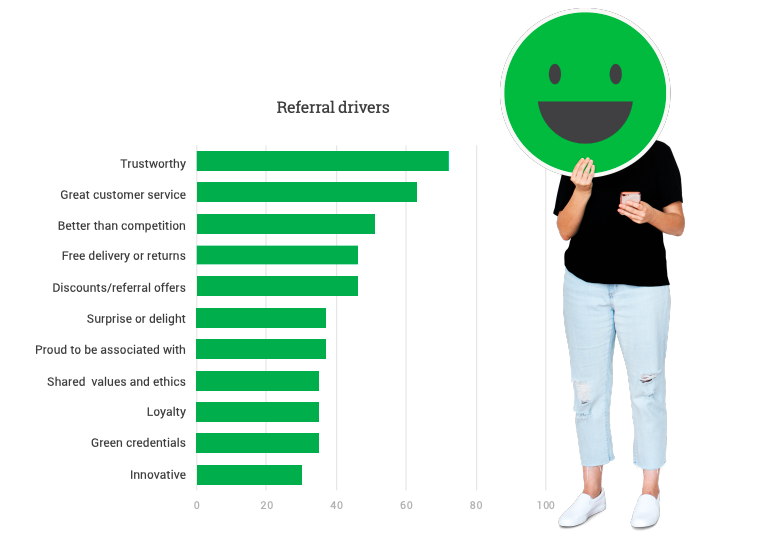 The key traits of recommended brands
And the least trusted source
If your brand's marketing strategy relies heavily on celebrity and bloggers endorsements, it's time for a rethink.
Trust in influencer endorsements remains extremely low. Having said that, they're not the least trusted source of advertising. That's politicians - just 1% of people trust their brand recommendations. Looks like we won't be heading out to get Boris's favourite haircare product anytime soon, then.
The traits that make a brand likely to be recommended
The top two attributes of referrable brands have swapped positions but remain unchanged from last year: 'being trustworthy/credible' and 'great customer service'.
And, in good news for your bottom line, discounts are no longer in the top three most referrable traits. Discover the trait that's pipped it to third spot in our report.
The most referrable sectors
Regardless of age, gender or geography, consumers are in agreement about the sectors they're most likely to recommend.
The top three referrable sectors are:
Food and drink (75%)
Holidays and travel (63%)
Technology (52%)
Finance brands have enjoyed the sharpest increase in likelihood to be referred, and subscriptions are also high on the list (although there is one age group unlikely to recommend businesses in this sector).
The importance of brand ethics
Last year, we highlighted consumers' increasing awareness of sustainability and social responsibility, and how this influences the brands they choose to shop with.
In 2020, brand ethics are even more important.
Factors like paying workers a fair wage, being environmentally friendly, and hiring locally are all points of consideration.
Interestingly, there are clear differences in attitude between age groups. Which generation do you think is most concerned with brands' ethical credentials? Download our report to discover if you're right.
How likely is your brand to be referred?
In our uncertain economic and political climate, there's plenty to consider when choosing which brands to shop with and recommend to others.
There's price: am I getting good value for money? What's the competition charging?
There are ethics: who's been involved in making this product? Does the brand live up to its values?
There's customer service: am I talking to a real person who understands my requirements? Do they genuinely seem to care about my experience?
But above all this, there's our friends' recommendations.
As trust in other forms of marketing continues to decline, your happy customers are the key to unlocking long-term sustainable growth. And we know exactly how to make that happen.
But we recommend checking out our report first. It's one of our best yet, honest.