Marketing trends
Championing Earned Growth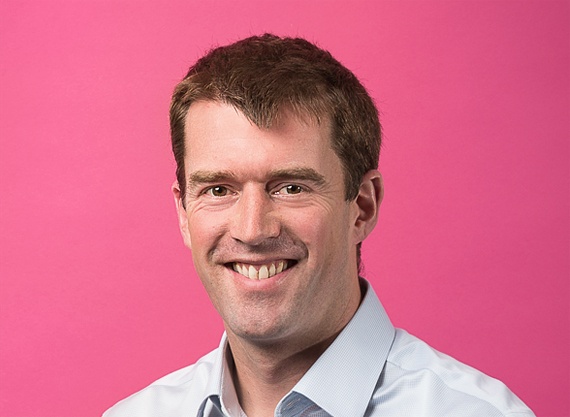 By Andy Cockburn — February 1, 2022 -
How a new metric complements Mention Me's vision
to make all brands think advocacy-first
Read time: 5 mins
As the CEO of a business focused on driving a shift to 'advocacy-first' marketing, I found myself nodding vigorously in agreement with this recent Harvard Business Review (HBR) article on earned growth. Coined by creator of the NPS Fred Reichheld, alongside Darci Darnell and Maureen Burns, the concept proposes a system that better understands the true value of happy customers.
Since co-founding Mention Me in 2013, I've spoken to countless businesses about the importance of extended customer lifetime value (ELTV): a customer's own value plus the value of all those they refer. While earned growth and ELTV take different names, they share the same outlook: that delighting customers and earning their advocacy is what drives the success of a business.
Rather than measuring intent, both earned growth and ELTV fixate on behaviour – the customer actions that drive measurable revenue. In contrast to traditional loyalty programmes, which privately engage one customer at a time to achieve limited growth, referral is a public, proactive declaration of love for, and loyalty to a brand. As my esteemed Marketing Director Mark Choueke has written about before, it's the participation needed to ignite the customer experience.
What is Earned Growth?
Fred Reichheld, NPS Creator and Bain fellow explains what is meant by 'Earned Growth'
Measuring earned new customers (ENC)
A fundamental element of the successful global adoption of earned growth will rely on the ease with which businesses believe they can accurately adopt it.
Earned growth rate = (NRR + ENC) - 100%
While the net revenue retention (NRR) – total revenue minus revenue churn – component of the earned growth equation is an established metric (albeit one which is more usually tracked by SaaS businesses than B2C brands), ENC poses a bigger challenge. Tracking new customers earned through referral and reputation relies on businesses categorically knowing why each new customer bought from them for the first time.
To solve for this, Reichheld et al. suggest asking new customers their primary reason for giving a company their business. It's a practical solution; one that could be enhanced with the Mention Me platform, which offers a straightforward, accurate way to triangulate the ENC metric, all while providing insights such as which customer referred who, when and how.
Consumers frequently share brands in everyday conversation, whether that's asking someone where their shoes are from or seeking guidance on which bank to invest with. Our Name Share® feature seamlessly captures these moments, enhancing the customer experience across on and offline by requiring new customers to simply enter their friend's name at checkout when buying for the first time.
To date, Name Share® has delivered 34% of our more than 4.5 million referrals.
Whether new customers are referred through these word-of-mouth conversations, or through friends actively sharing a referral programme with them, brands can gather an audit trail of referrals alongside a wealth of powerful data. This includes learning not only how many customers introduce friends, but also more about these customers and what engages them, meaning they can nurture further advocacy while finding more like them.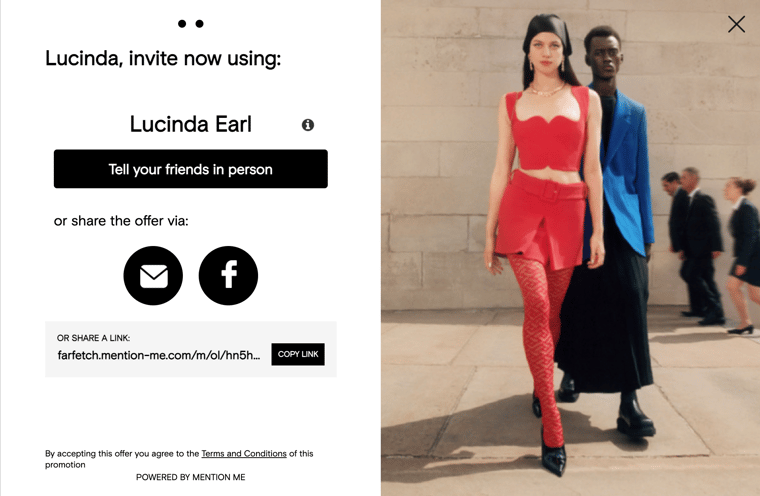 Farfetch increased new customer acquisition by 15% within nine months through referral (pictured above)
Our platform provides a unified, standardized classification system for assessing customers as bought or earned – an auditable metric that major corporations and the stock market can trust. It can be universally applied to ensure every business uses the same methodology to report comparable numbers.
Earning customer acquisitions
Once brands are in a position to better measure their ENC, they can better manage it. We equip our clients to see the exact proportion of customers referring, as well as any gaps in the customer journey where engagement drops off. This insight into the percentage of satisfied customers proactively introducing others compels businesses to prioritise customer experiences that nurture advocacy and thus generate significant long-term revenue.
Some may question whether referral incentives risk undermining the credibility of this method of measurement but their concern would be unfounded. Over the near-decade we've spent developing our customer advocacy platform, we've gathered deep insight into the psychology of referral. The biggest driver of referrals is consistently social capital. The incentive, by comparison, hardly crosses a customer's mind when considering whether to share a brand with friends and family.
Very few, if any, will share a brand that could make them look bad to others, regardless of how generous the reward on offer. Conversely, customers go out of their way to recommend brands to gain social capital and recognition. Many of our clients have built on this by offering incentives that reflect their and their customers' values, such as planting a tree for every referral or making a charity donation (you can see examples of those in action here).
If social psychology is the cog in the machine of referral, the incentive is the oil. It smooths the process of referring friends and turning referrals into new customers – but without the cogs already turning, it can achieve very little.
Referring friends is the ultimate test of advocacy. By positioning themselves in a way that persuades customers they'll look good sharing them, brands can drive high referral rates – as well as a high earned growth score and ELTV.
Proving the value of earned growth
Another critical element to the successful adoption of earned growth is proving its value. Mention Me's data on the measurable value of referral solves for this, offering quantitative evidence on the importance of happy customers.
Since 2013, we've delivered 4.5 million referrals to more than 450 brands serving 80 million customers every year. That includes generating £17 million in revenue to Europe's leading florist Bloom & Wild; increasing new customer acquisition by 15% for luxury fashion brand Farfetch within nine months; and learning that fashion retailer Scotch & Soda's referred customers are 23% more likely to shop again compared to those acquired through other channels. Sophisticated A/B testing by cohort and segmentation equips businesses to uncover their optimal journey for nurturing customer advocacy and converting referrals into new customers.
Businesses win when their customers win
While Mention Me approaches the challenge of proving the true value of happy customers from a different angle to Reichheld et al., I wholeheartedly back the thinking behind earned growth. We are both intent on driving a shift to advocacy-first thinking – something we're set to build on with our recent $25 million Series B funding round.
By establishing a unified metric on the value of happy customers, we can create a world where every business truly puts customer satisfaction at the heart of everything they do.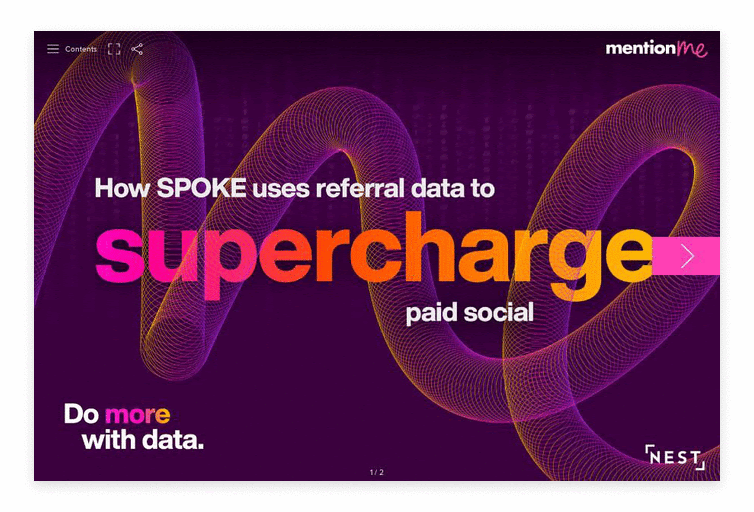 How SPOKE uses referral data to supercharge paid social
Never miss another update
Subscribe to our blog and get monthly emails packed full of the latest marketing trends and tips