Like almost everything else in 2020, Black Friday on 27th November will be different to previous years. Forget huge queues, red sale signs and frenzied crowds. This year, Black Friday will be almost entirely online.
This transition might not be as drastic as you might think. Last year, 77% of Black Friday transactions were online. Since then, Covid-19 has accelerated the shift to ecommerce, with the majority of consumers buying online even now stores have reopened.
This presents multiple challenges for retailers.
The first is recreating the excitement and demand of Black Friday online. Shopping in-store is fully immersive, with other consumers, prominent sale signs and fast-emptying racks feeding into a frenzy of activity. This is harder to replicate online. Pushing sales too forcefully risks people exiting your site; pushing too lightly risks them missing your Black Event event altogether.
The second challenge is turning Black Friday shoppers into loyal repeat customers. While the event typically causes a significant spike in sales and new customer acquisition for retailers, its success tends to be short-lived. This is even more likely to be the case in the current economic climate. The day itself is set to boost profits during what's been a difficult year for businesses, but the subsequent weeks will likely return to pre-Black Friday levels of consumer spending.
With the right tools and strategies, however, brands can overcome these challenges. Rather than limit Black Friday to a short-term burst of activity, you can drive sales and acquire loyal customers who continue to return long after the event ends. Here's how.
6 ways to drive sales and acquire loyal customers this Black Friday
1. Make it personal
With so many offers competing for their attention, consumers are unlikely to be drawn in by blanket Black Friday discounts. Instead, segment your customers based on everything you know about them – age, gender, average order value, purchase frequency, geography – then serve offers targeted to their needs and desires.
A garden brand, for example, could promote relevant premium plant care products to high-value customers who recently bought specific plants. Layer this with contextual information, such as plants suited to winter climates, and personalisation, like their name in the subject line, to further increase engagement.
It's also worth considering what motivates your customer segments to buy on Black Friday. Our research shows men are more likely to buy for themselves, while women are more likely to buy gifts for others.
2. Extend your campaign
Running a Black Friday sale only on the day itself means you're competing with countless other brands for consumer attention. In 2018, people received an average of 43% more emails on Black Friday.
Instead of focussing solely on 27th November, consider extending your campaign to a week, two weeks, or even the entire month. While you may worry this risks undermining the exclusivity of your campaign, executed well, it can have the opposite effect. Special deals, for example, on specific products for just a few days at a time can draw shoppers in, create a sense of urgency to buy, and encourage them to return for more deals on other items.
Customers that buy once are 32% likely to return; customers that buy twice are 54% likely to return. By incentivising repeat purchases during Black Friday, you can increase the likelihood customers will continue to return once your promotion ends.
Liberty London ran a week-long Black Friday promotion in 2019
3. Engagement messages
Many Black Friday shoppers are bargain-hunters looking for the best deal. Serving meaningful messages at the right time can cut through the noise of countless other promotions to get their attention (and spend).
Given that they're shopping on Black Friday, it's likely that these customers are incentivised by discounts and special offers. You can build on this by encouraging them to take specific actions in return for a reward. For example, incentivise shoppers to give feedback for 10% off next time, sign up to your newsletter for a complimentary gift, or buy again within two weeks for £10 off.
To increase the likelihood of these offers driving action, promote your messages at as many touchpoints as possible. Support your email promotions with consistent messaging on-site, such as on your order confirmation page and corner-peel.
Trouva uses a discount message to drive repeat purchases
4. Referral
Referral is one example of an engagement message proven to drive results that last beyond Black Friday. Last year, we helped more than 80 brands promote their refer-a-friend programmes as part of their Black Friday campaigns and saw a significant uplift in referrals. One brand even increased referral revenue by 174%.
Better yet, referrals deliver customers likely to have higher lifetime value than those acquired through other channels. Their friend's recommendation means they're predisposed to liking your brand. On average, referred customers spend up to 25% more on their first order, have double the lifetime value, and are three times more likely to refer their friends, too.
Want ideas for your Black Friday referral campaign? Check out our lookbook.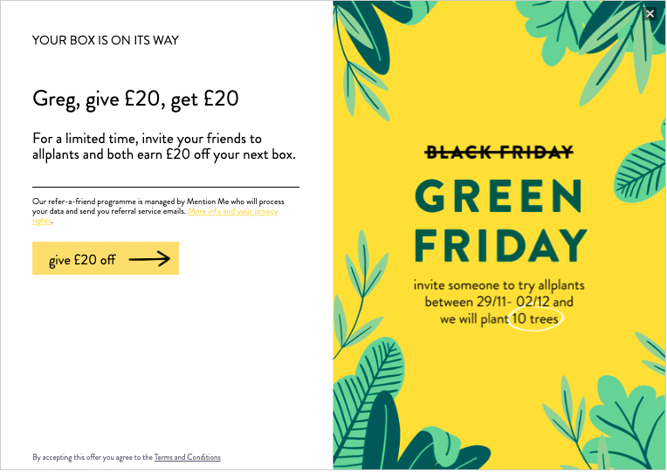 allplants promoted referral for Black Friday 2019
5. Online bundles
People are more likely to impulse purchase in-store than online, as items catch their attention on their way to the till. The shift to an ecommerce-focused Black Friday means retailers may miss out on significant revenue as consumers search for and buy only specific items.
Offering exclusive Black Friday bundles is one way to overcome this. Charlotte Tilbury, for example, offered a mystery box with 11 full-size products representing a 50% saving on Black Friday last year. Not only does this approach drive shoppers to spend more, it also aids product discovery – increasing the likelihood they'll fall in love with more of your products and return.
To make this approach a success, promote your bundles throughout the customer journey. Experiment with broad touchpoints, like the homepage and solus emails, as well as more specific ones, such as banners on product pages and at checkout. Even better if you can target messaging to, for example, show an overlay to customers with certain products in their basket to remind them of your exclusive bundle offer.
Charlotte Tilbury offered exclusive product bundles for Black Friday 2019
6. Prepare supply chain and delivery
Customers are 46% more likely to recommend brands that provide a smooth delivery service. However, the surge in sales during Black Friday can cause brands to fall short on this measure.
To avoid your brand falling into this category, start preparing now. You may have had an unexpected test run in lockdown, when demand for items such as food, fitness equipment and gardening items hit record highs. If you didn't, now's the time to make sure areas like your supply chain, stock levels and delivery services are sturdy enough to meet expectations during periods of high demand.
It may also be worth exploring click and collect options as a way to reduce pressure on your delivery services and increase efficiency. Getting customers in-store also gives you the opportunity to promote more products and showcase your brand while providing a speedy (yet safe) service.
The same goes for web traffic. If your website isn't used to sudden high volumes of visitors, there's a risk it'll crash. And, with virtually every brand running some kind of Black Friday promotion, a website crash can be a costly mistake, even if it lasts just a few minutes. We recommend running tests in advance of 27th November so you're confident that absolutely everything is ready to make your campaign a success.
Conclusion
For many brands, Black Friday represents a short-term spike in sales and new customers. It's a valuable opportunity to boost revenue – a particularly relevant consideration given the challenges of this year – but offers little lasting impact.
But this doesn't have to be the case. With the right approach, Black Friday represents the chance to acquire loyal customers who deliver long-term revenue to your brand.
Engaging with customers in the right ways is key to driving these sustainable results. The shoppers you acquire during Black Friday will have different needs and desires to the rest of your customer base. Your interactions with them should reflect this.
Many brands will be tempted to continue offering discounts into December to avoid a post-Black Friday slump, but brands that resist this temptation will prosper long-term. Continuously discounting beyond Black Friday undermines your event and sets the expectation that customers rarely have to pay full-price – damaging your reputation for both new and existing customers. The run-up to Christmas also presents a strong opportunity for you to recover profit margins damaged by the pandemic by returning to full-price, ideally with new items that keep shoppers engaged.
Your Black Friday discounts may have drawn shoppers in, but making them feel special will keep them coming back. Consider inviting new customers to your VIP programme, giving them early access to new products, or encouraging user-generated content. Share relevant content that educates and excites, such as tips on making the most of their Black Friday purchase or complementary products. Look beyond pushing the next purchase to build brand affinity.
And, of course, measure how your tactics impact customer behaviour and revenue. Use segmentation and A/B testing to learn more about your customers and what most effectively drives desired actions at points throughout their journey and lifecycle.
Put in the preparation now, and the results will speak for themselves – on Black Friday and beyond.