Seasonal promotions
How to maximise every touchpoint and make your Black Friday campaign unmissable (literally)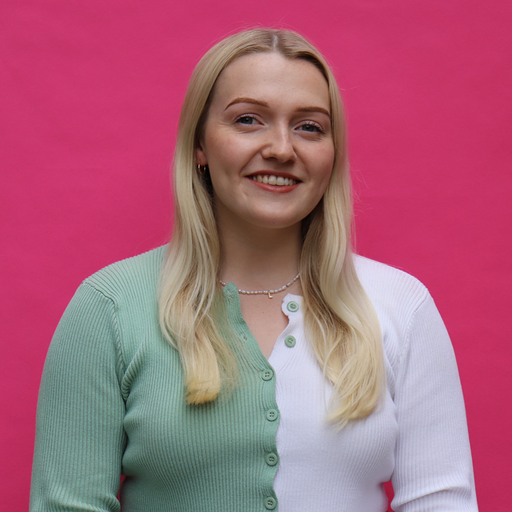 By Olivia Cox — September 30, 2022 -
Read time: 6 mins
With Black Friday 2022 only a few steps around the corner, you'll be gearing up to launch your campaign for the big event.
You've been busy prepping your eye-catching visuals, catchy copy and irresistible offers to craft a campaign that engages customers old and new.
But how will you guarantee your campaign is genuinely unmissable?
While every brand will be poised to stake their claim on the attention of Black Friday shoppers, in reality, the volume of messages blared out to consumers will be deafening.
That's why you need to take advantage of every possible touchpoint to keep your brand at the front of shoppers' minds — and encourage them to recommend you to others.
Because while all your Black Friday customers are valuable, it's the ones who continue to rave about you after the deals are over that will make the biggest long-term impact.
Brand advocates like Cate, who set off a referral chain reaction by talking to their friends and family about how much they love your brand.
So rather than focusing all your efforts on accelerating short-term sales, future-proof your growth beyond November by encouraging your high volume of shoppers to refer.
Ready to drive referrals from all your Black Friday touchpoints? Keep reading.
Homepage
Let's set the scene.
It's 9pm on November 25th (the busiest time for shopping on Black Friday last year, FYI).
Cate's curled up on the sofa after a long day, laptop at the ready to browse your bargains.
She's been eyeing up one particular product of yours for weeks, eagerly waiting to see whether she can score a good deal on the big day.
Now, she's ready to hit the checkout — but does she know about your great referral offer?
Make sure you catch her eye immediately by promoting it in a striking main visual, adding a banner at the top of the page, or featuring a corner peel.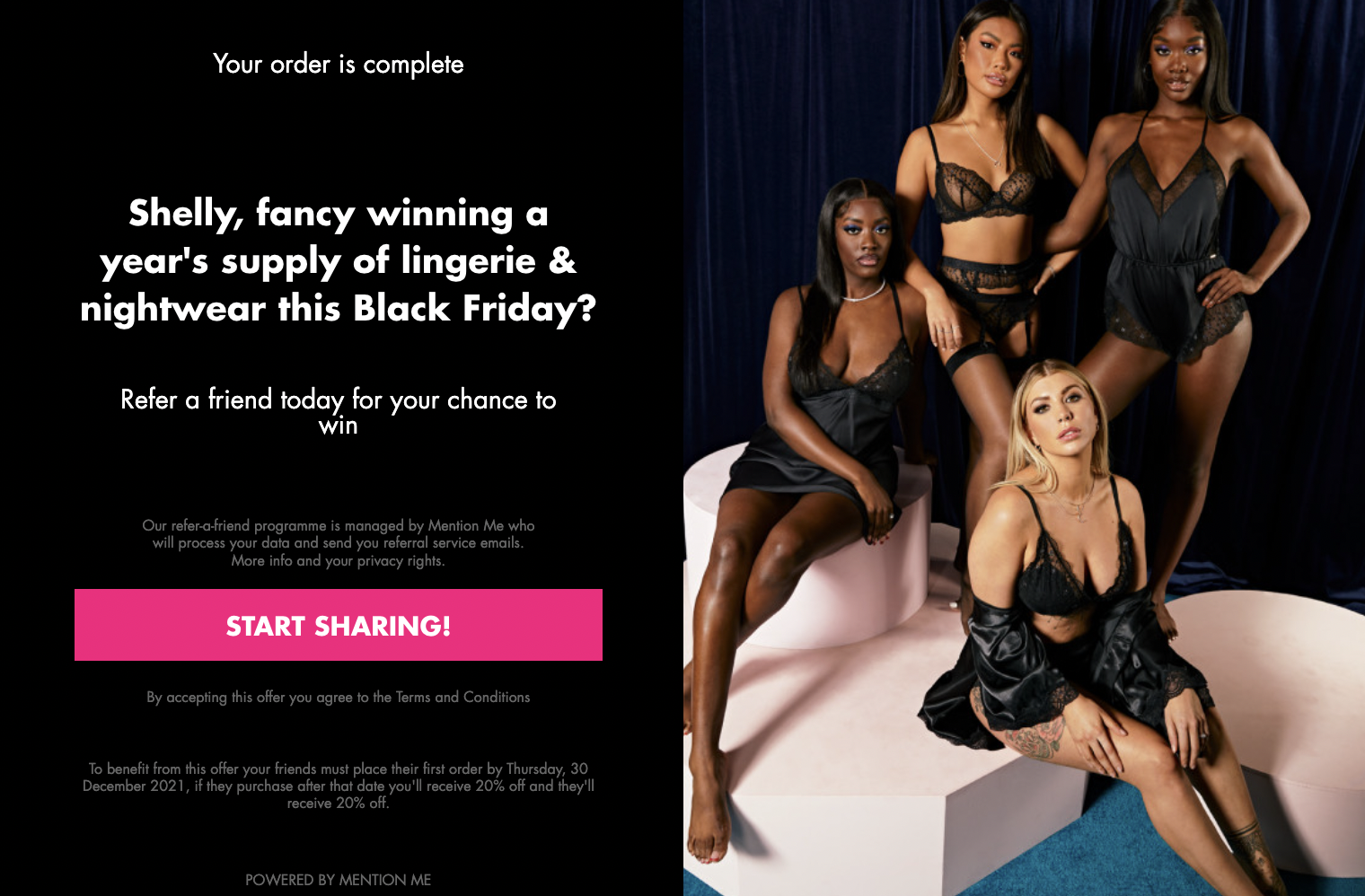 Boux Avenue drew in their customers with striking visuals and an exciting competition
Email
In the lead-up to the 25th November, consumers will keep a close eye on their inbox in the hopes of hearing about the best Black Friday promotions from their favourite brands.
Make the most of this prime virtual real estate by sending out solus emails promoting your referral offer to all subscribers. Then, follow up with targeted emails to the customers you know are more likely to refer.
To make sure these emails stand out among your subscribers' crowded inboxes, integrate your referral programme with your CRM system.
With 18 years of experience in ecommerce, Dave Littlechild, Vice President of Partnerships & Sales Development at Emarsys (SAP) knows all about the value of making your customers feel special.
'By feeding referral data into your marketing automation platform, you can send highly personalised emails in the run-up to Black Friday that make your referrers even more excited about your unmissable offers,' says Dave.
'Put your referrers into a separate segment and make sure you're giving them VIP treatment to nurture their loyalty. This could mean early access to your deals, free shipping on their Black Friday purchases, or extra-special customer service.'
Learn more about our Emarsys integration.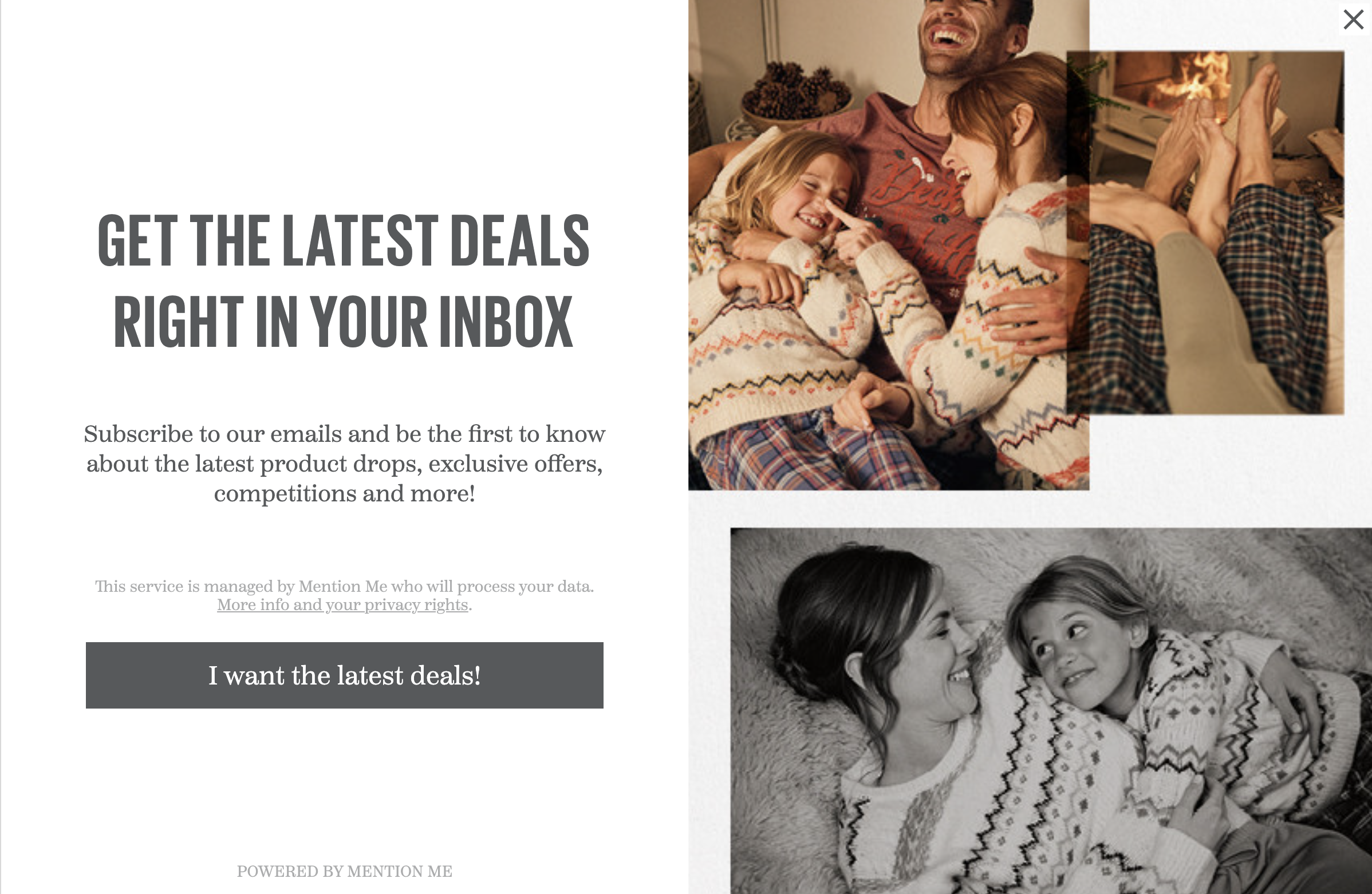 FatFace use referral data to give their best customers a VIP experience over email
SMS
Use the rich first-party data you're gathering through referral to engage customers across every possible channel — including SMS.
Given how much time we all spend using our phones (guilty), communicating with your customers through SMS could be the final prompt that pushes them to take action.
'With so many brands competing for consumer attention on Black Friday, engaging them through targeted SMS messages offers an alternative way to cut through the noise,' says Spencer Malm, Head of International Partnerships at Attentive.
'Use your referral insights to identify your best brand advocates, and send them relevant text messages to remind them to take up your Black Friday offer, or give them a nudge to use their referral reward. One well-timed message could be the difference between an abandoned shopping cart and your customer heading to the checkout.'
Social media
When you're building hype around your Black Friday campaign on your social channels, don't forget to remind your followers to refer their friends.
You could even run an exclusive competition where followers share your posts promoting your referral offer in exchange for an entry into a prize draw.
Double down on both your organic and paid social efforts, and your current and soon-to-be followers alike will be raring to take up your referral offer.
'Paid social is an essential channel for maximising returns during Black Friday for ecommerce brands,' says Luke Jonas, CCO at Nest Commerce.
'During the week of Black Friday, as well as the weeks prior, conversion rates increase dramatically — outpacing rising in-platform costs. This means that brands with the right strategy will make significant return-on-investment on their paid social efforts during this window.'
'Paid social is also a significant and cost-effective channel for reaching your customers at scale,' Luke says. 'Making sure it's a part of your brand awareness strategy in the lead up to Black Friday will keep your brand top of mind when your customers are looking for deals."
Learn more about our partnership with Nest Commerce.
Post-purchase
As experts in the Psychology of Referral, we know that customers are more likely to share your brand at points of delight — and they'll be even more delighted after shopping your Black Friday deals.
'With so many customers eagerly waiting for Black Friday to get special deals on their favourite brands or nab high-ticket items on their wishlist at a great price, their biggest point of delight will be post-purchase,' says Russ Tarr, Director of Global Partnerships and US Sales at Feefo.
'Make the most of your customers' happy sentiment towards your brand at this moment by encouraging them to leave you a review,' says Russ. 'Once you've identified your best brand advocates (those leaving you 4- and 5-star reviews), encourage them to refer their friends to develop this advocacy further.'
By reinforcing how they feel about your brand, these reviewers will soon become avid fans who can't wait to recommend you to others (on Black Friday and beyond).
Learn more about our Feefo integration.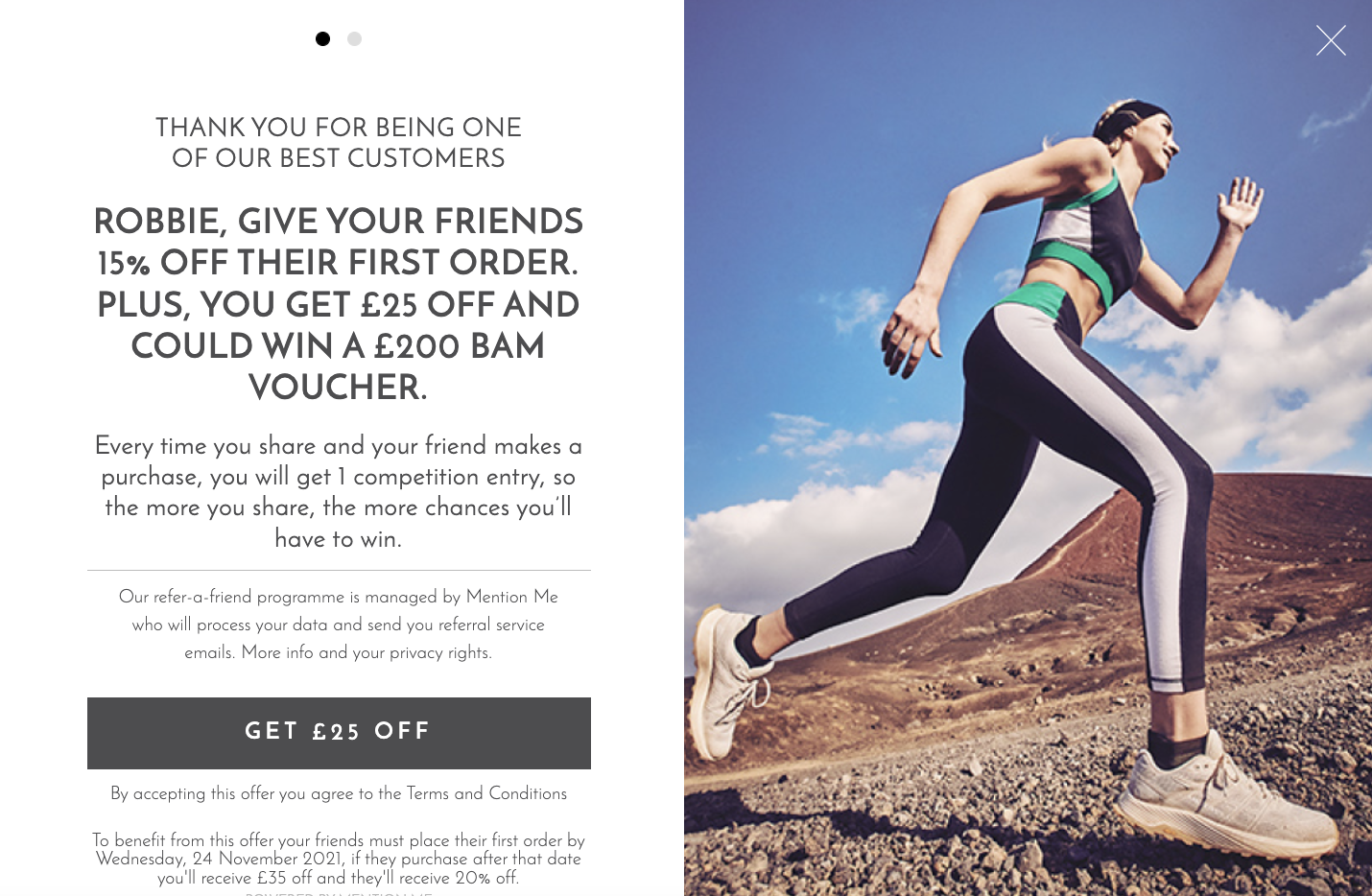 Bamboo Clothing promoted their referral offer to customers leaving top reviews on Feefo
Parcel inserts
Once you've processed your customers' orders, you might think it's time to take a step back and let them bask in the glow of their new purchase.
You could do that…but you'd be missing out on a key moment to turn a casual shopper into a die-hard brand fan.
'Your Black Friday shoppers will already be excited about receiving their new purchases, but don't underestimate the power of having your brand in their hand,' says Charlotte Pearce, CEO and Founder at Inkpact. 'Make this moment even more special by adding a handwritten note asking them to refer their friends and family.'
'Giving your customers something personal will make them feel like one of your best customers — so they'll start behaving like one by referring your brand and spreading the word online. Not to mention, they'll be excited to shop with you again after Black Friday.'
And as your customers feel more valued, they'll become more valuable, spending more and bringing their friends along too.
Better yet, their referred friends will spend an average of 11% more on their first order, kicking off a year-round cycle of growth from one extra-memorable Black Friday purchase.
Learn more about our partnerships.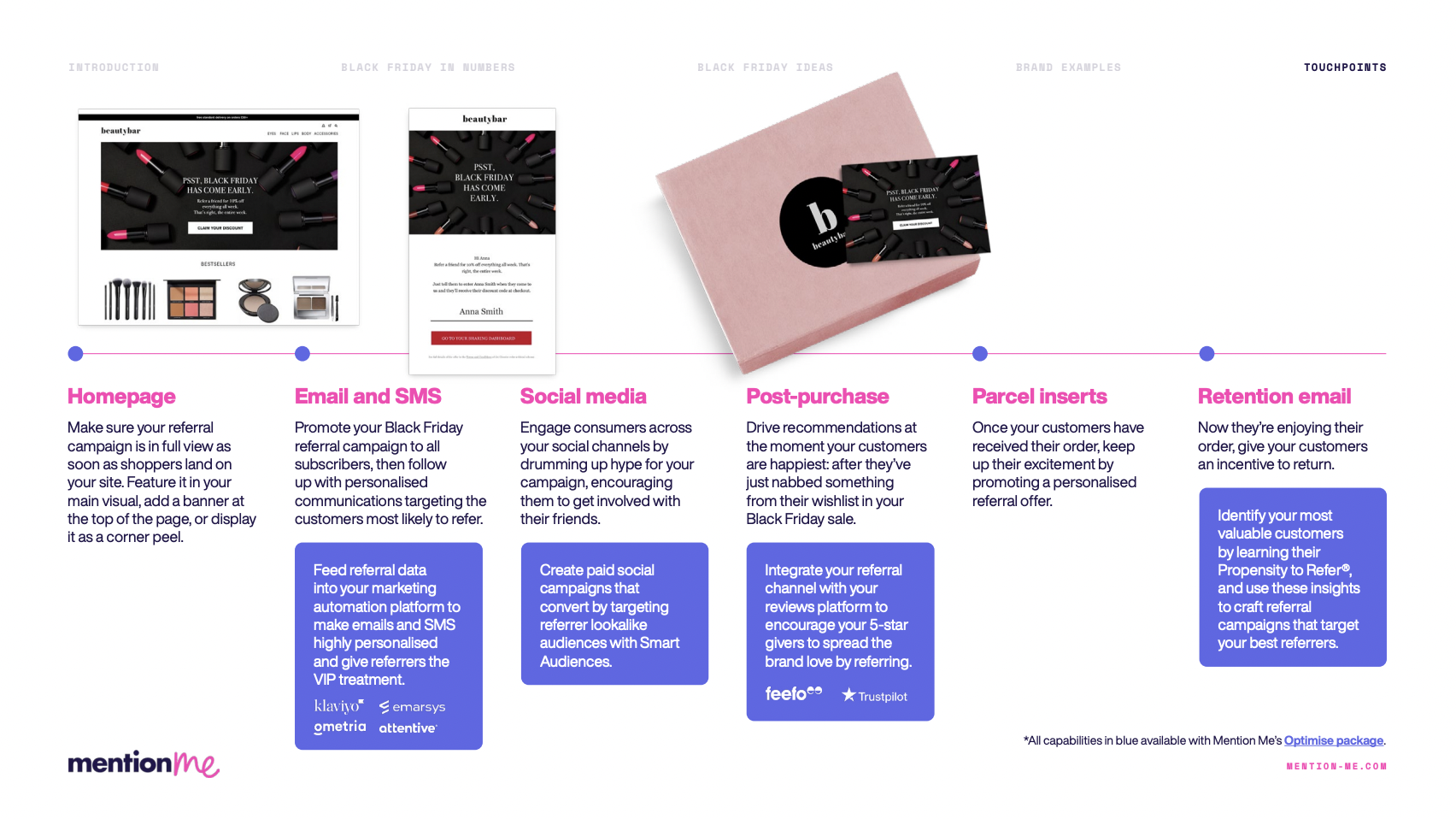 Discover more top tips for crafting a powerful Black Friday campaign in our lookbook
Ready for your best Black Friday yet?
Now you know how to get your Black Friday campaign in front of all the right customers, it's time to put it into practice.
Still making last-minute tweaks to your strategy? Check out our lookbook for all the inspiration you need to launch a referral campaign that drives year-round growth from the event, featuring brand examples from PUMA, Papier, Harvey Nichols and more.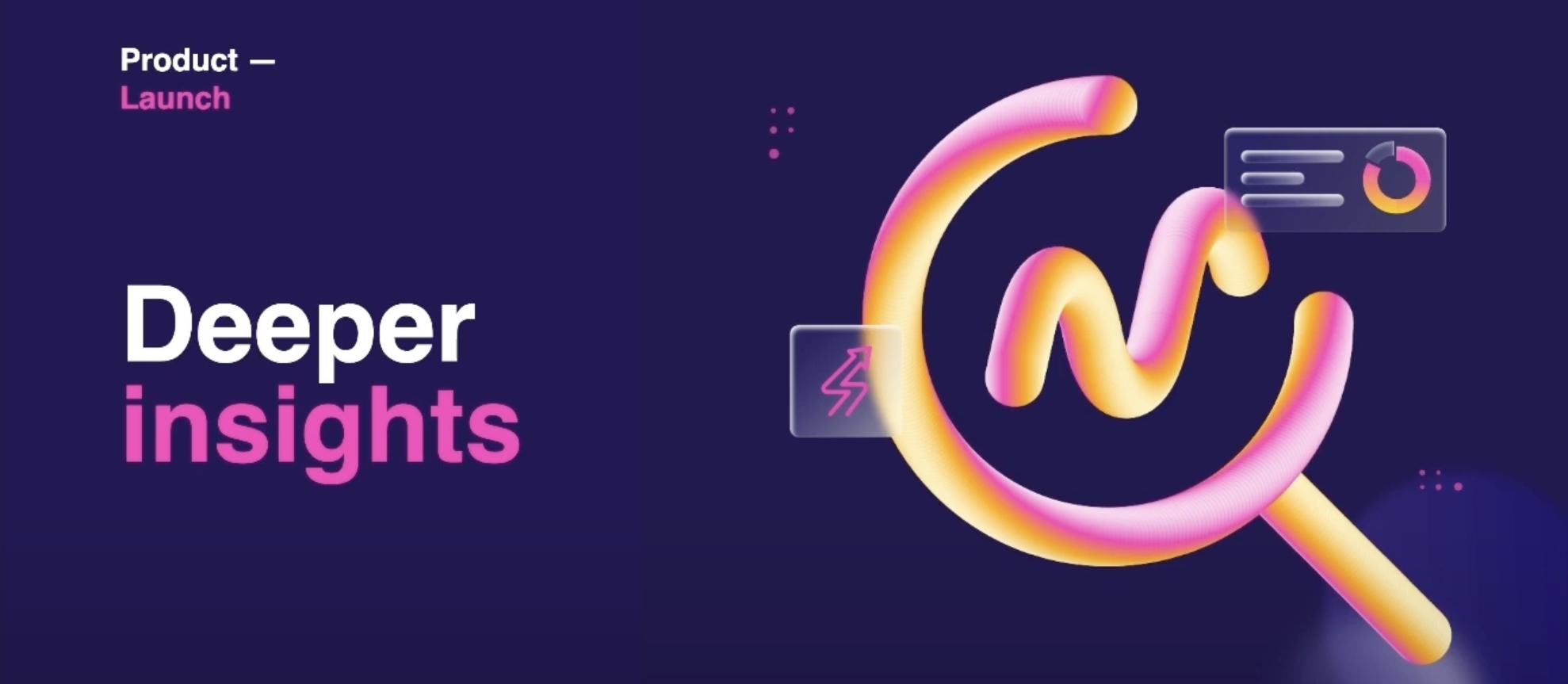 Introducing: Deeper Insights
Never miss another update
Subscribe to our blog and get monthly emails packed full of the latest marketing trends and tips