It's not just savvy spenders who were full of anticipation for this year's Black Friday and Cyber Monday weekend.
Here at Mention Me, it's our busiest day of the year and one we get very excited about. Working with 450+ brands around the world gives us unique and fascinating insights into how retailers across sectors perform on the day (and how incorporating referral into their Black Friday promotions influences results).
Here are key insights from this year's big retail event.

Our biggest Black Friday yet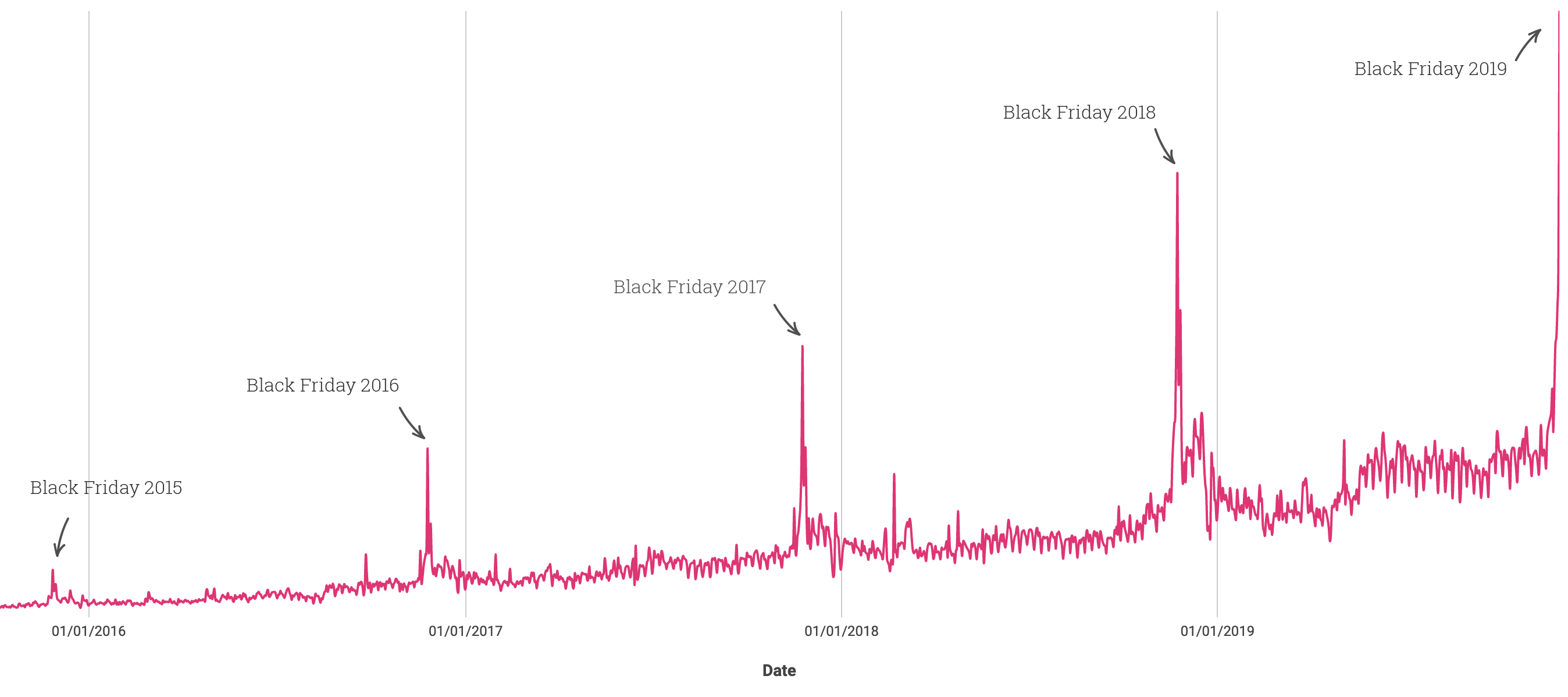 Order volume in the Mention Me platform since late 2015

This year's Black Friday was Mention Me's biggest yet.
During the day itself on 29th November, we served 160% more traffic year-on-year.
There's two reasons for this. One, our existing client base is rapidly growing. Two, Black Friday has significantly gained momentum since emerging in the UK in 2013.
Consumers shop all day on Black Friday...
Generally, evenings are the busiest time for online shopping. But on Black Friday, consumers shop all day long.
Orders began to rise from 5.30am, sharply spiking at 9am as everyone shopped before work. But, despite just 9% of Brits claiming to shop Black Friday sales at work, orders remained steady throughout the day.
Interestingly, there's a lull in Black Friday shopping at 3pm every year, perhaps due to the school pick-up or people realising they haven't done any work yet.
Things pick up again in the evening, with the most online orders placed around 9pm.

The volume of sales throughout Black Friday and Cyber Monday 2019
... And throughout the week leading up to it
This year, Black Friday itself took up a smaller proportion of orders across the entire week than previously at 32% (compared to 40% in 2016).
This reflects the increasing number of retailers using Black Friday as an opportunity to promote sales throughout the week.
However, by Cyber Monday it seems the excitement of snagging a bargain is waning. As the above graph shows, the day is significantly quieter than Black Friday in terms of order volume (although it's still fairly busy in the evening).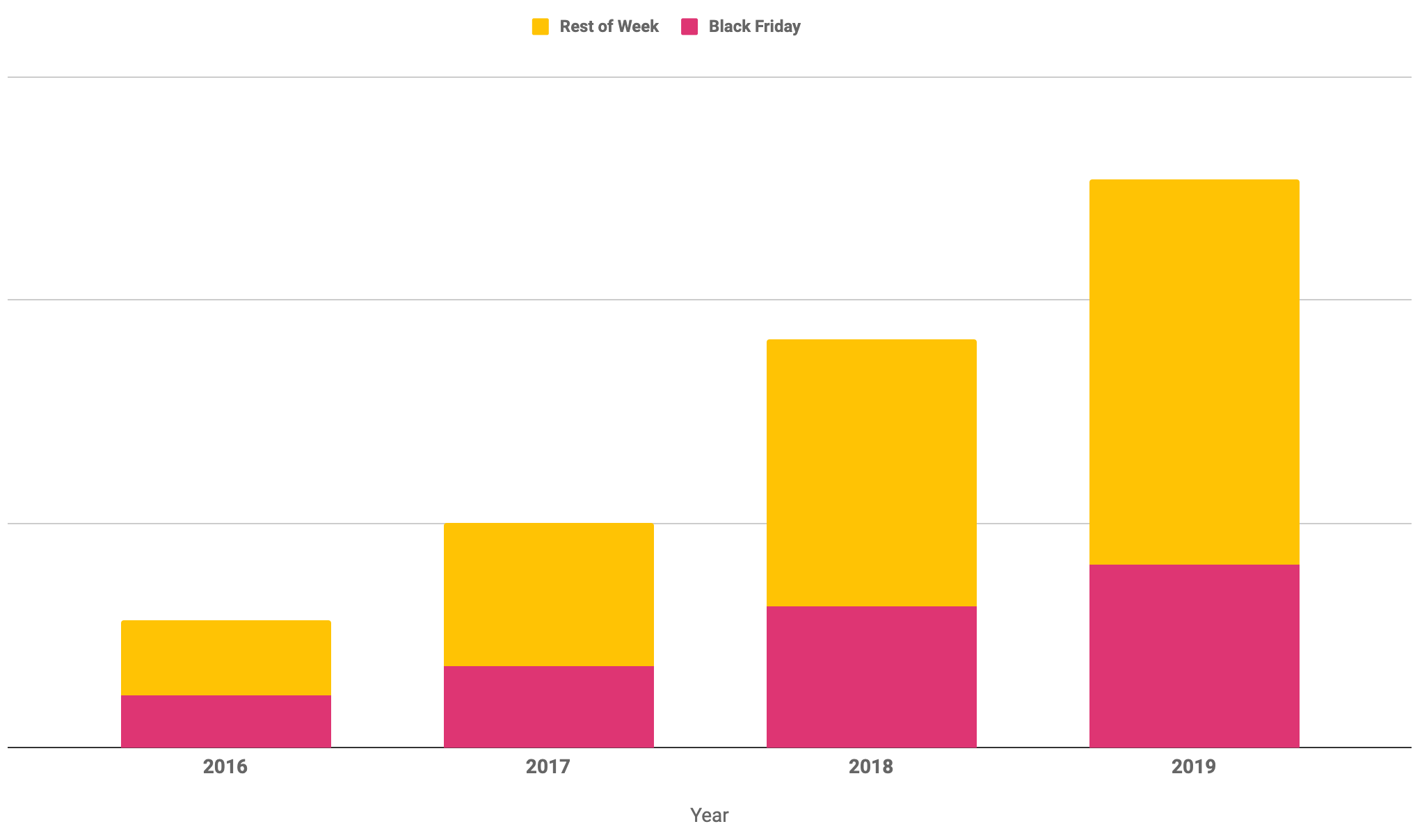 The volume of sales on Black Friday compared to the rest of the week
Black Friday referral campaigns increase traffic
This year, we helped more than 80 brands promote their refer-a-friend programmes as part of their Black Friday campaigns. There was a clear correlation between Black Friday promotions and a surge in referrals.
Key client statistics from Black Friday referral campaigns

DNA Fit acquired 116% more referred customers and increased referral revenue by 174%
Schuh had its best ever month in terms of AOV, new customers and revenue
Monica Vinader increased its referral share rate by 41%
In addition to driving brand recommendations during Black Friday and Cyber Monday, these referral campaigns will help keep sales steady throughout the festive period and into the New Year. Customers with referral rewards are incentivised to return and shop again, while also encouraging friends to shop for the first time – increasing both sales and brand awareness.
Scroll on to see some our clients' campaigns in action, from retailers to energy and finance brands; subscription models to experience providers.
Beauty pie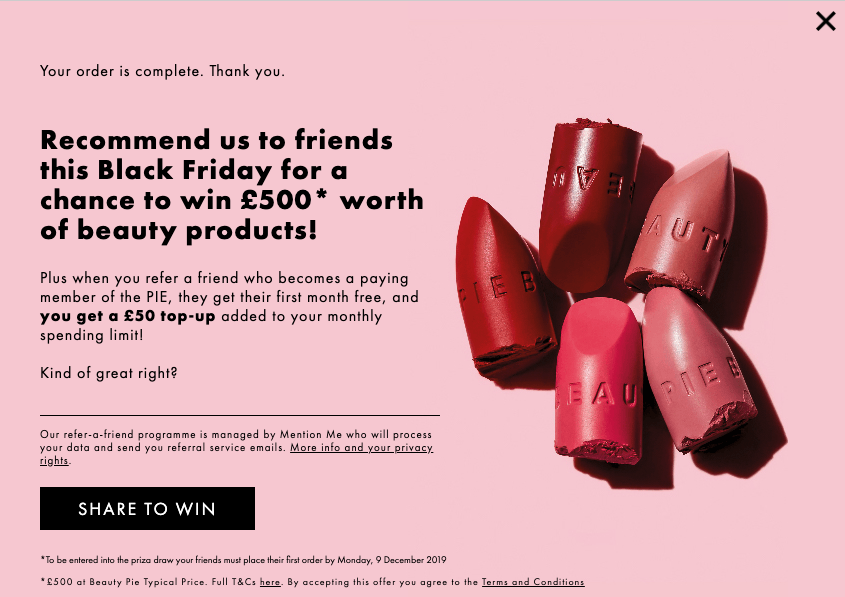 DNA Fit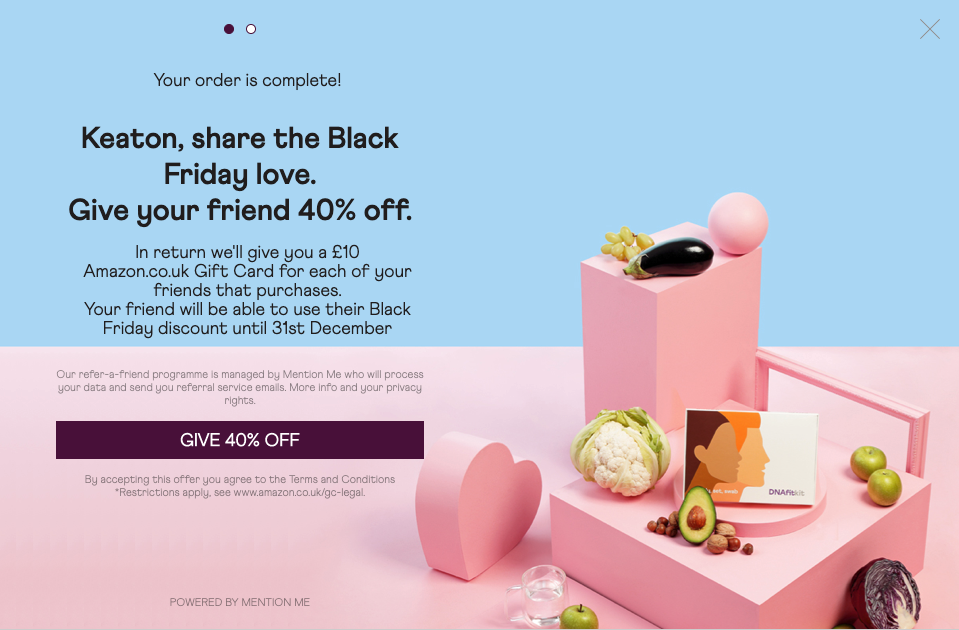 Easirent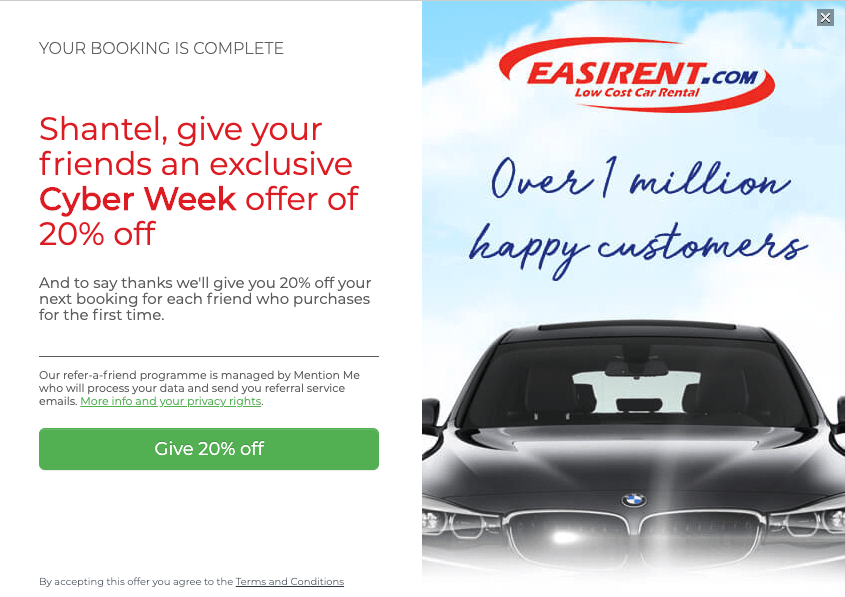 first utility
Hussle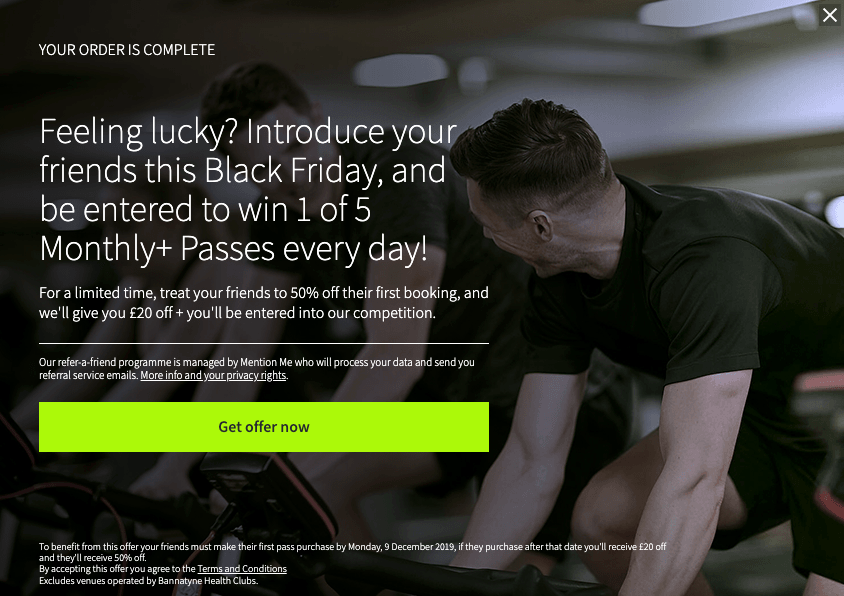 LIBERTY LONDON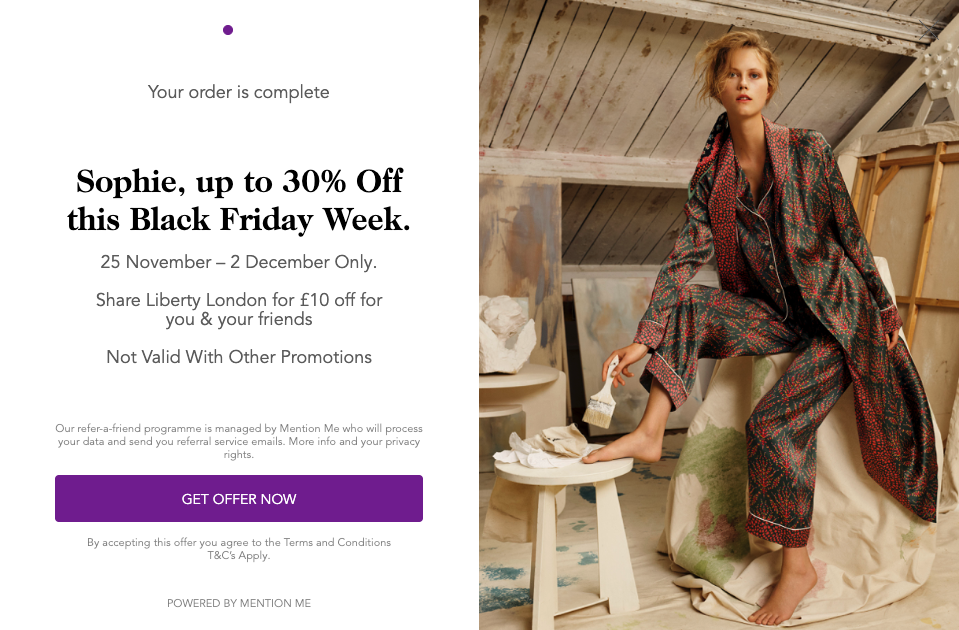 Monica Vinader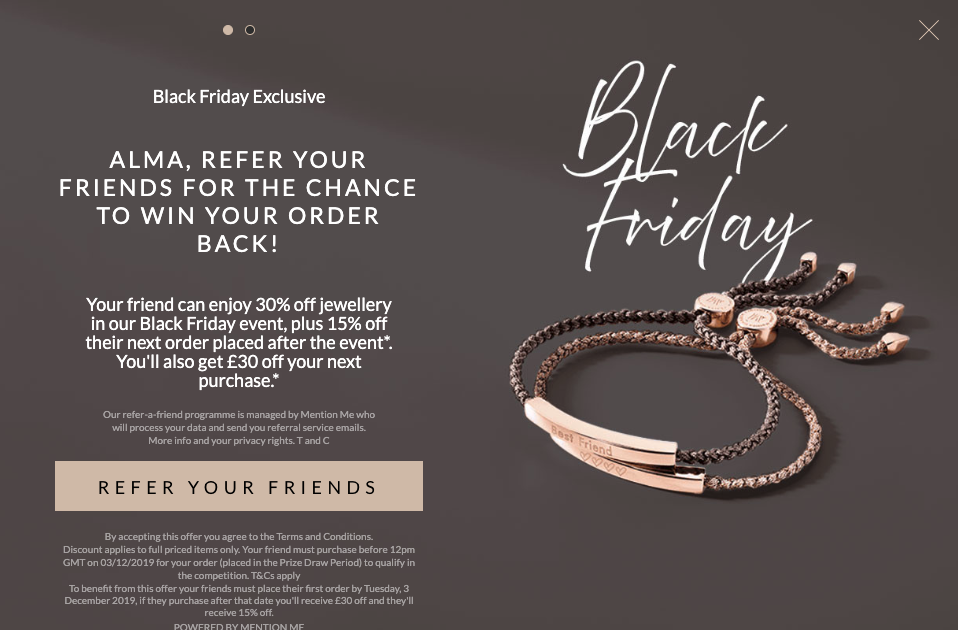 Simba
Virgin Experience