After a tough year, anticipation for Black Friday 2020 was high. For consumers, it was a chance to get a good deal, splash out on much-needed treats, and even do some early Christmas shopping. For online and multi-channel retailers, it was a chance to acquire customers, boost profit margins and hit sales targets before year-end.
And for us at Mention Me, it was a chance to help our clients cut through the Black Friday mayhem with compelling referral campaigns that got people talking. It's our busiest and favourite day of the year, as we eagerly monitor how our clients across sectors perform.
Here are our most interesting insights from Black Friday 2020.
It was a record-breaker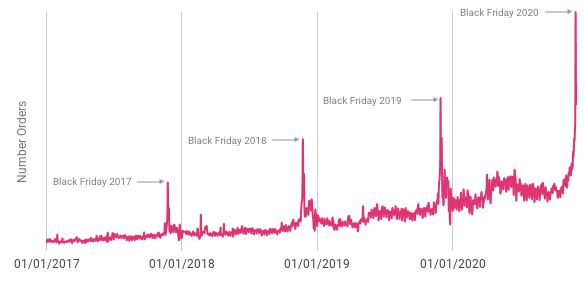 Black Friday 2020 was Mention Me's busiest day in history.
On 27th November, we processed 64% more referrals than on Black Friday 2019. That's three times more than on the average day this year.
There are a couple of reasons for this.
One, our 450-strong client base is rapidly growing. So too are our clients' customer bases. The challenger brands we work with in particular are smashing ambitious growth targets every year, meaning they serve significantly high volumes of traffic each Black Friday.
Two, the pandemic. More people than ever are at home, saving money on nights out and trips away. Shopping online is one of the few things we can still do, offering a little burst of joy in a strange time.
Three, Black Friday is getting bigger. What started as a small promotion shunned by many in 2010, is now the biggest shopping event of the year.
Consumers shop all day on Black Friday...
Generally, evenings are the busiest time for online shopping. But on Black Friday, consumers shop all day long.
Orders began to rise from 5.30am, sharply spiking at 9am as people shopped before work. But, despite just 13% of Brits claiming to shop Black Friday sales at work, orders remained steady throughout the day.
By 11am, we'd processed more referrals than on Black Friday 2017.
By 3.30pm, we'd processed enough referrals to be in our top three busiest days.
By 6.30pm, we'd processed a record number of referrals in one day – with five and a half hours still to go.
As in previous years, we saw a slight lull at 3pm. This is most likely as parents go to collect their children from school and others realise they haven't done much work yet.
The busiest time on Black Friday was between 8 and 9pm, as people finished work for the day and browsed sales online. At its peak, our platform served more than three the volume of traffic compared to a regular Friday.
Black Friday & Cyber Monday orders by hour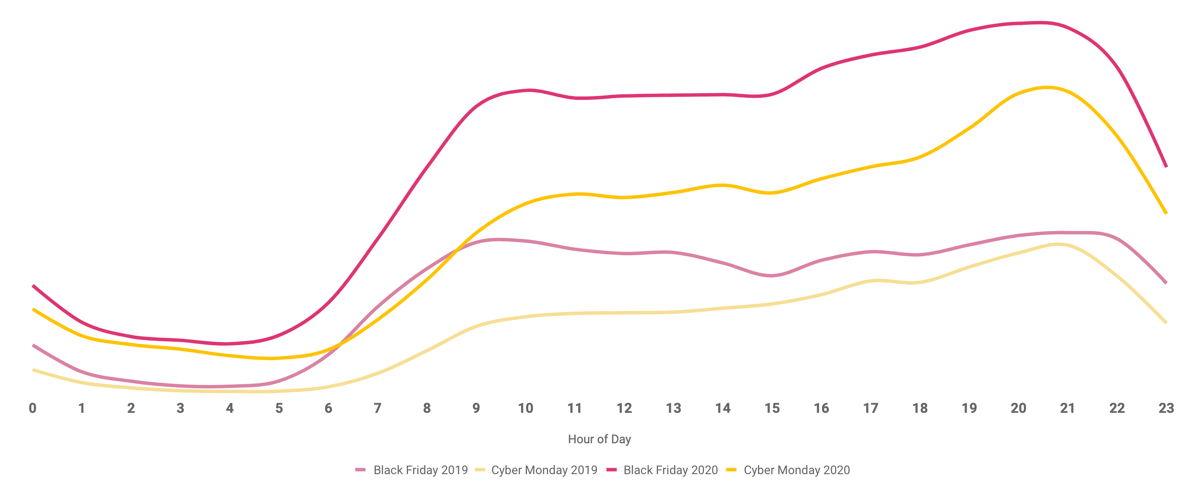 ... And in the weeks leading up to it
The trend of launching Black Friday campaigns before the day itself is gathering pace, with some retailers starting promotions in early November. The week leading up to the 27th November was particularly busy, as online order volumes and referrals increased ahead of the big day.
This year, Black Friday itself took up a smaller proportion of orders across the entire week than previously at 28% (compared to 32% last year). Orders continued throughout the weekend and into Cyber Monday, although the excitement of bagging a bargain was beginning to wane by this point. There were significantly fewer orders on Cyber Monday than Black Friday, with most activity happening in the evening.
Online orders over Black Friday & Cyber Monday week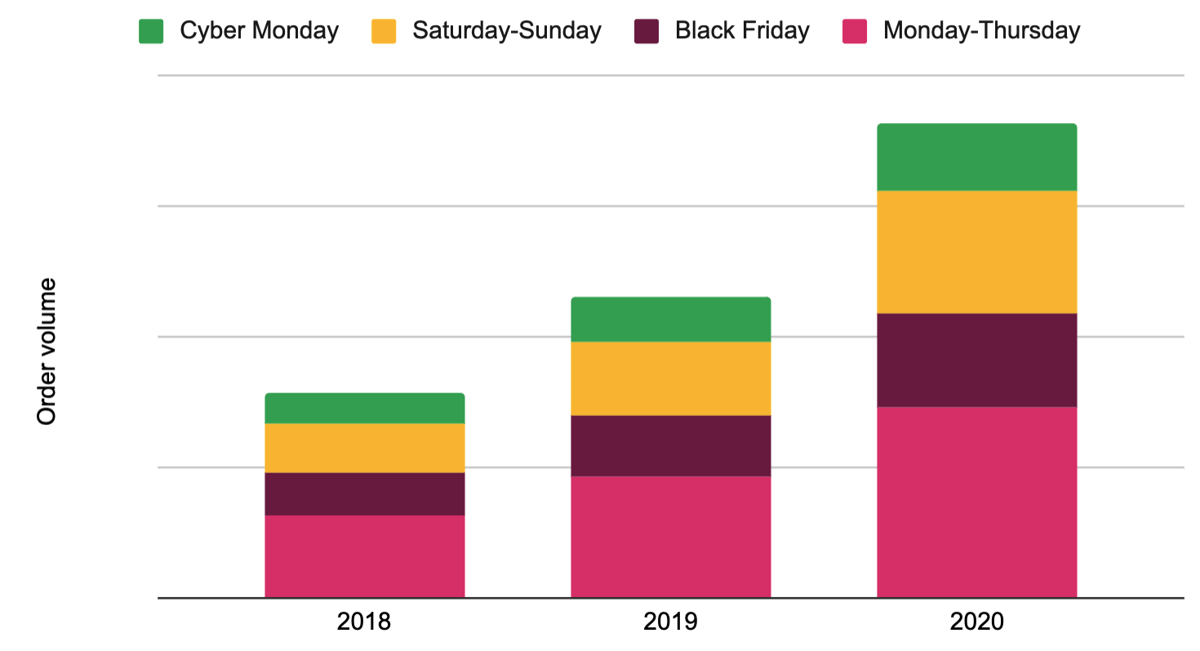 Black Friday referral campaigns drive long-term revenue
This year, we helped more than 70 brands promote refer-a-friend as part of their Black Friday campaigns. These businesses maximised on their surge in traffic to drive even more sales, acquire new customers, and incentivise repeat orders.
People aren't only ordering more on Black Friday; they're recommending brands their friends should order from, too. On average, 46% more customers shared referral offers than on Black Friday last year.
While we can't yet know exactly how much revenue this surge in referrals will convert into, it strongly positions these brands to drive long-term revenue throughout the festive period and into the new year. Instead of experiencing a spike in sales that ends as suddenly as it began, businesses with referral can continue to acquire new customers and drive repeat orders post-Black Friday.
Here are some of our clients' campaigns in action, from make up to mattresses and meal plans.
prettylittlething
birchbox
eve sleep
Virgin experience days
feelunique
fetch
Monica Vinader
Protein world
Cheeky wipes
BoilerJuice
Charles & keith
ted baker
Here's to Black Friday 2021 – only 11 months and 24 days to go!