Seasonal promotions
Black Friday 2021: insights from 450+ ecommerce brands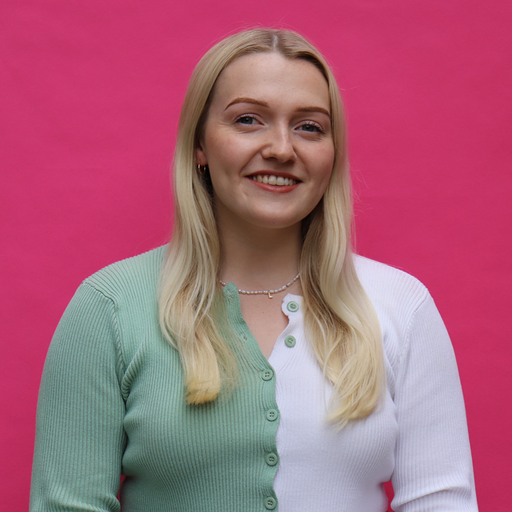 By Olivia Cox — November 30, 2021
Read time: 5 mins
Looking for the highlights? Here are three things you need to know:
Black Friday 2021 was 23% bigger than pre-pandemic
The AOV of referral orders was up 16% YoY
Brands acquired 10,500 new customers through Referral Engineering® on the day
2020 was a year unlike any other, so it's no surprise that last Black Friday was the biggest to date. Yet despite being 25% smaller than last year, Black Friday 2021 was 23% bigger than 2019 – making it Mention Me's second busiest day in history.
Black Friday is a notoriously competitive time as brands battle for consumer attention. Against this challenging backdrop, referral cuts through: 10,500 referrals converted into new customers on 26th November, as consumers waited until the day to act on their friend's recommendation and buy from brands for the first time.
And it's not only traditional retailers benefitting from Black Friday referral campaigns. This year, we precision-engineered referral for ambitious ecommerce brands across sectors, from travel to finance and insurance. Here are our key insights from the biggest weekend in the retail calendar.
Orders were lower than last year — here's why
Number of orders on Black Friday

Though it didn't reach the lofty heights of Black Friday 2020, this year's event was no small affair – and there are a number of explanations behind its drop.
Firstly, unlike Black Friday 2020, this year's event didn't take place solely online. We've been able to hit the shops IRL for most of the year, causing a slight drop in last year's high volume of online orders (though not enough to discourage from high street retailers from adapting to the new digital landscape).
Secondly, heading back to the office and finally regaining our social lives means that many of us simply don't have as much time for online shopping as we did last year. For those who do have the time, there are plenty of other ways to spend our money again – from going on holiday to eating out or cinema trips.
Lastly, and perhaps most importantly, was a new issue facing ecommerce brands and shoppers this year: supply chain issues. Many retailers were dealing with empty shelves (both in-store and online) in the run-up to the big day, so some customers might not have nabbed everything they were looking for. 50% of retailers expressed concern beforehand about their supply chain and shipping costs, leading many brands to reduce the high discounts they'd normally offer, which also likely impacted order levels.
Black Friday 2021 was 23% bigger than pre-pandemic…
Black Friday and Cyber Monday orders by hour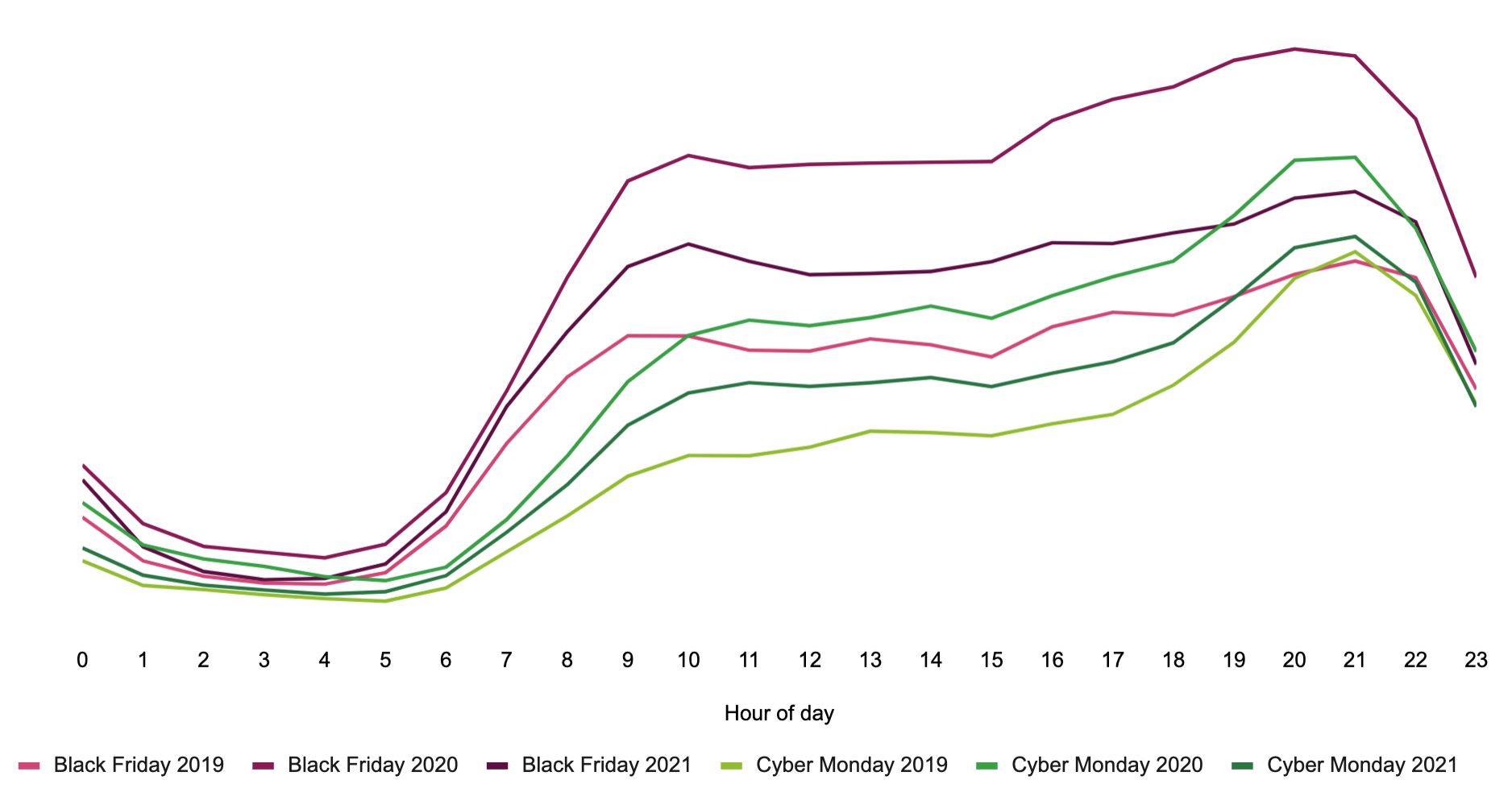 By 12:30pm, we'd processed 520,000 orders through the platform – as many as during the entirety of Black Friday 2017.
By 2pm, we'd processed enough orders to almost reach our top 10 busiest days of the year.
By 4pm, we'd beaten 2019's orders and it became our second busiest day of the year – with eight hours still to go.
And by the end of the day, after the 9 to 10pm rush of Black Friday shoppers snapping up deals, we'd processed 1.44m orders totalling £135m in value. This made the day 3.5x bigger than an average Friday in 2021.
Interestingly, the 232,000 emails sent out by our clients experienced much higher click through rates than usual – highlighting that consumers were eager to engage with Black Friday referral offers among their busy inboxes.
We also increased the performance of our platform by 10% compared to last year, serving 90% of requests in 190 milliseconds, so customers could share and claim their referral rewards even quicker.
...and it's lasting even longer
Every year, brands show off their deals earlier to win over consumers before Black Friday officially starts.
On the consumer side, one in four were anxious about the availability of products on their Black Friday wishlist thanks to supply chain issues, likely prompting them to take advantage of early deals in the weeks leading up to Black Friday.
Online orders over Black Friday week & Cyber Monday
Consumers spent more (on more brands) than last year
Despite the overall volume of orders and referrals being down on last year, shoppers spent more. The overall average order value (AOV) on Black Friday 2021 was 14% higher YoY – and even higher for referred customers, up 16% on last year.
Fast-moving consumer goods were particularly popular, with the sector's AOV up by an impressive 40% compared to last year's Black Friday.
Consumers may have been happier to splash out this year because they had more disposable income: one third of Brits managed to save an average of £4,500 during the pandemic. We're also likely to be buying more presents for the people we couldn't see last Christmas, or we may simply be back in the habit of regular spending now that our social lives have come off pause.
Not only were shoppers increasing their spending, but they were also trying out more new brands (thanks to recommendations from friends). On Black Friday 2021, beauty brand Charlotte Tilbury, fashion retailer PrettyLittleThing and pet insurer Bought by Many were among the brands acquiring high-quality customers through referral.
10,500 referred friends converted into new customers — and that's just on the day itself
All too often, Black Friday is a short-term sales spike that fails to turn one-off browsers into loyal customers. But for brands who included referral in their promotions, the event will continue driving major revenue and sustainable growth — long after 2021 ends.
Unlike the typical Black Friday bargain hunter, referred customers are likely to have high lifetime value. On average, they spend 11% more on their first order and are five times more likely to recommend your brand to their own friends and family – kickstarting a powerful cycle of long-term growth.
And that growth is without even taking into account the thousands of Black Friday recommendations set to convert into new customers over the coming weeks and months. In Q1 2021, brands acquired 20% more customers through referral than in Q4 2020.
Predictions for Black Friday 2022
Black Friday 2020 was exceptional, and now the market is finding its 'new normal'. We predict online orders continuing to grow approximately 10% YoY for November as a whole, with the rising distrust in traditional advertising causing referral to grow even faster than orders. By 2023, we forecast Black Friday to match last year's levels.
Black Friday referral campaigns
This year, we helped brands across sectors run dedicated Black Friday referral campaigns that would cut through the noise and acquire high-quality customers. Here are some of our favourites.
PRETTYLITTLETHING
HARVEY NICHOLS
ANIMAL FRIENDS
APEX RIDES
Wondering how you can use a data-driven referral channel to hit every critical KPI and accelerate your brand growth in 2022? Download A Beginner's Guide to Referral Engineering® now.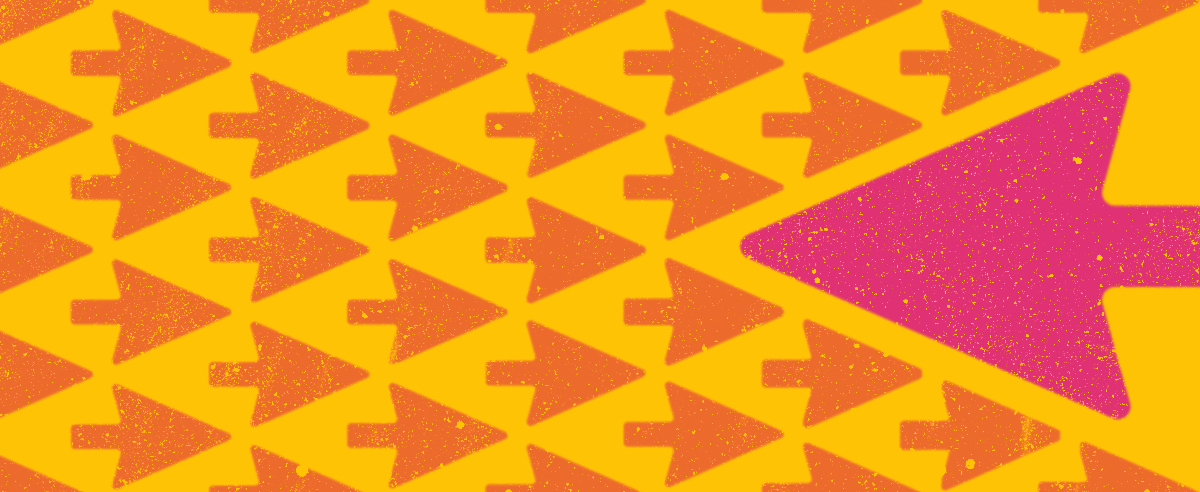 What won't happen next: four anti-predictions for 2022
Never miss another update
Subscribe to our blog and get monthly emails packed full of the latest marketing trends and tips