Referral marketing
What won't happen next: four anti-predictions for 2022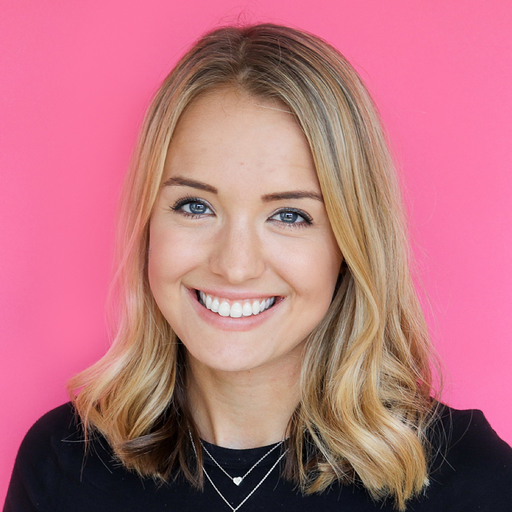 By Sophia King — November 29, 2021 -
Read time: 11 mins
Looking for the highlights? Here are three things you need to know:
Brands will rely almost entirely on zero- and first-party customer data by 2025
Driving efficiency throughout the martech stack is becoming critical to growing ROI
Brands' focus should shift from 'buying' to 'earning' customers

It's that time of year. The leaves crunch underfoot, Christmas tunes are on repeat, and every business and their uncle and aunt is publishing their 'big predictions' for the new year.
***Breaking news***, they yell. Data is important!
STOP PRESS screams another. Customers want good experiences!
We love a prediction as much as the next person, but such prophetic insights often feel a little… obvious (and not all that helpful).
Which got us thinking. What if we wrote about the trends that definitely won't happen next year? The marketing shifts and consumer behaviour patterns you can bet your Christmas dinner won't come up over the next twelve months?
A kind of anti-predictions blog, if you will.
So that's what we've done. Scroll on for our four anti-predictions for 2022.
Anti-prediction #1: Consumers will leap at the chance to share their personal data
Dream it all you want, it's not gonna happen. Consumers are clued up. They use VPNs, ad blockers and other tactics to stop brands spamming them with ads they don't want. Meanwhile, third-party cookies are being phased out quicker than your sexist Uncle Ned from around the Christmas dinner table.
And that's prompting a major shift.
Instead of brands amassing data on customers to serve experiences they might be interested in, consumers are taking back the power. They're starting to tell brands what they want – and going elsewhere if they don't get it.
By 2025, brands will rely almost entirely on the data their customers choose to give them.
While this power shift might make you nervous, it's actually an exciting opportunity.
Rather than shell out on expensive advertising that sometimes acquires customers who might return, you'll be led by your customers. You'll know what they want, and you'll prioritise giving it to them. Get it right, and your database will be full to bursting: 63% of consumers are more open to sharing their data for products or services they truly value. That's a strategy that feels much tighter than vaguely targeting with third-party data and hoping for the best.
But that raises a chicken-and-egg situation in the meantime. If you don't have data on your target consumers, how are you supposed to reach them in the first place?
That's where zero- and first-party data comes in.
Instead of relying on dying third-party cookies, look to channels that collect data directly from your customers – and encourage them to proactively share it with you. Time is of the essence with this one: 88% of marketers have already prioritised collecting first-party data.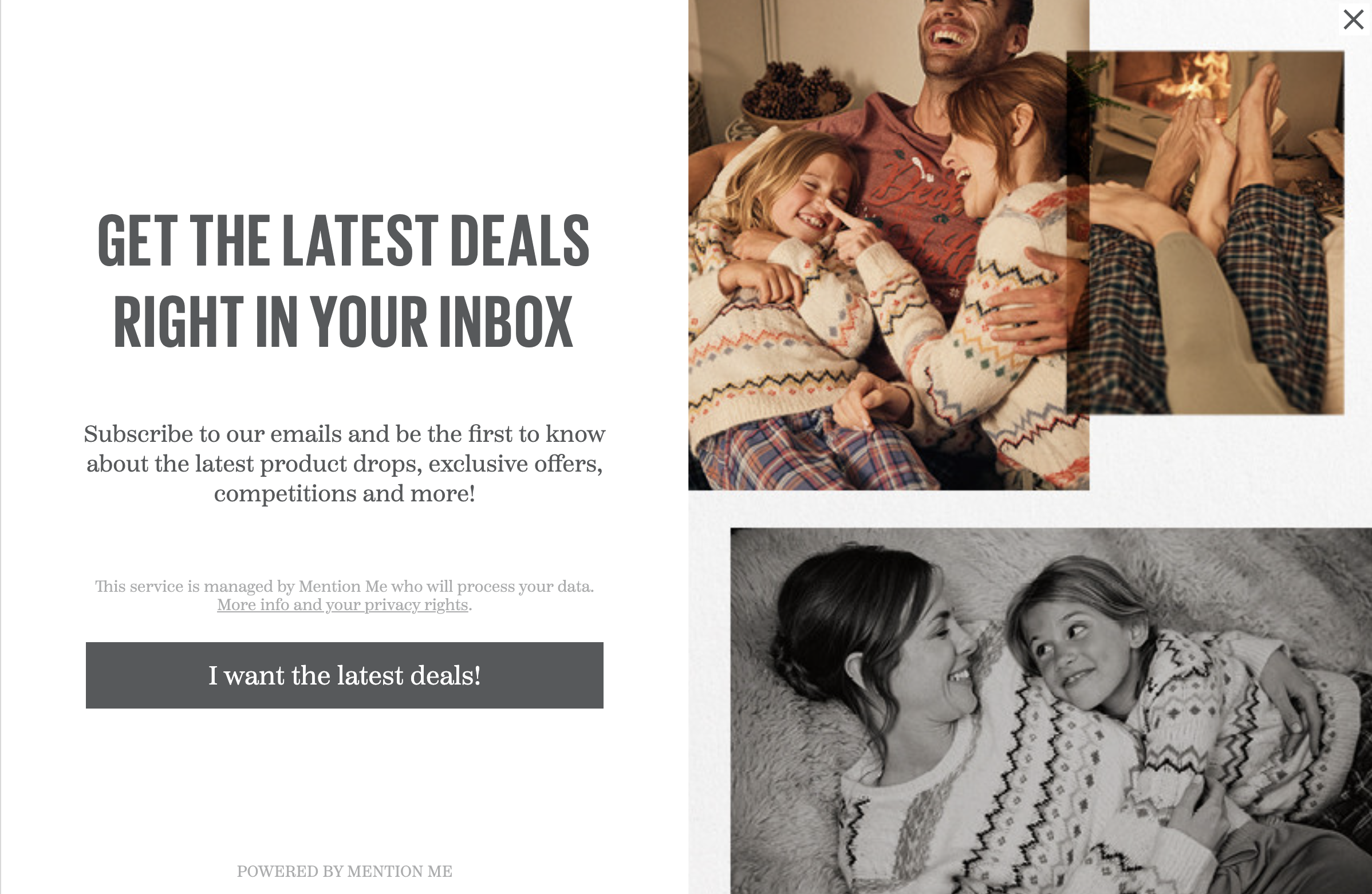 FatFace invites customers to subscribe to emails to nurture brand advocacy
Referral is one such marketing channel brands are using to gather their own data. As well as learning about your customers – identifying your best ones and where to engage with them – it collects data on target consumers before they convert into new best customers. And when they do convert, you know where they've come from. That's pretty jammy.
Things are pretty jammy on the consumer side, too. Instead of seeing irrelevant ads based on details they didn't realise they gave away, they're getting a highly targeted, personal recommendation from a friend. This recommendation means they're highly likely to trust your brand and willingly give you their personal details – especially if there's a referral reward up for grabs.
You can also get creative with how you capture quality first-party data in this near-cookieless age. That's something our partner Vervaunt is doing, helping brands like Pangaia, NIO Cocktails and Sunspel build their CRM databases through dedicated lead generation campaigns. "We're working with brands to set up campaigns that encourage shoppers to sign up to newsletters, complete quizzes that will help find their perfect product, register for a free consultation, and more," says Robbie Wade-Gery, Senior Paid Media Consultant at the agency.
"We've found driving email newsletter sign-ups has been a particularly effective way to build databases following the iOS changes this year. By promoting offers such as welcome discounts or early access to sales, brands can gather consumer data and target these newly engaged email subscribers to drive sales and nurture advocacy. This focus will be pivotal to maintaining quality leads and first party data in 2022."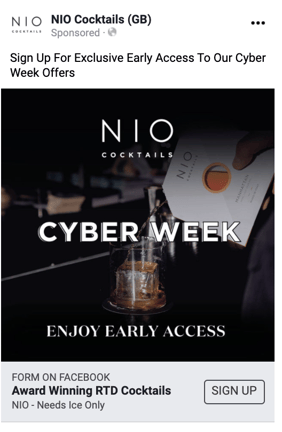 NIO Cocktails is building its CRM database through dedicated lead generation campaigns
The prospect of gaining consumer trust so they give their data might feel like a challenge tougher than your vegan cousin's nut roast, but really it's a win-win. Customers are happy they're only giving data to the brands they trust, and you can give them better experiences that forge deeper relationships as a result.
Anti-prediction #2: It's all about quantity, not quality
Truth time: how much of your hard-earned marketing budget do you spend on acquiring new customers who disappear after their first order?
That much, huh.
For too long, marketers have been so focussed on getting consumers through the door that they've overlooked their quality. Are they buying because they love what you have to offer and can't wait to tell others about it? Or because they finally relented after seeing your seventh advert on Facebook offering a heavy discount?
You breathe a sigh of relief as you hit your target acquisition number for the month, ignoring the daggers from the retention team who know those customers will ultimately cost more money than they bring in.
In 2022, this will come to a head. With paid social and search delivering diminishing returns, businesses will reassess their priorities and focus instead on acquiring high-quality customers.
Customers who not only spend well and return often, but customers who introduce new customers to your brand. Customers with what we call extended lifetime value.
Extended lifetime value = lifetime value + the value of all the customers they've referred
So instead of celebrating acquiring Susan, who splashed out £100 on her first order then disappeared into the abyss, you celebrate Sarah. Sarah only spent £30 on her first order, but she ordered three more times within six months and introduced two new customers who are fast becoming regular big-spenders.
So when Sarah contacts your customer support team with a query, you know to fasttrack her email and make sure she gets a satisfactory response, pronto.
Instead of focussing on high-spending customers, prioritise your brand advocates who introduce others
Anti-prediction #3: It's every channel for itself
The past two decades have seen a major shift in how marketing budgets are spent.
In the noughties, it was all about offline spray and pray – targeting the masses with out of home advertising and PR. That reliance on offline has significantly reduced over the past twenty years, now accounting for about 45% of marketers' spend. The remaining 55% goes into online channels, primarily paid search and paid social.
But these channels are costing more and delivering less.
Combine that with the fact that, according to Gartner's Annual CMO Spend Survey, marketing budgets have dropped from 11% of companies' revenue last year to 6.4% this year, and the pressure is on to get more out of less.
Instead of turning to shiny new marketing tools and gadgets, look at the channels you already have and how they're working together. Just as having Messi, Ronaldo and Neymar on your football team is no good if each of them are trying to do everything themselves, your marketing stack is no good if every channel works independently, ring-fencing its data and ignoring everything going on around it.
(We're practicing what we preach here: over the past year, we've introduced 14 new partnerships with tech platforms and marketing agencies so our clients can drive more value from their martech stacks.)
Focus on channels that not only work well themselves, but that enhance your other channels. SPOKE menswear is an example of a savvy brand doing just that, working with Mention Me and Nest Performance to use Referral Intelligence™ (data gathered through its referral programme) to amplify its performance on paid social.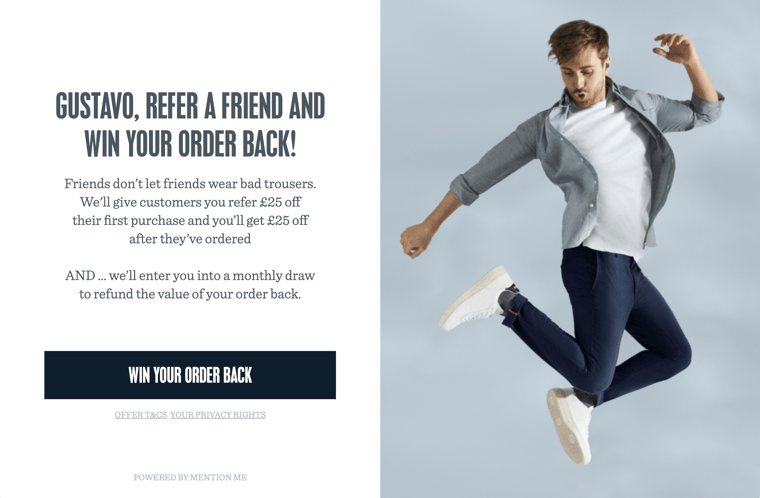 SPOKE menswear uses Referral Intelligence™ to amplify performance on paid social
The results so far have been outstanding. "Within 30 days, the referrer lookalike audience delivered 30% higher ROAS and 12% decrease in CPA vs. our standard seed audiences," explains Sullivan Gimaret, Head of Growth at the menswear retailer. "We can't wait to keep experimenting to see what else we can achieve."
Hone in on the channels that drive efficiency throughout your martech stack, and you'll steadily grow your ROI throughout 2022.
Anti-prediction #4: Consumers prefer to buy from the middle-man
We've written before about the rise of direct-to-consumer (D2C) brands. With consumers trusting less and expecting more when making buying decisions, many are seeking out their favourite brands directly. This became even truer in the pandemic, when 8% of consumers bought online for the first time.
As a result, household names like Puma, Heinz and Panasonic are growing their tech stacks' capabilities to bring their offerings directly to consumers in ways that keep them coming back. Having tools that speak with one another, as discussed in our third anti-prediction, is integral to this.
Our Head of Partnerships, Jocelyn Toonders, explains. "By effectively integrating their tech stack, brands can access insightful first-party data across different channels in real-time to serve engaging customer experiences that increase conversion and drive long-term growth.
"Brands like PrettyLittleThing, for example, have integrated Mention Me with Emarsys, so they're sharing first-party referral data with their customer engagement platform in real-time. This means that instead of basing customer value purely on purchases, they're identifying their truly most valuable current and future customers – those who introduce new customers – and engaging them in an individualised way. Taking this personalised, data-driven approach is critical to growing D2C offerings and differentiating the experience of buying direct versus through a third-party retailer."
There are a number of reasons why you'd choose to focus on going direct-to-consumer. As well as driving up profit margins by cutting out the middle-man of department stores and other retailers, you can entirely own your customer data, from manufacture to sale, and shape their journey with your brand.
On the flipside, consumers can enjoy a better experience tailored to them. Instead of being faced with your competitors fighting for their attention on digital marketplaces, they see only the products they're most interested in, presented in a personalised way.
Nike is a prime example of a brand reaping the rewards of nailing their direct-to-consumer strategy. The sporting giant's move away from department stores and wholesale outlets paid off in the first quarter of 2020, when its ecommerce sales increased by 82%. By Q2 2020, online sales were more than 30% of total revenue.
As more brands discover the benefits of building direct-to-consumer offerings, we anticipate many moving away from third-party retailers with the ultimate aim of selling direct only.
Getting this right, however, relies on the direct relationship being clearly different (and better) than buying through another retailer. By, for example, leveraging customer advocacy to acquire new, high-quality customers predisposed to liking what you've got to offer – and equipping your brand fans to share their experience with others.
So what will happen in 2022?
There you have it: your definitive list of four trends more unlikely to happen in 2022 than a collaboration between Greta Thunberg and Primark.
So, you might be thinking. What will happen?
It's a fair question (especially after the great rollercoaster of uncertainty known as the Covid-19 pandemic). At risk of being hypocrites, we do have one prediction for 2022 – and it's one we're almost certain on.
In 2022, smart businesses will be talking about their earned growth rate: the revenue growth generated by returning customers and their referrals. This evolution of NPS, dubbed Net Promoter 3.0 by Fred Reichheld, inventor of the scoring system himself, will provide brands with a clear, data-driven connection between customer success, repeat purchases, word of mouth recommendations and business results.
Rather than focussing on 'buying' customers through advertising or other paid means, savvy marketers will focus on 'earning' new customers through referral and reputation. Growing customer advocacy will be the number one priority in 2022. As well as driving cost-effective, long-term growth, this will instil a truly customer-centric approach, inspiring every team to serve experiences that encourage customers to come back for more – and bring their friends with them.
And with that, we predict more marketers will realise the power of referral as a critical marketing channel for their growth strategy. By 2032, we anticipate the referral market to triple in size and be worth $30bn.
If you offer a great product and service, there's a good chance you're already ticking the boxes for earned growth without knowing it. Your customers could be talking about you to their friends right now – and you could be missing out on high-quality new customers.
Which brings us onto a suggestion for 2022. If you don't have a precision-engineered referral programme, get one. By underpinning referrals with data and behavioural science, you can open a high-performing channel that amplifies your entire martech stack. Getting started couldn't be easier: just click the button below.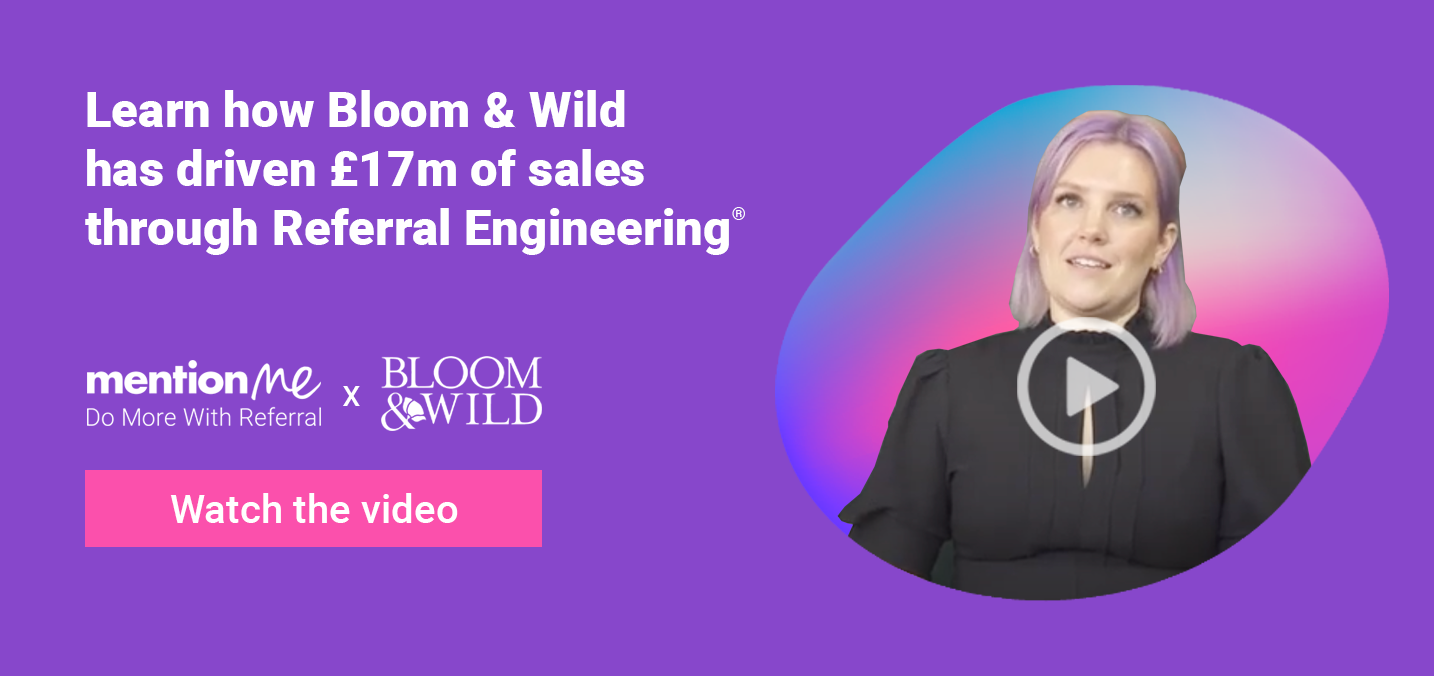 "It was exceptional": How Bloom & Wild has generated £17m of sales through Referral Engineering®
Never miss another update
Subscribe to our blog and get monthly emails packed full of the latest marketing trends and tips