Discover the world's first Customer Advocacy Intelligence Platform
Cutting-edge AI powered tech that identifies, nurtures and activates customer advocates to make you a winning business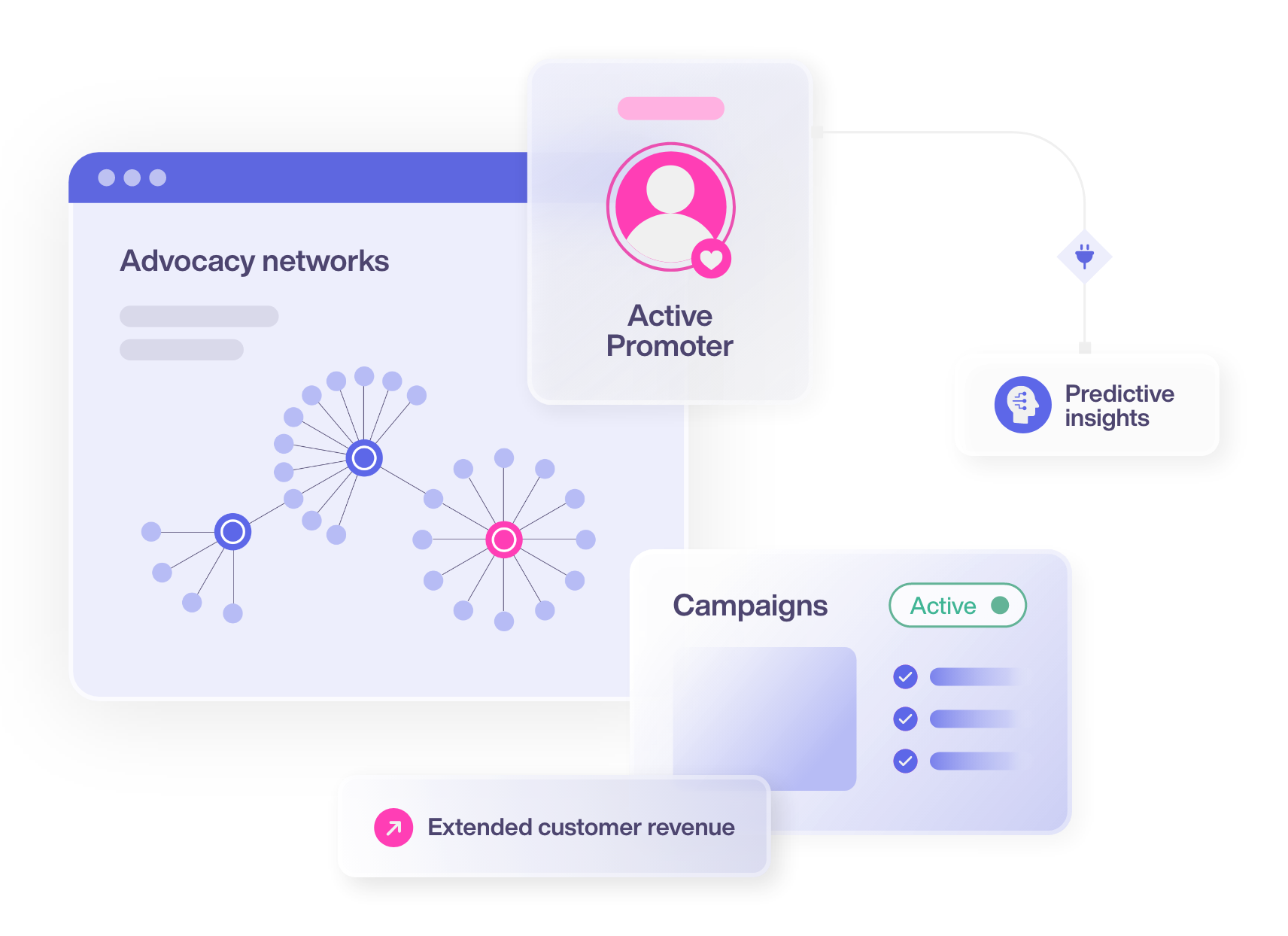 Struggling to keep customers coming back?
You're not alone. All too often, brands find themselves trapped in a race to the bottom, offering endless discounts to keep customers returning and spending more. But it doesn't have to be this way. With an advocacy-first approach, you'll turn customers into loyal fans who drive superior economics and prime your business for success – now and in the future.
Relying on heavy discounts and expensive paid marketing channels to drive repeat purchases
Harnessing the power of your fans to drive profitable revenue and sustainable growth
Identify, nurture and activate brand fans across your channels
For brands kick-starting customer advocacy within their base, revealing advocacy insights
Benefits
AI powered, multi-channel referral experiences
Win and retain loyal high-spending customers
Reduce your reliance on paid acquisition
For customer leaders wanting to maximise revenue and profitability from their base through the power of customer advocacy
Benefits
Identify, nurture and activate brand advocates within your base at scale
Activate fans and promoters by integrating first-party advocacy data across your marketing stack
Dig deeper into your advocacy networks to maximise value from every type of fan
For enterprises driving customer advocacy across multiple geographies and brands, or with bespoke service requirements
Benefits
All the advanced Advocacy capabilities, with multi geo/brand deployment
Drive advocacy marketing consistently across your brand portfolio
Build flexible support arrangements for distributed teams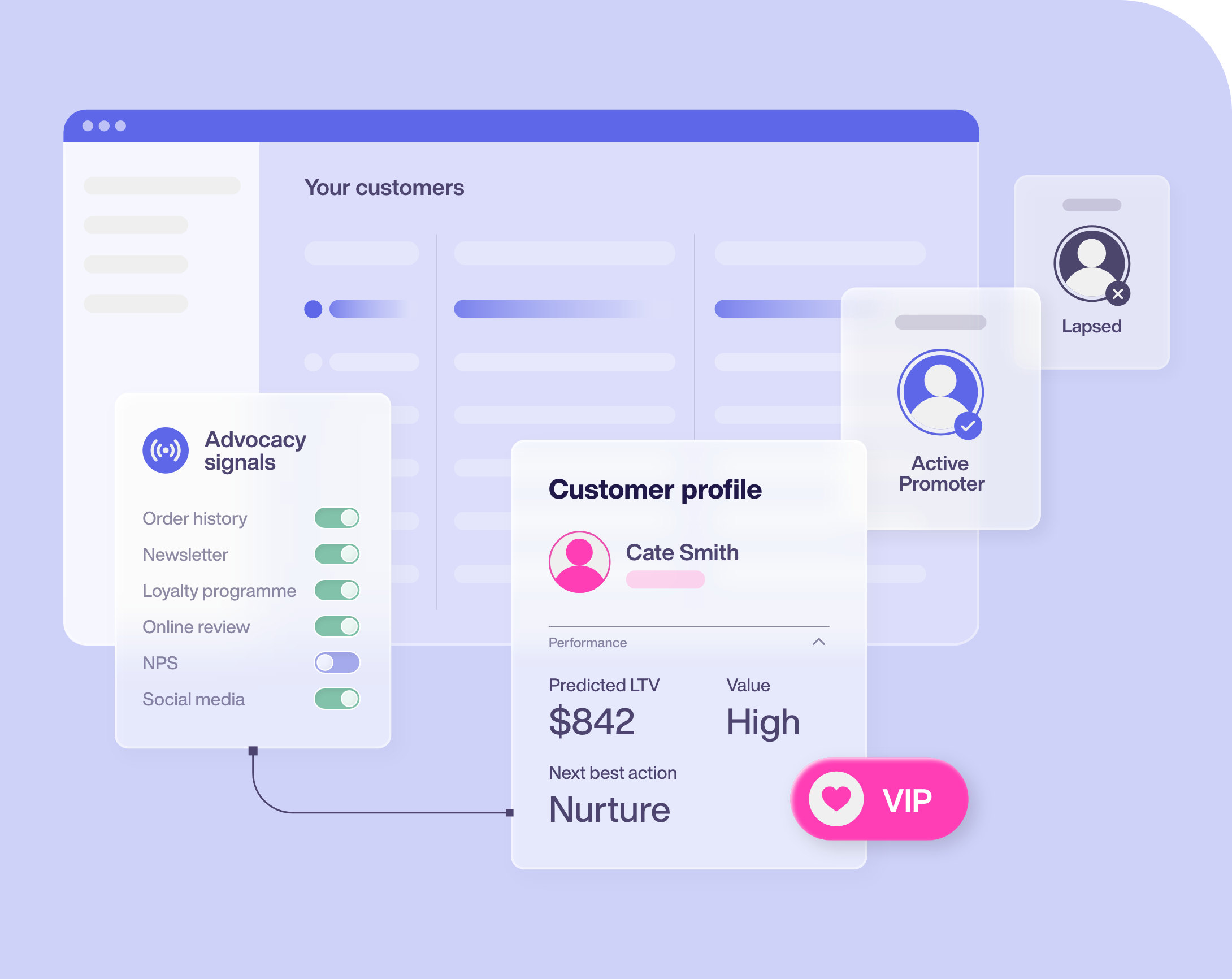 Identify your brand advocates
Discover your brand fans and acquire more like them with AI-powered referral and advocacy intelligence.
Build a blueprint to profile your best brand advocates

Grow your customer marketing database

Generate first-party referral data to track advocacy behaviour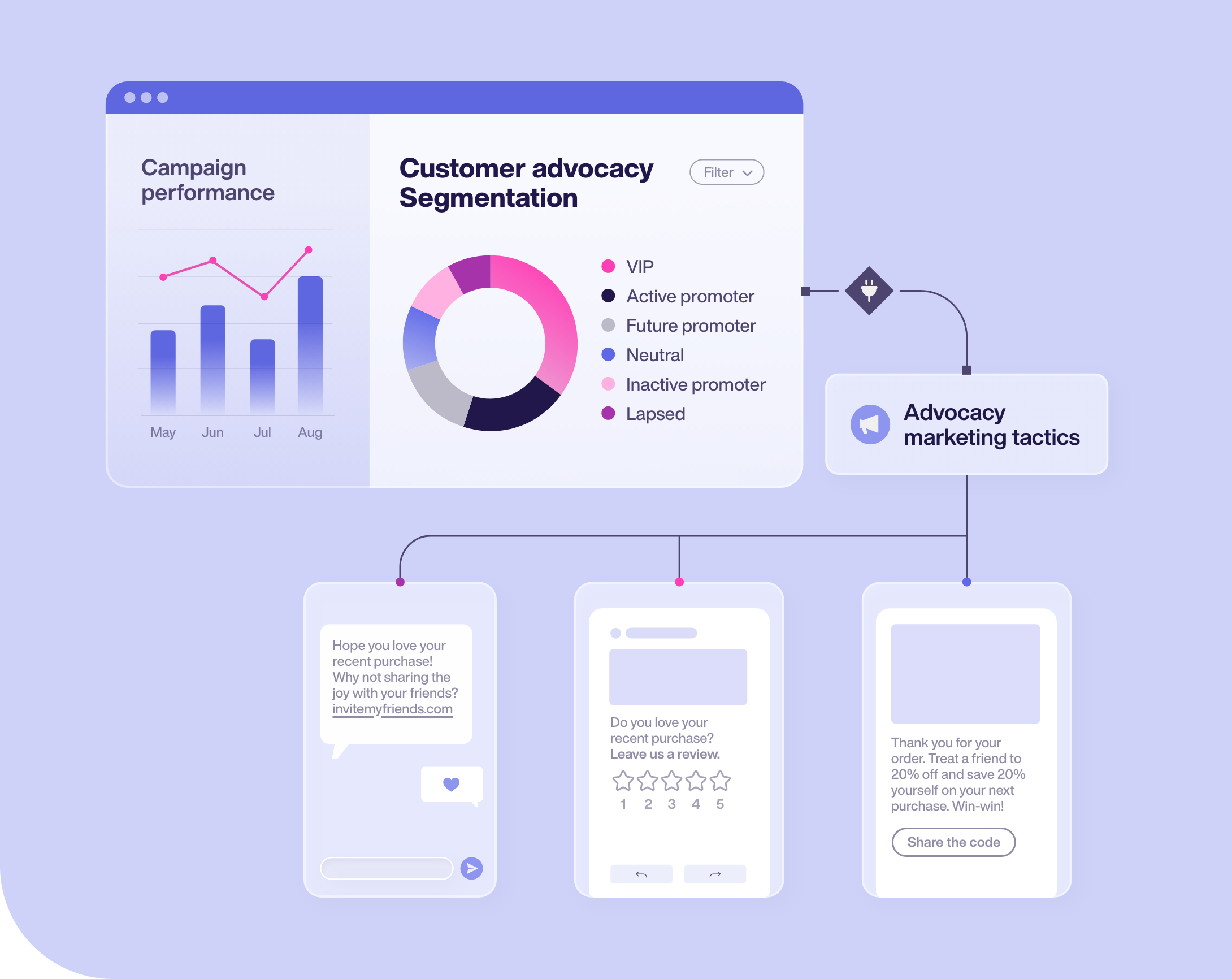 Nurture and activate brand fans
Engage brand advocates through targeted CRM campaigns using advanced advocacy insights to enhance customer experience and retention strategies.
Improve segmentation and personalisation via marketing automation workflows

Increase repeat purchases and extended customer revenue (ECR)

Create lookalike audiences for paid social and PPC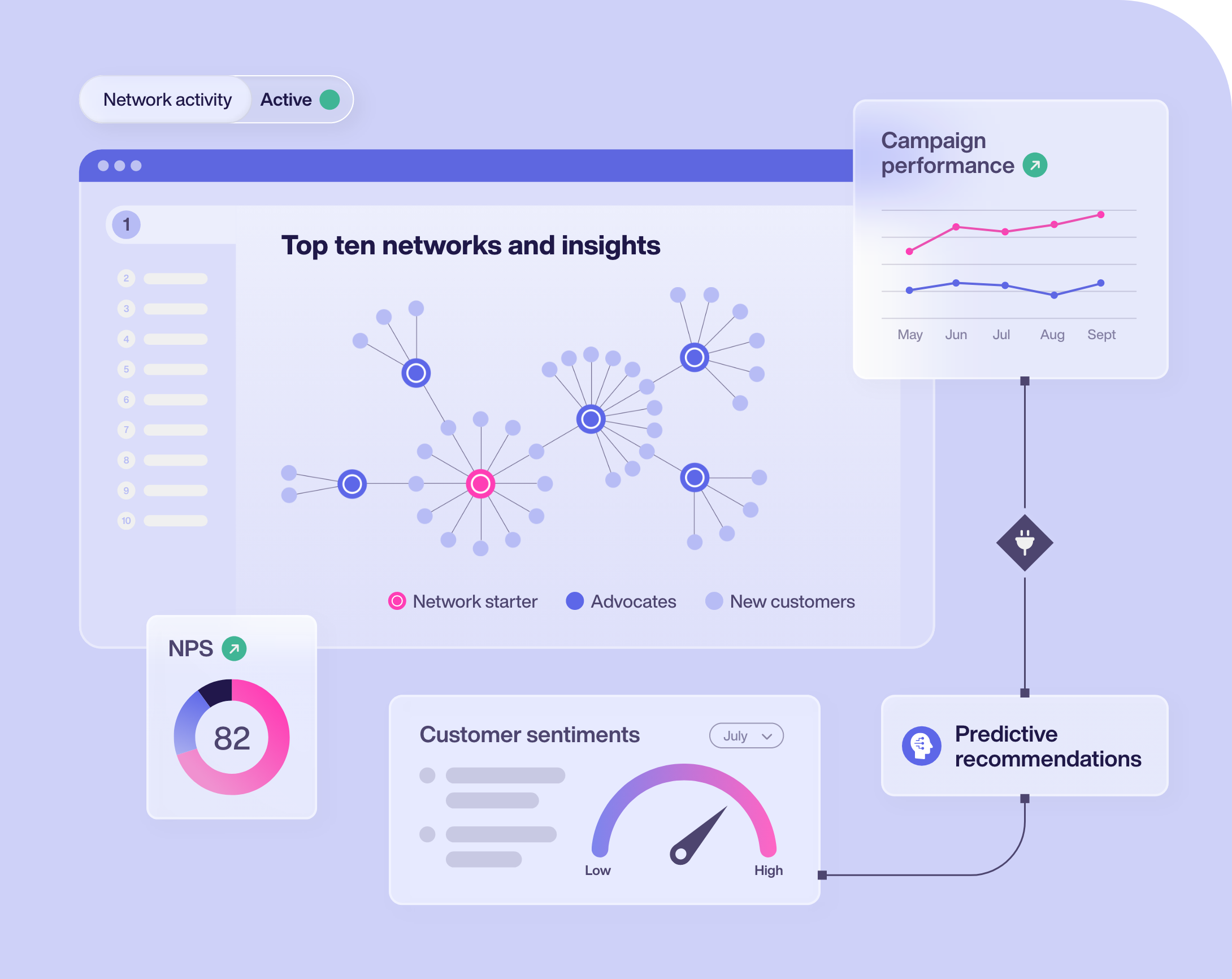 Scale your advocacy engine
Re-balance your marketing strategy by earning, rather than buying, growth. Improve customer satisfaction, retention and lifetime value through a continuous cycle of customer advocacy.
Deliver next best actions through predictive advocacy insights

Understand the networks and communities of your best advocates to make smarter decisions

Measure earned growth and drive sustainable, organic revenue

"We've always known that word-of-mouth is an important marketing channel for building trust among our target consumers, but we hadn't found a way to track and measure its impact – until now."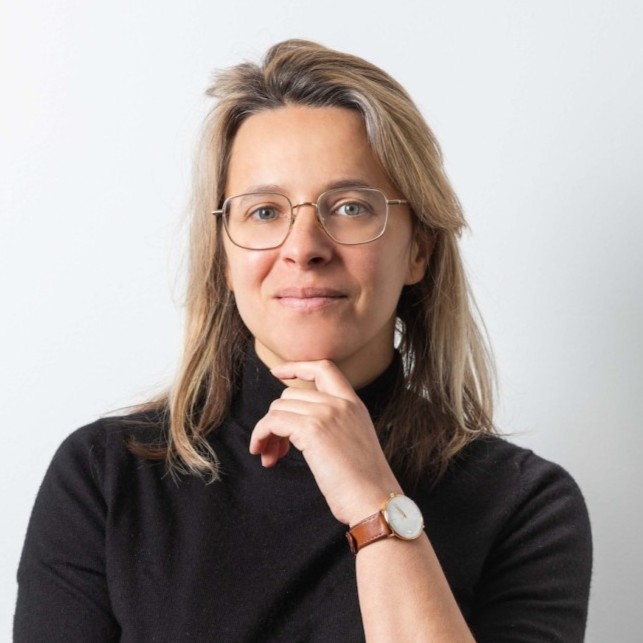 "By integrating advocacy data, we've changed how we segment and communicate to our customer base. It's helped us identify who our biggest advocates and most loyal customers are, helping us to overcome rising paid media and acquisition costs."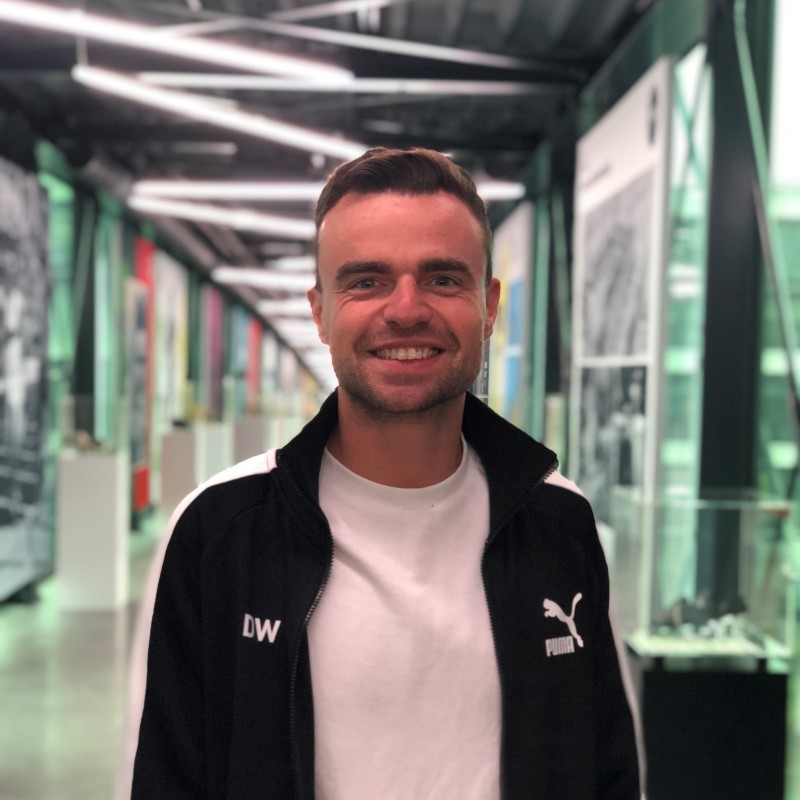 David Witts
Senior CRM Manager, E-Commerce Europe

"Ultimately, leveraging customer advocacy is helping to increase top line revenue and maximize ROI across our marketing mix."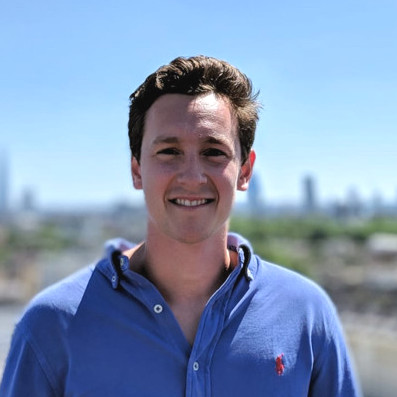 Harry Symes-Thompson
Marketing Director
Resources to get you started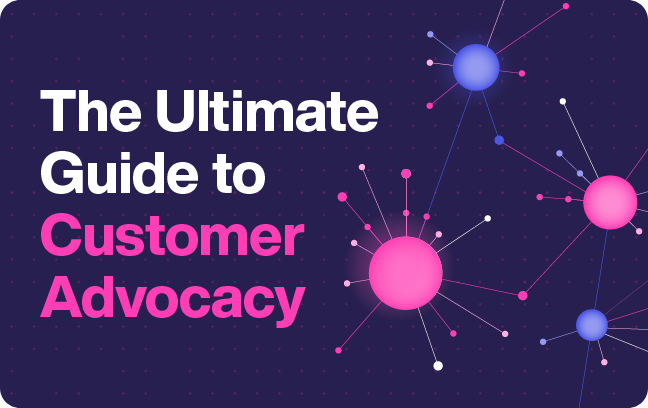 The ultimate guide to customer advocacy
Discover strategic guidance, insights, tactics and roadmaps to help you transform your customer economics.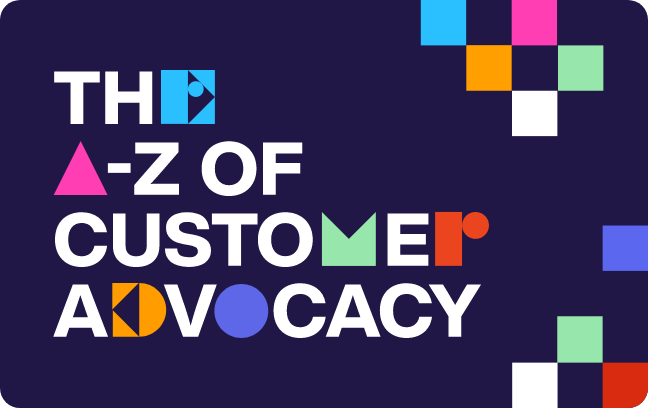 The A-Z of customer advocacy
Ready to shake up the marketing status quo? Download our ebook to discover how to turn customer advocacy into an unbeatable growth channel.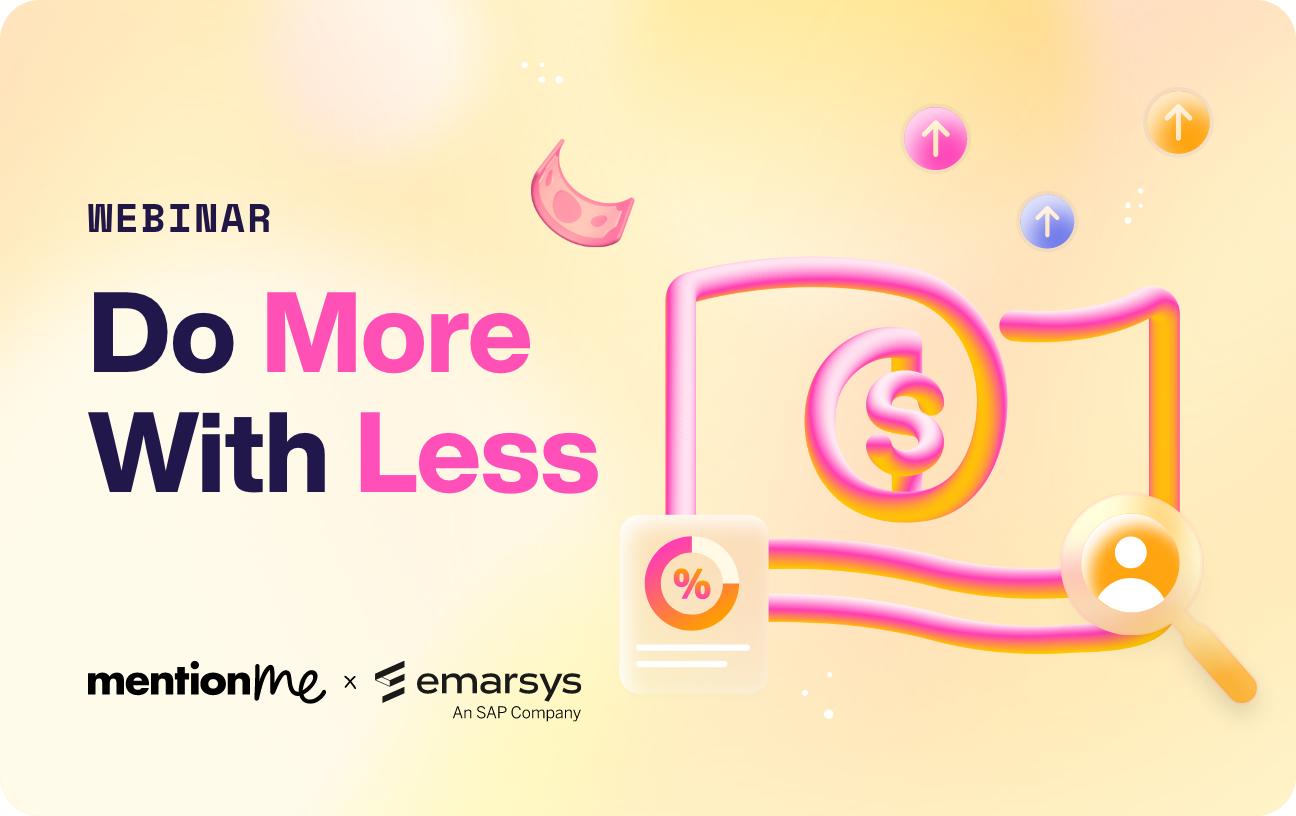 Do more with less through the power of customer advocacy
Discover how to drive maximum value from your budget in the face of declining resources and rising expectations.