Engage current (and future) advocates to grow your business
Unlock a high-performing channel and amplify your martech stack with Referral Engineering®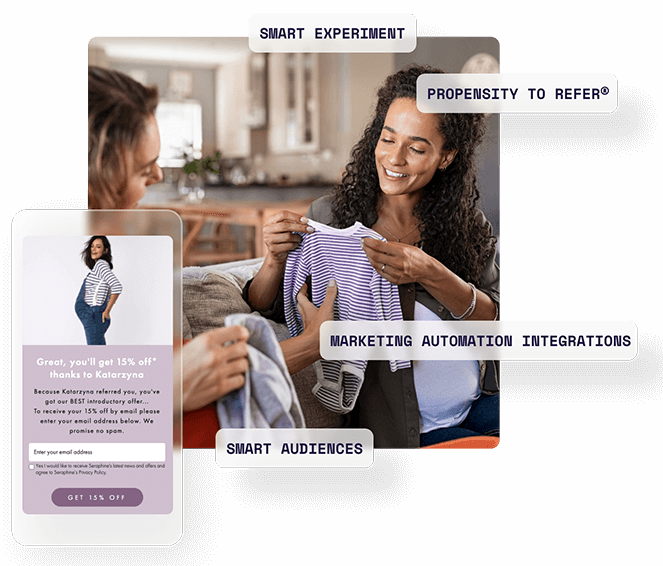 15%
15% lower CPA for referrer lookalike vs. next best lookalike audiences
(Client: Seraphine)
8%
Increased customer acquisition by 8% in 3 months after switching from in-house to Mention Me
(Client: Kencko)
30%
Improvement in return-on-ad-spend (ROAS) by using referral data
(Client: Spoke)
5x
High propensity to refer customers share the brand 5x more with friends
(Client: FatFace)
Choose the right advocacy package for scaling your business
Turn customers into cheerleaders with our advanced Referral Engineering® features
For brands who are looking to build a sustainable and cost-effective acquisition channel by unlocking the exponential power of their fans.
Acquire leverages referral data and best-in-class experimentation to truly understand each consumer on their advocacy journey and ensure each interaction counts.
Our Acquire package includes:
Identify and acquire high-quality customers with A/B test by cohort

Experiment with every element of your referral customer journey, including incentive, design, copy, or imagery, so you can learn what resonates with your customer segments and optimise performance.

Capture everyday conversations with Name Share®

A unique feature that typically accounts for 34% of all referrals. Let customers refer simply by telling friends to 'enter my name at checkout'. Maximise referrals in a highly personal and authentic way that allows you to track and leverage offline conversations.
Improve your marketing with Referral Intelligence®

Enrich your existing data with insights to understand what makes your best customers tick and boost your referral programme's performance and other channels.

Discover which customers are truly your most valuable with Extended Customer Revenue
Reveal your customer's individual spend plus the spend of their referrals to get a 3D view of the value they bring to your brand. Use these insights to create better segmentation to ensure you deliver the best experience to the right audience.
Discover what good looks like for your referral programme with Benchmarking Intelligence

Understand how well your programme is really performing by comparing to and learning from other companies in your industry. Remove the guesswork and be empowered with the insights you need to make better strategic decisions and generate faster returns.

See everything you need to know about your programme at a glance with our Executive Dashboard
See all your programmes key metrics in one place, revealing the value being driven and opportunities for engagement, retention and new customer acquisition.
Unlock deeper insights and make better decisions with our Performance hub

Explore the deeper insights that surface from your programme's performance with our new Performance hub and reveal areas for growth, engagement, retention and new customer acquisition.
For brands looking to transform customer advocacy into an optimised, multi-channel acquisition strategy.
By harnessing a brand's most valuable data - your advocacy DNA - and powerful machine-learning, Optimise supercharges other key business goals, such as conversion rates and retention levels across marketing channels.
With Optimise you can move beyond referral to true advocacy-first sustainable growth, driving increased ROI across the marketing mix.
Our Optimise package includes all functions of Acquire, and:
Drive referral growth and next best actions with Smart Experiment powered by Propensity to Refer®
Adjust your targeting strategy based on what you know about high and low-propensity customers. Lower CPA costs while driving other business goals, like retention and growing marketing database.
Take performance to the next level with our Marketing Automation Integrations

Feed first-party referral data into other platforms in real-time to serve data-driven experiences that acquire, engage and retain your biggest fans.

Supercharge your paid marketing strategy, lower CPA, and increase ROAS with Smart Audiences

Target high-converting referrer lookalike audiences on paid social to reach future brand fans in record time and ramp up conversion rates.

See how your website order volume compares to the industry average with Order Intelligence

Monitor fluctuations in your online order volumes and see whether these are also being mirrored across your industry to take appropriate action.

Uncover additional advocacy insights with our Executive Dashboard
See the additional value being generated through activating first-party referral data and pushing advocacy insights through your marketing stack, helping to reduce CPA and increase ROAS.
*All functions of Acquire and advanced Referral Engineering® features
Learn more about the features
Acquire:
Maximise performance with Acquire
Use referral data to amplify your martech stack with Acquire
Access to our smarter platform with Acquire
Optimise:
Maximise performance with Optimise
Use referral data to amplify your martech stack with Optimise
Access to our smarter platform with Optimise
Smart Experiment powered by Propensity to Refer®
Optimise your performance with Smart Experiment powered by Propensity to Refer®
Optimise your performance with Smart Experiment powered by Propensity to Refer®

"We're increasing repeat purchases and acquiring high-quality customers through referral. Propensity to Refer® machine-learning adjusts our targeting strategy, showing our customers content they're more likely to engage with and delivering data-driven insights. I can't wait to see what we achieve next."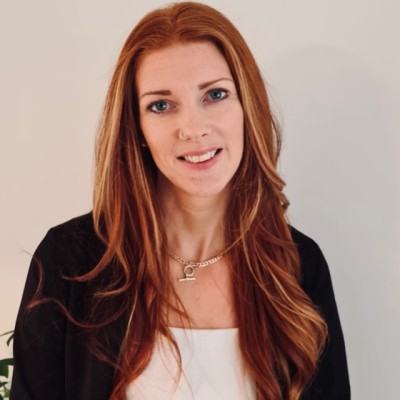 Linda Cusack
Digital CRM Manager

"Within a month of implementing Propensity to Refer®, we learned that high propensity customers are 4x more likely to refer friends. Low propensity customers are 14% more likely to buy again when offered a discount on their next order. Optimising our marketing strategy using referral data is playing a key role in engaging and retaining customers while growing our community of brand advocates."

Paul Gallagher
Head of Growth Marketing

"Since switching from in-house referral to Mention Me, we're acquiring 4x more customers through this channel and serve a smoother and more sophisticated journey."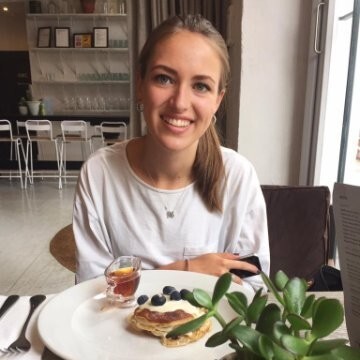 Hannah Graham
Senior Growth Manager
Never miss a new feature
Stay up to date with our latest developments in our Product Roadmap – and submit your suggestions for how we can make our platform work even better for you.
Take me to the roadmap >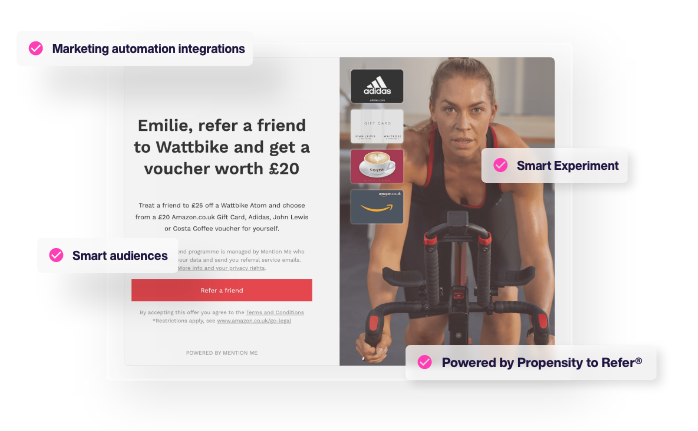 "Through 2022 we will develop Referral Engineering® & Referral Science® to make Referral a core marketing channel which provides indispensable advocacy insights and data that can be used to optimise the marketing technology stack. We will be at the forefront of innovation in Customer Advocacy, empowering brands to truly build a business which puts the needs of the customer first."
Roy Robinson, CPO at Mention Me
Resources to get you started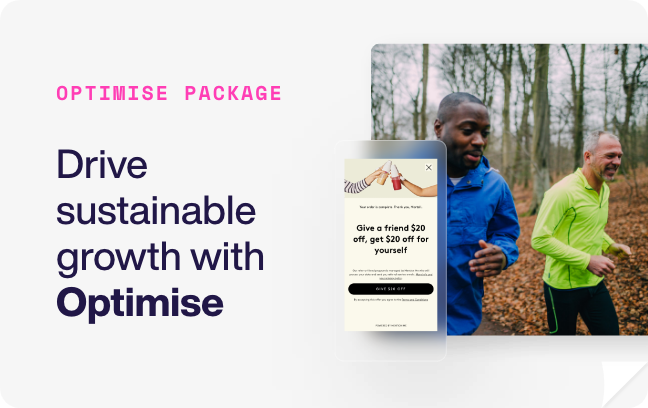 Optimise package
Drive sustainable growth through a multi-channel referral programme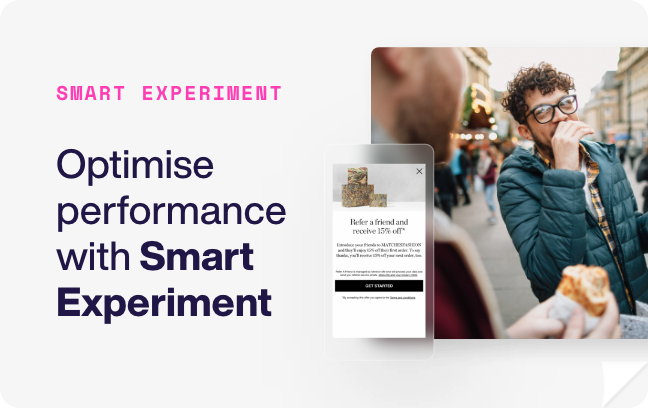 Smart Experiment
Achieve business goals in record time, powered by Propensity to Refer®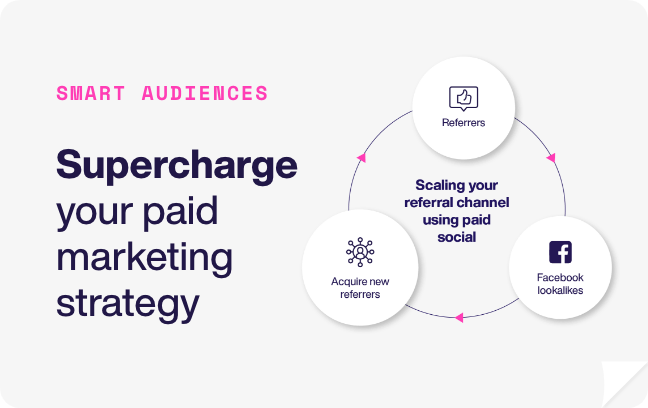 Smart Audiences
Target high-performing lookalike audiences on paid social
Stay in the know
Subscribe to our blog and get monthly emails packed full of the latest marketing trends and tips