The A-Z of Customer Advocacy
The A-Z of Customer Advocacy: K is for KPIs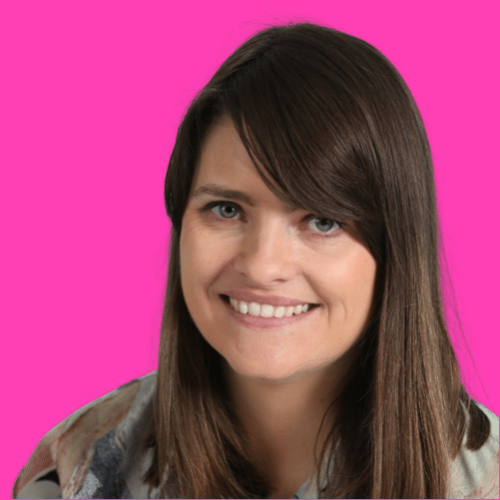 By Chloe Nicholls — February 14, 2023 -
Read time: 3 mins
How do you measure the success of being a truly customer-centric business?
When setting the KPIs for your customer advocacy programme, consider your wider business goals. That might be acquiring new customers, retaining existing ones, enhancing the customer experience, or a combination of all three.
Your stage in the advocacy journey will also influence the KPIs that determine the success of your referral marketing campaigns. As you can see in the below chart, the curve extends from referral marketing as a standalone channel to harnessing customer advocacy as a holistic CX strategy.
Tracking referral funnel metrics to maximise conversion rates
If, for example, you're starting out on the advocacy journey, you'll likely launch your first refer-a-friend marketing campaign with the goal of acquiring new customers and growing referrals.
The metrics and KPIs you'll track and measure will feed into your broader marketing funnel. Our campaign performance tools will help you understand the conversion rate of your campaigns.
By measuring the volume of customers who interact with the referral journey and seeing how they move through (or fall out) the referral funnel, you'll be able to identify where to focus on improving performance.
Below is an example of which KPIs to measure the success of your referral campaign for each stage of the customer journey.
Benchmarking in the platform shows the conversion rate of each step in the referral funnel
Your Referral Metrics Cheat Sheet
| | |
| --- | --- |
| Impressions per order | The ratio of offer impressions to number of orders. This number is what you would call the "top of your referral funnel". |
| Enrolment rate | This metric measures the number of potential referrers who have signed up to a referral offer. Enrolled referrers are a very important metric used as the denominator to calculate the share rate. |
| Share rate | This metric records how many unique referrers have shared the referral offer during a specific time period. It represents the percentage of your brand advocates who have shared your brand with their friends. |
| Shares per sharer | This metric tells you the ratio of number of sharers by number of shares, which indicates how wide spread your brand is being recommended by your brand advocates. |
| Responses per share | This metric tracks the numbers of responses to a share. They can be clicks on referral sharing links or name share searches. This metric demonstrates how many potential new customers have engaged with your brand. |
| Incented per response | This metric tells you the number of friends who registered to the number of share responses. When analysing your referral funnel conversion, this metric will help you understand how many potential new customers either registered and did not claim or went on to make a purchase. |
| Purchased per incentive | This metric records the number of referees who become new customers i.e. (once they've ordered for the first time). This means you have officially acquired new customers through your customer advocacy campaign. |
| Purchase rate | This metric measures the rate at which shares convert to new qualified customers and demonstrates the strength of your customer advocacy programme. |
Once you have your referral campaign up and running, you can use first-party advocacy data to turn brand fans into an unstoppable growth engine.
Making faster and better decisions with customer advocacy insights
Faced with limited resources and budget, knowing how your referral campaigns are performing is crucial to maximising efficient, sustainable growth.
As you juggle your time between customer retention updates and campaign launches, our recently launched Executive Dashboard provides a snapshot of your customer advocacy programme, without having to dive too deep into the platform.
You'll quickly identify:
How your brand is performing overall

Which campaigns are generating most value and revenue

Where there are opportunities to optimise and improve performance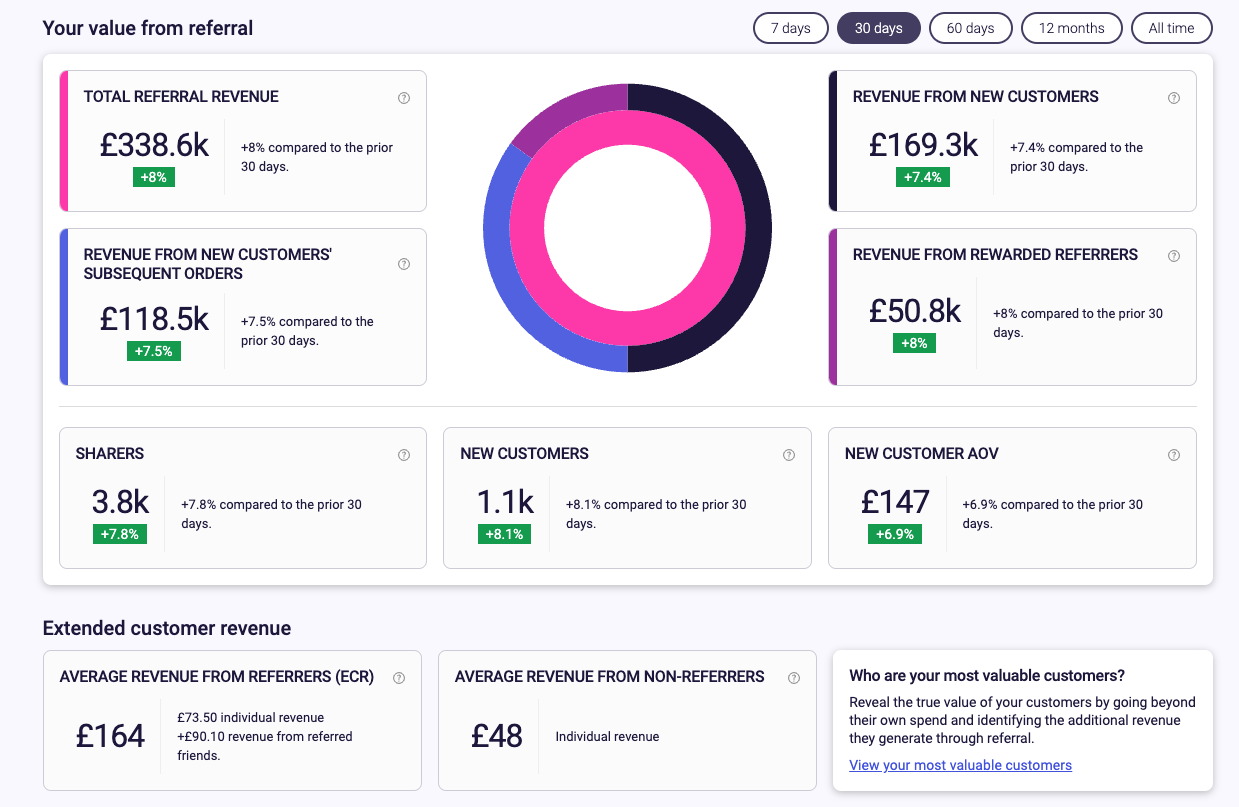 The Executive Dashboard in the Mention Me platform
Having key metrics and KPIs in a single view provides tracking and reporting that empowers smarter, faster decision-making for all your campaigns.
Optimising campaign performance to supercharge acquisition and retention efforts
In a time of economic uncertainty, improving customer retention is more important than ever for brands to keep their customers happy, engaged and continue to make repeat purchases.
The widely used NPS (Net Promoter Score) gives you a glimpse into this, revealing how likely your customers are willing to recommend a brand or service to their friends. But its creator Fred Reichheld believes its time brands took this a step further, driving their promoters to actively introduce new customers. (Take a look at our exclusive video series to learn more about Fred's views on the evolution of marketing, the importance of measuring customer love, and the role of referrals plays in customer advocacy.)
As part of this evolution to 'NPS 3.0', Fred coins the new metric Earned Growth Rate which measures the revenue growth generated by returning customers and their referrals.
As you strive to acquire better quality customers, this metric equips you to quantify the impact of truly putting customers at the heart of every business decision.
By identifying those customers sharing your brand with their friends, then actively tracking and measuring the revenue generated, you'll unlock a channel of sustainable, organic growth without spending a penny on marketing.
The Earned Growth metric flips your marketing strategy on its head. It shines a light on the customer advocates building an exponentially expanding network of loyal fans for your brand.
Curious about how to kick start your customer advocacy programme? Grab your copy of the A-Z of Customer Advocacy eBook or get in touch with our expert team now.

The A-Z of Customer Advocacy: B is for Best Customers
Never miss another update
Subscribe to our blog and get monthly emails packed full of the latest marketing trends and tips