You have a great product. Your customers love your brand. So how do you harness this great sentiment and translate it into customer advocacy? A referral marketing scheme is the obvious starting point to encourage happy customers to pass on a recommendation via email or social media and translate this into new sales.
We help many brands do just that, but there might be one stumbling block which might prevent advocacy actually turning into an uptick in sales.
Inertia.
Firstly, your customers have to actually access their email or login to their social media profiles to share a link. Then, their friend might be interested but something gets in the way and they don't action the referral right away. We looked at this in our recent post regarding Moments of Truth in the customer journey.
By the time they are back in the market to buy, they can't recall where they saved the referral link.
What would be really cool would be if customers could just share a referral in a conversation without the need to give a code or link.
Impossible right? Actually, we have the power.
We have developed unique way for customers to share the brand in natural conversations. It's called Share by Name.
"I love your new outfit / sofa / make up. Where's it from?"

"It's a great brand! As you're my friend, you can get this offer. Just mention my name at the checkout"
And it really is as simple as that. (for the customer; our tech team would balk at the description of simple).
Their friend can enter their name in the online shopping cart, and we identify their referring friends details and attribute their introductory offer.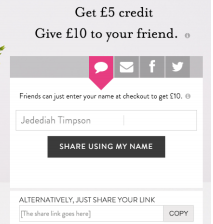 Sharing by email and social media are certainly important for referral marketing success, but Share by Name can take your results to another level. Working with our clients we have found that up to 30% more referrals happen because name sharing is an option.
Sounds too good to be true? Watch our short video and see how we can help you capture word of mouth in real time.