You've done your homework. You've researched marketing channels and know your business could acquire 30% more customers with the right referral provider. Now you just need to find it.
Except now you're looking into it, you realise there are a lot to choose from. Each referral provider has its own unique selling points, complete with various pros and cons. All you want is one that'll make your brand look good to customers, and you look good to your boss. But finding the right one is starting to feel like a full-time job of its own.
If all this sounds familiar, we've got you covered. Read on to discover the 12 questions to ask any potential referral providers, complete with the answers you should be looking for – and the ones you should run a mile from.
How much work is it to set up?
Before signing that dotted line, make sure you know exactly what setting up your referral programme will involve. Referral providers offer varying levels of complexity and support with set up, so making sure you have the right resource – people, skills, time – to get up and running is essential. Otherwise you could end up buying a referral programme that never gets going.
To give you an idea of what set up can involve, our integration requires adding a couple lines of Javascript. On average, we get clients live in 30 days, although it can be less than a week if you're quick to provide the required assets. And if you want to launch referral across plenty of touchpoints, good news. That's as simple as copying and pasting a tag into the relevant pages on your website.
Can I see a demo?
Just like you wouldn't buy a car without taking it for a spin, you shouldn't agree to a referral platform without seeing how it'll look to your customers. Ask if you can see a demo. If the answer is no, end the call as soon as possible. If the answer is yes, tune in and keep your eyes peeled. Does the programme fit seamlessly into your customer journey? Does it look on-brand? Or does it feel like a clunky add-on?
The most effective referral programmes run smoothly as part of the customer journey, enhancing (not damaging) the shopping experience. Bear this in mind throughout the demo and ask yourself: if I were a customer, would I click through and refer a friend?
You might also find it useful to see a live referral programme on a client's site as a real customer yourself. Next time you're shopping and see a referral overlay you like, look out for the provider's name. We've welcomed a number of new clients after being spotted out in the wild.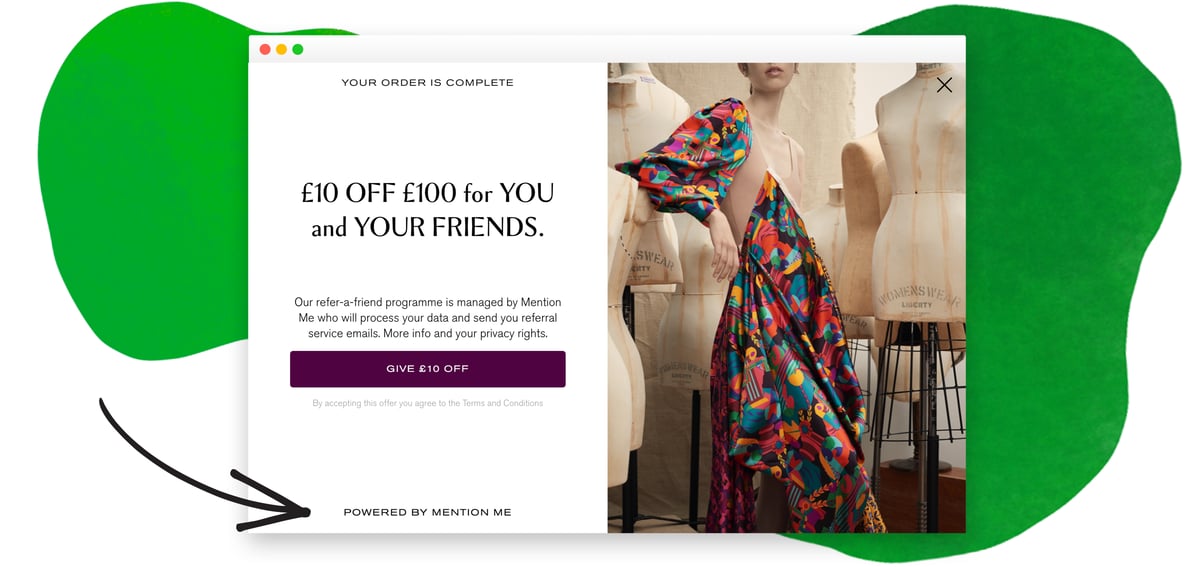 A referral overlay powered by Mention Me
What kind of results can I expect?
Any referral provider worth your time (and budget) should be able to give a business forecast outlining the ROI you can expect from your programme. The best providers will map your forecasted results to your business goals and the metrics you measure success against. If, for example, new customer acquisition is a priority, they'll focus metrics around how much referral could uplift that by.
If those forecasted results look too good to be true, ask to see case studies for businesses like yours. In fact, ask to see case studies whatever your forecast. These real life examples of how referral is performing for other brands will give valuable insight into how it could work for your business.
There are, however, a couple of things to bear in mind when talking predicted results:
Every business is different. Countless variables can influence your referral results: your sector, your incentive, promotion points… the list goes on
Referral programmes take about six months to really gather pace with A/B testing. Our clients typically acquire twice as many customers in months 7 to 12, compared to the first six months
Optimising your programme is crucial to driving maximum value. You could have the finest, most impressive referral platform out there, but if you're not optimising it, you may as well have gone for the bog-standard version. Which brings us nicely on to our next question…
As your referral programme gathers pace and optimises, your business will exponentially grow
How important is A/B testing?
If you don't have enough monthly orders to achieve statistically significant results from A/B testing your referral programme, you're wasting your time. Any referral provider that tells you otherwise is simply looking to make a quick buck.
But the devil is in the detail here. A/B testing alone won't make your referral programme fly. The question you really need to ask: do you do A/B testing by cohort?
Without A/B testing by cohort, you'll simply be running tests one after the other, with no real way of knowing what's influencing your results. Sure, it could be your new incentive increasing referrals, or it could be that summer is around the corner. Even worse, you'll be serving an inconsistent customer experience likely to cause a flood of complaints when shoppers see different referral rewards across your site.
With testing by cohort, however, you can know for certain which variables produce what results. You can also identify which variables acquire higher quality customers; those shoppers who keep coming back and introducing others. By continually experimenting with every element of your referral programme, you can quickly learn what makes your customers tick. Then you can apply these findings to your entire marketing strategy, from updating your website imagery to tweaking your email copy.
That's not all. A/B testing by cohort also lets you find the most effective referral reward for driving both new customers and profit. While a higher incentive might drive more customers to share your brand, you may find that the lower incentive offers similar returns in terms of number of referrals that result in new customers. So you can protect your margins by going with the smaller incentive, safe in the knowledge that you're not losing out on new customers.
How will you make sure we only reward genuine referrals?
Picture this. You proudly tell your boss that your referral initiative has delivered 3,000 new customers this month. "That's great," they say. "But how do you know all those referrals are genuine?". And just like that, your fantasies of a generous bonus vanish into a puff of smoke.
Ask your potential referral provider this question before your boss can, and make sure your business forecast only factors in genuine referrals. There's no point getting sign-off on an impressive forecast if it's not fully legit. You want to launch your referral programme with full confidence that you're only rewarding genuine referrers and new customers.
A good provider will respond to this question with an explanation of what they use as a unique identifier. Mention Me, for example, uses customers' email addresses.
Do you have a name-sharing feature?
When you start talking sharing methods with your potential provider, drill down into the specifics. There are plenty of ways customers can share your brand (we offer 17 sharing methods and counting), but it's important to use ones that will resonate most with your customers. Rather than guess what these methods are, A/B test to know for sure.
There is, however, one method that outshines them all: Name Share™. It accounts for a whopping 34% of referrals across our 450-strong client base.
Name Share™ lets customers refer your brand simply by telling friends to enter their name at checkout for an exclusive reward. Without it, you'll miss out on everyday conversations about your brand. Telling someone to enter code Xkl82BmD9n-0 after they compliment your trainers doesn't quite roll off the tongue the same way.
A referral overlay for Pangaia inviting the customer to use Name Share™
How much support will you give my referral programme?
Make sure you're clear on how much hands-on support you'll get once your referral programme is up and running. Will you get strategic guidance on A/B testing? Will you have to create your referral designs in-house? Will you have to manually pull and analyse reports?
Most referral providers offer different levels of support based on your account. Some are entirely self-serve; others provide dedicated account managers. Our Client team counts 13 referral experts, ranging from Onboarding Project Managers to Strategy and Adoption Managers. Other providers offer significantly smaller teams, often with just a few people juggling multiple roles and responsibilities. Discuss this with your colleagues and potential referral provider to find the right level of support for you.
It's also worth asking the provider what they'll offer beyond hands-on support. As well as providing strategic guidance, customer support and best-in-class designs, Mention Me regularly hosts client workshops, organises panel discussions and shares insightful content on trending topics, such as how consumers are shopping right now.
What sort of businesses do you work best for?
If the response you get to this is 'every business', be suspicious. Like any other business, the best referral providers know their perfect customer and aren't afraid to admit when they're not the best match.
Our platform, for example, works best for ambitious, fast-growing online and multichannel brands or businesses looking to accelerate growth online by opening referral as a new channel. If you're an online brand with strong monthly order volumes, we can confidently tell you that we'd probably work very well. If you're a telecom, B2B or predominately offline business, we'll come right out and say you'd be better suited to a referral platform specialised in those industries.
Can you compare my referral performance to competitors'?
Knowing how many of your customers are recommending your brand – and how many of these recommendations convert into new customers – is good. Knowing how that compares to other brands in your sector is even better.
Ask your prospective referral provider how they'll benchmark your performance. Do they have sector-specific reports featuring average share and purchase rates? Bespoke reports based on you and other brands like you?
We analyse all our data from working with 450+ brands to provide in-depth benchmarking reports and guidance on how to level up with brands like yours. You can get an idea for the kind of results you can expect in our benchmarking report.
How can I report on referral performance to internal stakeholders?
To prove the value of your referral programme, you need to be able to report on performance to the wider business. That's not easy if you're faced with a complex platform listing endless numbers and metrics.
When finding your referral provider, be clear on the metrics that matter most to you and discuss these with potential providers. See if they can factor these into the platform in a way that makes it easy for you to report on the figures that feed into your biggest business priorities.
Our platform features a dashboard with high-level numbers, such as new customers and referral revenue, but users can also dig deeper into specific areas. Plus, we provide bespoke reports, ranging from snapshots of monthly performance to in-depth customer analysis, so our contacts can easily update stakeholders and roll out to other marketing initiatives.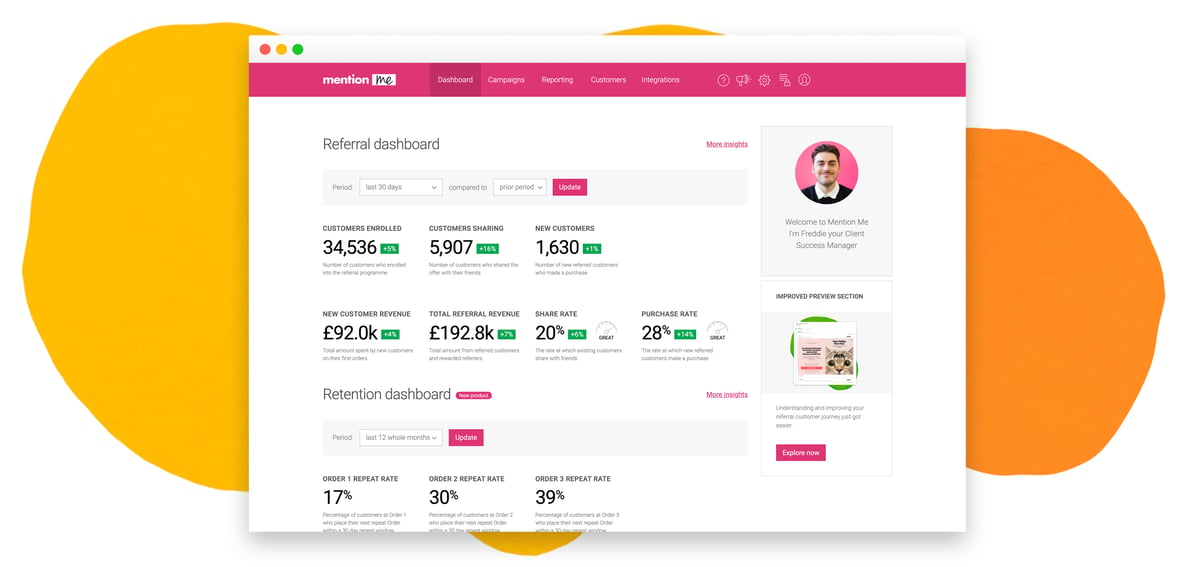 Our referral dashboard provides key metrics at a glance
How will you engage customers who don't refer?
Even the best referral programme in the world won't turn every customer into a brand advocate. At best, they'll ignore your referral offers. At worst, they'll get fed up with seeing them and stop returning to your website.
Unless, of course, you find other ways to engage them.
As well as referral messaging, our platform lets brands experiment with serving customer segments other content, such as asking for NPS feedback, encouraging reviews or promoting newsletter sign-up. As well as driving desired actions, this lets brands learn about their customers while nurturing lifetime value and advocacy.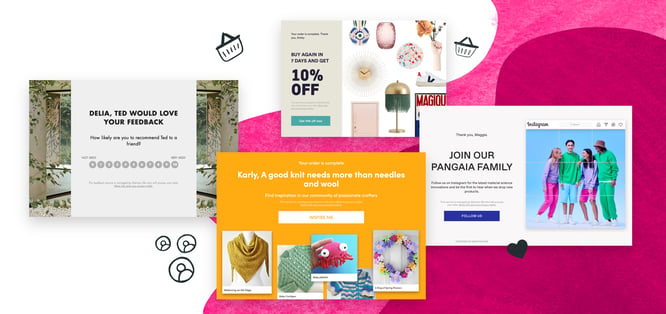 Our platform serves content driving the next best action for customers not ready to refer (pictured clockwise from left: Ted Baker, Trouva, Pangaia and LoveCrafts)
How will referral fit into my tech stack?
Done right, referral has the potential to be one of your most powerful marketing channels. But to take full advantage of it, you need to make sure your referral platform is talking to your other solutions. Otherwise you're tasked with spending hours manually uploading data, or simply missing out on valuable customer insights.
Speak to your potential referral provider about this, and see how many solutions their referral platform integrates with. To give a comparison, we work with 35 (and counting) full-service agencies and tech companies so our clients can optimise their marketing tech stack. This includes a partnership with Emarsys and Ometria, letting brands personalise referrals at scale, as well as Feefo and Trustpilot, combining the power of reviews and referrals to turn customers into brand advocates when they're most engaged.
Conclusion
There you have it, 12 questions to ask your referral provider. If you've made it all the way to here, you're obviously serious about finding the right one. Bookmark this blog and return to it every time you have a demo call. It won't be long before you find your perfect match.
Interested to learn how Mention Me could acquire high quality customers for your business? Talk to Sales. We promise to answer all the above questions and more.