Customer advocacy
Why it's time for luxury brands to leverage customer advocacy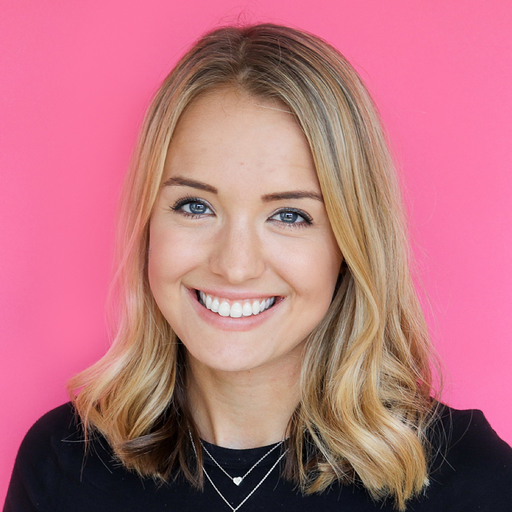 By Sophia King — December 1, 2022 -
Read time: 4 mins
As a luxury brand, you may have fleetingly considered referral marketing, only to have dismissed it as a discounting tactic for brands less premium than yours.
But, contrary to common belief, referral marketing is about much more than discounting. In fact, it's about much more than straight-forward referrals.
An advocacy-first approach – one centred on treating customers so well that they return and bring their friends – can fundamentally transform the economics of your business.
Underpinned by a strategically optimised referral channel, it can empower you to increase new customer acquisition by up to 30%. To gather unique rich first-party data that identifies your best customers – current and future – and drive down costs across your marketing channels. And to use machine-learning and artificial intelligence to target and segment customers based on their stage of advocacy.
All without a discount in sight.
There's a reason brands like Farfetch, Harvey Nichols and Charlotte Tilbury are leveraging customer advocacy to drive sustainable, organic growth for their businesses.
In fact, the potential to grow a brand through customer advocacy is so significant that it might be time not just to revisit the luxury rule book, but to rewrite it entirely.
Innovative ways to reward brand fans
The industry is catching on to the different ways in which it can reward loyalty. In a recent Business of Fashion interview, Kristin Maa, SVP Growth at Saks Fifth Avenue, said it was often about providing value to customers that they can't get in other places. "Whether that's giving them a glimpse behind the curtain or something that is unique and experiential," she said.
That's exactly what a targeted, AI-powered advocacy programme offers. As well as the reward itself – which can be anything from early access to new collections and VIP offers to 'money-can't-buy' experiences – you're feeding into a powerful sense of social psychology.
Because no matter how wealthy they are, people feel good when they introduce friends to a brand they'll love. They want to be the ones to pull that metaphorical curtain aside and give their loved ones an exclusive look – scoring social capital in the process as their excellent taste gets appreciated.
The exclusive reward enhances that referral experience, but it doesn't drive it. If social psychology is the cog in the machine of referral, the incentive is the oil. It smooths the process of referring friends and turning referrals into new customers – but without the cogs already turning, it can achieve very little.
Meanwhile, there's a good chance your target audience is actively seeking out recommendations for brands like yours at this very moment. Not because they want a discount, but because they want to know they're spending wisely and getting the social seal of approval from those they respect.
According to GWI, 37% of affluent customers make purchases based on reviews from other customers. That's recommendations from strangers. Imagine how much that percentage would increase if the review was coming from someone they know and trust.
AdWeek, meanwhile, notes that 76% of people are more likely to trust content shared by other consumers than by brands. Our own studies back this up – consumers trust referrals significantly more than recommendations from influencers.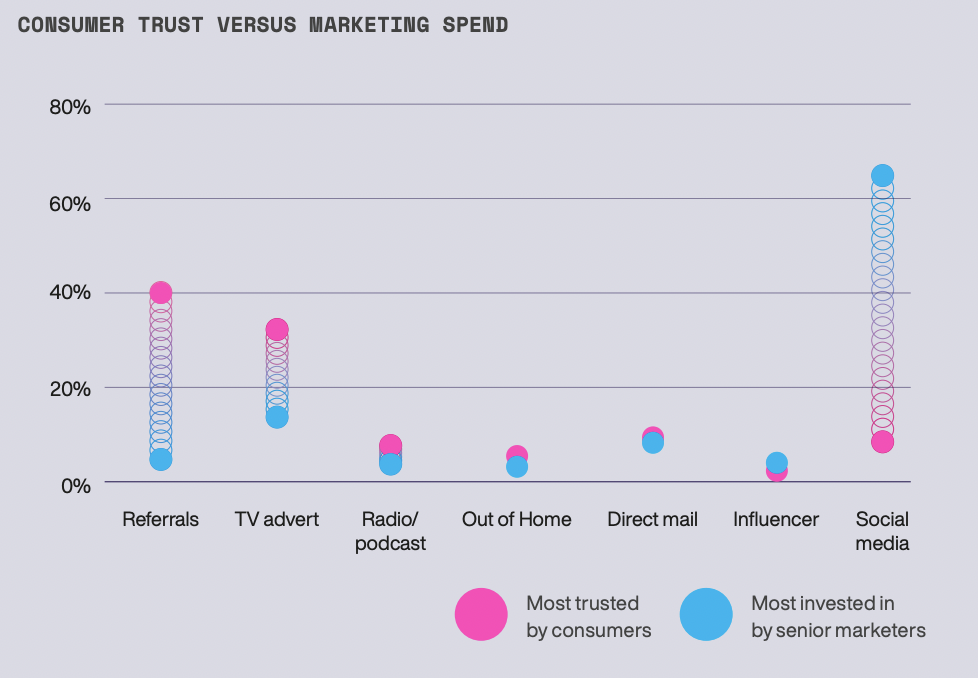 The Customer Advocacy Report found referral to be the most trusted source of advertising
That fact is, wealthy customers have the potential to be great referrers. They're part of the very exclusive communities you're looking to build. The sense of pride luxury brands instil in their customers – whether they're carrying a Louis Vuitton bag, drinking Dom Perignon, relaxing at a boutique hotel or all three – means they want to share it with their personal network.
Then there's the fact that luxury brands excel at getting people talking. Just look at Bella Hadid's spray-on dress on the Coperni runway earlier this year, or De Beers' 'a diamond is forever' slogan that lives on six decades later.
But without an intelligent customer advocacy platform, you have no way of knowing when and how many recommendations about your brand are taking place. With one, you can not only measure them, but experiment with and optimise them to acquire even more high-quality customers.
Building a community of high-quality customers
Customers acquired through referral tend to be highly valuable. On average, referred customers in the luxury sector spend 14% more on their first order, return more often and are 5x more likely to refer onwards – propelling further growth for your exclusive brand community.
All while extending the lifetime value of your existing customer who's doing the referring.
Let's break it down.
A customer, let's call her Cate, buys a designer handbag for an invite-only dinner event. At the dinner, she receives countless compliments and questions about where it's from, from people who fit your ideal customer profile
Inspired by Cate's purchase – and spurred on by her mention of an exclusive reward – two of these friends go on to buy from you for the first time
You reward Cate for the introductions, prompting her to treat herself to another product
Meanwhile, Cate's friends receive their orders and waste no time telling their friends about them
And so the cycle of growth continues, exponentially growing your customer base in the process.
Having a brand presence at the event – if even an option – would've cost thousands and guaranteed no ROI. Having a loyal customer there recommending your brand costs nothing and delivers valuable new customers likely to introduce others.
As well as driving these word-of-mouth recommendations, an intelligent advocacy programme also gives you a new lens through which to see your customers.
Cate's middle-of-the-range purchase doesn't mark her out as a VIP. But her multiple referrals, and the subsequent referrals off the back of those, do.
The metric for assessing this is called Extended Customer Revenue (ECR). In this instance, that's Cate's own spend, plus the spend of her referred friends.
Add this up, and you'll discover Cate is significantly more valuable than the customer who splashes out on premium products but keeps your brand to his or herself.
Saks understands this notion of identifying potentially high-value customers early on, actively modelling ways to find clues that will help to pinpoint them.
"Things are moving too quickly and we can't wait for those people to identify themselves," says Maa. "So from the beginning of our relationship with them we're trying to put a little flag that says this person may be one of the high-spending customers, so let's proactively give them special access."
In the age of Web 3, leveraging customer advocacy allows you to build even closer connections with your customers – through growing, nurturing and interacting with a thriving community of brand-lovers.
This is underpinned by truly understanding your best customers and what drives them, giving you the opportunity to nurture new customers in a highly personalised, focused and data-driven way from day one. With these rich advocacy insights, you can further optimise the conversations happening around your brand, and apply this data to other channels to acquire more customers like them.
Reaching Gen Z audiences
As well as building a valuable customer base, an intelligent advocacy platform empowers you to engage with a notoriously hard-to-reach audience: Gen Z. And with 61% of Gen Z consumers classing themselves as "superfans" and wanting more engagement with brands, this is a demographic well worth pursuing.
While a wealthy Gen Z shopper may snub social media ads or be oblivious to billboards, a recommendation from their friend cuts through. 53% buy from brands that understand them as an individual – and who understands you better than your closest friends?
This is even more so the case when their friend's brand recommendation comes with a reward that speaks to their values. Gen Z buyers are outspoken about their desire to, in their words, 'level up'. So if their friend is recommending a brand with a product they love, complete with an incentive that reflects their eco-friendly beliefs, it's a no-brainer. They're heading straight to your checkout.
Recognising and rewarding these people early on could lead to incredible long-term returns – all while building a deep well of valuable, first-party data.
Taking the tech leap
In a previous interview at the Financial Times Luxury Summit, Kering's General Manager, Jean-François Palus, stated: "I find that luxury professionals are sometimes elitist. If something does not originate from the industry, it is regarded as bad...But now that everything around us is so fast-paced, we must be open to the world, notably the world of digital tools. We must adopt a holistic approach, one in which digital assets are part of a brand's overall narrative."
In the current economic climate, this sentiment couldn't be more accurate. The businesses that invest in shoots of growth now, will be the ones to emerge from the recession flourishing. Those that don't, risk being left behind.
The idea that now is the time for fashion brands to embrace new technology is echoed by Natalie Massenet, Founding Partner of Imaginary Ventures, who made her name through revolutionising luxury retail with Net-a-Porter.
"I think today brands have learned that they sit on the sidelines," she said in a recent Business of Fashion interview, "and they ignore technological tools that allow them to increase revenue, connect with consumers, scale their businesses, grow communities. They don't want to ignore anything any more."
Referrals extend far beyond a simple discounting tactic. With the right approach, customer advocacy can transform into a high-performing acquisition channel that gathers first-party data capable of enhancing your entire martech stack.
With the once relied-upon paid social and search channels delivering wildly fluctuating ROI, the need to open a new channel that drives sustainable, organic growth has never been so high. In an industry that's always one step ahead, don't be the brand that gets left behind.

What won't happen next: four anti-predictions for 2023
Never miss another update
Subscribe to our blog and get monthly emails packed full of the latest marketing trends and tips