Mention Me updates
14 learnings from Advocacy Engineered 2022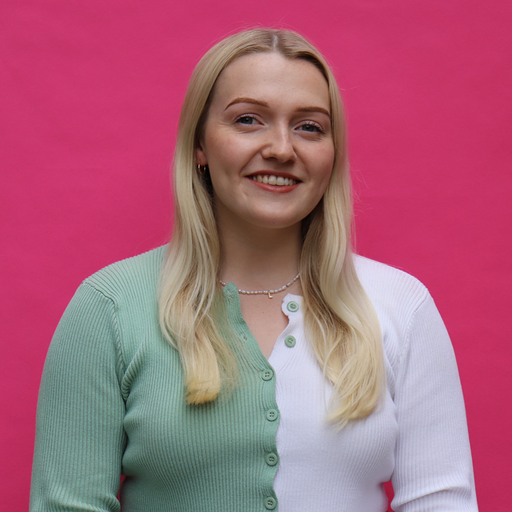 By Olivia Cox — May 31, 2022 -
Read time: 10 mins
On 24th May, hundreds of senior marketers headed to Beaconsfield Gallery to take their seats at the world's leading advocacy event: Advocacy Engineered.
From Fred Reichheld, the creator of NPS®, discussing the power of customer love with our CEO Andy Cockburn, to Holly Tucker MBE sharing her journey of building and selling a £200m empire, our world-class lineup explored the science behind customer advocacy and how marketers can harness it for their own businesses.
In addition to external industry experts, a number of our own Mentioneers took to the stage to reveal game-changing customer advocacy insights.
That included our Head of Brand, Sophia King, presenting our latest flagship report, The Customer Advocacy Gap, and Roy Robinson, our Chief Product Officer and Anca Filip, Head of Product, introducing Propensity to Refer®, our most innovative product launch to date. You can watch back all our speaker presentations in our Advocacy Engineered hub.
After a lengthy hiatus thanks to you-know-what, it was clear to see that marketers have been itching to learn from industry experts at in-person events. And as paid channel costs skyrocket and deliver ever-fluctuating returns — presenting a race against the clock to find sustainable ways to acquire new customers — these learnings couldn't be more crucial.
The Great Hall was packed out by the time the talks began, with every seat snapped up by marketers poised with notepads and pens to scribble down key insights.
Here are 14 of our favourite learnings from the big day.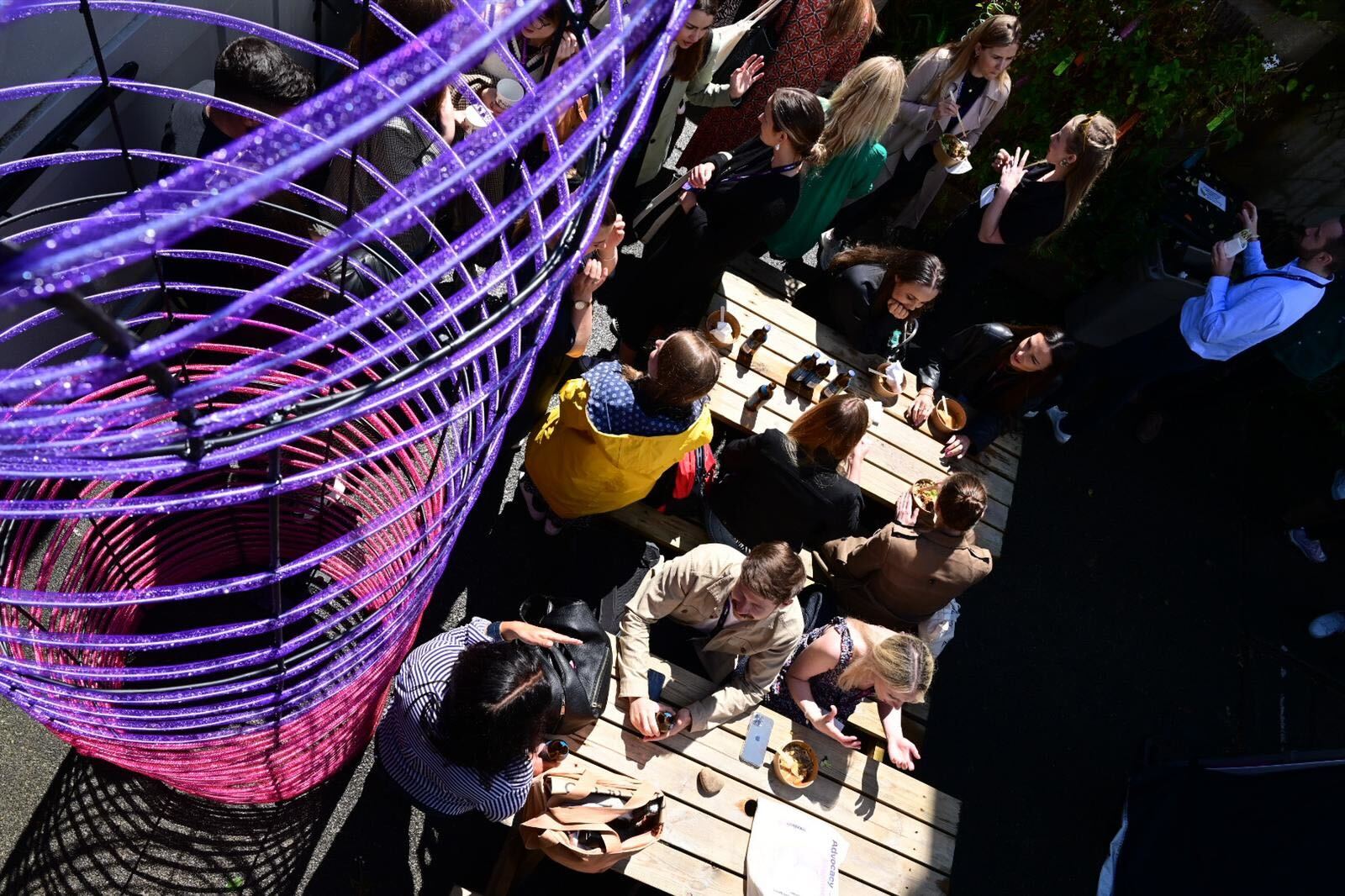 Marketers mingle outside at Advocacy Engineered
1. In today's landscape, brands need to evolve — or die
As the former CEO of Amazon UK and former Chairman of ASOS, Brian McBride knows a thing or two about how to transform a brand into a household name.
His biggest advice? "Evolve, or die".
The 21st Century has already been defined by massive changes in how marketers sell their brands, from the rise of the smartphone to the increasing importance of personalisation. And the digital landscape will continue changing at lightning speed.
Rather than resting on tried-and-tested tactics, Brian emphasised that brands must observe these changes and evolve their strategies accordingly.
Keep your customers front and centre of every decision, and your new strategy will be future-proof.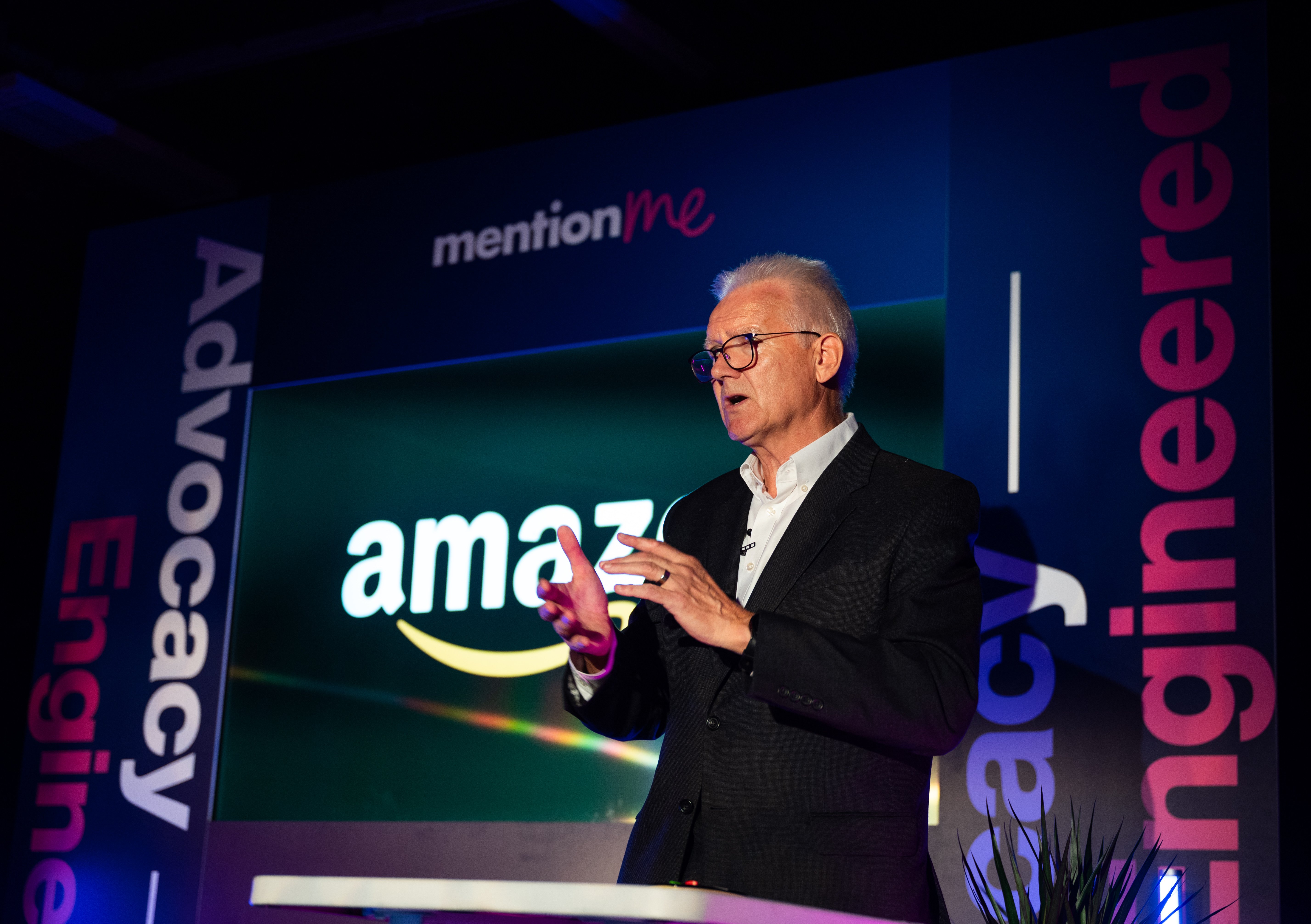 Brian McBride speaking at Advocacy Engineered about the evolving marketing landscape
2. 96% of senior marketers overlook the channel most trusted by consumers
No, that wasn't a typo.
While presenting The Customer Advocacy Gap report, Sophia King, Head of Brand at Mention Me, revealed that a recommendation from a friend or relative is trusted more than any other advertising channel. But despite this consumer preference, only 4% of senior marketers are investing most in it.
We've coined this gaping chasm between consumers and marketers the Customer Advocacy Gap — and closing it is critical to long-term business success.
Want to find out how? Download The Customer Advocacy Gap report now.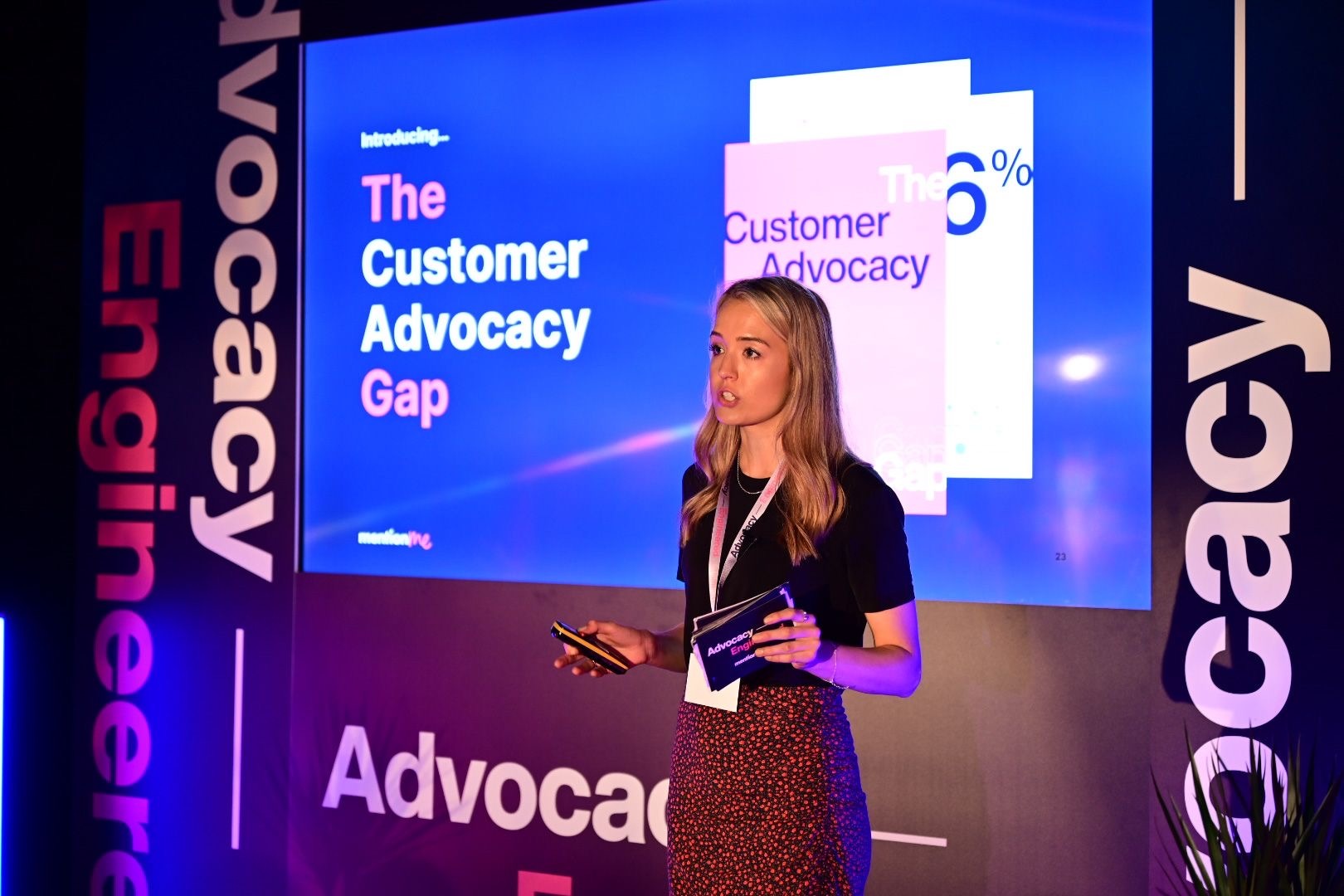 Sophia King, Head of Brand at Mention Me, presenting The Customer Advocacy Gap report
3. Meet Earned Growth: your most important new metric for calculating customer-driven success
If the previous stats got you feeling nervous, don't panic. Fred Reichheld, best-selling author, Bain fellow and creator of NPS® took to the stage to reveal how you can craft a truly customer-centric strategy that bridges the advocacy gap.

Chances are, you're already using NPS® to measure customer sentiment. But how effectively are you really using it?

While NPS® measures how likely your customers are to recommend your brand, Fred has introduced a new metric to pinpoint the exact revenue your promoters are generating. It's called Earned Growth, and it gives every marketer the chance to see how their brand fans are driving sales through advocacy.

On stage, Fred described the importance of measuring Earned Growth, as well as sharing The Golden Rule of marketing: treating customers how you want to be treated.
By delighting customers (without sneaky hidden conditions or unexpected fees), brands will encourage more recommendations that lead their Earned Growth to soar.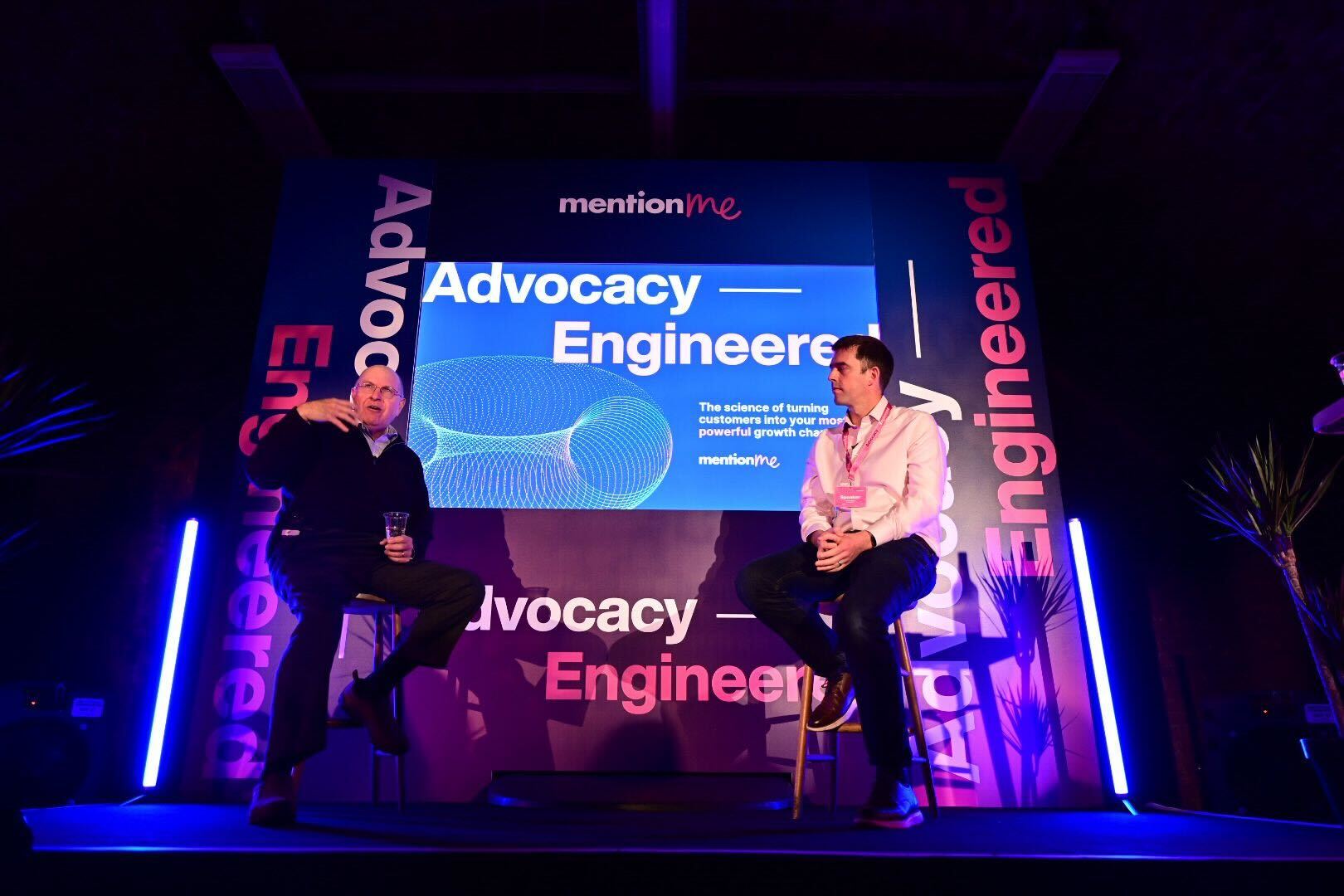 Fred Reichheld discussing the importance of Earned Growth with Andy Cockburn, CEO at Mention Me
4. If you're not considering Extended Lifetime Value, you're only getting half the story
Marketers have been measuring Lifetime Value (LTV) to determine a customer's value for decades. But what they're neglecting to consider is the Extended Lifetime Value (ELTV) of their best brand advocates.
In his presentation, our CEO Andy Cockburn described the limitless, sustainable growth one customer referring your brand can drive for your business.
While a customer who only buys once a quarter might not be considered to have a high LTV, if they're referring friends who go on to buy (and refer their friends), it's a whole new story.
The ELTV of this customer is huge — and can grow a brand's customer base exponentially.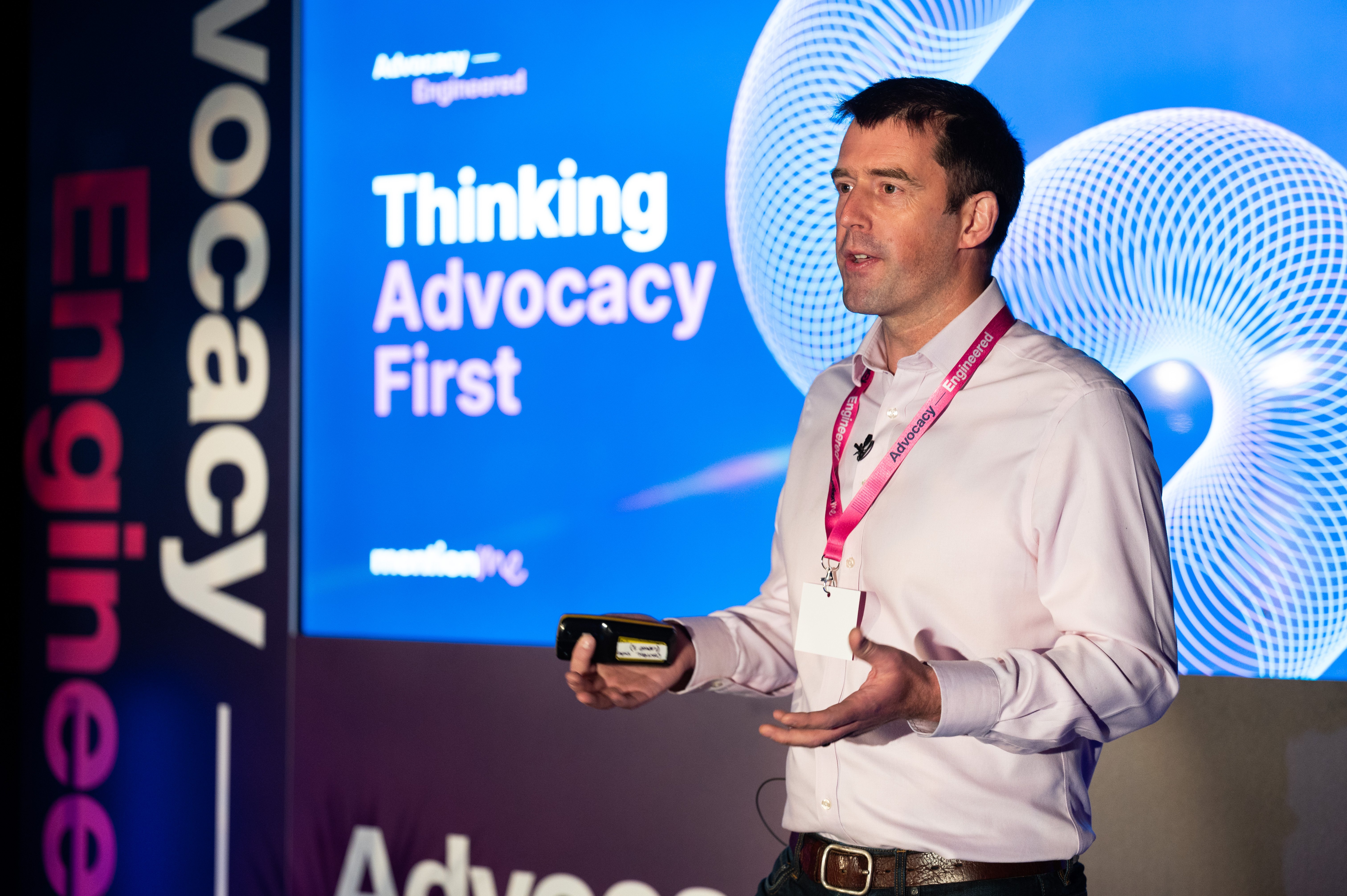 Andy Cockburn, CEO at Mention Me, challenged marketers to rethink their customer strategies
5. For the first time, brands can nurture advocacy from customers in every part of their lifecycle with Propensity to Refer®
Turning a customer into a brand advocate isn't just a switch you can flick on. There are plenty of stages in the customer lifecycle that sit between a potential shopper and an engaged brand cheerleader.
If only there was a way to drive action and nurture advocacy from every customer…
Fortunately, our latest product innovation provides the solution.
At Advocacy Engineered, our Chief Product Officer Roy Robinson and Head of Product Anca Filip presented the launch of Propensity to Refer®.
This AI-powered segmentation tool predicts which customers are likely to recommend your brand to others, and which should be driven to take a different action, such as a newsletter signup or claiming a discount on their next order.
As part of our new product offering Optimise, brands can drive better performance with Smart Experiment and supercharge their paid social strategy with Smart Audiences — all wrapped in a first-class UX platform.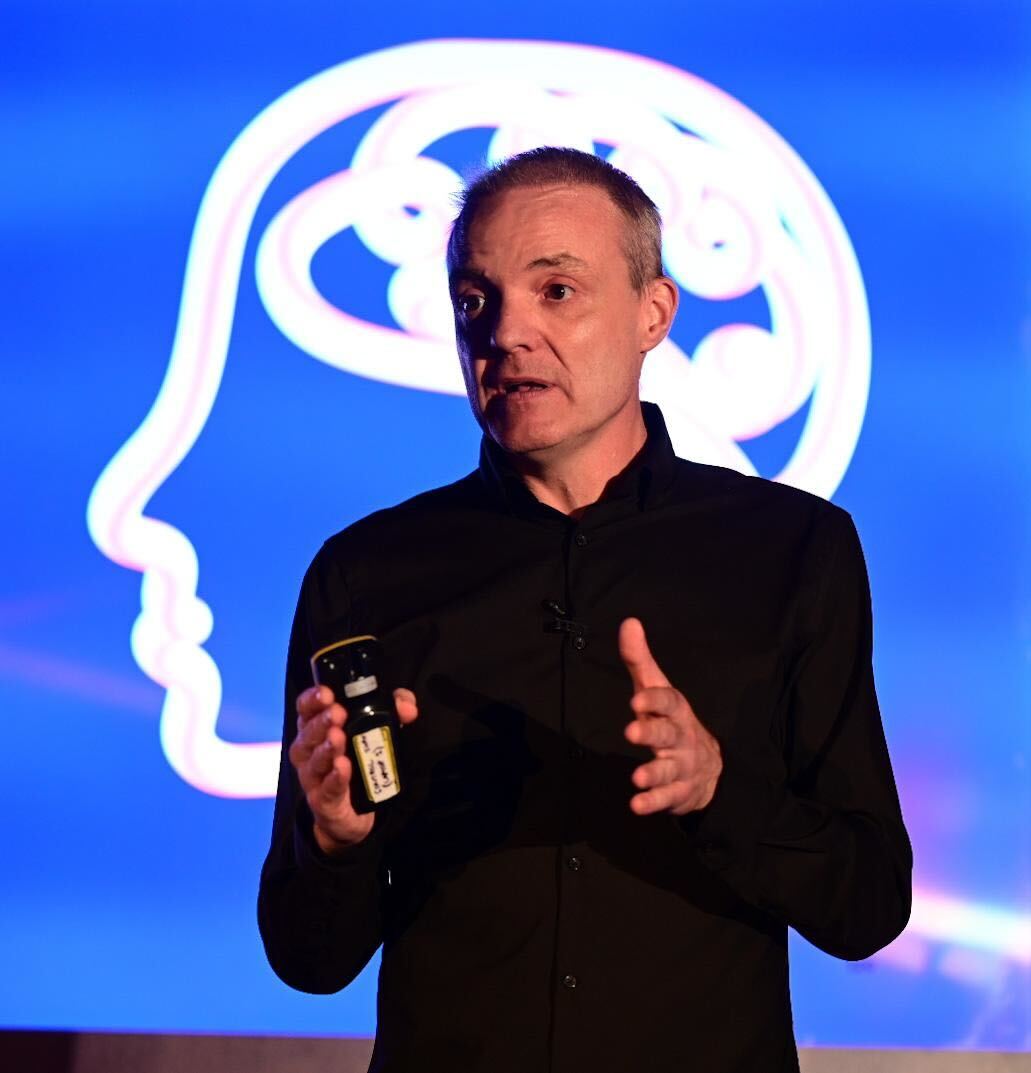 Roy Robinson, CPO at Mention Me, reveals how Propensity to Refer® will solve today's most critical marketing challenges
6. Give Mentioneers something pink, and they're happy
Our Mentioneers are generally an enthusiastic bunch, but give them some pink Mention Me merch, and they'll be over the moon.
Volunteers helped themselves to Mention Me hoodies, raincoats, and Advocacy Engineered signs as they scattered throughout Vauxhall to direct guests to the event. And judging by the incredible turnout, it looks like they did a stellar job.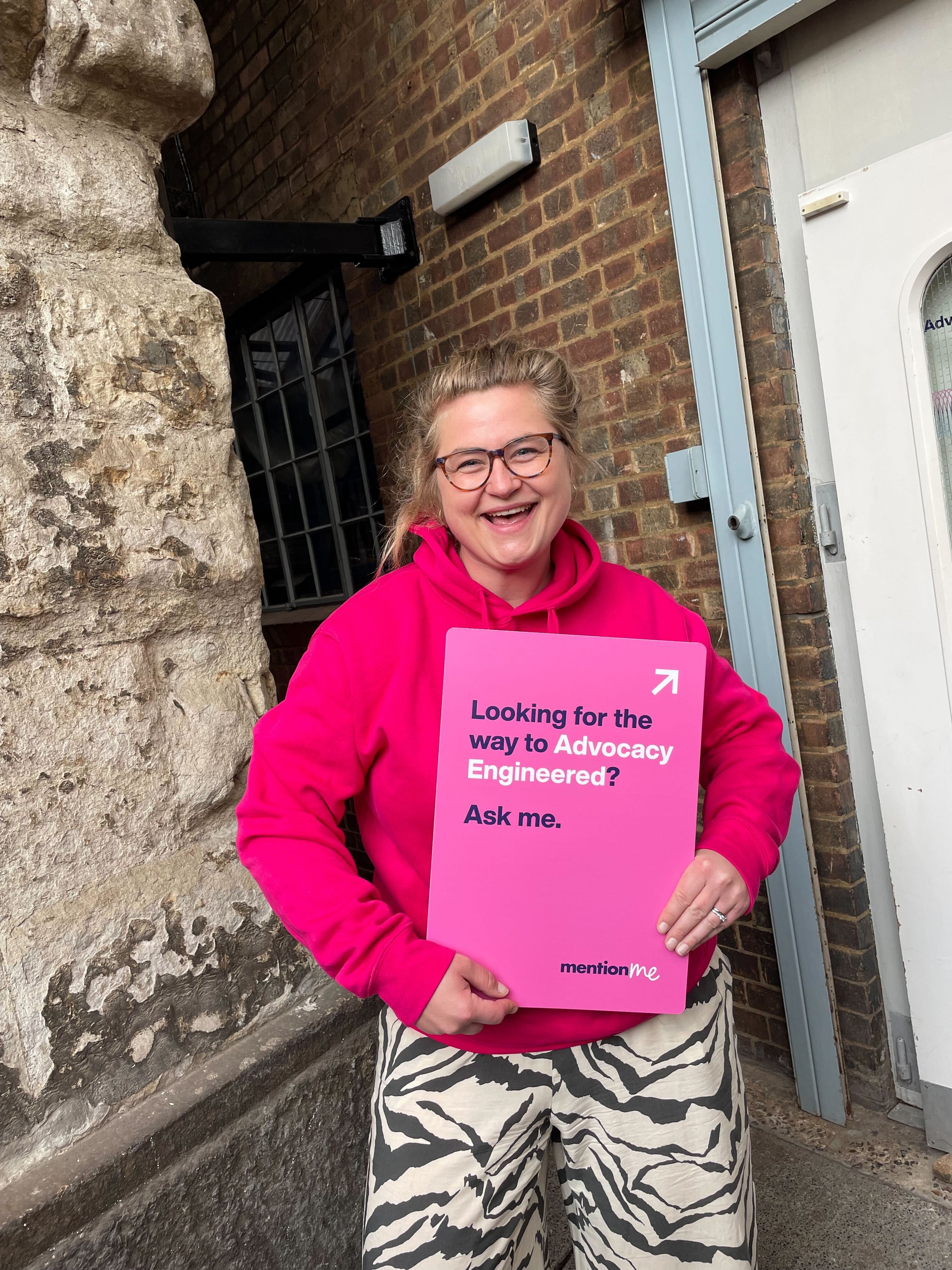 Lottie Brown, Lead Account Manager at Mention Me, was easy to spot in her Mention Me swag
7. Not even thunder and lightning can come between hungry guests and tasty street food
The venue was decorated. Guests were invited. Goodie bags packed.
You can do all the rigorous planning in the world, but nothing can quite prepare an event team to battle a thunder and lightning storm. Particularly not 15 minutes before lunch is supposed to be served… outside.
Contingency planning was in full swing once the heavens opened, with the whole team coming together to find a solution to some potentially very soggy dining. But fortunately, the advocacy gods looked down on us kindly and sent the rain away — the very moment our guests came out of their last talk.
Lunch is a meal best served with a side of panic, right?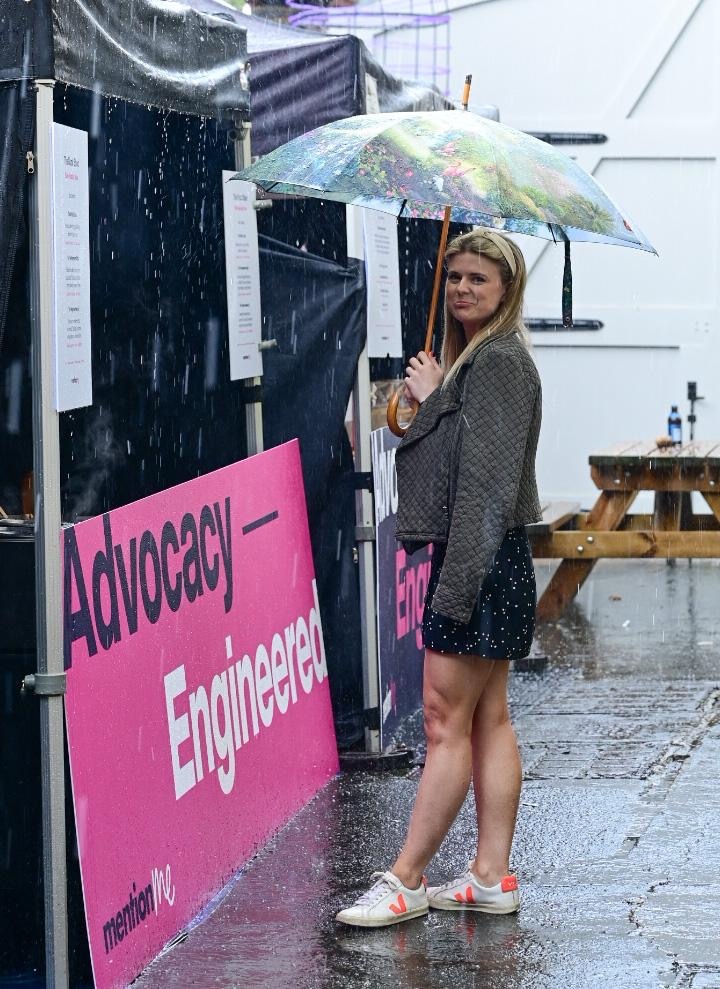 One determined guest braved the storm to beat the lunchtime rush
8. Think advocacy-first to revolutionise your entire customer journey (and get more first-party data)
Driving advocacy through referral isn't simply a case of asking a customer to recommend your brand in exchange for an incentive.
As Darren Loveday, Senior VP Business Development & Solutions Consulting at Mention Me shared with our audience, you can nurture brand advocacy platform at every stage of a customer's shopping journey.
From reminding someone to use their referral reward to giving VIP customer service to loyal advocates, there are plenty of chances to maximise brand affinity — and drive sales.
Alex Timlin, Head of CX at SAP, went on to share how marketers can earn first-party data from these happy brand fans and use it to nurture even more advocacy, so the cycle of growth keeps on spinning.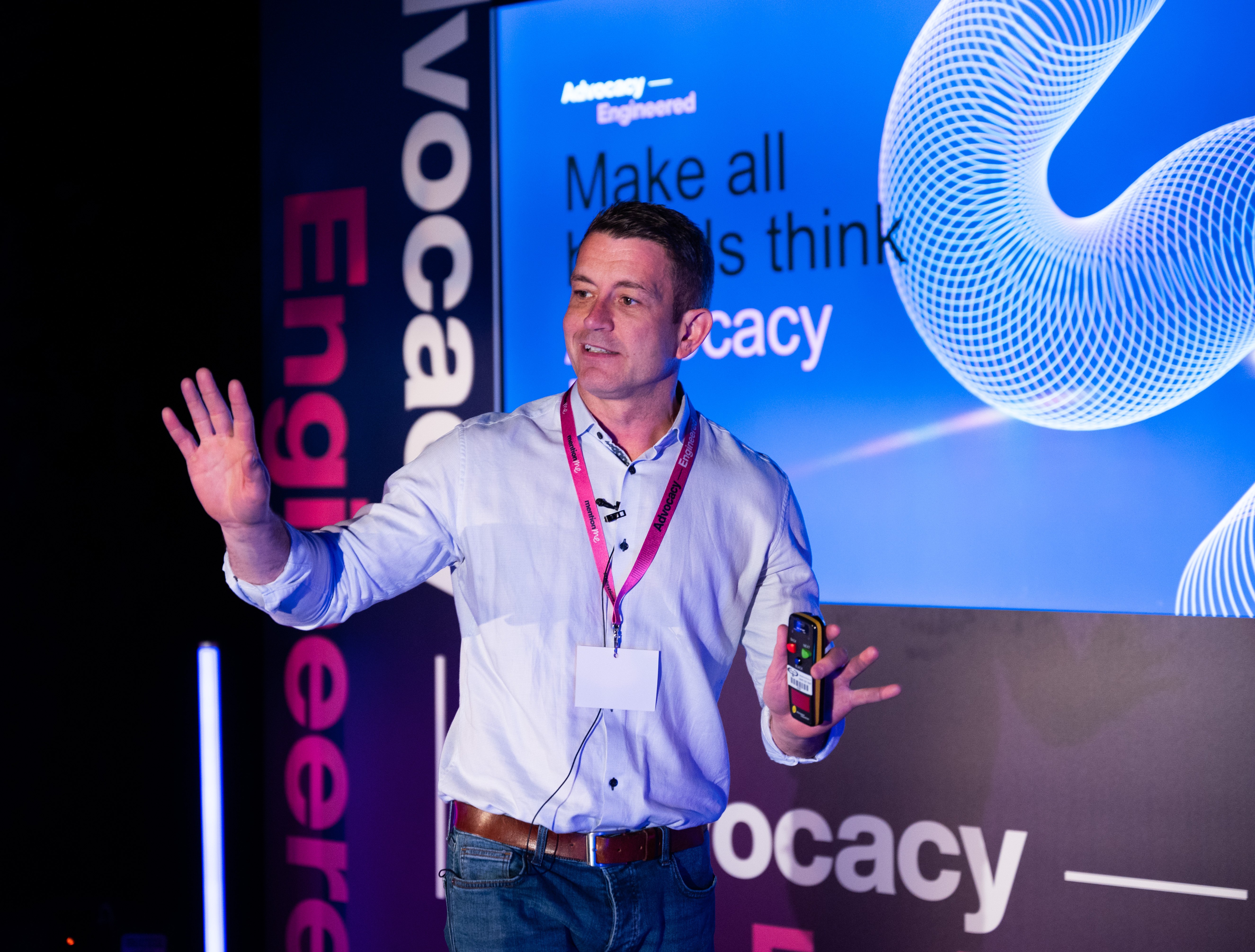 Darren Loveday, Senior VP Business Development & Solutions Consulting at Mention Me showed how advocacy weaves into every moment of the customer journey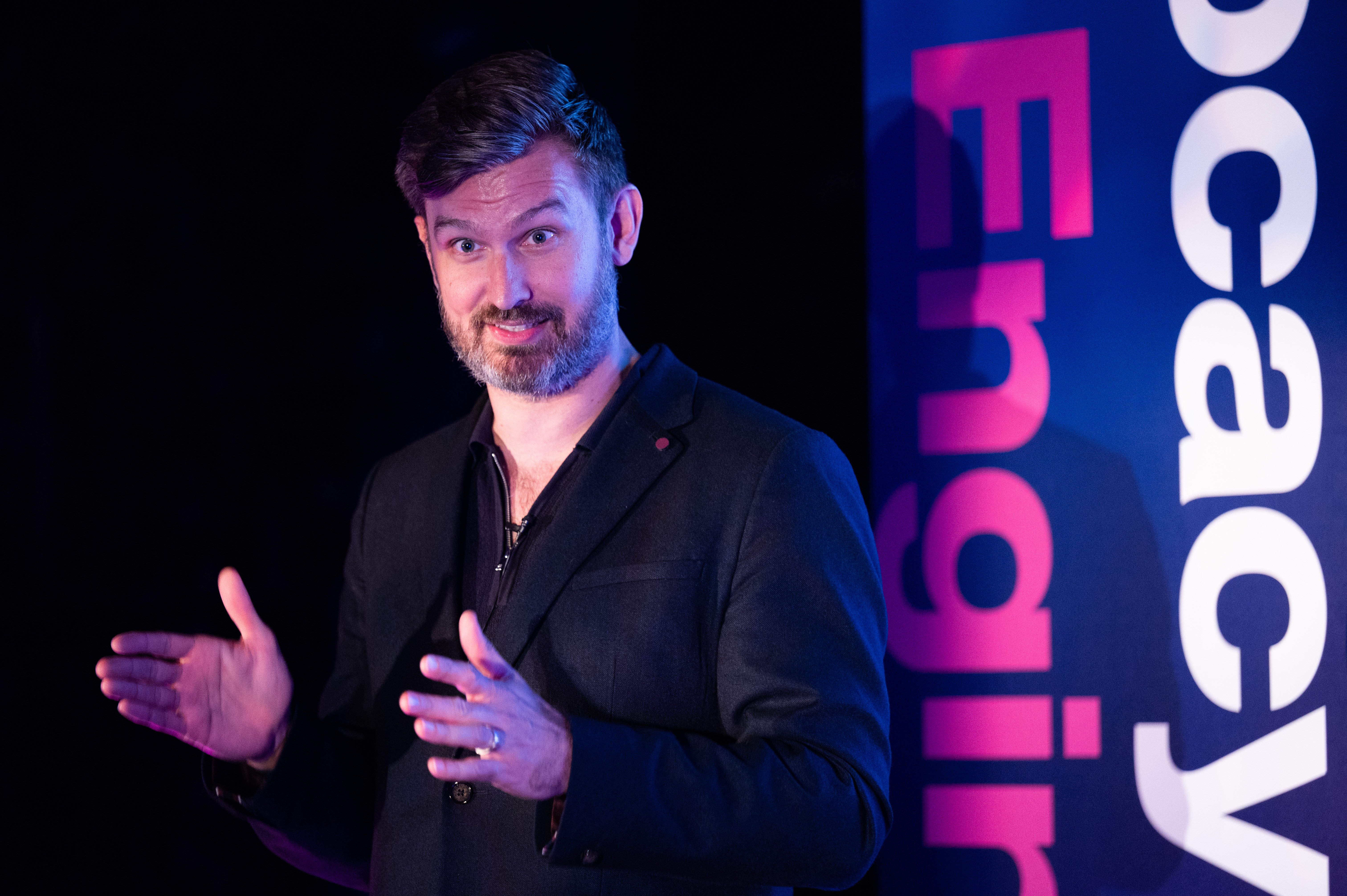 Alex Timlin, Head of CX at SAP, shared how marketers can earn customer data by nurturing advocacy
9. A strong community is a non-negotiable
Holly Tucker MBE founded notonthehighstreet with one reason in mind: to empower small business owners to carve out a life doing something they love.
Now, notonthehighstreet is a multimillion-pound firm that's employed over 200 people and made millionaires out of some of its small business owners.
Holly took to the stage (in a wonderfully on-brand pink suit) to tell her incredible story, as well as describe her mission to build a supportive community among her fellow brand owners.
One of the key learnings for our guests was the importance of letting yourself be uncomfortable and take risks — because after all, authentic brands build authentic fanbases.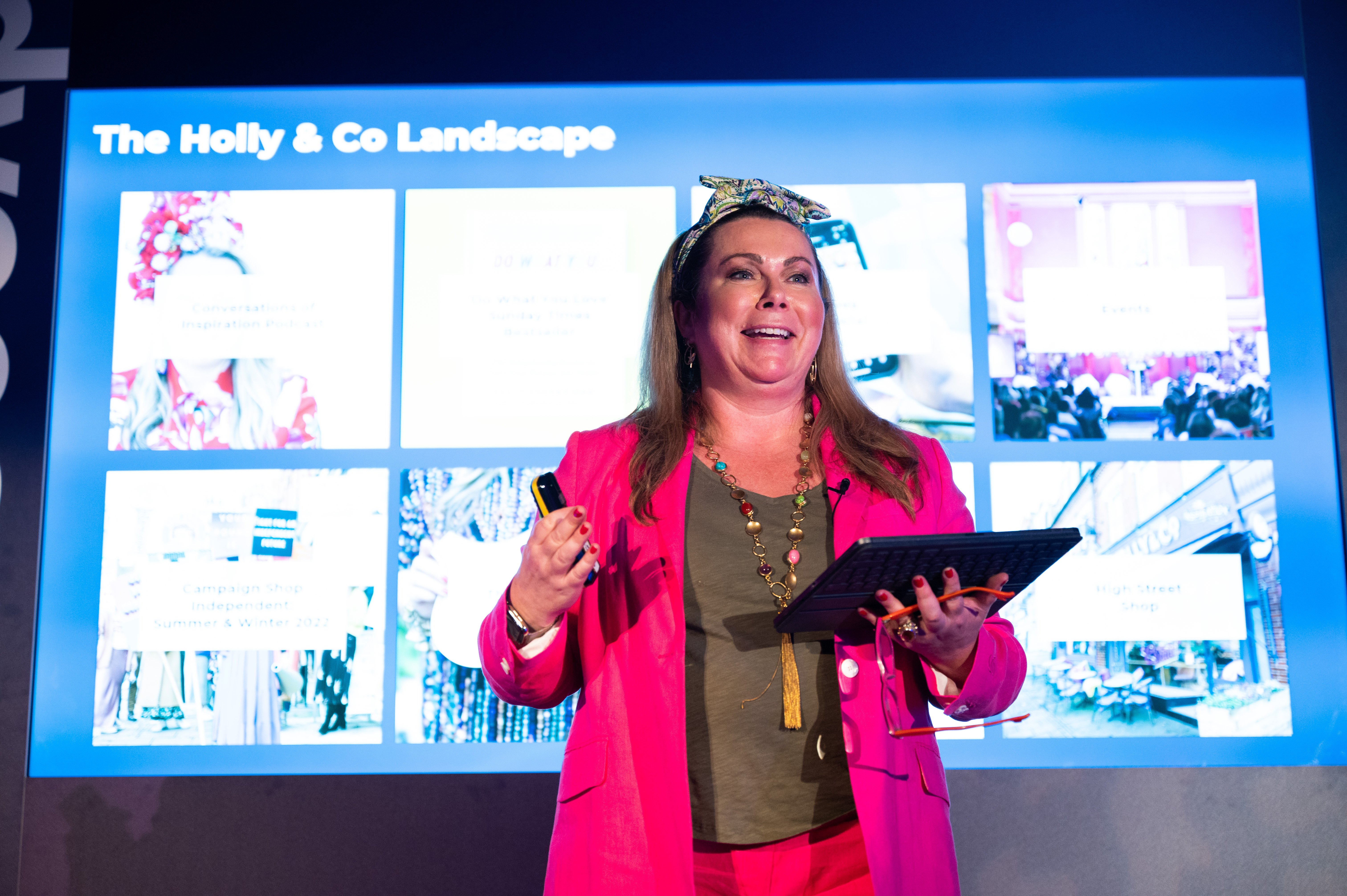 Holly Tucker MBE shares her mission to empower and uplift small business owners
10. Your most valuable customer isn't the one who spends the most
Gone are the days when 'high-value customer' was synonymous with 'big spender'.
Now, more marketers than ever are getting clued up on the fact your best customers might not be making the most orders. In an evolving marketing landscape, the real value comes from those customers who want to shout about your brand to others.
This sentiment was echoed by our Partner Panel. Kat Wray, our Head of Partnerships, hosted the panel, made up of: Emily Long, CEO at GenieGoals; Luke Jonas, CCO at Nest Performance; Andrew Kulina, Strategy Director at Oracle CrowdTwist; Brian Malkerson, CRO at Attentive and Dave Littlechild, VP Partnerships & Sales Development at Emarsys.
The group discussed the example of a customer who appears high-value because they make a large number of orders… but what if they're returning most of their purchases? This clearly isn't reflective of true advocacy.
Meanwhile, a customer who has only shopped a few times but raves about a brand to others will turn more browsers into buyers, drastically increasing their own extended lifetime value.
Align your martech stack to deliver a smooth omnichannel experience to these advocates, and you'll continue to nurture an ultra-valuable fanbase that turbocharges growth.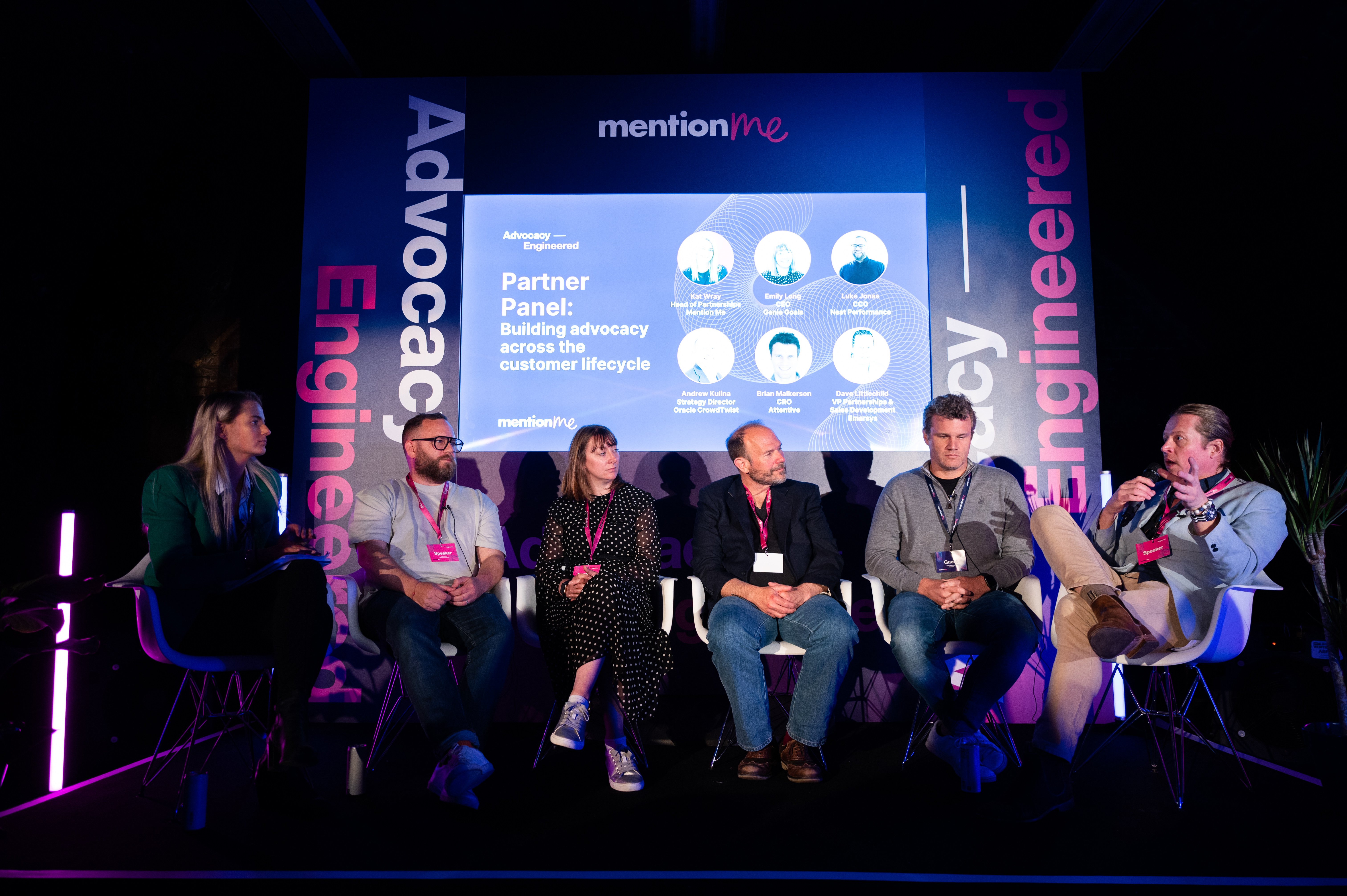 Kat Wray, Head of Partnerships at Mention Me, leading our Partner Panel
11. When it comes to driving advocacy, the small touches make a big difference
At its heart, customer advocacy is a simple concept that's influenced by simple things.
Consumers don't expect the world from brands — they just want a great product and a service they can trust. So by going above and beyond their expectations, marketers can easily convert apathetic shoppers into brand devotees.
This was a big talking point at our CMO panel, where Simon Dring, our Chief Operating Officer, was joined by Laura Riches, co-founder of Laylo and Tony Miller, VP Growth & Performance Marketing at WW.
One particular brand that the panel discussed was Butternut Box, a fresh dog food delivery service.
While you might not expect dog food to be something that human consumers have strong opinions on, both Tony and Laura sang the praises of the brand's commitment to delivering a stellar experience.
Two examples given were the brand gifting a blanket when a customer gets a new pet, and sending out a thoughtful message when someone cancels their subscription due to a pet passing away.
These actions show the brand caring for its customers, and are a powerful way to nurture genuine advocacy.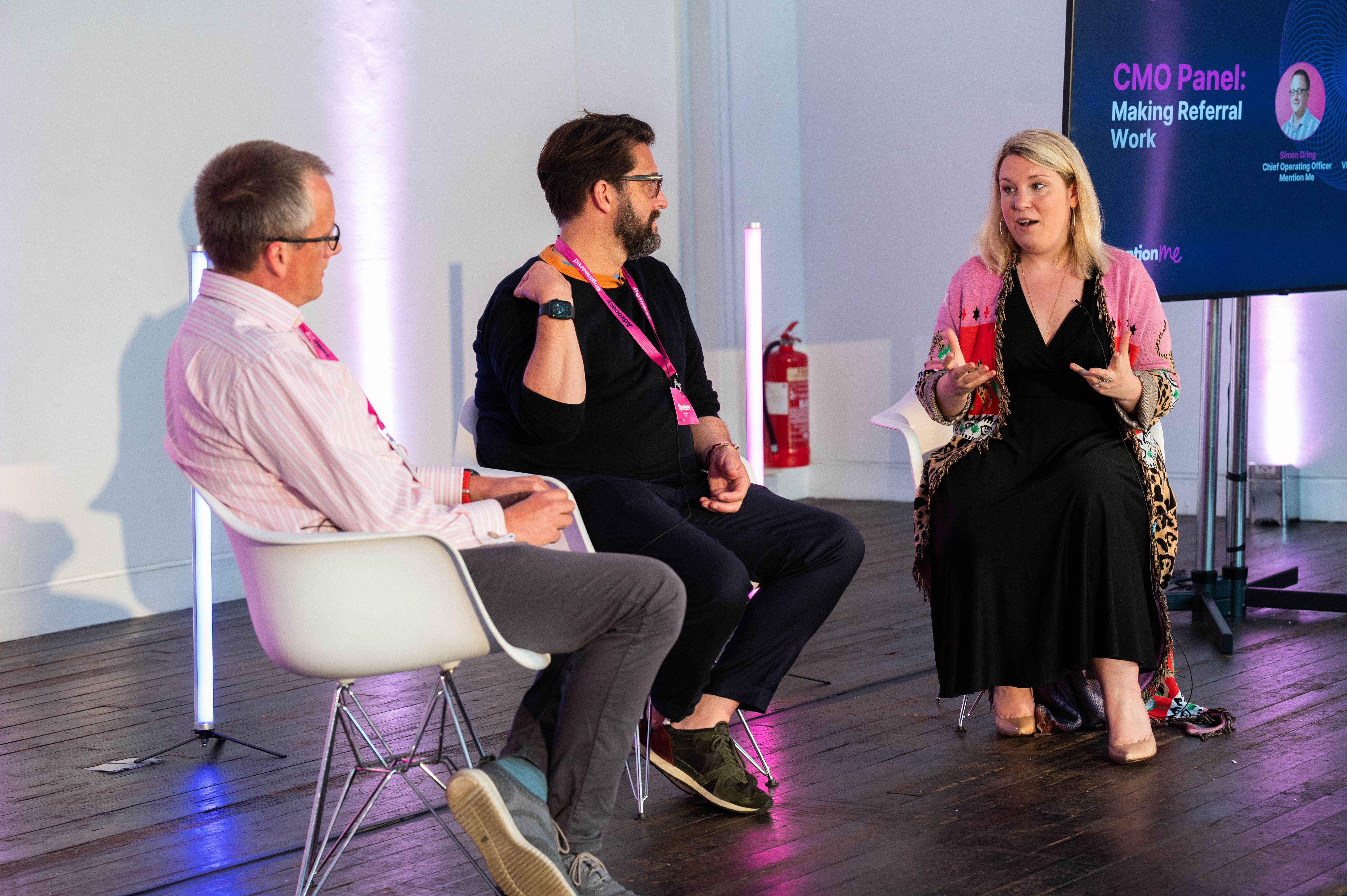 Simon Dring, COO at Mention Me, is joined by Tony Miller, VP Growth & Performance Marketing at WW and Laura Riches, co-founder of Laylo for our CMO Panel
12. Customers shouldn't just be part of your marketing strategy — they need to be in the drivers' seat
With the strapline "the mobile network run by you", it's safe to assume that giffgaff places customers right at the heart of its marketing strategy.
Giffgaff CEO Ash Schofield took part in a Q&A with Kate Magee, editor of Management Today, to share his thoughts about why advocacy is so essential for any ambitious brand.
Ash prides giffgaff on maintaining transparency and accountability with its members, helping build those all-important trusting relationships.
By always seeking feedback from customers (and acting on this feedback), giffgaff proves that its people-first policy isn't all talk — nurturing a powerful community as a result.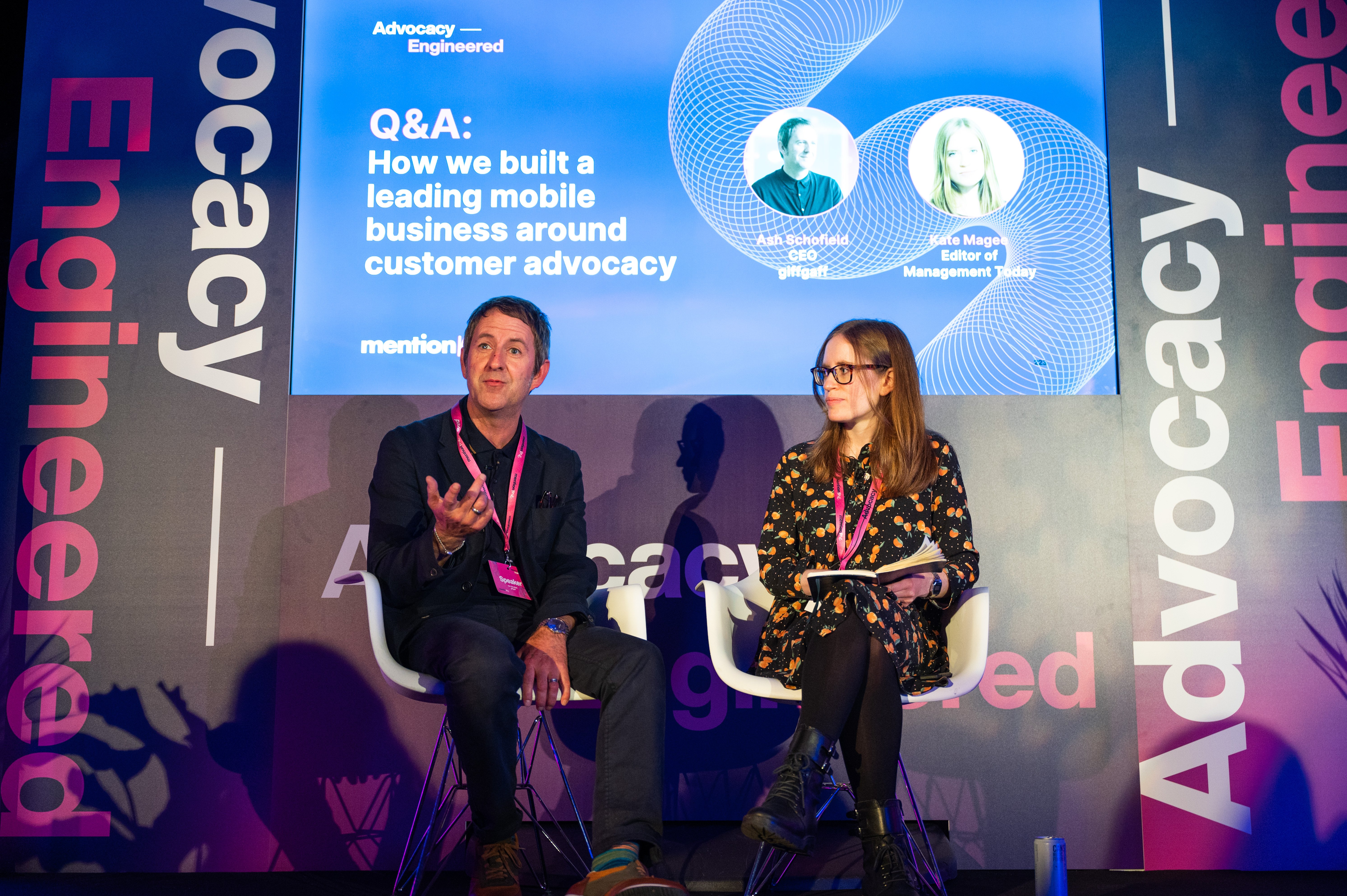 Ash Schofield, CEO at giffgaff, discusses his attitude towards customer advocacy with Kate Magee, editor of Management Today
13. Snacks in goodie bags will always be a winner
Everyone loves a freebie — it's a simple fact of life.
So we kitted out our Advocacy Engineered goodie bags with Fred Reichheld's new book 'Winning on Purpose', The Customer Advocacy Gap, branded swag (including a reusable straw), and vouchers for Laylo and Pasta Evangelists.
But we also know that busy marketers get hungry, so we kept them fuelled with some tasty snacks, courtesy of Well & Truly, Love Corn and Misfits. Rumour has it, there were distinct corn-crunching sounds coming from The Great Hall, so it looks like they were a welcome addition.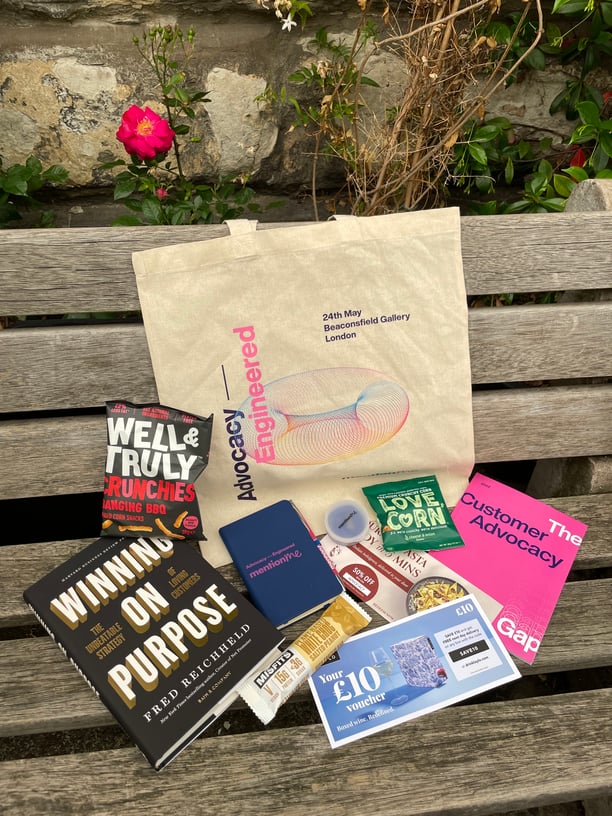 The contents of our exclusive Advocacy Engineered goodie bags
14. Every great event needs a great after-party
After sampling some delicious Laylo wine, guests and Mentioneers headed to The Jolly Gardeners pub to enjoy a suitably jolly evening of drinks, tasty canapes and live music.
Amid the mixing and mingling, partygoers were even treated to a one-off guest performance from none other than our very own event MC and Marketing Director, Mark Choueke.
Joining our live band on guitar and vocals, Mark certainly gained himself some new fans as he wowed the crowd.
After all, as he opened Advocacy Engineered with a presentation, it's only right that he rounded off the day with a song.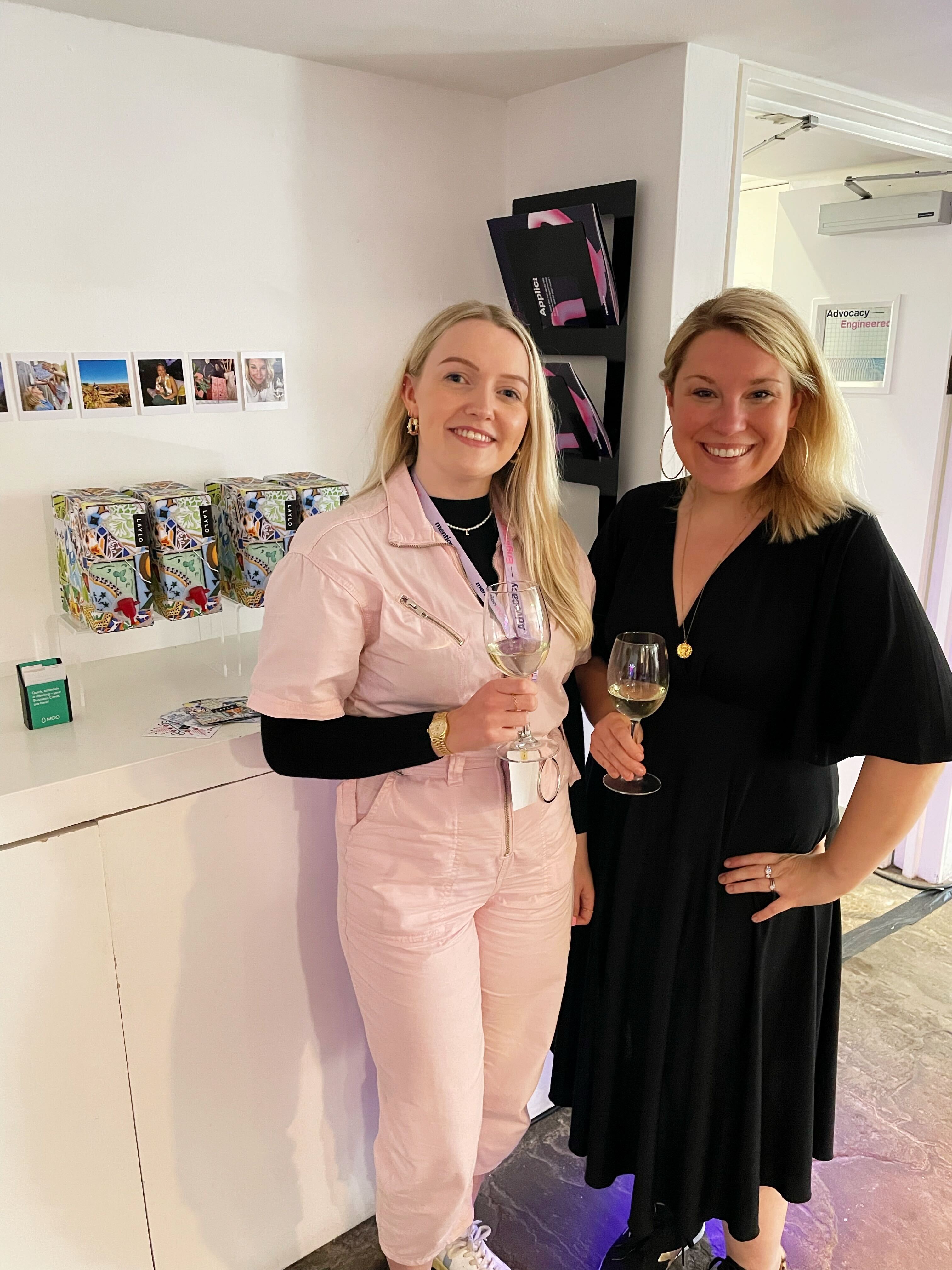 I raise a glass with Laura Riches, co-founder of Laylo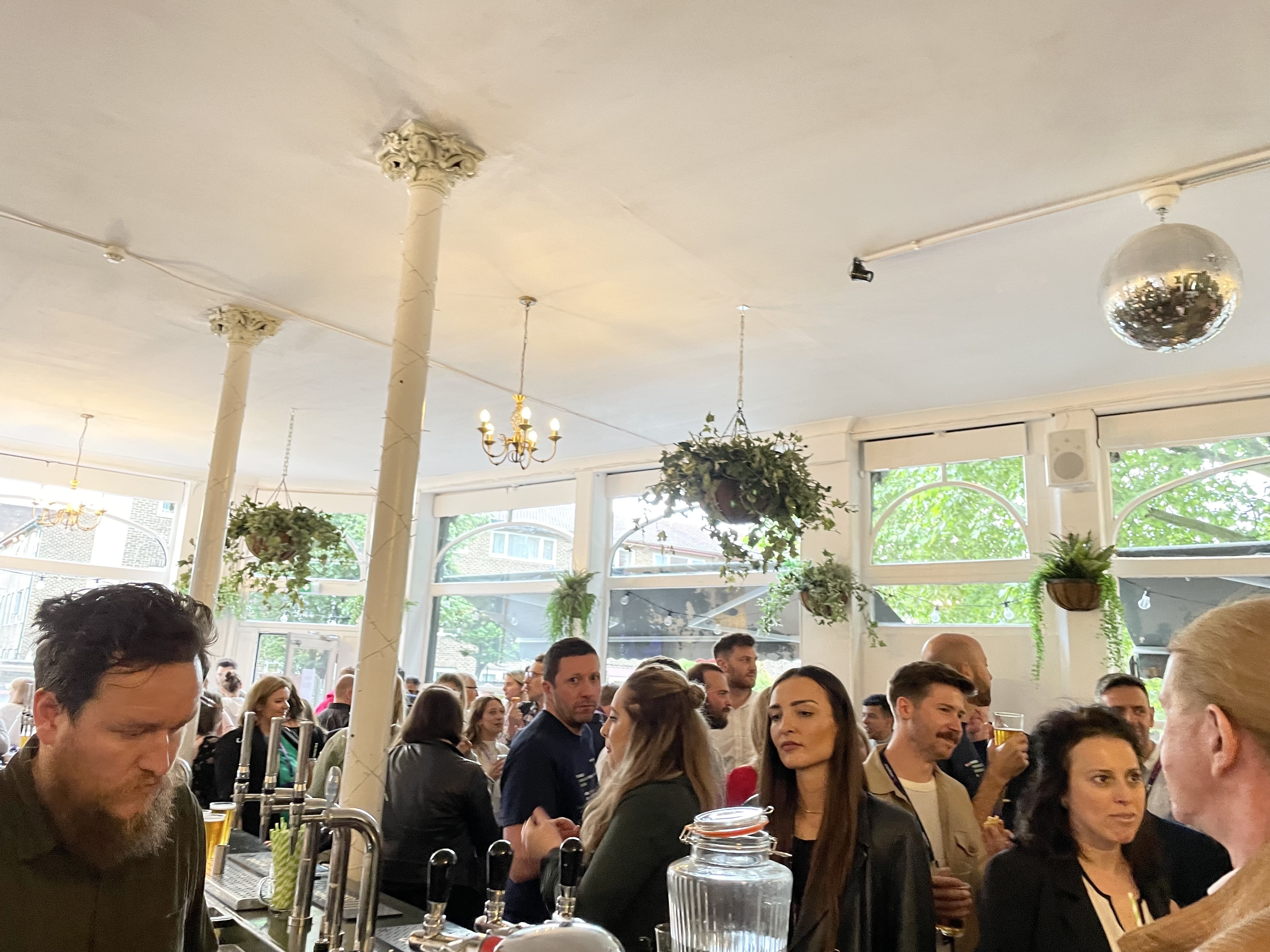 Guests chat around the bar at our afterparty
Whew. There's our rundown of a day that we're certainly not going to forget in a hurry.
There's only one thing left to say: bring on Advocacy Engineered 2023 🎉
Have you got a Customer Advocacy Gap? Find out by downloading our latest report.

Revealing our new brand identity — and the mission behind it
Never miss another update
Subscribe to our blog and get monthly emails packed full of the latest marketing trends and tips