Introducing: Deeper Insights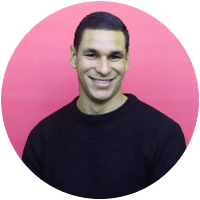 By Simeon Atkins — September 23, 2022 -
Read time: 5 mins
Discover our latest product releases — and how you can use them to drive organic growth across your marketing channels.
Looking for the highlights? Here are three things you need to know:
Benchmarking Intelligence compares your performance to your industry's average, giving you a unique view into what factors are driving success for other companies.
Our new Performance hub helps you explore the deeper insights that surface from your programme's performance and reveals areas for growth, engagement, retention and new customer acquisition.
With our SMS integration, you can engage with your best customers through highly relevant text messages that drive long-term best brand advocacy software providers, improved ROI and increased revenue.


Navigating the 'new normal'...
Well, what even is normal anymore? There's been no 'normal' for three years, and there probably won't be for the foreseeable future. We've seen massive sales spikes for ecommerce brands during Covid — and more recently, the worrying downturn and uncertainty caused by global economic conditions and the soaring cost of living. Even before all that, we've seen an over-dependence on increasingly costly acquisition channels, the scrutiny of data and changes to laws and regulations, and the decade-long trend of declining consumer trust in marketing. These challenges have compounded to make it even harder for brands to obtain and utilise data to target, acquire and retain customers.
Acquiring customers through "traditional" digital channels is getting more expensive
64% of digital ad spend going to the tech giants

1

CPA costs are rising unpredictably

iOS changes reducing visibility and increasing costs
1https://www.emarketer.com/content/google-facebook-amazon-account-over-70-of-us-digital-ad-spending
Whether this leads to a big shift in the business cycle or a continuation of recent inflationary trends, brands now have the opportunity to make a pivot in their approach and accelerate long-term growth.
Why advocacy is the only solution
Fortunately, you can still grow a sustainable business through the good and bad times. So what's the answer?
Go back to the basics.
We think this quote from Andy Taylor at Enterprise Rent-A-Car sums it up perfectly:
"The only way to grow a business is to get customers to come
back and tell their friends."
Recognising the value of advocacy and placing it at the heart of your marketing helps you become a winning business. Happier customers spend more, stay longer, and introduce you to more of their friends and family.
To grow a bigger base of these happy brand fans, you need to nurture customer love by thinking advocacy-first.
We know change is challenging; sticking with the status quo and spending more and more money on old-school tactics is tempting. But, by leveraging your data across your ecosystem and identifying your current and future brand advocates, you can drive sustainable growth in the years to come.
A data-driven approach
To help you win during the tough times ahead, we're committed to continuously innovating how our platform supports you in hitting your business goals. Our mission is to use referral to harness your fans' exponential power and turn your best customers into your best advocates.
And it's all about data. Since January, we've been doubling down on shining a light on the value of referral data. Businesses investing in referral and advocacy have stronger growth rates that compound over time — all powered by this rich customer data.
To further empower ambitious businesses to turn customer advocacy into their biggest growth driver, earlier this year we launched our 'Optimise' package, powered by the world's first advocacy model: Propensity to Refer®.
Underpinned by unique machine learning, this latest offering turns referral into an optimised, multi-channel acquisition strategy that drives sustainable growth and increases ROI across the marketing mix. We also updated our product packaging to reflect the advocacy journey — helping brands get started fast with Acquire, collecting unique first-party data to enable our smart features, and providing a path to generate even more powerful results with Optimise.
Here's how Propensity to Refer® is already acquiring tomorrow's best advocates, today: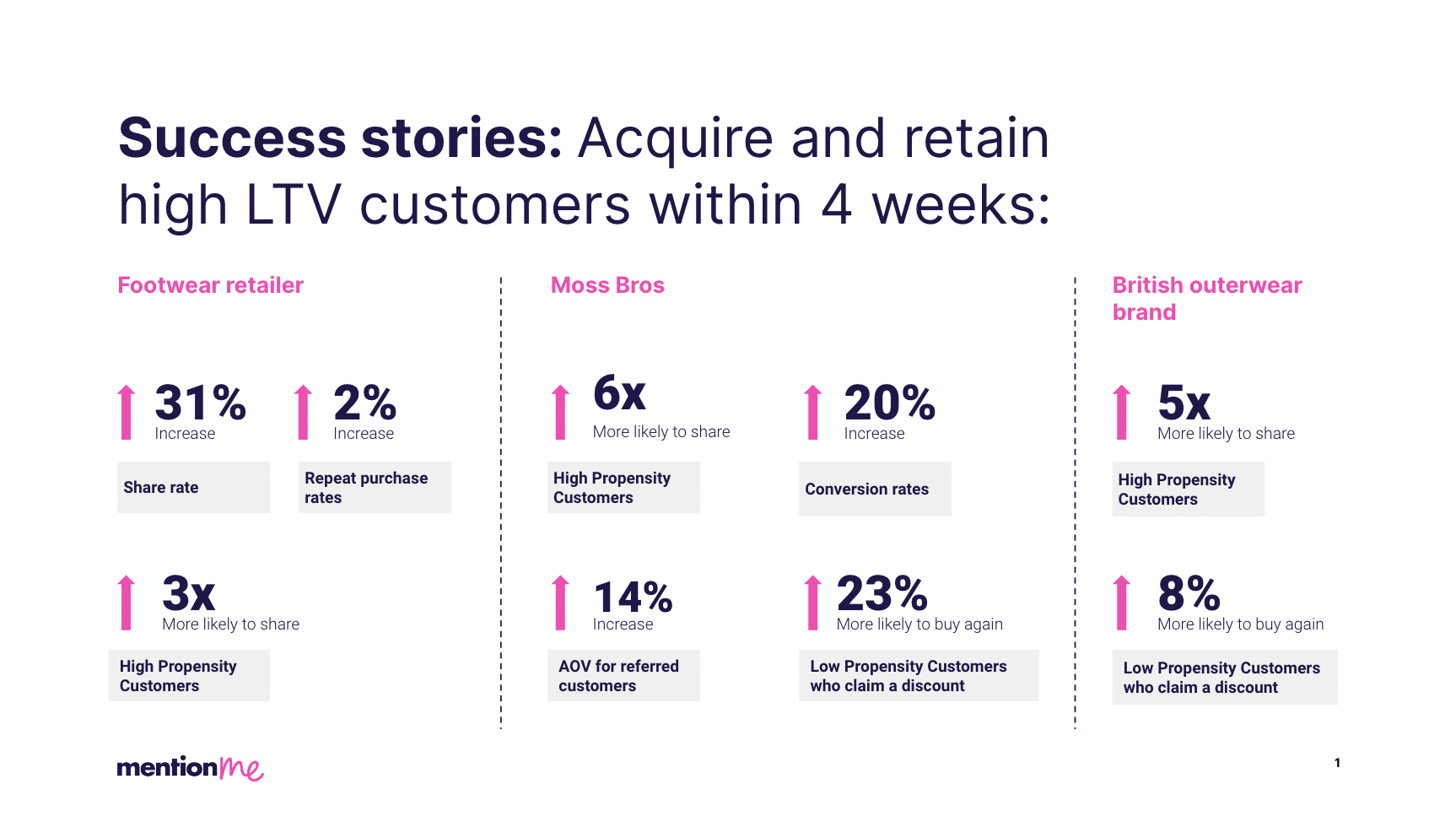 How Deeper Insights amplifies performance through better intelligence
Our Deeper Insights product releases (Benchmarking Intelligence, new Performance Hub and SMS Integration) will empower you to drive better intelligence and results for your business while putting advocacy at the centre of your strategy.
Our CTO & Co-founder, Tim Boughton, our Head of Product, Anca Filip and our Director of Client, Abi Wendt, introduced the release in our latest webinar, discussing how these features drive value at a challenging time for marketers.
Introducing Benchmarking Intelligence & enhanced Reporting:
Discover what good really looks like for your programme (without the guesswork)
Working in the silo of your own data results in:
A lack of understanding about how well your referral programme is actually performing
No context as to what good truly looks like
Relying on guesswork to inform strategic decisions
Making it hard for your team to dive deeper into data to better understand your customers
The solution: our new Performance Hub
Explore the deeper insights that surface from your programme with our new Performance hub, revealing areas for growth, engagement, retention and customer acquisition. Our new and improved reporting capabilities help you to:
The solution: Benchmarking Intelligence
Benchmarking Intelligence compares your performance to your industry's average, providing a unique view into what factors are driving success for other companies. This helps you to:
Introducing a new SMS integration:
Create more brand advocates and drive greater ROI through branded, personalised SMS
Some of the challenges businesses are facing when creating meaningful interactions today are:
Limited segmentation capabilities
The inability to target specific audiences and consumers within their database
Not utilising multiple platforms to drive click-through rates and increase conversions
Not maximising their first-party data
The solution: Attentive integration
90% of UK shoppers are interested in branded SMS*. Our SMS integrations enable our clients to engage their best customers through highly relevant text messages that drive long-term brand advocacy, improved ROI and increased revenue.
*Attentive data 2022
So there you have it: Deeper Insights. Easy-to-use, AI-driven, marketing-focused innovations — all of which can be adapted to different businesses to increase productivity, efficiency, insights and (most importantly) customer advocacy.
If you're already running a precision-engineered referral programme, speak to your CSM to learn more about how Deeper Insights can amplify performance across your entire marketing stack. Not yet accelerating advocacy through referral? Talk to our Sales team.

Embracing the Future: Life in a Rapid-Growing Product Team
Never miss another update
Subscribe to our blog and get monthly emails packed full of the latest marketing trends and tips