When Mr Happy met Mr Chatterbox, referrals really took off!
By Angela Southall — January 30, 2017 -
My 1st Years is the UK's leading personalised gift retailer. It specialises in producing unique gifts aimed at creating lasting memories.
The business has seen fantastic growth since its launch in 2010, driven in part by its strategy of sending their beautiful products to prominent celebrities. Remember the image of Prince George meeting former president Barack Obama? He was pictured wearing his My 1st Years dressing gown, which sold out in minutes.
My 1st Years wanted to build on this advocacy, by developing a referral programme, so turned to Mention Me and their market leading referral platform.
In recent months, they have incorporated merchandise from their collaboration with the Mr Men brand into their referral programme. Read our latest referral case study to see how refer-a-friend has turned into a successful marketing channel for them.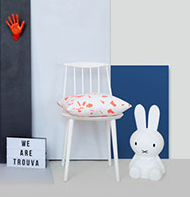 Why referrals are a lucky find for retailer Trouva
Never miss another update
Subscribe to our blog and get monthly emails packed full of the latest marketing trends and tips