People
From Copywriter to Head of Marketing: Career progression as a Mentioneer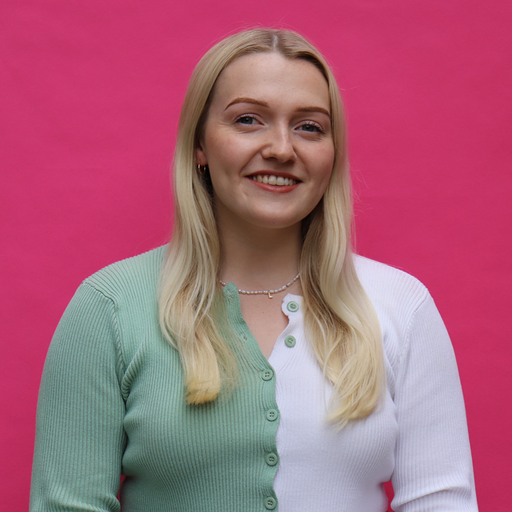 By Olivia Cox — December 7, 2022 -
Read time: 7 mins
Since being promoted to Head of Marketing earlier this year, Sophia King has been building on Mention Me as the customer advocacy platform of choice through precise positioning, brand activation campaigns and ABM activity. How did she get here? Read on to find out...
Can you give us a quick summary of your role?
As Head of Marketing, it's my responsibility to position Mention Me as the world's first true advocacy platform, while creating new and existing business opportunities and supporting driving predictable pipeline.
That means educating our target market on what customer advocacy really is, why they should care about it, and how they can realise its true value with Mention Me.
On a more day-to-day basis, I oversee everything from content, PR and comms, to customer marketing, ABM and brand strategy.
How long have you been at Mention Me?
I joined in May 2019 as the first Copywriter, and quickly got stuck into creating a new content strategy and shaping our tone of voice. That led to being put forward for promotion to Senior Copywriter at the start of 2020... then Covid hit.
The world went into lockdown and Mention Me's Marketing team changed a lot. I went from having a promotion lined up to feeling grateful that I was still employed. Thankfully, Mention Me quickly adapted and by May 2020, I was officially promoted to Senior Copywriter.
Around the same time, I applied for Mention Me's mentoring scheme and was paired with the then VP of Strategy. He opened my eyes to how I could evolve my role beyond tactical marketing to a strategic brand position that helped to achieve key company goals.
It was off the back of this mentorship that I mapped out a three-year plan for how my career could evolve at Mention Me. I remember feeling almost embarrassed to put 'Head of Brand' against May 2022 as it felt so boldly ambitious compared to where I was at the time.
That said, I've always loved a challenge and made it my mission to bring the concept of 'brand' to life at Mention Me. I was promoted to Senior Brand Marketing Manager in 2021 and then to Head of Brand in April this year (a full month ahead of schedule!). A few months later, my role further broadened and I stepped up to Head of Marketing.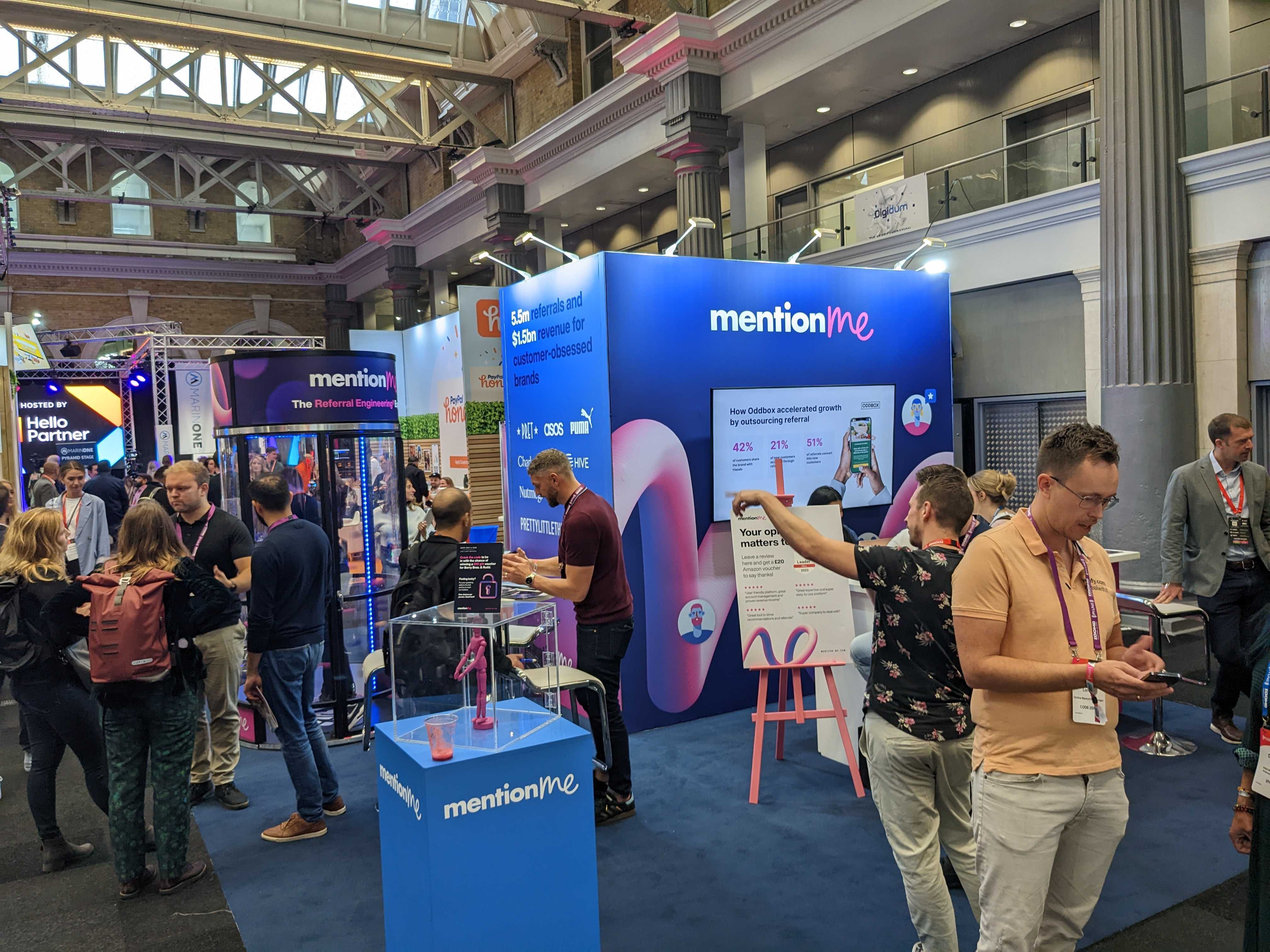 Sophia took the lead in organising our appearance as a sponsor at this year's PI Live
What made you realise this was a company where you wanted to progress?
I first discovered Mention Me at the Festival of Marketing, when I saw a talk presented by Andy, our CEO. I was working in property at the time, and remember being captivated by Andy's energy and his presentation of Mention Me – my perception of it as an employer brand, essentially. In fact, I'm pretty sure I scrolled through Mention Me's careers page there and then.
Having forged a career working in big corporates, life at a start-up appealed to me. My hopes about what it might be like quickly came to fruition when I joined Mention Me as a copywriter and found myself in a workplace that was as friendly as it was ambitious. It became clear right away that the opportunities are there for you to seize.
I realised, for example, quite soon after starting that we didn't have a concrete content strategy in place, so offered to create one. That suggestion was fully supported and the team constantly welcomed my ideas for how we could improve.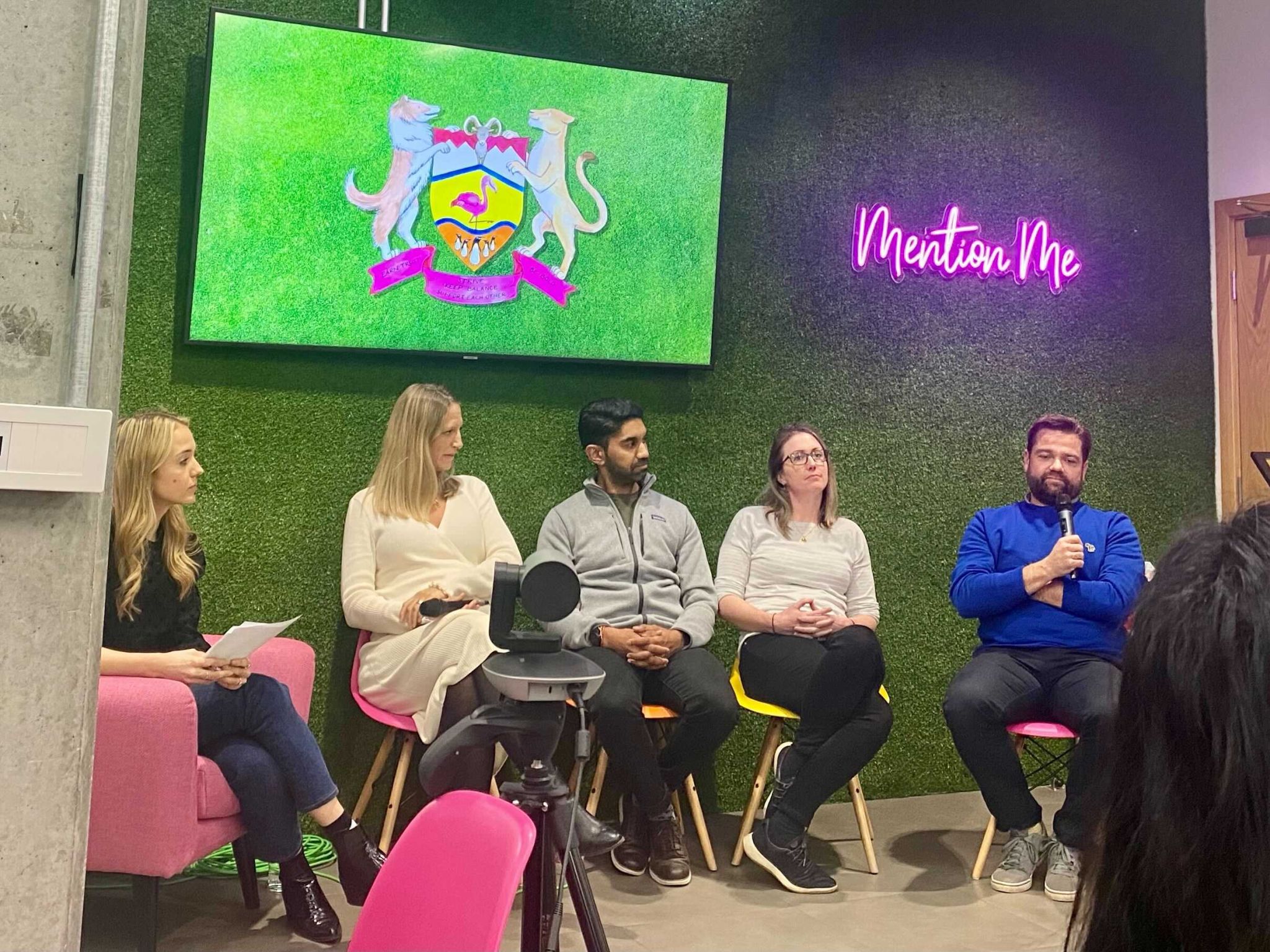 Sophia leading our International Women's Day Panel in March 2022
How did you find the support you received while working towards the Head of Marketing role?
I've had so much support at Mention Me. From brilliant mentors and management, to a supportive company culture, I've always felt I've had the backing to achieve what I set out to.
That's included a generous learning and development budget which meant I've had numerous external mentors specialising in brand and marketing, and completed the mini Marketing MBA. As well as giving me concrete learnings I could apply to my day-to-day work, these initiatives has given me the confidence to pursue a brand and marketing career path.
I've also been fortunate enough to have managers who have championed and supported me, helping to make my aspirations a reality.
How have you seen the company change in your time here?
It's hard to put into words — it's changed so much!
One significant cultural change is hybrid working. We had some remote workers before the pandemic, but now most Mentioneers enjoy a mix of home and office working. Personally, I find that really beneficial to my role. I work from home on the days I need to get my head down and focus on writing and planning, then head into Vox Studios to see my fellow Mentioneers when I have lots of meetings and projects to discuss.
It's also been positive to see Mention Me's focus on ED&I progress over the years. We celebrate a number of key cultural days, and there's a keen awareness of constantly striving to do better. Hosting the International Women's Day panel and writing our feature blog on it earlier this year has been a career highlight.
We're also seriously picking up pace on our ambitious growth trajectory following our $25 million fundraising earlier this year. That includes having frameworks in place, such as The 4 Disciplines of Execution, that show exactly how every Mentioneer is contributing to our goals.
As a Manager, what are the values you hope to instil in your team?
High expectations balanced with high support. I firmly believe in never settling — we should always push ourselves to do more and be better. But equally, you need the right support in place to do that.
So if I see marketing activity and think it's not up to scratch, or even if it's great but could be brilliant, I want to give clear, actionable feedback on how to improve it. The recipient should feel proud of what they ultimately achieve, not downbeat that they might have fallen short.
I'm also a big believer in celebrating our achievements when we make great things happen – such as our Advocacy Engineered event this year. Presenting The Customer Advocacy Gap on stage to more than 200 senior marketers there was a nerve-wracking but brilliant experience.
What advice would you give to other women aspiring to progress in their careers?
Know what you want to achieve, then make it happen. Take some time out to reflect on your goals and write them out on a piece of paper. Where do you want to be this time next month? Next year? In three years?
Seek out the people and places that can help you achieve it. Speak to your manager, explore learning courses, look into getting a mentor.
Being a high-flying CMO might be the ultimate goal for one person, while for someone else success might mean being able to get home for the kids' teatime (or both). Know what success truly looks like for you – not what you think it should look like – then go for it.
How do you feel Mention Me advocates for female leaders?
Mention Me is taking steps in the right direction towards gender equality but, like most businesses, it's still a work in progress. The senior management team has more women than men, but that balance tips when you look at the leadership team.
That said, the business is keenly aware of the importance of getting more women into leadership positions. That's the first step. Now the emphasis is on making it happen. So far that's involved steps like updating maternity policies, celebrating International Women's Day, and confronting difficult conversations about how we can do better.
Change doesn't happen overnight, but I hope to see Mention Me achieve gender equality in the near future, and continue to encourage conversations around how we can all do better when it comes to diversity and inclusion.
Which women inspire you?
So many! In business terms, a senior marketing leader I worked with early on in my career sticks in my mind. She instilled in me, often without realising, to be clear about what you want and ask for it. The worst that can happen is being told 'no'. And that's happened less than I've expected (so far!).
I'm also inspired by women who lift up others. For example, Hannah Hooton and Ellie Abbott recently set up Women in Ecommerce to create a space for women in the industry to share their experiences and support one another. Mention Me was lucky enough to sponsor their first event and it felt really special to have so many impressive women championing one another in one room.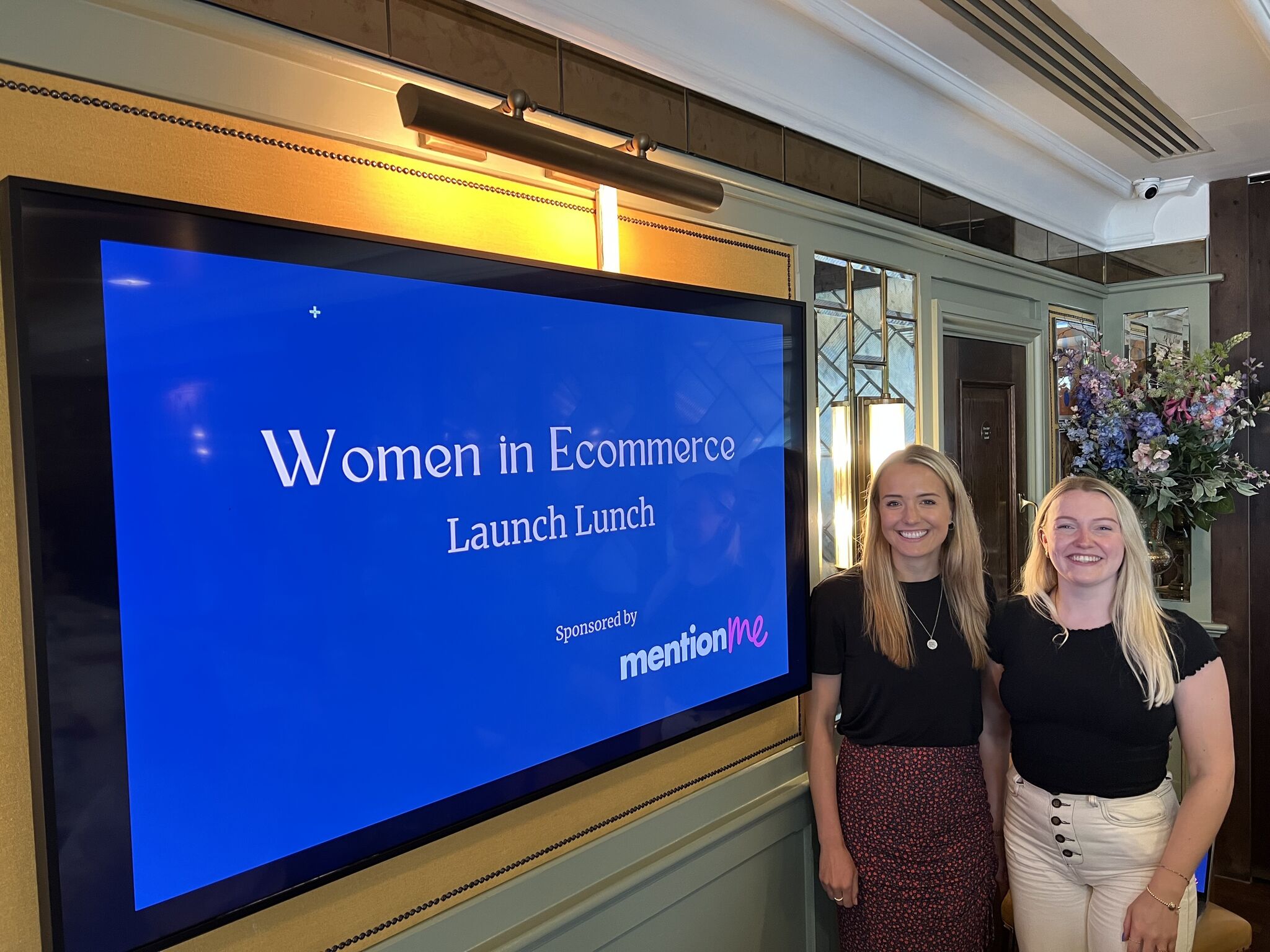 Sophia at the first lunch event for Women in Ecommerce
What are your next aspirations?
For me, constantly learning and progressing is my biggest priority. I've been at Mention Me for more than three years now, and I still feel challenged everyday. When that stops, I'll know it's time to move on.
It's also really important to me that I lift up those around me. I've been so inspired by others throughout my career, and I'd love to pass that inspiration on.
More broadly, I want to keep telling stories that bring brands and products to life. There's a general belief that B2B marketing is dry and dull, but it doesn't have to be. With the right stories, I firmly believe you can make any product exciting – especially when it's one with as much potential for businesses as Mention Me's advocacy platform. Watch this space!
Want to take the first step toward your potential future career?
Onboarded clients in November 2022
Never miss another update
Subscribe to our blog and get monthly emails packed full of the latest marketing trends and tips